Report Scope & Overview:
Dark Fiber Market size was valued at USD 6.5 billion in 2022 and is expected to grow to USD 16.55 billion by 2030 and grow at a CAGR of 12.4% over the forecast period of 2023-2030.
Over the forecast, the long-haul segment is predicted to develop at the fastest rate. Such long-haul terrestrial networks are frequently used for undersea cable across great oceanic distances, enticing a number of firms to participate in terms of investments. For instance, Zayo Group Holdings Inc. finished building three new long-haul dark fiber routes in October 2021, connecting Denver to Salt Lake City, Atlanta to Dallas, and Eugene to Reedsport. The rise of smart cities, steadily increasing investments, and other factors are what power the long-haul network and intense market competition dynamics.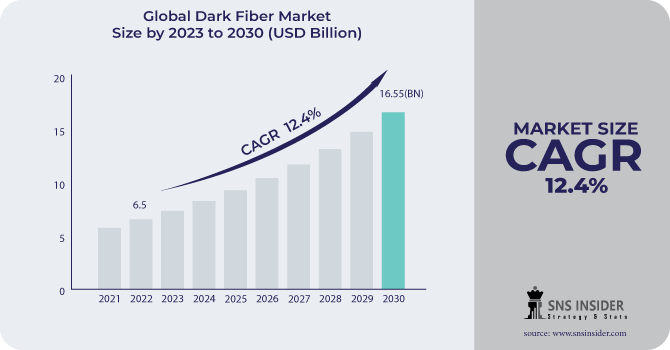 In 2022, the multimode market category held a commanding market share, accounting for about 62.0% of global revenue. Over the course of the forecast, it is also anticipated to keep dominating the market. Short transmission distances are where this kind excels. It is mostly utilized in LAN and video surveillance systems. On the other hand, single-mode fiber works well for greater transmission lengths. It is mostly utilized in long-distance and multi-channel television broadcast systems. Over the predicted period, it is anticipated that the single-mode segment would experience significant expansion. Long-distance deployments ranging from 2 meters to 10,000 meters employ this product category. Compared to multimode, it delivers less power loss. It is more expensive than multi-mode fibers, though. The telecom sector dominated the industry in terms of revenue in 2022 with a share of 42.3%, and it is predicted that it would continue to lead the market in terms of size by 2030. Due to the increasing usage of 5G technology in communication and data transmission services, the telecommunications industry is predicted to have significant growth prospects.
KEY DRIVERS:
Dark fiber networks give enterprises the scalability and flexibility they need to customize their network architecture to meet their specific needs. The companies whose bandwidth requirements are changing or undergoing significant expansion would most benefit from this flexibility. The demand for dependable, high-speed internet connectivity is considerably driving the market for dark fiber networks. Dark fiber networks, which provide companies total control over their network connections, improve data security and privacy.
RESTRAIN:
A significant initial investment is required for the implementation of a dark fiber network, which covers the cost of leasing or purchasing the fiber strands as well as any necessary installation and maintenance fees. These up-front costs could be a deterrent for companies with limited resources. Management and operation of dark fiber networks may need particular expertise and technical proficiency. Businesses may struggle to attract and retain the best staff, or they may need to hire outside service providers, which would increase overall costs and impede market expansion.
OPPORTUNITY:
Internet service providers (ISPs) have the chance to connect to underserved areas, expand their customer base, and improve the quality of their services thanks to dark fiber networks. By renting or purchasing dark fiber, Internet Service Providers (ISPs) can broaden the coverage of their networks and offer high-speed internet access to a bigger clientele. To support the growing data traffic and low-latency demands of 5G networks, a robust and dense fiber optic infrastructure is required. Network operators and telecommunications businesses have a great chance to upgrade their infrastructure in order to meet the rising needs of 5G.
CHALLENGES:
The development of dark fiber networks may be impacted by legal and regulatory considerations, such as obtaining necessary clearances, adhering to local regulations, and making sure that data protection and privacy rules are being followed. Navigating these rules may be difficult for corporations. The dark fiber market becomes more and more competitive as new players join it. This could lead to market saturation, pricing pressures, and the need for distinctiveness to set oneself apart from competitors. The availability of dark fiber infrastructure may be limited in some locations, particularly in remote or rural areas. Businesses operating in these areas may have trouble gaining access to and utilizing dark fiber networks.
IMPACT ANALYSIS
IMPACT OF RUSSIAN UKRAINE WAR
A worldwide recession may limit the short-term availability of money for network building for the remainder of 2020 and possibly for part of 2021, but the underlying forces behind telecom network expansion won't disappear. The amount of bandwidth needed will keep growing. As businesses and average consumers continue to rely on cloud services, additional data centres and connectivity will be required. The last thing we want to point out is that even if capital-intensive projects. as new optical cable networks are delayed or stretched out, there may still be a requirement for cable assemblies for upkeep, operation, and other purposes enhancing the network's capacity on older installations. The trough in the previous two downturns was asymmetrical, with a rather fast downturn followed by a more protracted rebound. The ITC, however Businesses displayed Compared to other industries, some demonstrated a less severe decline and a quicker recovery. To end on a happy note, I want to draw attention to a development from last week's news. It comes from the Imperial College (of London) COVID-19 Response Team's "Report 11: Evidence of Initial Success for China Exiting COVID-19 Social Distancing Policy After Achieving Containment":
IMPACT OF ONGOING RECESSION
The FSB-established National Coordination Center for Computer Incidents (NCCC) classified the threat level as "critical" as a result of the rapid declaration of cyberwar by the Anonymous hacker collective against the Russian government in the wake of reported failures of the Ministry of Defense's resources as well as the websites of the Kremlin, the government, parliaments, and portions of the Russia Today news agency. Kyiv-based In October 2022, Olena Lutsenko, Director of RETN Ukraine and Head of the Black Sea Region, made a passionate and intelligent presentation at Capacity Europe on how the supplier of backbone networks had kept Ukraine connected throughout the conflict. 22% of Ukraine's fiber network had been damaged or destroyed, and 1,350 cyberattacks had been reported in the first half of 2022. According to Yuriy Schygol, Head of the State Service for Special Communications and Information Protection of Ukraine, 2,194 cyberattacks were observed in 2022 and seven new types of viruses had been discovered. There is a great deal of ambiguity on the effects of this crisis because it is unlike any other. lives and livelihoods of people. Much is dependent on the virus's prevalence, the success of containment efforts, and the development of therapies and vaccinations, all of which are difficult to forecast. Additionally, numerous nations currently deal with numerous crises—a fall in commodities prices, a financial crisis, and a health crisis—all of which intersect in intricate ways. The support that policymakers are giving to households is unparalleled.
MARKET SEGMENTATION
By Type
Single-mode Fiber

Multimode Fiber
Step-index Multimode Fiber

Graded-index Multimode Fiber
By Network Type
By Material
By End User
Internet Service Providers (ISPs) and Telecommunication Industry

BFSI Industry

IT Enabled Services

Military and Aerospace Industry

Oil and Gas Industry

Healthcare Industry

Railway Industry

Others (Manufacturing and Factory Automation)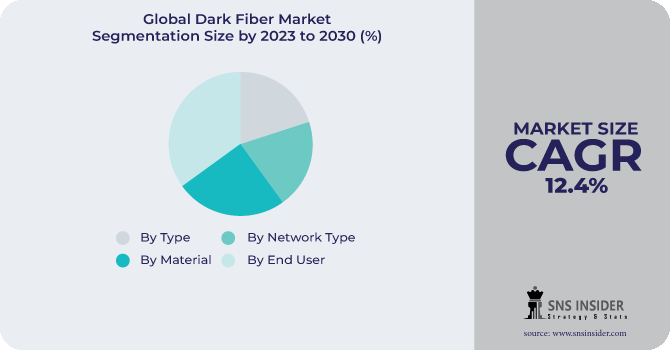 REGIONAL ANALYSIS
In terms of revenue, North America had the biggest market share in 2022, accounting for around 28.77%. The United States is where some of the biggest investments in 5G network infrastructure are being made. Throughout the projection period, the country's significant investments in smart city, smart industry, and smart home programs are projected to support regional market expansion. Governments of wealthy nations including the United States, the United Kingdom, Germany, China, and Japan are making significant investments in national security infrastructure.
Over the forecast, Asia Pacific is expected to increase at the fastest rate. Period. Due to technological developments and widespread implementation of the technology in the information technology, telecommunications, and administrative sectors, Asia Pacific is driving revenue growth.
REGIONAL COVERAGE:
North America
Europe
Eastern Europe

Poland

Romania

Hungary

Turkey

Rest of Eastern Europe

Western Europe

Germany

France

UK

Italy

Spain

Netherlands

Switzerland

Austria

Rest of Western Europe
Asia Pacific
China

India

Japan

South Korea

Vietnam

Singapore

Australia

Rest of Asia Pacific
Middle East & Africa
Middle East

UAE

Egypt

Saudi Arabia

Qatar

Rest of Middle East

Africa

Nigeria

South Africa

Rest of Africa
Latin America
Brazil

Argentina

Colombia

Rest of Latin America
KEY PLAYERS
Major vendors in the dark fiber market include AT&T (US), Verizon Communications, Inc. (US), CenturyLink (Lumen Technologies) (US) Colt Technology Services Group Limited (UK), Comcast Corporation (US), Consolidated Communications (US), Exa Infrastructure (GTT Communications, inc.) (US), CenturyLink, Inc. (US), NTT Communications Corporation (Japan), Verizon Communications, Inc. (US), Windstream Communications (US), Zayo Group, LLC (US), and other players are listed in a final report.
Verizon Communications, Inc. (US)-Company Financial Analysis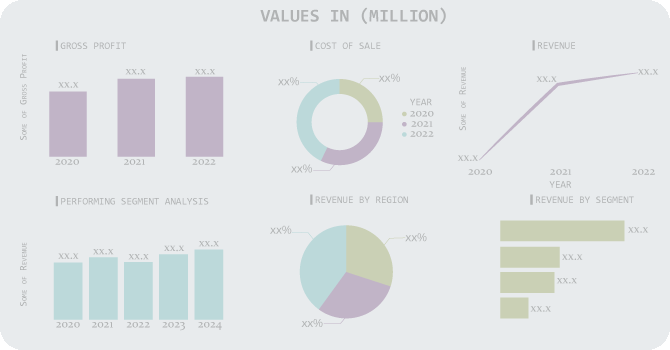 RECENT DEVELOPMENT
Zayo Group Holdings, Inc. (US) and Fermaca Networks, a major supplier of long-haul dark fiber infrastructure in Mexico, announced their strategic alliance in May 2023. The collaboration will offer the most advanced and varied connectivity between the US and Mexico. The first new long-haul dark fiber route in Mexico in 20 years will be launched by Fermaca in 2025 and will be both the longest and newest long-haul dark fiber route. To offer consumers dependable, secure, and diverse cross-border connectivity, the collaboration will use this route from Fermaca and Zayo's redundant route north of the border.

In order to expand beyond its current 21-state national footprint, AT&T (US) partnered with BlackRock Alternatives in December 2022 to expand its Hyper-Gig Fiber services. This joint venture, called Gigapower, sought to offer an American commercial fiber platform to internet service providers (ISPs) and other companies.

2023 February Clairol unveiled two new at-home hair coloring innovations that were motivated by popular Canadian trends. Root In response to customer demands, Touch Up Color + Volume 2-in-1 Spray and Natural Instincts have been created insights.

In February 2023: The area's booming data center and enterprise industries will be served by Summit Infrastructure Group, the industry's leading pure play dark fiber infrastructure provider, with the help of a brand-new, purpose-built, and totally underground dense dark fiber network. By Q1 2023, the company, which is on pace to complete its initial network, will offer more than 200 miles of new infrastructure that is separate from and different from the region's previous fiber networks.

Dark Fiber Market Report Scope:
Report Attributes
Details

Market Size in 2022

US$ 6.5 billion

Market Size by 2030

US$ 16.55 billion

CAGR

CAGR of 12.4% From 2023 to 2030

Base Year

2022

Forecast Period

2023-2030

Historical Data

2019-2021

Report Scope & Coverage

Market Size, Segments Analysis, Competitive Landscape, Regional Analysis, DROC & SWOT Analysis, Forecast Outlook

Key Segments

By Type (Single-mode Fiber, Multimode Fiber), By Network Type (Metro, Long Haul), By Material (Glass, Plastic), By End User (Internet Service Providers (ISPs) and Telecommunication Industry, BFSI Industry, IT Enabled Services, Military and Aerospace Industry, Oil and Gas Industry, Healthcare Industry, Railway Industry, Others (Manufacturing and Factory Automation))

Regional Analysis/Coverage

North America (US, Canada, Mexico), Europe (Eastern Europe [Poland, Romania, Hungary, Turkey, Rest of Eastern Europe] Western Europe] Germany, France, UK, Italy, Spain, Netherlands, Switzerland, Austria, Rest of Western Europe]), Asia Pacific (China, India, Japan, South Korea, Vietnam, Singapore, Australia, Rest of Asia Pacific), Middle East & Africa (Middle East [UAE, Egypt, Saudi Arabia, Qatar, Rest of Middle East], Africa [Nigeria, South Africa, Rest of Africa], Latin America (Brazil, Argentina, Colombia Rest of Latin America)

Company Profiles

AT&T (US), Verizon Communications, Inc. (US), CenturyLink (Lumen Technologies) (US) Colt Technology Services Group Limited (UK), Comcast Corporation (US), Consolidated Communications (US), Exa Infrastructure (GTT Communications, inc.) (US), CenturyLink, Inc. (US), NTT Communications Corporation (Japan), Verizon Communications, Inc. (US), Windstream Communications (US), Zayo Group, LLC (US)

Key Drivers

• Flexibility and scalability

Market Restrain

• Initial expenditures and ongoing expenses

• High risk Installation