Report Scope & Overview:
In 2022, the Smart Cities Market was estimated to be worth USD 640.75 billion. By 2030, it is anticipated to be worth USD 3799.65 billion, growing at a CAGR of 24.92%.
A smart city is one that is intellectually connected and supported by the incorporation of vast amounts of information on communication and civil technology. In recent years, these technologies have been widely accepted and used to enhance public safety measures. These steps include methods like analyzing high-crime regions and using cutting-edge sensors and other communication tools to strengthen emergency awareness systems. Additionally, the general population is quickly incorporating smart components into their daily work to have pleasure in their free time in order to increase time and cost efficiency.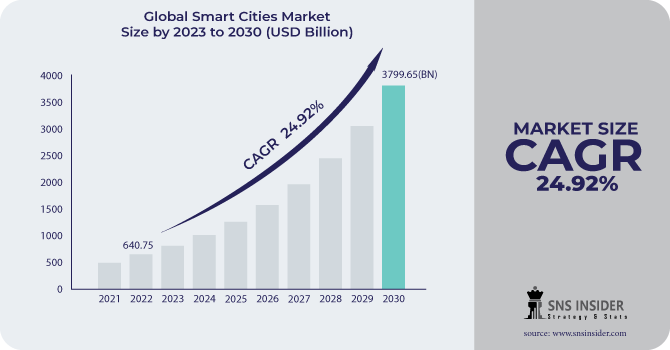 To get more information on Smart Cities Market - Request Free Sample Report
Market Dynamics
Drivers
AI and ML will hasten the creation of smart cities.

Intelligent city solutions must be adopted in response to growing urbanization, which is accelerated by AI and machine learning.

Resource management and utilization must be effective.
The technologies of artificial intelligence (AI) and machine learning (ML) are enabling smart cities to enable people, organizations, or systems to be self-sufficient and futuristic, according to the market research report study on smart cities. These technologies gather enormous amounts of data to modernize the systems and elements that power cities and enable them to make wise judgments with minimal human input. Artificial intelligence and machine learning algorithms, which are currently crucial elements in many sectors, are needed to build smart cities. Cyber-physical space, which includes traffic sensors, medical monitoring systems, industrial control systems, video cameras, environment sensors, and smart meters, is created by the deployment of AI-enabled intelligent machines powered by machine learning. Predictive analysis and decision-making for the building of smart cities are aided by machine-generated data.
Restrains
In projects involving smart cities, privacy, and security are important points of concern. The market ecosystem for smart cities is highly vulnerable since it depends so heavily on IoT and centralized access points for various types of data. Smart city designers and security experts must approach the problem holistically if they are to prevent the privacy and security vulnerabilities in smart cities from spreading to the rest of the smart network. There has been an increasing requirement for a technically sound solution to ensure the security and privacy of clients using different identification systems.
Opportunities
Technological advancements in areas like AI, cloud, IoT, and analytics

Increase in 5G adoption

Drones used to police compliance during pandemics
Challenges
The Russia-Ukraine war
In a conflict situation, security becomes a significant concern. Smart city initiatives that focus on security, such as surveillance systems, emergency response mechanisms, and critical infrastructure protection, may receive more attention and investment. This could result in a shift in priorities within the smart cities market. The impact of the war on the smart cities market can vary depending on the specific regions within Ukraine. Cities located closer to the conflict zones may face more significant disruptions and challenges. In contrast, areas further away from the conflict may continue their smart city development relatively unaffected.
The conflict between Russia and Ukraine has broader geopolitical implications. It can influence international relationships and cooperation in various sectors, including technology and infrastructure. It may lead to changes in investment patterns, partnerships, and collaborations related to smart city development in the affected regions. Despite the challenges posed by the conflict, there may be opportunities for innovation and adaptation within the smart cities market. Technologies that enhance resilience, improve disaster management, and support post-war reconstruction efforts could gain prominence. These solutions could address specific needs arising from the conflict and potentially find broader applications in other smart city contexts.
Impact of Recessions
During a recession, governments and private investors often reduce their spending on new projects and technologies, including smart city initiatives. This can lead to a decrease in funding available for the development and implementation of smart city solutions, affecting the overall growth of the market.
Economic downturns can cause delays or cancellations of planned smart city projects. Governments and organizations may prioritize essential services and infrastructure over smart city investments during challenging economic times. As a result, the implementation of smart city technologies and infrastructure could be postponed or abandoned. Recessions can foster increased collaboration between the public and private sectors. Governments may turn to public-private partnerships to share the financial burden of smart city projects. By leveraging private sector expertise and resources, governments can continue to invest in smart city initiatives despite budget constraints, thereby sustaining market growth. Recessions often act as catalysts for innovation and creativity. Cities facing economic challenges may actively seek innovative solutions to improve their competitiveness and resilience. Smart city technologies that can help cities become more efficient, sustainable, and economically robust may be seen to recover from the recession and attract investments in the long term.
Key Market Segmentation
By Functional Area
By Component
Hardware

Software

Service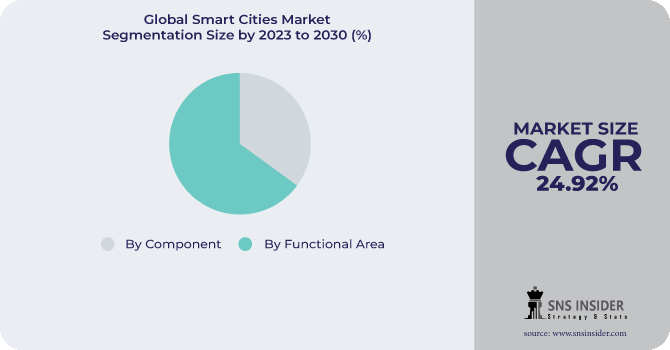 Need any customization research on Smart Cities Market - Enquiry Now
Regional Analysis
In 2022, North America held a 31.2% market share, dominating the global market for smart cities. The market for smart cities in North America is expanding as a result of the escalating technical breakthroughs and digital transformation occurring across numerous business verticals, including telecommunications, IT, retail, and finance. The information and communication technology (ICT) infrastructure in North America is well-established, and in recent years, the region's market for smart cities has expanded significantly as a result of the local and federal governments' strong collaborations with startups and ICT industry vendors. As the infrastructure for municipal connectivity is deployed more widely, the market for smart cities will grow. By planning numerous networking events in the region, the US Department of Transportation and the Smart Cities Council jointly promote the idea of smart cities throughout the North American region.
Over the course of the forecast period, Asia Pacific is anticipated to develop at a substantial CAGR. The region's success can be attributed to a variety of factors, including the rise of digital infrastructure, globalization, and economic developments. Businesses in the Asia Pacific region are eager to take advantage of cloud-based solutions' cost-effectiveness and other benefits, which is stimulating the development of apps for smart buildings, smart utilities, smart transportation, and smart governance.
REGIONAL COVERAGE:
North America
Europe
Eastern Europe

Poland

Romania

Hungary

Turkey

Rest of Eastern Europe

Western Europe

Germany

France

UK

Italy

Spain

Netherlands

Switzerland

Austria

Rest of Western Europe
Asia Pacific
China

India

Japan

South Korea

Vietnam

Singapore

Australia

Rest of Asia Pacific
Middle East & Africa
Middle East

UAE

Egypt

Saudi Arabia

Qatar

Rest of Middle East

Africa

Nigeria

South Africa

Rest of Africa
Latin America
Brazil

Argentina

Colombia

Rest of Latin America
Key Players:
The major players General Electric, KAPSCH Group, Microsoft Corporation, AGT International, Huawei Technologies Co., Ltd., AVEVA Group plc., Schneider Electric SE, Cisco Systems, Inc., Ericsson, Verizon, Telensa, Honeywell International Inc., International Business Machines Corporation, ABB Limited, Itron Inc., Oracle Corporation, Osram Gmbh, SAP SE, Siemens AG, and others in final report.
Microsoft Corporation-Company Financial Analysis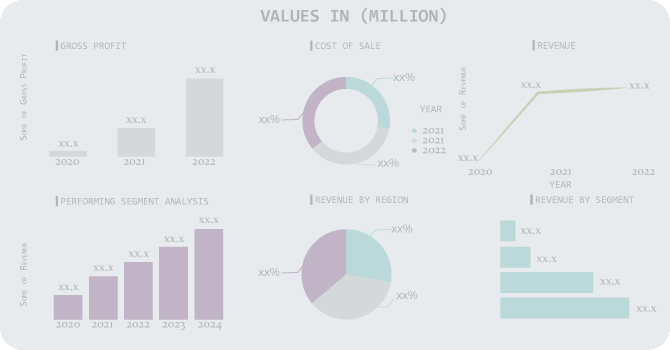 Recent Developments:
Schneider Electric's EcoStruxureTM Rail, which increases smart management, energy efficiency, and electric safety by 25%, was launched in India in August 2021.
The largest Software as a Service (SaaS) supplier for inventory management, reservations, and ticketing software, Squills, was purchased by Siemens Mobility, a Siemens subsidiary, in October 2021. This improved Siemens' line-up of cutting-edge, clever, and all-encompassing mobility solutions.
Smart Cities Market Report Scope:
Report Attributes
Details
Market Size in 2022
US$ 640.75 Bn
Market Size by 2030
US$ 3799.65 Bn
CAGR
CAGR of 24.92 % From 2023 to 2030
Base Year
2022
Forecast Period
2023-2030
Historical Data
2020-2021
Report Scope & Coverage
Market Size, Segments Analysis, Competitive Landscape, Regional Analysis, DROC & SWOT Analysis, Forecast Outlook
Key Segments
• By Functional Area (Smart Infrastructure, Smart Governance and Smart Education, Smart Energy, Smart Mobility, Smart Healthcare, Smart Buildings, Others)
• By Component (Hardware, Software, Service)
Regional Analysis/Coverage
North America (US, Canada, Mexico), Europe (Eastern Europe [Poland, Romania, Hungary, Turkey, Rest of Eastern Europe] Western Europe] Germany, France, UK, Italy, Spain, Netherlands, Switzerland, Austria, Rest of Western Europe]). Asia Pacific (China, India, Japan, South Korea, Vietnam, Singapore, Australia, Rest of Asia Pacific), Middle East & Africa (Middle East [UAE, Egypt, Saudi Arabia, Qatar, Rest of Middle East], Africa [Nigeria, South Africa, Rest of Africa], Latin America (Brazil, Argentina, Colombia Rest of Latin America)
Company Profiles
General Electric, KAPSCH Group, Microsoft Corporation, AGT International, Huawei Technologies Co., Ltd., AVEVA Group plc., Schneider Electric SE, Cisco Systems, Inc., Ericsson, Verizon, Telensa, Honeywell International Inc., International Business Machines Corporation, ABB Limited, Itron Inc., Oracle Corporation, Osram Gmbh, SAP SE, Siemens AG
Key Drivers
• AI and ML will hasten the creation of smart cities.
• Intelligent city solutions must be adopted in response to growing urbanization, which is accelerated by AI and machine learning.
• Resource management and utilization must be effective.
Market Restraints
• IoT privacy and security issues