Report Scope & Overview:
The Data Integration Market size was valued at USD 11.89 Billion in 2022 and is expected to grow to USD 29.92 Billion By 2030 and grow at a CAGR of 12.23 % over the forecast period of 2023-2030.
Data integration is the process of combining data from multiple sources and presenting it in a unified perspective. This process not only streamlines a company's procedures but also plays a critical role in its process organization, management, and analysis. By utilizing a cost-effective infrastructure that can be installed either physically or remotely, data integration provides greater transparency, enhanced capabilities, and simplified data consolidation.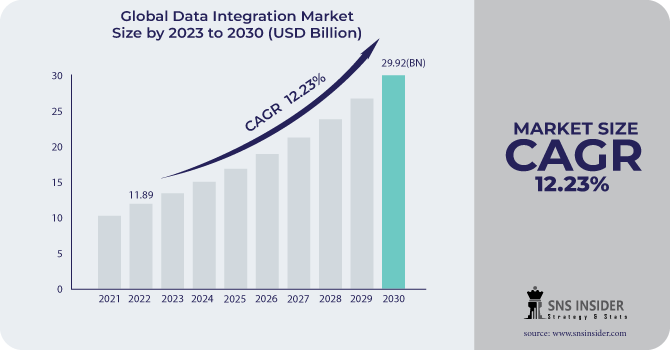 In essence, data integration is the art of harmonizing data from disparate sources to create a cohesive and comprehensive view. This process enables businesses to make informed decisions based on accurate and up-to-date information. With data integration, organizations can eliminate data silos and gain a holistic understanding of their operations. Whether you're dealing with customer data, financial records, or operational metrics, data integration can help you unlock valuable insights and drive business growth. By leveraging the power of data integration, you can streamline your workflows, improve your decision-making processes, and gain a competitive edge in your industry. data integration is a critical component of modern business operations. It enables organizations to consolidate data from multiple sources, gain a comprehensive view of their operations, and make informed decisions based on accurate and up-to-date information. With its cost-effective infrastructure and powerful capabilities, data integration is a must-have for any business looking to stay ahead of the curve.
To get more information on the Data Integration Market - Request Free Sample Report
Market Dynamics
Drivers
Organizations use data integration technologies to facilitate digital transformation across several applications and systems. As a result, organizations are moving their attention from building better tools to more effectively handle, transport, and store data to maximizing data's strategic role in driving innovation, addressing creative challenges, generating stronger consumer relationships, and alerting corporate plans.
In addition, the Industrial Internet of Things (IIoT) is a major market driver. According to research issued in May 2020 by Analytics Insight, the need for data integration and integrity software has expanded in tandem with the growth of the IIoT. The IIoT and data integration platforms are collaborating to build a digital supply chain that will allow participants to track the flow of raw materials to the plant and completed items to customers.
Restrains
Human mistakes or, worse, malevolent activities might jeopardize data integrity. Hackers can jeopardize or even destroy data that has been incorrectly manipulated while being moved from one device to another. Among the most important barriers to data integration in healthcare, 94% of respondents indicated data security and privacy threats. Furthermore, the research indicates that one out of every four customers' healthcare data has been stolen in the United indicates. Such security issues are anticipated to hamper the growth of the data integration and integrity software industry.
Opportunities
Data integration is being increasingly adopted by departments such as Operations and Finance.

AI and machine learning (ML) integration in the development of data integration solutions
Challenges
Data integration in relation to software solutions should guarantee that a device fitted with various integration software may detect suspicious behaviors linked with virus transfer involving data, fraud, and terrorist funding and report them to the proper authorities. A data integration software solution should not only focus on internal system efficacy but also on detecting capabilities. Data mitigation, corporate application integration, master data management, and data aggregation are major components of data integration systems. building data integration systems may be a difficult process due to the high level of complexity required in building many modules.
Impact of the Russia-Ukraine War
The Russia-Ukraine war can potentially have several impacts on the Data Integration market.
The conflict may lead to physical damage to infrastructure, such as data centers, telecommunication networks, and power grids. This can result in interruptions or complete loss of data connectivity and services, affecting data integration capabilities. The ongoing conflict creates geopolitical uncertainty in the region. Businesses may become hesitant to invest in data integration projects or establish operations in the affected areas due to concerns about stability, regulatory changes, and potential sanctions. This uncertainty can slow down market growth and hinder the expansion of data integration services.
With tensions between Russia and Ukraine, there may be increased concerns about data sovereignty and data security. Organizations might be wary of storing and processing their sensitive data in the affected regions, which could impact data integration initiatives. Data residency and compliance requirements may also change as governments respond to the conflict, adding complexity to cross-border data integration. The war can lead to shifts in the competitive landscape of the Data Integration market. Companies operating in the region may face challenges in maintaining their operations or providing uninterrupted services. This could create opportunities for competitors from other regions to enter the market or expand their presence, potentially altering the market dynamics. The conflict can have broader economic consequences, including currency devaluation, trade disruptions, and increased inflation. These factors can affect businesses' purchasing power and budget allocations, potentially leading to reduced investments in data integration projects or delayed adoption of new technologies.
Impact of the Recession
A recession can have both direct and indirect impacts on the data integration market. During a recession, organizations often face financial constraints and may cut their IT budgets. This could lead to reduced spending on data integration solutions and projects, as companies prioritize cost-saving measures. Companies may delay or cancel data integration projects during a recession to conserve resources. Initiatives that are not deemed essential or directly tied to immediate cost savings or revenue generation may be put on hold. some organizations may undergo mergers or acquisitions to strengthen their position and achieve cost synergies. This can impact the data integration market by leading to changes in vendors and technologies being used. During economic downturns, companies often place a greater emphasis on efficiency and optimization. They seek solutions that can streamline their operations, reduce costs, and improve productivity. Data integration solutions that can enable process automation, data consolidation, and enhance decision-making may still be in demand.
Key Market Segmentation:
By Component
By Organization Size
By Deployment
By Business Application
By End-user
IT & Telecom

BFSI

Healthcare

Manufacturing

Retail & E-commerce

Government & Defense

Others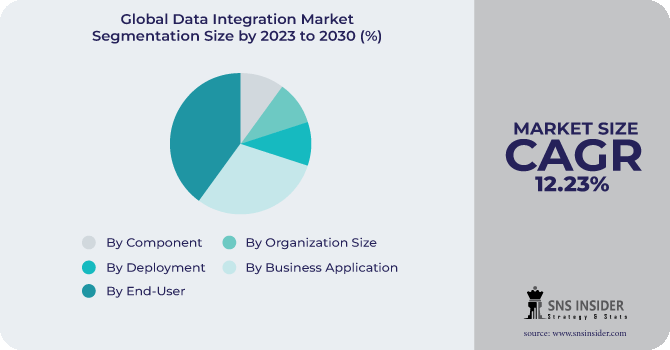 Need any customization research on Data Integration Market - Enquiry Now
Regional Analysis
The market in North America is diversified, owing to increased technological investment by the industry's main competitors and the fast implementation of modern technologies to automate corporate operations, such as cloud computing, the Internet of Things (IoT), and artificial intelligence (AI). End-user investment in cloud services is a significant major factor supporting the region's development possibilities. The data integration and integrity software sector has evolved as a result of the spread of cloud computing and the adoption of modern technologies.
As a result of the presence of both small and large competitors in Asia Pacific, the market is extremely fragmented. Because of the rising demand from end-user sectors such as BFSI, healthcare, and the fastest-growing manufacturing sector, data integration, and integrity software service providers and various multinational firms are extending their footprint in this region.
REGIONAL COVERAGE:
North America
Europe
Eastern Europe

Poland

Romania

Hungary

Turkey

Rest of Eastern Europe

Western Europe

Germany

France

UK

Italy

Spain

Netherlands

Switzerland

Austria

Rest of Western Europe
Asia Pacific
China

India

Japan

South Korea

Vietnam

Singapore

Australia

Rest of Asia Pacific
Middle East & Africa
Middle East

UAE

Egypt

Saudi Arabia

Qatar

Rest of Middle East

Africa

Nigeria

South Africa

Rest of Africa
Latin America
Brazil

Argentina

Colombia
Key Players:
The major players are Denodo Technologies, SAP, SAS Institute Inc., Informatica Inc., International Business Machines Corporation, Microsoft, Oracle, Talend, TIBCO Software Inc., Precisely, QlikTech International AB, and others in the final report.
Informatica Inc-Company Financial Analysis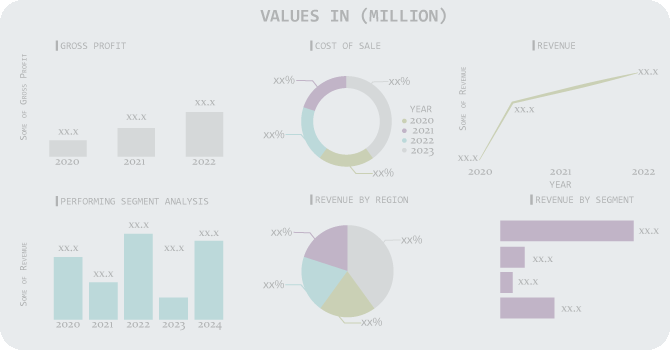 Recent development
Microsoft announced Azure Data Factory (ADF) in September 2021 to provide secure access to data sources and prevent data from being exposed to the public internet.
SAS stated in May 2021 that it will strengthen the basis for data and analytics success by integrating new data management solutions into its cloud-native SASViya platform.
TIBCO Software announced an upgrade to its Unify data management portfolio in May 2021, which includes TIBCO Data Virtualization and TIBCO EBX technologies to considerably improve an organization's data fabric, allowing clients to utilize data's vast potential.
Data Integration Market Report Scope:
Report Attributes
Details
Market Size in 2022
US$ 11.89 billion
Market Size by 2030
US$ 29.92 billion
CAGR
CAGR of 12.3% From 2023 to 2030
Base Year
2022
Forecast Period
2023-2030
Historical Data
2020-2021
Report Scope & Coverage
Market Size, Segments Analysis, Competitive Landscape, Regional Analysis, DROC & SWOT Analysis, Forecast Outlook
Key Segments
• By Component (Tools, Services)
• By Organization Size (Large Enterprises, Small & Medium Enterprises)
• By Deployment (Cloud, On-premises)
• By Business Application (Marketing, Sales, Operations & Supply Chain, Finance, HR)
• By End-user (IT & Telecom, BFSI, Healthcare, Manufacturing, Retail & E-commerce, Government & Defense, Others)
Regional Analysis/Coverage
North America (US, Canada, Mexico), Europe (Eastern Europe [Poland, Romania, Hungary, Turkey, Rest of Eastern Europe] Western Europe] Germany, France, UK, Italy, Spain, Netherlands, Switzerland, Austria, Rest of Western Europe]). Asia Pacific (China, India, Japan, South Korea, Vietnam, Singapore, Australia, Rest of Asia Pacific), Middle East & Africa (Middle East [UAE, Egypt, Saudi Arabia, Qatar, Rest of Middle East], Africa [Nigeria, South Africa, Rest of Africa], Latin America (Brazil, Argentina, Colombia Rest of Latin America)
Company Profiles
Denodo Technologies, SAP, SAS Institute Inc., Informatica Inc., International Business Machines Corporation, Microsoft, Oracle, Talend, TIBCO Software Inc., Precisely, QlikTech International AB
Key Drivers
• Shifting Enterprise Focus Towards Data Integrity to Maximize Data's Strategic Role in Driving Innovation
Market Restraints
• Rising Data Security Concerns Will Slow Growth