Report Scope & Overview:
The Database Security Market is anticipated to develop at a CAGR of 12.48% from 2023 to 2030, from an estimated value of USD 7.25 billion in 2022 to USD 18.57 billion in 2030.
The increasing volume of data generated by various industries has led to a significant demand for data protection and management, thereby driving the global database security market. Moreover, the need for effective security solutions for data generated by advanced technologies such as IoT, Big Data, and cloud-based services, along with the imperative to safeguard data from unauthorized access, has further fueled the adoption of database security. These factors, among others, are anticipated to propel the global database security industry forward. Organizations across various sectors, including retail, e-commerce, telecommunications, financial services, healthcare, and insurance, are witnessing a surge in the number of databases they manage. Consequently, safeguarding data has become paramount, further intensifying the need for robust database security solutions in global markets.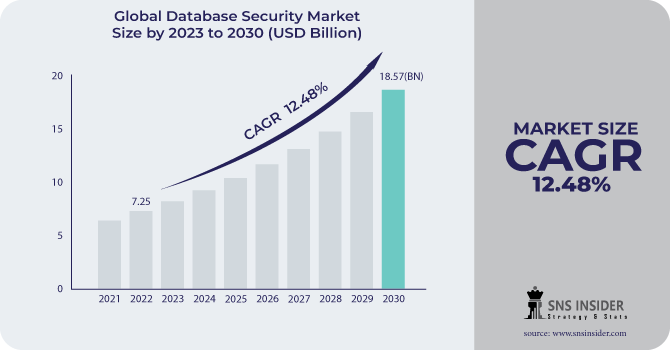 To get more information on Database Security Market - Request Free Sample Report
In the first quarter of 2023, over 5.92 million data records were compromised globally due to data breaches. This represents a significant increase compared to the previous year, specifically the fourth quarter of 2020, which witnessed the highest number of exposed data records, totaling nearly 125 million data sets. The alarming rise in data breaches highlights the pressing need for enhanced cybersecurity measures across industries. These breaches not only jeopardize the privacy and security of individuals but also pose severe risks to businesses and organizations worldwide.
Market Definition
Database security refers to a set of protocols implemented to ensure the utmost security of a database. Its primary objective is to safeguard the database from potential attacks, prevent unauthorized access, and unlawful usage, and mitigate threats. Within an organizational environment, database security plays a pivotal role in executing various commands that guarantee the protection and privacy of sensitive information. It extends its protective measures to data stored within the database, database management systems, database servers, and other workflow applications. By implementing robust database security measures, organizations can fortify their data assets and maintain a secure operational environment.
Market Dynamics
Drivers
Growing organizations across all industries, changing regulations and standards.

The increasing need for advanced data security solutions all contribute to market expansion.
Increasing concerns regarding data privacy have become a major factor driving the demand for database security solutions. Organizations are increasingly worried about the privacy of their data, especially with the widespread use of databases in sectors such as retail, e-commerce, telecommunications, financial services, healthcare, and insurance. As a result, the importance of data protection has grown significantly, leading to a reinforced demand for database security solutions in global markets.
Restrains
Huge cost required for the maintenance.

Budgetary restrictions and a higher solution installation cost
The integration of top-notch hardware in database security systems entails a substantial upfront investment as well as ongoing maintenance expenses. However, due to financial constraints, small and medium-sized enterprises (SMEs) exhibit reluctance to adopt newer technologies and instead opt for established security software. Moreover, businesses tend to prioritize safeguarding their critical servers, often neglecting the protection of their databases and the valuable data they hold. Consequently, database security professionals face persistent challenges in effectively executing their IT security operations.
Opportunities
An increase in the amount of business data

Database security is increasingly used to protect databases.

In the developing IT and telecom business, the rising use of cloud-based services is anticipated to lead to profitable prospects.
Challenges
Lack of knowledge of multiple layers of security

Need for skillful persons to handle that system.
Databases are often prime targets for attackers due to their sensitive nature and inherent vulnerabilities. Therefore, it is crucial to implement a range of security measures to safeguard them effectively. These measures include access control, data encryption, auditing, environment isolation, and more. Despite the criticality of database security for businesses, many remain unaware of the varying levels of protection required. They mistakenly assume that user management at the Operating System (OS) level alone will suffice to shield their entire database environment. However, this assumption overlooks the fact that different individuals access the databases based on their specific needs, thereby increasing the risk of spyware infiltration and heightened vulnerability levels.
Multi-layered security is therefore crucial for enterprises.
Impact of the Russia-Ukraine
During times of geopolitical instability, Hacktivist groups, state-sponsored actors, or criminal organizations may exploit the situation to launch attacks on critical infrastructure, government databases, or businesses. This increased threat environment can drive greater demand for robust database security solutions.
Governments, especially those directly involved in the conflict, may prioritize enhancing their cybersecurity posture to protect sensitive data. This could lead to increased government spending on cybersecurity technologies, including database security because in a period of war, there is a 9.8% rise in cyberattacks.
Geopolitical events can have broader economic repercussions. If the Russia-Ukraine conflict leads to a global economic downturn, organizations may reevaluate their spending priorities, potentially affecting their willingness to invest in cybersecurity, including database security. Certain industries may become more attractive targets for cyberattacks during times of conflict. For example, critical infrastructure sectors like energy and utilities may face increased threats. Consequently, these sectors might invest more heavily in database security solutions. Heightened concerns over data privacy and compliance with regulations like GDPR can push organizations to bolster their database security measures. Non-compliance with data protection regulations can result in hefty fines, motivating companies to invest in better security. Companies involved in database security may divert resources toward research and development to stay ahead of evolving threats. This could lead to the creation of more advanced security solutions. There has been a significant increase in phishing attacks and a notable rise in unauthorized access incidents, which have escalated from 18% of cases in 2021 to 25% in 2022. Noteworthy new methods for initial access have emerged, such as the utilization of Google Ads to propagate credential-stealing malware. Additionally, there has been a surge in the deployment of USB-borne malware as a means to infect networks and propagate the infection.
Impact of Recession
Organizations may delay or postpone database security projects and purchases during a recession. They might prioritize essential expenses over security investments, which can lead to a slowdown in the adoption of database security solutions. 847,371 complaints of suspected internet crime a 6.8% increase as compared previous year 2021 and reported losses exceeding $6.9 billion. Some companies may look to consolidate their databases or IT infrastructure during a recession to reduce costs. This consolidation can impact the database security market as there may be fewer databases to secure or a shift in the types of databases in use. Cybercriminals often take advantage of economic uncertainty to launch more attacks. As organizations face financial challenges, they may become more vulnerable to security breaches, which could, in turn, increase the demand for database security solutions. While budgets may be tight, organizations still need to comply with data protection and privacy regulations, which may require investment in database security. This can create a level of stability in the market, especially for vendors offering compliance-focused solutions. Recession may accelerate the migration of databases to the cloud, as cloud solutions can offer cost savings and flexibility. This shift could influence the database security market, as organizations will still require security solutions, but they may need ones tailored to cloud environments.
Key Market Segmentation:
By Component
By Deployment Mode
By Organization Size
By Business Function
Marketing

Sales

Finance

Operations

Others
By Vertical
Banking, Financial Services, And Insurance

Telecommunication and IT

Government and Defense

Manufacturing

Healthcare and life sciences

Retail and E-commerce

Energy and Utilities

Media and Entertainment

Others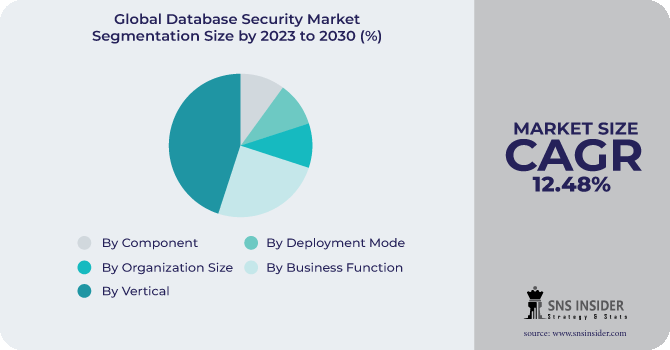 Need any customization research on Database Security Market - Enquiry Now
Regional Analysis
Due to an increase in cyberattacks aimed at obtaining private consumer information, North America is predicted to lead the worldwide database security industry. In 2022, 48% of cyberattacks will target US consumers, more than any other nation. Despite the strict standards and regulations, the US government has in place regarding database security, there have been more big data breaches recently. Additionally, the rise in cyber events has increased the demand for data security solutions in the banking and financial sectors. 37.52% of the population is from the North American region, and 27.1%, 22.6% in Europe and Asia Pacific is a breakdown of database security by region.
Due to the region's developing regulatory environment, the market in Asia Pacific is anticipated to experience the quickest revenue CAGR throughout the forecast period. For instance, China started a global data security initiative outlining recommended practices for anything from personal information to espionage. One of China's eight key concepts is to avoid using technology to harm other nations' critical infrastructure or steal their data. Another is to prevent service providers from installing backdoors into their systems and stealing consumer data.
REGIONAL COVERAGE:
North America
Europe
Eastern Europe

Poland

Romania

Hungary

Turkey

Rest of Eastern Europe

Western Europe

Germany

France

UK

Italy

Spain

Netherlands

Switzerland

Austria

Rest of Western Europe
Asia Pacific
China

India

Japan

South Korea

Vietnam

Singapore

Australia

Rest of Asia Pacific
Middle East & Africa
Middle East

UAE

Egypt

Saudi Arabia

Qatar

Rest of Middle East

Africa

Nigeria

South Africa

Rest of Africa
Latin America
Brazil

Argentina

Colombia
Rest of Latin America
Recent Developments
In July 2022, Mindtree and Rubrik will introduce Mindtree Vault, a centralized platform for cyber recovery. This method aids in protecting against data breach attackers.
To secure customers' data across their company on the cloud and on the SaaS platform, Rubrik Data Security announced Rubrik Security Cloud in May 2022. Investments made in infrastructure security and data security as part of the next-generation cybersecurity solutions give businesses high-level data security.
McAfee Enterprise and FireEye worked together to provide a cutting-edge cloud security solution on Amazon Web Services (AWS) available in November 2021.
Key Players:
The major market players are AWS, Alibaba Cloud, Trustwave, McAfee, Oracle, Fortinet, Microsoft, IRI, Zimcom, Micro Focus, Cloudera, Imperva, IBM, Trend Micro, Huawei, Tencent, Mak Logic, Datasparc, Thales Group, Protegrity, Hashicorp, Scalegrid, Optiv Security, OneNeck, Netwrix, and others.
Database Security Market Report Scope:
Report Attributes
Details
Market Size in 2022
US$ 7.25 Bn
Market Size by 2030
US$ 18.57 Bn
CAGR
CAGR of 12.48 % From 2023 to 2030
Base Year
2022
Forecast Period
2023-2030
Historical Data
2019-2021
Report Scope & Coverage
Market Size, Segments Analysis, Competitive Landscape, Regional Analysis, DROC & SWOT Analysis, Forecast Outlook
Key Segments
• By Component (Software, Services)
• By Deployment Mode (Cloud-Based, On-Premises)
• By Organization Size (Small and Medium-Sized Enterprises, Large Enterprises)
• By Business Function (Marketing, Sales, Finance, Operations, Others)
• By Vertical (Banking, Financial Services, And Insurance, Telecommunication and IT, Government and Defense, Manufacturing, Healthcare and life sciences, Retail and E-commerce, Energy and Utilities, Media and Entertainment, Others)
Regional Analysis/Coverage
North America (US, Canada, Mexico), Europe (Eastern Europe [Poland, Romania, Hungary, Turkey, Rest of Eastern Europe] Western Europe] Germany, France, UK, Italy, Spain, Netherlands, Switzerland, Austria, Rest of Western Europe]), Asia Pacific (China, India, Japan, South Korea, Vietnam, Singapore, Australia, Rest of Asia Pacific), Middle East & Africa (Middle East [UAE, Egypt, Saudi Arabia, Qatar, Rest of Middle East], Africa [Nigeria, South Africa, Rest of Africa], Latin America (Brazil, Argentina, Colombia Rest of Latin America)
Company Profiles
AWS, Alibaba Cloud, Trustwave, McAfee, Oracle, Fortinet, Microsoft, IRI, Zimcom, Micro Focus, Cloudera, Imperva, IBM, Trend Micro, Huawei, Tencent, Mak Logic, Datasparc, Thales Group, Protegrity, Hashicorp, Scalegrid, Optiv Security, OneNeck, Netwrix
Key Drivers
• Growing organizations across all industries, changing regulations and standards,
• The increasing need for advanced data security solutions all contribute to market expansion.
Market Restraints
• Huge cost required for the maintenance.
• Budgetary restrictions and a higher solution installation cost