Report Scope & Overview:
The Big Data Market was valued at USD 184.32 billion in 2022 and is projected to expand to USD 419.29 billion by 2030, growing at a CAGR of 10.82% in the forecast period of 2023 to 2030.
Big data refers to vast and complex collections of data, often sourced from new and diverse channels. These datasets are so massive that conventional data processing technologies are unable to handle them. Nevertheless, these colossal amounts of data can be utilized to tackle business problems that were once deemed unsolvable. The potential of big data is immense, as it can provide valuable insights into customer behavior, market trends, and operational inefficiencies. Businesses can obtain a competitive advantage by analyzing this data and making educated decisions. The sheer amount and complexity of big data, on the other hand, may be daunting. To make sense of it all, businesses need to employ advanced analytics tools and techniques, such as machine learning and artificial intelligence. These technologies can help identify patterns, correlations, and anomalies in the data, enabling businesses to extract meaningful insights and make data-driven decisions.
big data is a game-changer for businesses, offering unprecedented opportunities to gain insights and drive growth. By leveraging this data effectively, businesses can stay ahead of the curve and thrive in today's fast-paced and competitive marketplace.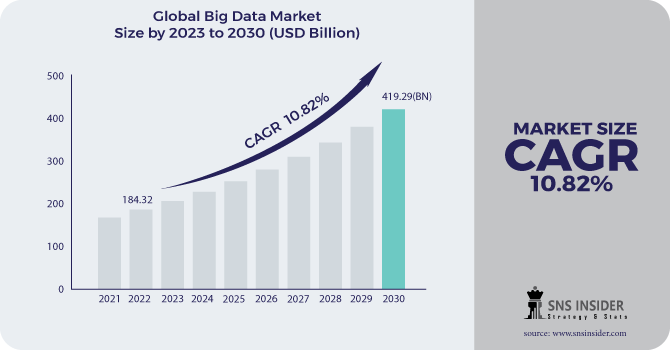 To get more information on Big Data Market - Request Sample Report
Market Dynamics
Drivers
Data volume has increased dramatically.

The use of the internet and smartphones is growing.
The number of data obtained by organizations is continually rising due to the development of social media, the Internet of Things (IoT), and multimedia, which have resulted in an overwhelming flow of data in either structured or unstructured shapes. The growing volume of corporate data, fast technical advances, and falling average selling costs of smart devices all contribute to the production of vast amounts of organized and unstructured data. Over 80% of the data collected by organizations is not stored in a traditional relational database. Instead, it is concealed in unstructured documents, social media posts, machine logs, pictures, and other sources. Many organizations are struggling to manage this flood of unstructured data. Big data solutions play an important role in data management for organizations of all kinds, especially in the cloud computing era. There is an undeniable need for a framework to combine and manage disparate sources of big data and data analytics in order to maximize value.
Restrains
Growing concerns about security and privacy

Costly installation and a scarcity of data analysts
Opportunities
Challenges
The issue with any data in any organization is that it is constantly maintained in numerous places and forms. When finance is keeping track of supply expenses, payroll, and other financial data, as it should, however information from machines on the factory floor is unintegrated in the production department's database, a basic activity like looking at production costs may be overwhelming for a manager. With big data, the silo problem becomes more severe. This is due to not just the sheer volume of data, but also the variety of its internal and external sources, as well as the many security and privacy standards that must be met. Legacy systems also play a role, making data consolidation difficult, if not impossible.
Impact Of covid 19
The COVID-19 pandemic has expedited the development of big data and corporate analytics. The growing trend of remote work and working from home has been a significant factor in boosting the global big data industry during the pandemic. Additionally, big data analytics technologies have played a crucial role in the healthcare industry. The surge in COVID patients in hospitals has generated a substantial amount of healthcare data, which big data technologies have processed and organized in a well-structured manner. The pandemic has highlighted the importance of big data and its potential to revolutionize various industries. With the help of big data analytics, businesses can gain valuable insights into consumer behavior and market trends, enabling them to make informed decisions. In the healthcare industry, big data has been instrumental in tracking the spread of the virus, predicting outbreaks, and developing effective treatments. As we continue to navigate the pandemic, it is clear that big data will play an increasingly vital role in shaping our future. From improving healthcare outcomes to driving business growth, the possibilities are endless. As such, it is essential for organizations to invest in big data technologies and leverage their potential to stay ahead of the curve.
Impact of the Russia-Ukraine War
The political instability in the region has led to a decrease in foreign investment. Many big data companies have been hesitant to invest in the region due to the uncertainty surrounding the conflict. This has resulted in a slowdown in the growth of the big data market in Ukraine and Russia. However, the conflict has also created opportunities for big data companies. The need for intelligence gathering and analysis has increased as a result of the conflict. Governments and businesses are looking for ways to gather and analyze data to gain insights into the situation in the region. This has led to an increase in demand for big data services and solutions.
As the conflict continues, it will be interesting to see how the big data market adapts and evolves to meet the changing needs of businesses and governments in the region.
Impact of Recession
Due to the recession businesses struggle to stay afloat, many are cutting back on their investments in technology, including big data solutions. This has led to a slowdown in the growth of the big data market, with many companies delaying or canceling their big data projects. despite the challenges posed by the recession, there are still opportunities for the big data market to thrive. As businesses look for ways to cut costs and improve efficiency, big data solutions can provide valuable insights that can help them make better decisions. Additionally, the pandemic has accelerated the adoption of digital technologies, including big data, as companies look for ways to adapt to the new normal.
To succeed in this challenging environment, companies in the big data market need to be agile and adaptable. They need to be able to pivot quickly to meet the changing needs of their customers and to develop solutions that are tailored to the current economic climate. By doing so, they can not only survive the recession but also emerge stronger and more resilient in the long run.
Key Market Segmentation:
The Big Data Market is segmented into five segments By component, By Business function, By Deployment Mode By Organization Size, and By End users.
By Component:
By Business Function:
Finance

Marketing and Sales

Human Resources

Operations
By Deployment Mode:
By Organization Size:
By End users:
BFSI

Government and Defense

Healthcare and Life Sciences

Manufacturing

Retail and Consumer Goods

Media and Entertainment

Telecommunications and IT

Transportation and Logistics

Other Verticals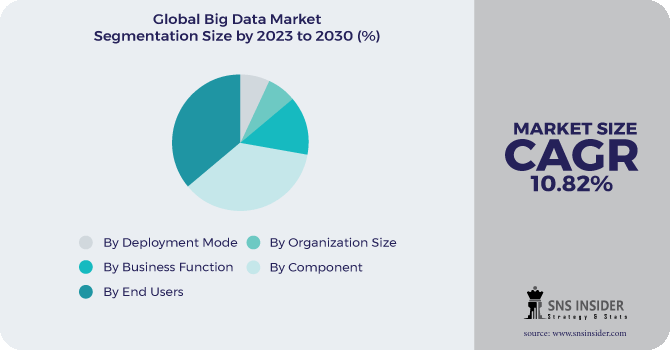 Need any customization research on Big Data Market - Enquiry Now
Regional Analysis
North America now leads the market and is likely to continue to lead over the forecast time. Extensive use of big data solutions in industries such as BFSI, Retail & E-Commerce, IT & telecom, and healthcare, among others, is a driving factor in the worldwide North American big data market. Furthermore, the fast use of technologies like AI, machine learning, Hadoop, and IoT is favoring the expansion of the American market.
During the forecasted years, the Asia-Pacific area is likely to expand at a rapid pace. The use of big data technologies like IoT devices and the growth of industries like banking and insurance are both contributing to the APAC big data market's expansion and the implementation of novel technologies like connected devices.
REGIONAL COVERAGE:
North America
Europe
Germany

UK

France

Italy

Spain

The Netherlands

Rest of Europe
Asia-Pacific
Japan

South Korea

China

India

Australia

Rest of Asia-Pacific
The Middle East & Africa
Latin America
Brazil

Argentina

Rest of Latin America
Recent Development
In the month of January 2022,
Oracle's new redwood design experience, with a fresh new style, greater space, and fonts fit for dense data, will help users find, display, and act on critical insights when it refreshes. Cloud Analytics from Oracle
Key Players:
The major players are SAP(Germany), Oracle(US), Centerfield(US), Microsoft(US), Sisense(US), SAS(US), TIBCO(US), Cloudera(US), Teradata(US), AWS(US), Informatica(US), Accenture(Ireland), Salesforce(US), Splunk(US), VMware(US), Ataccama(Canada), IBM(US), Google(US), COGITO(US), HPE(US), RIB datapine(Berlin), Fusionex(Malaysia), Bigeye(US), Imply(US), Rivery(US), YugabyteDB (US), Airbyte(US), Cardagraph(US), Firebolt(US), BigPanda(US), Alteryx(US), and others in final report.
Big Data Market Report Scope:
Report Attributes
Details
Market Size in 2022
US$ 184.32 Bn
Market Size by 2030
US$ 419.29 Bn
CAGR
CAGR of 10.82 % From 2023 to 2030
Base Year
2022
Forecast Period
2023-2030
Historical Data
2020-2021
Report Scope & Coverage
Market Size, Segments Analysis, Competitive Landscape, Regional Analysis, DROC & SWOT Analysis, Forecast Outlook
Key Segments
• By Component (Solutions, Big Data Analytics, Data Discovery, Data Visualization, Data Management, Services, Support and maintenance, Consulting, Deployment, and Integration)
• By Business Function (Finance, Marketing and Sales, Human Resources, Operations)
• By Deployment Mode (Cloud, On-premises)
• By Organization Size (Small and Medium-Sized Enterprises, Large Enterprises)
• By End users (BFSI, Government and Defense, Healthcare and Life Sciences, Manufacturing, Retail and Consumer Goods, Media and Entertainment, Telecommunications and IT, Transportation and Logistics, Other Verticals)
Regional Analysis/Coverage
North America (USA, Canada, Mexico), Europe
(Germany, UK, France, Italy, Spain, Netherlands,
Rest of Europe), Asia-Pacific (Japan, South Korea,
China, India, Australia, Rest of Asia-Pacific), The
Middle East & Africa (Israel, UAE, South Africa,
Rest of Middle East & Africa), Latin America (Brazil, Argentina, Rest of Latin America)
Company Profiles
SAP(Germany), Oracle(US), Centerfield(US), Microsoft(US), Sisense(US), SAS(US), TIBCO(US), Cloudera(US), Teradata(US), AWS(US), Informatica(US), Accenture(Ireland), Salesforce(US), Splunk(US), VMware(US), Ataccama(Canada), IBM(US), Google(US), COGITO(US), HPE(US), RIB datapine(Berlin), Fusionex(Malaysia), Bigeye(US), Imply(US), Rivery(US), YugabyteDB (US), Airbyte(US), Cardagraph(US), Firebolt(US), BigPanda(US), Alteryx(US)
Key Drivers
• Data volume has increased dramatically.
• The use of the internet and smartphones is growing.
Market Opportunities
• Increased use of technology and big data analytics