Report Scope & Overview:
The Deception Technology Market size was valued at USD 1.74 billion in 2022 and is expected to grow to USD 5.16 billion by 2030 and grow at a CAGR of 14.56 % over the forecast period of 2023-2030.
Deception technology is a cutting-edge cybersecurity defense practice that tries to prevent attackers by placing a variety of traps and decoys across the design of a system to imitate actual assets. If an intruder activates a decoy, the server will record and track the attack vectors used during the encounter, offering important insights into the attacker's techniques and motivations. This innovative approach to cybersecurity is rapidly gaining popularity among organizations seeking to enhance their security posture and stay ahead of the ever-evolving threat landscape. By creating a complex web of decoys and lures, deception technology can effectively deceive attackers and prevent them from accessing sensitive data or compromising critical systems. deception technology is a proactive defense strategy that enables organizations to detect and respond to threats in real-time, minimizing the risk of data breaches and other cyber-attacks. With its ability to provide early warning of potential threats and its capacity to gather valuable intelligence on attackers, deception technology is quickly becoming a must-have tool for any organization serious about protecting its assets and reputation. deception technology is a powerful and effective cybersecurity defense practice that can help organizations stay one step ahead of attackers. By deploying a range of decoys and traps throughout their systems, organizations can effectively deceive attackers and gather valuable intelligence on their methods and motives.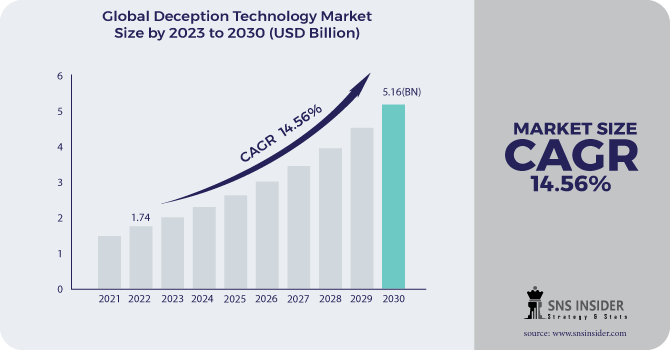 To get more information on Deception Technology Market - Request Sample Report
Market Dynamics
Drivers
Effective Solutions for Detecting Attackers Early

Increasing Demand from Government Sector for the Product to Promote Growth.
Cybersecurity assaults against state and municipal governments, as well as military businesses, are becoming more common. Traditional network defense solutions are designed to prevent such actions, but attackers are devising new methods to circumvent them. A deception platform is utilized frequently across the world to protect government entities from cyber-attacks. Cyber security at government institutions plays a crucial role in securing sensitive information by enabling early and accurate detection of in-network threats and prompt response to them.
Restrains
Honeypots and deceit have been used in the IT industry for more than two decades. The technology provides several benefits to the government and corporate sectors. However, different verticals must plan for possible risks such as legitimacy, attractiveness, and scalability. Organizations must construct appealing asset decoys to entice cyber attackers and identify and analyze attacker intent. Aside from that, even if the network is secure, devices must also be secure. After breaching endpoint security, an attacker can harvest the password and important data from the infrastructure. As a result, the likelihood of a data breach owing to lax network security may raise serious issues in deception solution efforts.
Opportunities
Challenges
Decoy Creation and Deployment Relevant to Organizational Assets

Rapid Cloud Computing and Virtual Environment Adoption
Impact Of covid-19
- Rising Internet Shopping Usage to Promote Market Development
Governments are experiencing significant hurdles in keeping their populations safe in the midst of the COVID-19 outbreak. To combat the epidemic, several countries are implementing cutting-edge digital technology. Various business sectors, including manufacturing, energy and utilities, retail, and BFSI, confront significant issues during the COVID-19 pandemic, such as guaranteeing optimal company operations and controlling the workforce's health. Cybercrime has increased dramatically in these critical times. According to PurpleSec's research, cybercrime has increased by 600% during the COVID-19 epidemic. Many firms have implemented deception technologies in their network architecture to combat cybercrime. Furthermore, since 2020, there has been a considerable surge in cybercrime activity due to increasing online buying and remote working activity among end-users. Remote employment, according to IBM, has increased the average cost of a data breach by USD 137.0 million. As a result, a considerable increase in the use of remote work throughout the world is predicted to drive demand for a deception platform to safeguard critical data from attackers. Deception technology manufacturers capitalize on this potential by modernizing their deception platform with IoT and cloud technologies. As a result, demand for deception platforms is increasing among verticals that are expected to drive the market throughout the forecast period.
Impact of Russia Ukraine War
The Russia-Ukraine war has caused a disruption in the supply chain of deception technology products. Many of the components used in these products are manufactured in Ukraine, which has been affected by the conflict. This has led to delays in production and delivery, causing a shortage of deception technology products in the market. the war has also led to an increase in cyber-attacks, particularly from Russian hackers. This has created a greater demand for deception technology products, as businesses and organizations seek to protect themselves from these attacks. However, the shortage of these products has made it difficult for companies to implement effective cybersecurity measures. The war could lead to a demand for more advanced defense strategies and technologies in the cybersecurity sector. Deception technology, with its ability to detect and deceive attackers, can be an attractive solution for organizations looking to bolster their security defenses. As a result, the market for deception technology could experience growth due to increased demand.
Impact of recession
The recession has had a significant impact on the Deception Technology market, as companies have been forced to cut back on their IT budgets. This has resulted in a decrease in demand for these types of security solutions, as businesses prioritize their spending on more essential areas. despite the challenges posed by the recession, the Deception Technology market is expected to rebound in the coming years. As cyber threats continue to evolve and become more sophisticated, businesses will need to invest in advanced security solutions to protect their sensitive data and networks. To stay competitive in this market, companies will need to focus on innovation and differentiation. They will need to develop new and unique solutions that can effectively detect and prevent cyber-attacks, while also providing value to their customers.
while the recession has had a negative impact on the Deception Technology market, there is still significant potential for growth and innovation in this field. As businesses continue to prioritize their security needs, the demand for advanced security solutions like Deception Technology will only continue to increase.
Key Market Segmentation:
The Deception Technology Market is segmented into five types on the basis of By component, By Organization Size, By Deception Stack, By Deployment Mode, and By Vertical.
By Component
By Organization Size
By Deception Stack
Data Security

Endpoint Security

Network Security
By Deployment Mode
By Vertical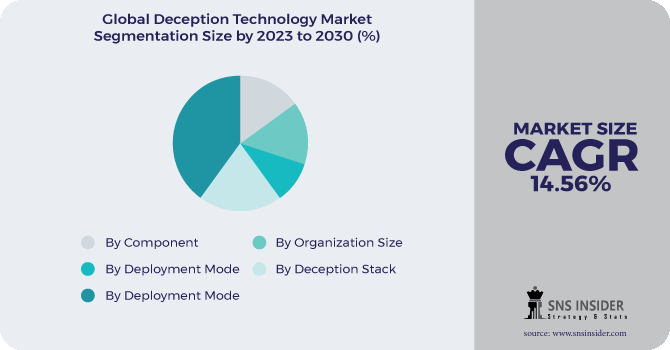 Need any customization research on Deception Technology Market - Enquiry Now
Regional Analysis
Because of the rising implementation of deception technology solutions in highly regulated areas such as financial services, health care, and government, the North American region is likely to occupy a major proportion of the worldwide deception technology market. Several US states, most notably California with its California Consumer Privacy Act (CCPA), have passed privacy legislation, considerably pushing end-user companies' desire for deception technology solutions.
In the foreseeable future, Asia Pacific is expected to be the fastest-growing area. Growing usage of Internet of Things (IoT) devices and bring-your-own-device (BYOD) technologies inside organizations, rising urbanization, and the vast continent population are likely to drive the Asia Pacific deception technology market growth. Furthermore, leading market vendors are focused on growing their companies in emerging nations such as India, China, and Singapore, among others in this region, which is expected to fuel market growth.
REGIONAL COVERAGE:
North America
Europe
Germany

UK

France

Italy

Spain

The Netherlands

Rest of Europe
Asia-Pacific
Japan

South Korea

China

India

Australia

Rest of Asia-Pacific
The Middle East & Africa
Latin America
Brazil

Argentina

Rest of Latin America
Key Players:
The major players are Illusive Networks, Inc., Guardicore, Attivo Networks, Inc., LogRhythm, Inc., PacketViper, Rapid7, Inc., Allure Security Technology, Inc., CyberTrap Software GmbH, Trapx Security, Fidelis Cybersecurity, vArmour, and others in the final report.
Guardicore-Company Financial Analysis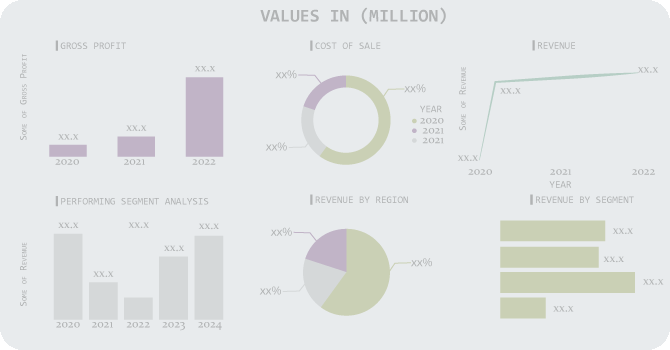 ​​​​​​​
Recent Development:
Allure Security Technology presented its revolutionary online phishing detection and response capability in November 2019. The solution is designed with Allure's Software-as-a-Service (SaaS) and informs the security team in real-time to detect phishing assaults.
Deception Technology Market Report Scope:
Report Attributes
Details
Market Size in 2022
US$ 1.74 Bn
Market Size by 2030
US$ 5.16 Bn
CAGR
CAGR of 14.56 % From 2023 to 2030
Base Year
2022
Forecast Period
2023-2030
Historical Data
2020-2021
Report Scope & Coverage
Market Size, Segments Analysis, Competitive Landscape, Regional Analysis, DROC & SWOT Analysis, Forecast Outlook
Key Segments
• By Component (Solution, Services)
• By Organization Size (Small and Medium Enterprises (SMEs), Large Enterprises)
• By Deception Stack, (Application Security, Data Security, Endpoint Security, Network Security)
• By Deployment Mode (On-Premise, Cloud-based)
• By Vertical (Banking, Financial Services, and Insurance (BFSI), Energy & Utilities, Government, Healthcare, Telecom and IT, Manufacturing, Retail, Others)
Regional Analysis/Coverage
North America (USA, Canada, Mexico), Europe
(Germany, UK, France, Italy, Spain, Netherlands,
Rest of Europe), Asia-Pacific (Japan, South Korea,
China, India, Australia, Rest of Asia-Pacific), The
Middle East & Africa (Israel, UAE, South Africa,
Rest of Middle East & Africa), Latin America (Brazil, Argentina, Rest of Latin America)
Company Profiles
Illusive Networks, Inc., Guardicore, Attivo Networks, Inc., LogRhythm, Inc., PacketViper, Rapid7, Inc., Allure Security Technology, Inc., CyberTrap Software GmbH, Trapx Security, Fidelis Cybersecurity, vArmour, and others in the final report.
Key Drivers
• Effective Solutions for Detecting Attackers Early
• Increasing Demand from Government Sector for the Product to Promote Growth.
Market Opportunities
• Deception Technology Integration in Virtual Environments