Report Scope & Overview:
The Defoamers Market size was valued at USD 3.6 billion in 2022. It is expected to grow to USD 5.35 billion by 2030 and grow at a CAGR of 5.1% over the forecast period of 2023-2030.
The growth of the defoamers market is attributed to the rising need for efficient foam control agents in industrial processes. Foam formation can lead to numerous issues, including reduced process efficiency, equipment damage, and product quality deterioration. As a result, industries are increasingly adopting defoamers to mitigate these challenges and ensure smooth operations. Expanding Applications: Defoamers find applications in a wide range of industries, including paints and coatings, food and beverages, pharmaceuticals, and agriculture textiles. The versatility of defoamers and their ability to address foam-related issues in diverse processes contribute to their growing demand.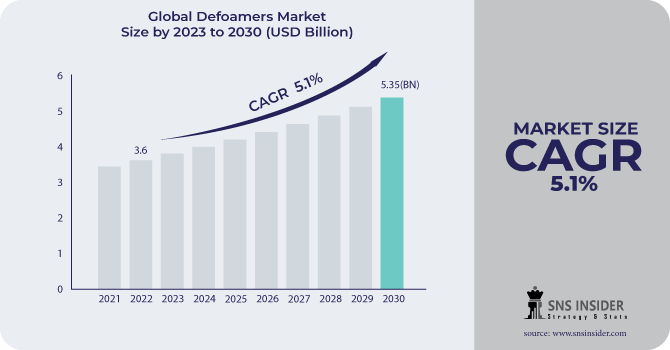 Get E-PDF Sample Report on Defoamers Market - Request Sample Report
The silicone-based defoamers dominated the defoamers market with the highest revenue share of about 36.5% in 2022. Their exceptional defoaming properties make them highly effective in combating foam-related issues across various industries. These defoamers possess excellent stability and durability, allowing them to maintain their defoaming capabilities over extended periods. This longevity translates into cost savings for industries, as they require fewer reapplications compared to alternative defoaming agents. Additionally, the superior thermal and chemical resistance of silicone-based defoamers enhances their appeal to industries operating in challenging environments. Lastly, the growing awareness regarding environmental sustainability has also played a significant role in the success of silicone-based defoamers. With their low toxicity and minimal impact on the environment, these defoamers align with the increasing demand for eco-friendly solutions.
Market Dynamics
Drivers
Increasing demand for defoamers from various industries

Growing demand for the defoamers in water treatment
Defoamers are extensively utilized in water treatment infrastructure for both municipal and industrial wastewater streams. Their primary purpose is to combat pump cavitations, prevent overflow losses, and enhance sanitation and safety measures. Consequently, defoamers play a crucial role in optimizing the sludge dewatering process and facilitating various operations such as clarification, floatation, filtration, thickening, and other related processes.
Restraint
Volatility of raw material prices

High cost associated with the production and quality control of the defoamers
Regulatory organizations, such as the U.S. FDA, the U.S. EPA, the USDA, and the European Commission, have established specific usage limits for various components in product formulations. Manufacturers strive to meet these stringent regulatory standards, which leads to high production costs and the need for rigorous quality control.
Opportunities
The packaging industry is experiencing a significant surge in demand for paper-based products. This trend can be attributed to various factors such as environmental concerns, sustainability initiatives, and consumer preferences for green packaging solutions. As a result, the Defoamers Market is poised to benefit from this growing demand. Defoamers play a crucial role in the production of paper-based products. During the manufacturing process, foam can be generated due to the presence of various chemicals and additives. This foam can negatively impact the quality and efficiency of the final product. Defoamers help to eliminate or prevent foam formation. By incorporating defoamers into the production process, manufacturers can effectively control foam-related issues. This leads to improved product quality, enhanced production efficiency, and reduced downtime. Consequently, the demand for defoamers is expected to witness a substantial increase in the packaging industry.
Challenges
One of the major challenges faced by the defoamers market is the ever-increasing environmental regulations. Governments worldwide are imposing stricter regulations to reduce the harmful impact of chemicals on the environment. This has led to a shift towards eco-friendly and sustainable defoamer solutions.
Impact of Russia-Ukraine War:
The war has disrupted the supply chain of defoamers, as many manufacturing facilities and distribution networks have been affected by the conflict. This has led to a decrease in the availability of raw materials and finished products, causing a shortage in the market. As a result, prices have increased, and companies have faced challenges in meeting customer demands. The imposition of sanctions and trade restrictions by various countries has further exacerbated the impact of the war on the defoamers market. These measures have limited the export and import capabilities of companies operating in the region, hindering their ability to access international markets. Consequently, businesses have had to explore alternative sourcing options and adapt their strategies to navigate these barriers. As the conflict has disrupted various industries, such as construction and manufacturing, the demand for defoamers has declined in these sectors. Conversely, sectors like agriculture and pharmaceuticals, which have experienced relative stability, have witnessed a steady demand for defoamers.
Impact of Recession:
The decline in demand for various products and services has directly affected the demand for defoamers. The decrease in the manufacturing process of various industries such as pulp and paper and paint and coatings has decreased the demand for defoamers in the second quarter of 2023. Additionally, the recession has disrupted supply chains, causing delays in the delivery of raw materials and finished products. With the economic downturn, consumers have become more cautious about their spending habits. As a result, the demand for defoamers has decreased significantly. Industries such as construction, automotive, and textiles, which heavily rely on defoamers, have experienced a decline in production, leading to reduced demand for defoamers.
Market segmentation
By Product
Oil-based

Water-based

Silicone-based

Others
By Application
Pulp & Paper

Water Treatment

Oil & gas

Paints & Coatings

Pharmaceuticals

Detergents

Food & Beverages

Others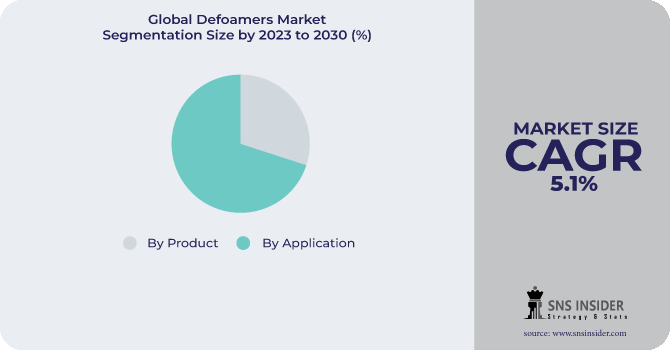 Get Customized Report as Per Your Business Requirement - Request For Customized Report
Regional Analysis
Asia Pacific dominated the defoamers market with the highest revenue share of about 42.5% in 2022. The presence of industries such as chemicals, paints and coatings, and food and beverages, has been a major driver of the demand for defoamers. These industries often encounter challenges related to foam formation during their manufacturing processes, necessitating the use of defoamers to maintain operational efficiency. Furthermore, the rapid economic growth witnessed in countries like China, India, and Japan has significantly bolstered the demand for defoamers. As these nations continue to experience industrial expansion and urbanization, the need for defoamers in various applications, including wastewater treatment, pulp and paper production, and oil and gas refining, has surged. Additionally, the presence of key market players in the region, coupled with their continuous efforts in research and development, has further fueled the growth of the defoamers market in Asia Pacific.
Europe held the significant revenue share of the defoamers market and is expected to grow with a CAGR of about 5.3% during the forecast period. The presence of pulp and paper manufacturers in Western Europe, along with a significant demand for water treatment, is the main reason for this phenomenon. Regulatory organizations in Europe are now prioritizing the use of defoamers that meet environmental specifications. Additionally, the government has taken steps to enhance the utilization of processed water in various municipal and industrial applications. In recent years, the European Directives on urban wastewater treatment have played a crucial role in driving the demand for these products. This surge in demand is expected to fuel the growth of the water and wastewater treatment industry in Europe throughout the forecast period.
REGIONAL COVERAGE:
North America
Europe
Eastern Europe

Poland

Romania

Hungary

Turkey

Rest of Eastern Europe

Western Europe

Germany

France

UK

Italy

Spain

Netherlands

Switzerland

Austria

Rest of Western Europe
Asia Pacific
China

India

Japan

South Korea

Vietnam

Singapore

Australia

Rest of Asia Pacific
Middle East & Africa
Middle East

UAE

Egypt

Saudi Arabia

Qatar

Rest of the Middle East

Africa

Nigeria

South Africa

Rest of Africa
Latin America
Brazil

Argentina

Colombia

Rest of Latin America
Key Players
The major key players are BASF SE, Clariant AG, Merck KGaA, Ashland Inc., Dow Corning Corporation, Evonik Industries AG, Shin-Etsu Chemical Co. Ltd., Kemira Oyj, Baker Hughes, Eastman Chemical Company, Air Products and Chemicals, and other key players mentioned in the final report.
Clariant AG-Company Financial Analysis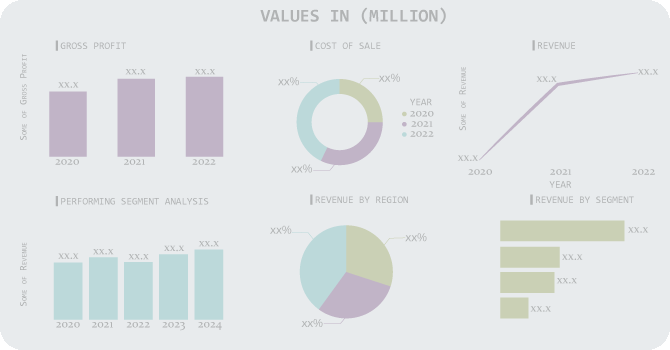 Recent Development:
In Feb 2021, Evonik introduced TEGO® Foamex 812, a defoamer specifically developed to offer an exceptional balance between effectiveness and compatibility, all while meeting the most stringent regulatory requirements.
Defoamers Market Report Scope
Report Attributes
Details
Market Size in 2022
US$ 3.6 Bn
Market Size by 2030
US$ 5.35 Bn
CAGR
CAGR of 5.1% From 2023 to 2030
Base Year
2022
Forecast Period
2023-2030
Historical Data
2019-2021
Report Scope & Coverage
Market Size, Segments Analysis, Competitive Landscape, Regional Analysis, DROC & SWOT Analysis, Forecast Outlook
Key Segments
• By Product (Oil-based, Water-based, Silicone-based, and Others)
• By Application (Pulp & Paper, Water Treatment, Oil & gas, Paints & Coatings, Agrochemicals, Pharmaceuticals, Detergents, Food & Beverages, and Others)
Regional Analysis/Coverage
North America (US, Canada, Mexico), Europe (Eastern Europe [Poland, Romania, Hungary, Turkey, Rest of Eastern Europe] Western Europe] Germany, France, UK, Italy, Spain, Netherlands, Switzerland, Austria, Rest of Western Europe]), Asia Pacific (China, India, Japan, South Korea, Vietnam, Singapore, Australia, Rest of Asia Pacific), Middle East & Africa (Middle East [UAE, Egypt, Saudi Arabia, Qatar, Rest of Middle East], Africa [Nigeria, South Africa, Rest of Africa], Latin America (Brazil, Argentina, Colombia Rest of Latin America)
Company Profiles
BASF SE, Clariant AG, Merck KGaA, Ashland Inc., Dow Corning Corporation, Evonik Industries AG, Shin-Etsu Chemical Co. Ltd., Kemira Oyj, Baker Hughes, Eastman Chemical Company, Air Products and Chemicals
Key Drivers
• Increasing demand for defoamers from various industries
• Growing demand for the defoamers in water treatment
Market Restraints
• Volatility of raw material prices
• High cost associated with the production and quality control of the defoamers