Report Scope & Overview:
Drone Software Market Size was valued at USD 5.2 billion in 2022, expected to reach USD 20.60 billion by 2030, and grow at a CAGR of 17.3% over the forecast period 2023-2030. Revolutionizing agriculture with drone-powered solutions and increasing private investment in the drone industry are two factors driving market growth. Companies in the data processing, workflow analytics, flight planning, operation & fleet management, data capture, and SDK's sectors are collaborating to integrate application software into drones to ensure the successful and smooth execution of various drone applications.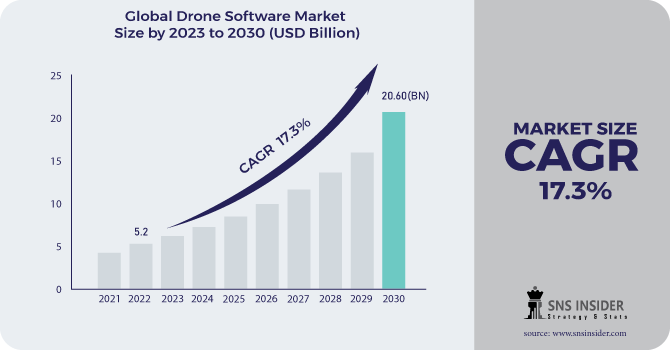 The drone is an unmanned aerial vehicle with sensors, GPS, and an embedded system that provides a bird's-eye view for aerial surveillance and inspection. Drone software is used in a variety of drone programme. Collision avoidance, obstacle detection, and a variety of other device algorithms are included in drone software. It is also used to combine all signal transmissions from connected sensors such as a visual sensor, an ultrasound sensor, an infrared sensor (LiDAR), and others. Some drones also include a firmware upgrade, which is software that is used to fix physical bugs and controls. Increased reliance on artificial intelligence and scene identification using drones are creating opportunities for the development of the drone software market.
MARKET DYNAMICS:
KEY DRIVERS:
Drones are increasingly being used for automated remote infrastructure inspection.

Drones are being used to create digital replicas of renewable energy sites and assets.
RESTRAINTS:
Growing concerns about cyber security

insufficient skilled personnel to operate drones
CHALLENGES:
Government regulations are strict, and there is a lack of air traffic management.

Consumer acceptance and health concerns due to drone noise
OPPORTUNITIES:
Military missions that use airborne communication nodes

Integration of IoT into the delivery drone ecosystem
THE IMPACT OF COVID-19
Drones are now important tools for combating COVID-19 in countries where they are used to track public activities, keep public distance, spray pesticides over villages, control property, and more. Therefore, the various drone applications and data collected need to be analyzed in order to use the target system and thus will play an important role in the development of the analytics market.
Technology firms are increasing their focus on much-needed innovation and finding new ways to support consumers, as the COVID-19 crisis creates problems in all sectors and leads to a decline in high technology investment. The Defense has a drone-based monitoring network in conjunction with highly trained pilots and these facilities can be placed in the hands of local authorities to monitor law and order up to the regional level, to deal with national security-related situations at such a time. epidemics when the nation is imprisoned.
Based on the platform, the drone software market is divided into security & government, commercial, and consumer. The drone software market has emerged in recent years, with increasing use of drones in the commercial and defense sectors. The US Department of Defense is currently using more than 11,000+ drones to support domestic training events and overseas emergency equipment. These aircraft travel in size, from the smallest RQ-11B Raven to the largest RQ / MQ-4 Global Hawk / Triton, which weighs more than 32,000 pounds.
Various companies in the drone software market are focused on the development of industry-specific drones for agriculture, construction, and transportation. In the military sector, drones are increasingly being used in a variety of tactics, including route detection, target detection, communication monitoring, and electronic interference. Companies such as Northrop Grumman and General Atomic provide military drones, as well as the necessary software. Companies offering commercial drones software are expected to introduce new navigation management software and automation.
The market is divided into two categories based on architecture: open source and closed source. The market is expected to be dominated by open-source software. Open-source software is available for free, and many businesses make use of it. The market is divided into two segments based on offering: app-based software and desktop software. During the forecast period, the app-based software segment is expected to grow the most. Because app-based software is useful for using drones in remote locations, the app-based software segment is thriving in the market.
The increasing use of drones for mapping, photography, agriculture surveillance, tracking, search and rescue operations, engineering applications, shipping and delivery, and other applications is driving the growth of the global drone software market. Drones may be deployed in remote areas where human life is at risk, and as a result of these advantages, the drone software market is growing. Additionally, the defence and commercial sectors are adopting drones, which is fueling the growth of the global drone software market. Furthermore, the companies are heavily investing in R&D, which is propelling the global drone software market forward.
MARKET KEY PLAYER
Drone Volt, Esri, DroneDeploy, Pix4D S.A, Skyward IO, 3D Robotics, Airware, Dreamhammer Products, Precisionhawk, SenseFly SA, and other players.
KEY MARKET SEGMENTS:
By Platform:
Defense & Government

Commercial

Consumer
By Deployment:
Onboard Drone

Ground-Based
By Solution:
By Architecture:
Open Source

Closed Source
By Offering:
App-based software

Desktop software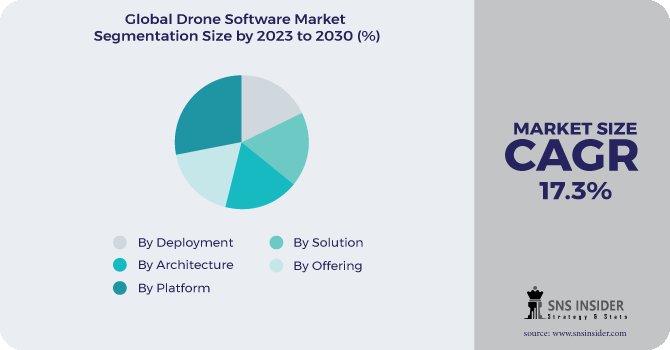 REGIONAL ANALYSIS
The drone software market in the North American region is expected to witness significant growth and register the highest CAGR at the time of forecasting. The growth of the drone software market in North America could be attributed to the increasing adoption of drones for commercial and defense applications. In recent years, drone software providers have been focusing on the development of inexpensive and efficient software, as, without proper software, one cannot manage a network of drones, create automatic BVLOS flights, or maintain the required flight data log. for compliance purposes. n In Canada, drones are used in various hazardous environments to conduct atmospheric surveys such as weather and gas samples; emergency and disaster monitoring; cartography & mapping; agricultural spraying; and advertising and marketing. They are also used for oceanographic research; geophysical research; mineral exploration; thinking spectrometry; telecommunications platforms; exploration activities; traffic and accident monitoring; search and rescue operations; aerial photography; weather monitoring; and aviation research; and inspection and inspection of remote power lines and pipelines.
REGIONAL COVERAGE:
North America

Europe

Germany

UK

France

Italy

Spain

The Netherlands

Rest of Europe

Asia-Pacific

Japan

south Korea

China

India

Australia

Rest of Asia-Pacific

The Middle East & Africa

Latin America

Brazil

Argentina

Rest of Latin America
Drone Software Market Report Scope:
Report Attributes
Details
Market Size in 2022
US$ 5.2 Billion
Market Size by 2030
US$ 20.60 Billion
CAGR
CAGR of 17.3% From 2023 to 2030
Base Year
2022
Forecast Period
2023-2030
Historical Data
2020-2021
Report Scope & Coverage
Market Size, Segments Analysis, Competitive Landscape, Regional Analysis, DROC & SWOT Analysis, Forecast Outlook
Key Segments
• By Technology (Thermo-Redox, Chemiluminescence, Amplifying Fluorescent Polymer, Mass Spectrometry, Ion Mobility Spectrometry, and Colorimetrics & Automated Colorimetric)
• By Product Type (Handheld, Vehicle-Mounted)
• By Application (Military & Defense, Public Safety, Transportation)
• By End-Use (Critical Infrastructure, Costumes & Border Protection, Event Security, Law Enforcement, Ports, and Event Security)
• By Type (Hand Held, Table Top and Other Detectors)
Regional Analysis/Coverage
North America (USA, Canada, Mexico), Europe
(Germany, UK, France, Italy, Spain, Netherlands,
Rest of Europe), Asia-Pacific (Japan, South Korea,
China, India, Australia, Rest of Asia-Pacific), The
Middle East & Africa (Israel, UAE, South Africa,
Rest of Middle East & Africa), Latin America (Brazil, Argentina, Rest of Latin America)
Company Profiles
Drone Volt, Esri, DroneDeploy, Pix4D S.A, Skyward IO, 3D Robotics, Airware, Dreamhammer Products, Precisionhawk, SenseFly SA, and other players.
DRIVERS
• Drones are increasingly being used for automated remote infrastructure inspection.
• Drones are being used to create digital replicas of renewable energy sites and assets.
RESTRAINTS
• Growing concerns about cyber security
• insufficient skilled personnel to operate drones