Report Scope & Overview:
Drone Telematics Market Size was valued at a CAGR of 7% over the forecast period 2023-2030. Telematics is the most extensively used car technology. However, the demand for drone telematics is projected to skyrocket in the near future. This is because drones are increasingly being used for commercial and defence purposes. Drone telematics enables the efficient management of a large number of drones while increasing operational efficiency. It enables commercial and defence end customers with expertise to remotely monitor drone location and information. Furthermore, in logistics and transportation, drone telematics enables organisations to track numerous supply chain activities.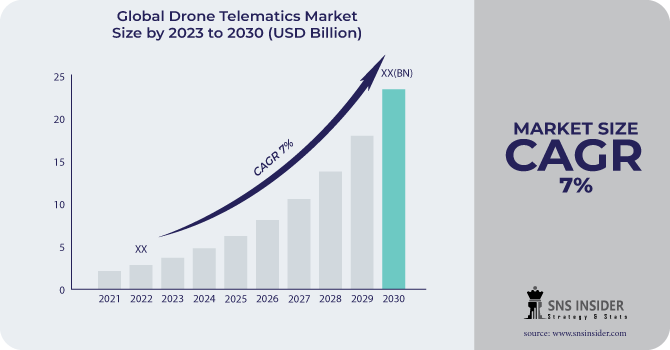 MARKET DYNAMICS:
KEY DRIVERS:
Drones are becoming more popular in logistics and transportation.

Drones are increasingly being used to combat internal and external security threats.
RESTRAINTS:
OPPORTUNITIES:
CHALLENGES:
Telematics system use is steadily increasing due to worries regarding repair warnings, annual maintenance time, and total running expenses.
THE IMPACT OF COVID-19
According to World Bank figures, the COVID-19 epidemic has reduced world GDP by around 3.5 percent in 2020. By 2021, many countries' economies had begun to recover and had partially adapted to pandemic constraints.Vaccine research and development has made great progress, and many countries, particularly in the United States, have implemented various strategies to boost economic recovery, which is anticipated to give relief. a significant boost to economic activity, but prospects for long-term growth vary greatly across countries and sectors. Although the world economy is recovering from the massive downturn caused by COVID-19, it will continue to lag behind pre-pandemic levels for some time.
The pandemic has heightened the hazards linked with the decade-long global debt accumulation surge. It is also likely to exacerbate the long-anticipated decrease in potential growth over the coming decade.
A quadcopter is a rotary drone with four rotors that lift and propel it. Two propellers in the quadcopter rotate clockwise, while the other two spin counterclockwise, allowing it to fly. Quadcopters are also easy to manage and can hover because to their four rotors. Quadcopters can also navigate in tight spaces and have a higher vertical take-off and landing capability.
Fixed Wing: During the forecast period, the fixed-wing segment is predicted to increase at a stable rate. Fixed-wing drones have wings rather than vertical lift rotors, and they are the most efficient.
They can be controlled by ailerons, elevators, and rudders that are built into the wings. These drones are capable of covering long distances, mapping large areas, and providing long-term surveillance. They also have other advantages, such as a long lifespan, a large geographical coverage, and a fast flight speed.
During the projected period, 2021 to 2028, the long-term category is expected to increase the most. The growing need for long-range drones in military applications is projected to propel this market forward.
In 2021, the medium range segment led the worldwide drone telematics market. This is because commercial end-users are increasingly using medium-range drones for recreational photography and filming, drone racing, and fishing.
During the projected period, 2021 to 2028, the short-term segment is expected to rise significantly. This increase is mostly due to an increase in the use of short-range drones by end-users.
The military & defence segment is predicted to increase the most throughout the projection period, owing to the military forces' widespread use of drones in intelligence, surveillance, and reconnaissance (ISR) tasks.
During the forecast period, the commercial category is expected to grow significantly. Factors like as an increase in the number of start-ups, a decrease in drone costs, and intense competition are driving rising demand for commercial drones in the global market.
During the projection period, the consumers sector is expected to rise at a steady CAGR. This is due to the increased use of drones for drone racing and fishing.
Tethered, embedded, and integrated form types are classified. With a market share of roughly 38.02 percent in 2021, the embedded category lead the market. Many telematics systems, such as eCall and remote patient monitoring, are ineffective in the absence of a vehicle-integrated connectivity solution.
MARKET PLAYER
Octo Telematics, DJI, Nokia Corporation, Verizon Telematics Inc., EnVue Telematics, LLC, vHive Ltd., Google LLC, Continental AG, Robert Bosch GmbH, L.G. Corp., and other players.
MARKET SEGMENTS:
by Range:
Long Range

Medium Range

Short Range
by End-User:
Military & Defense

Commercial

Consumers
by Type:
Quad copters

Fixed Wing

others
by Technology:
Embedded

Tethered

Integrated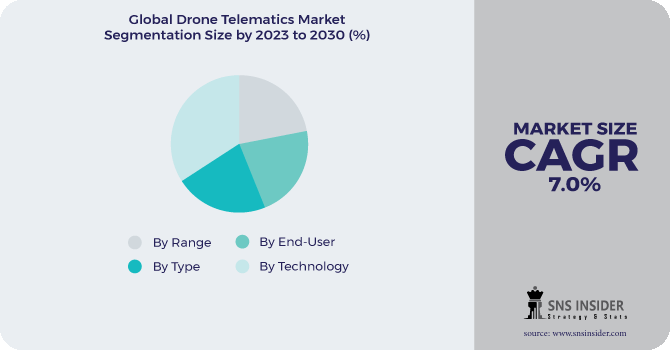 REGIONAL ANALYSIS
The drone telematics market is dominated by North America. Due to the presence of several prominent players such as EnVue Telematics, LLC, Verizon Telematics Inc., and Google LLC, as well as the significant investments made by these companies in the development of advanced drone telematics solutions, this region is expected to maintain its dominance during the forecast period.
Europe: The growing use of drones by European air forces for observation and reconnaissance operations is likely to drive demand for drone telematics solutions in the worldwide Drone Telematics Market over the forecast period.
Asia-Pacific During the forecast period, the market in this area is expected to grow at a rapid pace.
Growing defence spending and raised terrorist activity in nations such as India, China, Indonesia, and Australia have considerably increased demand for combat drones. During the projected period, this is expected to fuel the growth of the Asia-Pacific drone telematics market.
Defense spending increases by countries such as Saudi Arabia, the UAE, and Israel are driving market expansion throughout the Middle East and Africa.
Drones are increasingly being used in Latin America for information gathering on drug trafficking and rebel groups, monitoring deforestation, and controlling illegal migration, which is likely to boost the growth of the Drone telematics market over the forecast period.
REGIONAL COVERAGE:
North America

Europe

Germany

UK

France

Italy

Spain

The Netherlands

Rest of Europe

Asia-Pacific

Japan

south Korea

China

India

Australia

Rest of Asia-Pacific

The Middle East & Africa

Latin America

Brazil

Argentina

Rest of Latin America
Drone Telematics Market Report Scope:
Report Attributes
Details
Market Size in 2022
US$ xx Billion
Market Size by 2030
US$ xx Billion
CAGR
CAGR of 7% From 2023 to 2030
Base Year
2022
Forecast Period
2023-2030
Historical Data
2020-2021
Report Scope & Coverage
Market Size, Segments Analysis, Competitive Landscape, Regional Analysis, DROC & SWOT Analysis, Forecast Outlook
Key Segments
• By Range (Long Range, Medium Range and Short Range)
• By End-User (Military & Defense, Commercial and Consumers)
• By Type (Quad copters, Fixed Wing and others)
• By Technology (Embedded, Tethered and Integrated)
Regional Analysis/Coverage
North America (USA, Canada, Mexico), Europe
(Germany, UK, France, Italy, Spain, Netherlands,
Rest of Europe), Asia-Pacific (Japan, South Korea,
China, India, Australia, Rest of Asia-Pacific), The
Middle East & Africa (Israel, UAE, South Africa,
Rest of Middle East & Africa), Latin America (Brazil, Argentina, Rest of Latin America)
Company Profiles
Octo Telematics, DJI, Nokia Corporation, Verizon Telematics Inc., EnVue Telematics, LLC, vHive Ltd., Google LLC, Continental AG, Robert Bosch GmbH, L.G. Corp., and other players.
DRIVERS
• Drones are becoming more popular in logistics and transportation.
• Drones are increasingly being used to combat internal and external security threats.
RESTRAINTS
• Concerns about consumer acceptance and hacking, as well as privacy and security concerns