Report Scope & Overview:
The Edge Analytics Market size was valued at USD 7.23 billion in 2022 and is expected to grow to USD 39.61 billion By 2030 and grow at a CAGR of 23.69 % over the forecast period of 2023-2030.
Edge analytics is a cutting-edge process that involves the collection, monitoring, and analysis of data at the edge of network devices, including sensors, routers, gateways, switches, and more. Instead of waiting for data to be transmitted to a centralized storage system for analysis, analytical computations are performed at the edge of devices. This approach has revolutionized scalability and reduced latency in connected device decision-making. The demand for edge analytics has grown exponentially in recent years, driven by the proliferation of the Internet of Things (IoT) and the need for efficient edge analytical solutions. By leveraging the power of edge analytics, businesses can gain real-time insights into their operations, optimize their processes, and make data-driven decisions that drive growth and profitability. edge analytics is a game-changing technology that is transforming the way businesses operate in the digital age. With its ability to deliver real-time insights and improve decision-making, it is no wonder that it has become a critical component of modern data analytics strategies.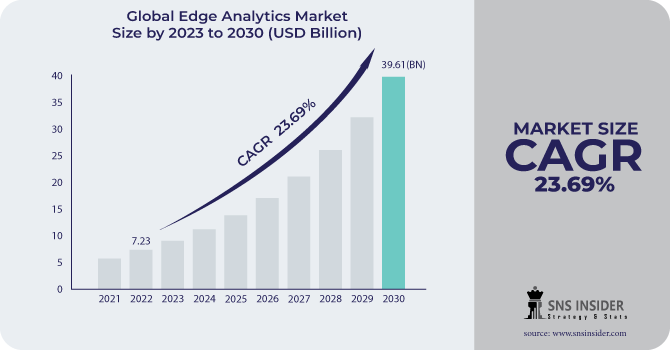 To get more information on Edge Analytics Market - Request Free Sample Report
Market Dynamics
Drivers
The Internet of Things (IoT) and the growth of large amounts of data via linked gadgets

Edge analytics is being propelled forward by predictive and real-time intelligence on network devices.

Edge analytics use improves scalability and cost optimization.
The utilization of edge analytics has proven to enhance scalability and optimize costs, thereby driving the growth of the edge analytics market. As businesses increasingly rely on real-time data insights to make informed decisions, the demand for edge analytics solutions has grown significantly. By leveraging edge analytics, organizations can improve their operational efficiency, enhance customer experiences, and gain a competitive advantage. the cost savings associated with edge analytics are a significant driver of market growth. By reducing the need for expensive data storage and processing infrastructure, edge analytics solutions can help organizations save on operational costs while still achieving their data analysis goals. the adoption of edge analytics is a key trend in the data analytics industry, driven by its ability to improve scalability, optimize costs, and provide real-time insights. As businesses continue to prioritize data-driven decision-making, the demand for edge analytics solutions is expected to continue to grow.
Restrains
Concerns about safety and security

There are no globally acknowledged standards.
Opportunities
• Adoption of supporting technologies (such as IoT, machine learning, natural language processing, visualization, fog computing, cloudlet, and so on) is increasing.
• Edge analytics are becoming more popular in business-to-business (B2B) applications than in consumer applications.
• Increasing industry need for cutting-edge analytical solutions
The demand for advanced analytical solutions in various industries is on the rise. This trend is driven by the need to stay ahead of the competition and make informed decisions based on accurate data. As technology continues to evolve, businesses are seeking cutting-edge tools that can provide them with valuable insights into their operations, customers, and markets. To meet this growing demand, companies are investing in innovative analytical solutions that can help them analyze large volumes of data quickly and efficiently. These solutions are designed to provide real-time insights that can inform critical business decisions and valuable opportunities for the market.
Challenges
Restructuring an organization's data strategy to prevent silos in the environment

Companies' reluctance to invest in innovative technology

Infrastructure limitations
Impact of the Russia-Ukraine War
War and geopolitical tensions can lead to economic instability, which may affect investment patterns and business confidence. Uncertainty and financial constraints can cause organizations to postpone or reduce their spending on emerging technologies like edge analytics, impacting market growth. The war can create regional variations in the edge analytics market. For instance, businesses located in areas directly affected by the conflict may experience a slowdown or temporary halt in their operations, impacting their adoption of edge analytics solutions. On the other hand, organizations outside the conflict zone may see increased demand for edge analytics solutions as they seek to enhance their operational efficiency and security. The Russia-Ukraine war can raise awareness about the importance of security and risk management in various industries. Edge analytics can play a crucial role in mitigating security risks by enabling real-time monitoring, threat detection, and proactive response. As a result, the war may drive increased interest and investment in edge analytics solutions from organizations seeking to enhance their security posture. Geopolitical conflicts can lead to changes in government policies and regulations, including those related to data privacy, security, and technology. These changes can have implications for the development and adoption of edge analytics solutions, as organizations may need to adapt to new compliance requirements or navigate evolving legal frameworks.
Impact of the Ongoing Recession
The impact of a recession on the Edge Analytics market, During a recession, businesses and organizations often tighten their budgets and reduce spending on non-essential technologies and services. This can lead to a decline in investments in edge analytics solutions, as organizations prioritize cost-cutting measures and focus on maintaining core operations. Recessions often result in a cautious approach to new projects and initiatives. Organizations may delay or cancel edge analytics projects due to uncertainty and a desire to conserve resources. This can slow down the adoption of edge analytics solutions and hinder market growth. Recessions typically result in limited capital availability, as investors become more risk-averse. This can make it challenging for edge analytics solution providers to secure the necessary funding for research and development, infrastructure expansion, and innovation. Consequently, the pace of technological advancements and market innovation may slow down. Recessions often force businesses to prioritize efficiency and cost savings. Edge analytics solutions that can demonstrate tangible benefits such as improved operational efficiency, reduced downtime, or cost optimization are more likely to weather the economic downturn. Companies that offer value-added solutions with a clear return on investment (ROI) may still find opportunities in the market. The impact of a recession on the Edge Analytics market can vary across different industries. Some sectors, such as retail, hospitality, and travel, may experience more severe declines in demand and tighter budgets, resulting in reduced investments in edge analytics. Conversely, industries that are less affected by the recession, such as healthcare or cybersecurity, may continue to invest in edge analytics to enhance their operations and address specific industry challenges.
Key Market Segmentation
By Component
By Deployment Model
By Type
Descriptive analytics

Predictive analytics

Diagnostic analytics
By Business Application
Marketing

Sales

Operations

Finance

Human Resources
By Industry
Healthcare

Energy

Automation

Agriculture

Manufacturing

Transportation

Others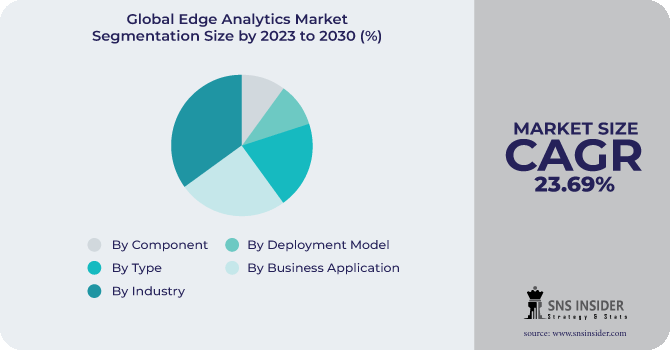 Need any customization research on Edge Analytics Market - Enquiry Now
Regional Analysis
North America is a crucial market for Edge Analytics, thanks to the growing acceptance of this technology among small and medium-sized organizations, as well as government regulations and compliance. Additionally, the edge analytics market has seen significant growth due to the high concentration of industrial and telecommunications businesses that rely heavily on edge analytics services.
The Asia Pacific region is expected to experience the fastest growth in the edge analytics market. This is due in part to government initiatives aimed at driving the adoption of IoT and cloud technology. For example, the Indian government is fully behind the Digital India Program, which aims to transform the country into a digitally empowered society and knowledge economy. As the demand for edge analytics continues to rise, businesses must stay ahead of the curve to remain competitive. By leveraging the power of edge analytics, organizations can gain valuable insights into their operations, improve efficiency, and drive growth.
REGIONAL COVERAGE:
North America
Europe
Germany

UK

France

Italy

Spain

The Netherlands

Rest of Europe
Asia-Pacific
Japan

South Korea

China

India

Australia

Rest of Asia-Pacific
The Middle East & Africa
Latin America
Brazil

Argentina

Rest of Latin America
Key Players:
The major players are Oracle Corporation, Cisco Systems Inc., Amazon Web Service Inc, PTC, Dell Statistica, EdgeConneX, Hewlett Packard Enterprise Development LP, Databricks, IBM Corporation, Intel Corporation, Microsoft, Analytic Edge, SAP HANA, AGT International Inc., CGI Group Inc., and others in the final report.
Cisco Systems Inc-Company Financial Analysis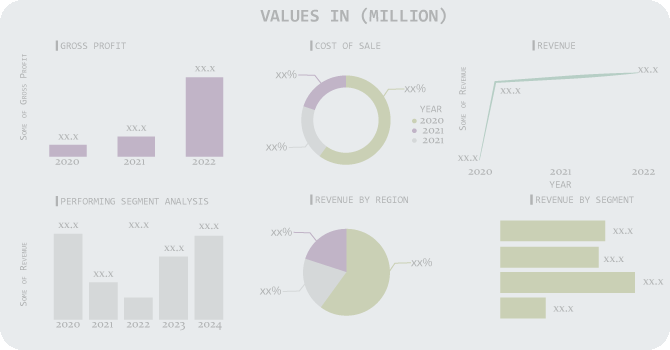 Recent Development
Microsoft Corporation bought Orions Digital Systems, Inc. in July 2020. This is done to assist the organization in evaluating personalized retail environments and adding functionality.
Intel purchased Moovit, a mobility-as-a-service solution, in May 2020. This will assist the corporation in achieving its robotaxi facility goal.
Edge Analytics Market Report Scope:
Report Attributes
Details
Market Size in 2022
US$ 7.23 Bn
Market Size by 2030
US$ 39.61 Bn
CAGR
CAGR of 23.69 % From 2023 to 2030
Base Year
2022
Forecast Period
2023-2030
Historical Data
2020-2021
Report Scope & Coverage
Market Size, Segments Analysis, Competitive Landscape, Regional Analysis, DROC & SWOT Analysis, Forecast Outlook
Key Segments
• By Component (Solution, Services)
• By Deployment Model (On-premises, On-cloud)
• By Type (Descriptive analytics, Predictive analytics, Prescriptive analytics, Diagnostic analytics)
• By Business Application (Marketing, Sales, Operations, Finance, Human Resources)
• By Industry (Healthcare, Energy, Automation, Agriculture, Manufacturing, Transportation, Others)
Regional Analysis/Coverage
North America (USA, Canada, Mexico), Europe
(Germany, UK, France, Italy, Spain, Netherlands,
Rest of Europe), Asia-Pacific (Japan, South Korea,
China, India, Australia, Rest of Asia-Pacific), The
Middle East & Africa (Israel, UAE, South Africa,
Rest of Middle East & Africa), Latin America (Brazil, Argentina, Rest of Latin America)
Company Profiles
Oracle Corporation, Cisco Systems Inc., Amazon Web Service Inc, PTC, Dell Statistica, EdgeConneX, Hewlett Packard Enterprise Development LP, Databricks, IBM Corporation, Intel Corporation, Microsoft, Analytic Edge, SAP HANA, AGT International Inc., CGI Group Inc.
Key Drivers
• The Internet of Things (IoT) and the growth of large amounts of data via linked gadgets
• Edge analytics is being propelled forward by predictive and real-time intelligence on network devices.
Market Opportunities
• Edge analytics are becoming more popular in business-to-business (B2B) applications than in consumer applications.
• Increasing industry need for cutting-edge analytical solutions