REPORT SCOPE & OVERVIEW:
The Electric Car Charger Market size was valued at USD 3.99 billion in 2022 and is expected to grow to USD 44.80 billion by 2030 and grow at a CAGR of 35.3 % over the forecast period of 2023-2030.
A device that charges electric vehicles (EVs), including hybrids and electric cars, is called a charging station. With the use of software, an energy controller, a network operations center, a facility meter, and energy conversion, the power grid operates the charging station. The charger device supports several charging gradations. Level 1 charging stations use a standard household outlet, level 2 charging stations work with all-electric cars, and level 3 charging stations are direct current (DC) fast chargers that swiftly charge cars.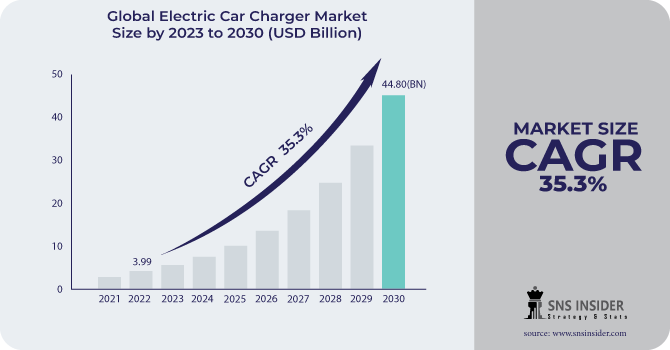 To get more information on Electric Car Charger Market - Request Free Sample Report
MARKET DYNAMICS
KEY DRIVERS:
The government is paying for an EV charging station.

The increasing number of electric Cars
The widespread use of electric vehicles necessitates the construction of a charging station infrastructure. Due to the market demand for EVs, top EVS players are concentrating on R&D to create a more sustainable charging infrastructure. Because government and private organizations are investing in these initiatives for the benefit of society, this will increase the number of EV charging stations.
RESTRAIN:
Electric charging station installation will be expensive in emerging and underdeveloped areas due to a lack of adequate infrastructure, which is comparable to a high installation cost for charging stations. Electric charging stations need a steady electrical supply, but there aren't many of them in these places, which may limit their expansion.
OPPORTUNITY:
EV battery costs are being reduced

Demand for cutting-edge, sustainable transportation
Due to growing worries about environmental contamination, customers expect clean transport services. People are considering electric automobiles as a result of their environmental concerns. With the enhanced features of EVS, environmental issues, traffic issues, and accidents are expected to significantly decline, according to EVs transportation developers. People are using electric scooters and cycles for daily transportation, which contributes to pollution. To promote clean transportation, the government of numerous nations has outlawed the use of gasoline-powered vehicles in some zones. The technological advancements of EVs also produce data planners that customers can use to reorganize parking and roads, which presents a market potential for the expansion of electric vehicle charging stations.
CHALLENGES:
Electric vehicles may be less reliable due to their short range and lengthy charge times; most poor nations do not accept electric versions due to this. Range anxiety and EV charging times can both interfere with the customer's ability to complete tasks, which can impede the expansion of the market.
IMPACT OF COVID-19
The market for electric car chargers has had difficulty expanding because of COVID-19. The lockdown in many countries, which has constrained the rise of electric vehicles, is contributing to the collapse of the global automobile industry. For instance, the number of new electric vehicle registrations in Germany fell by 35% in the first quarter of 2020 compared to the same period in 2019. Therefore, the COVID-19 epidemic slowed the market for electric car chargers from expanding.
The market for electric car chargers is anticipated to increase over the next few years as a result of rising environmental awareness and growing demand for electric automobiles. To eliminate pollution from non-renewable fossil fuel cars and to provide transportation with cleaner energy, the globe is moving towards electric transportation.
IMPACT OF RUSSIAN UKRAINE WAR
Millions of people have been displaced by the war, and many of them were employed in Ukraine's EV sector. As a result, there is a shortage of skilled labor and prices have gone up. The infrastructure has also been harmed by the conflict, making it challenging to transfer commodities and parts across the nation. Due to this, it has been challenging for Ukrainian businesses to sell their goods. Consumer confidence has suffered as a result of the war, which has decreased demand for EVs. In Ukraine, where the fighting is occurring, this is particularly true.
Many analysts predict that as consumers grow more concerned about the stability of the region as a result of the war, electric car demand will decline. The battle may also increase the cost of battery components and materials, which would decrease consumer access to EVs. Despite these obstacles, some industry analysts think that the long-term outlook for the EV sector is still promising because rising concerns about climate change and air pollution will probably increase demand for eco-friendly cars in the years to come.
IMPACT OF ONGOING RECESSION
Customers are becoming more interested in eco-friendly forms of mobility, they are becoming less willing to spend a lot of money on pricey charging infrastructure. This has made it challenging for businesses to survive and expand, which has led to a decrease in the number of billing choices accessible. Budget restrictions may also restrict government financing for EV infrastructure development initiatives, further impeding potential growth. However, demand for electric car chargers is anticipated to rise once again as governments and individuals continue to prioritize sustainable alternatives to conventional gasoline-powered automobiles and economies start to recover from recessionary constraints.
The implementation of a robust energy grid system together with an adequate supporting framework for electric cars across America could be instrumental in keeping inflationary pressures at bay owing to oil rates, averting any imminent financial disaster due to a possible recession. The US is less susceptible to a recession the more electric cars and clean energy initiatives are implemented. But for this theory to be valid, it must have the necessary infrastructure to support widespread acceptance. To launch the movement with the Inflation Reduction Act bill, the US is investing $369 billion.
KEY MARKET SEGMENTS
By Type
By Vehicle Type
Battery Electric Vehicle (BEV)

Plug-in Hybrid Electric Vehicle (PHEV)

Hybrid Electric Vehicle (HEV)
By Charging Infrastructure Type
CCS

CHADEMO

Normal Charge

Tesla Super Charger

Type 2 (IEC 621196)
By Application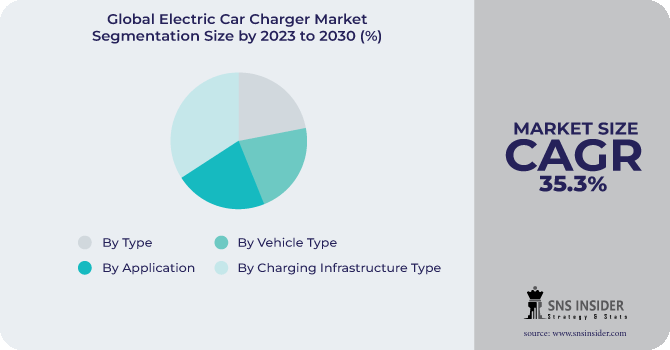 Need any customization research on Electric Car Charger Market - Enquiry Now
REGIONAL ANALYSIS
Asia-Pacific is the world leader in the market for electric car charging stations Because of its strong foundation in industrialization, the presence of significant participants in the market, its sound foreign policy, and the region's high demand for EVs.
North America is predicted to experience substantial development. Due to the rise in EV demand and the existence of a robust electronic market like Tesla. There is a sizable market for high-quality electric car charging stations, and demand is rising.
REGIONAL COVERAGE:
North America
Europe
Germany

UK

France

Italy

Spain

The Netherlands

Rest of Europe
Asia-Pacific
Japan

South Korea

China

India

Australia

Rest of Asia-Pacific
The Middle East & Africa
Latin America
Brazil

Argentina

Rest of Latin American
KEY PLAYERS
The Major players are Leviton Manufacturing Co. Inc., ABB Ltd., Siemens AG, Schneider Electric Corp, AeroVironment Inc., Eaton, Evatran LLC, Tesla Motors Inc., Delphi Automotive Plc., Bosch Automotive Service Solutions Inc., Elektromotive Ltd., Hubbell Device-Kellems, Legrand, TurboDock, GE, Chargepoint, Blink and other players listed in the final report.
RECENT DEVELOPMENTS
ABB increased the volume of EV chargers it produces in South Carolina starting in January 2023. This drastically shortens lead times and delivery for DC fast chargers in the US, allowing charger owners, operators, and developers to quickly deploy dependable chargers.

To hasten the adoption of EV charging and battery storage solutions for highway corridor DC fast charging and other EV charging applications, ChargePoint, Inc. struck a contract with Stem, one of the world's leading providers of AI-driven clean energy solutions and services, in January 2023.

ChargePoint Holdings Inc. and ALD Automotive inked a contract in April 2023 to launch a new EV charging company in Europe to accelerate corporate fleet electrification by giving drivers access to more than 485,000 charging connections through the network.
Electric Car Charger Market Report Scope:
Report Attributes
Details
Market Size in 2022
US$ 3.99 Bn
Market Size by 2030
US$ 44.80 Bn
CAGR
CAGR of 35.3 % From 2023 to 2030
Base Year
2022
Forecast Period
2023-2030
Historical Data
2020-2021
Report Scope & Coverage
Market Size, Segments Analysis, Competitive Landscape, Regional Analysis, DROC & SWOT Analysis, Forecast Outlook
Key Segments
• By Type (Slow AC, Fast AC, Fast DC)
• By Vehicle Type (BEV, PHEV, HEV)
• By Charging Infrastructure Type (CCS, CHADEMO, Normal Charge, Tesla Super Charger, Type 2 (IEC 621196))
• By Application (Home, Office, Commercial)
Regional Analysis/Coverage
North America (USA, Canada, Mexico), Europe
(Germany, UK, France, Italy, Spain, Netherlands,
Rest of Europe), Asia-Pacific (Japan, South Korea,
China, India, Australia, Rest of Asia-Pacific), The
Middle East & Africa (Israel, UAE, South Africa,
Rest of Middle East & Africa), Latin America (Brazil, Argentina, Rest of Latin America)
Company Profiles
Leviton Manufacturing Co. Inc., ABB Ltd., Siemens AG, Schneider Electric Corp, AeroVironment Inc., Eaton, Evatran LLC, Tesla Motors Inc., Delphi Automotive Plc., Bosch Automotive Service Solutions Inc., Elektromotive Ltd., Hubbell Device-Kellems, Legrand, TurboDock, GE, Chargepoint, Blink
Key Drivers
• The government is paying for an EV charging station.
• The increasing number of electric Cars
Market Opportunities
• EV battery costs are being reduced
• Demand for cutting-edge, sustainable transportation