Report Scope & Overview:
The Emollients Market size was valued at USD 1.4 billion in 2022. It is estimated to hit USD 2.05 billion by 2030 and grow at a CAGR of 4.9% over the forecast period of 2023-2030.
Emollients are substances that are used to moisturize and soften the skin, making it more supple and smooth. These products are widely used in various sectors, including cosmetics, pharmaceuticals, and personal care. Emollients play a crucial role in maintaining skin health and preventing dryness and irritation. They form a protective barrier on the skin's surface, preventing moisture loss and enhancing its natural hydration. This helps to alleviate skin conditions such as eczema, psoriasis, and dermatitis.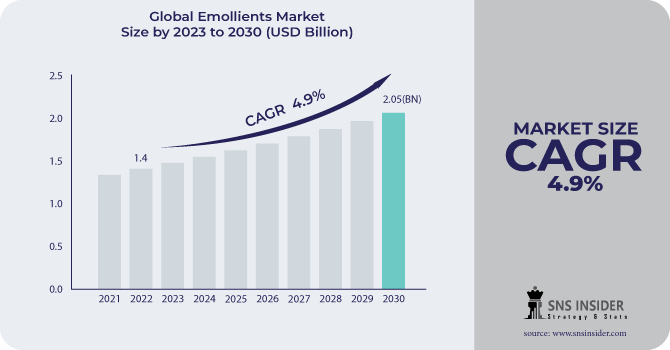 Get E-PDF Sample Report on Emollients Market - Request Sample Report
The demand for emollients has been steadily increasing due to the growing awareness of skincare and personal grooming. With the rise in disposable income and changing lifestyles, consumers are increasingly seeking products that enhance their appearance and overall well-being. This has led to a surge in the demand for emollients in the beauty and personal care industry. In recent years, there has been a shift towards natural and organic emollients, driven by the rising demand for sustainable and eco-friendly products. Consumers are becoming more conscious of the ingredients used in their skincare products and are opting for natural alternatives. This trend has prompted manufacturers to develop emollients derived from plant-based sources, such as shea butter, coconut oil, and jojoba oil.
The esters segment dominated the emollients market with the highest revenue share of about 42.3% in 2022. The dominance is attributed to esters possessing a wide range of applications, making them versatile and adaptable to various skincare formulations. Whether it be lotions, creams, or serums, esters can be seamlessly incorporated into these products, providing exceptional moisturization and nourishment. These compounds act as effective emulsifiers, ensuring that the various ingredients in a formulation remain well-blended and do not separate over time. This not only improves the overall quality of the product but also extends its lifespan, making it an attractive choice for both consumers and manufacturers. Additionally, esters have demonstrated remarkable compatibility with other skincare ingredients, allowing for synergistic effects. By combining esters with active compounds such as vitamins, antioxidants, or anti-aging agents, skin care products can deliver enhanced benefits to the skin, further driving their demand.
Market Dynamics
Drivers
Growing awareness about the benefits of emollients in maintaining healthy skin

Rising disposable income leading to higher spending on skincare products

Increasing demand for emollients in the cosmetics and personal care industry
The emollients market is experiencing a surge in demand, primarily driven by the cosmetics and personal care industry. Emollients play a crucial role in enhancing the texture and appearance of various cosmetic products. These substances possess exceptional moisturizing properties, which help to soften and smoothen the skin. As a result, emollients are widely utilized in the formulation of creams, lotions, and other skincare products, providing consumers with a luxurious and nourishing experience. Furthermore, the personal care industry has witnessed a significant shift towards natural and organic ingredients. Emollients derived from plant-based sources have gained immense popularity due to their perceived safety and sustainability. Moreover, the rising awareness about the importance of skincare and self-care routines has contributed to the increased demand for emollients.
Restraint
Stringent regulations and guidelines imposed by regulatory bodies on the use of certain emollients

Potential side effects and allergies associated with the use of emollients
One of the primary concerns regarding emollients is the possibility of adverse reactions on the skin. While these products aim to nourish and hydrate the skin, certain individuals may experience unwanted side effects. These can range from mild irritations, such as redness or itching, to more severe conditions like dermatitis or eczema flare-ups. Such reactions can be distressing for users and may deter them from continuing to use emollients. Moreover, allergies to specific ingredients found in emollients pose another challenge. Some individuals may have sensitivities or allergies to certain substances commonly used in these products, such as fragrances, preservatives, or specific oils. These allergic reactions can manifest as skin rashes, hives, or even respiratory difficulties in severe cases. Consequently, individuals with known allergies or sensitivities may be reluctant to use emollients, limiting the market's potential growth.
Opportunities
Expanding market for natural and organic emollients due to the rising preference for sustainable and eco-friendly products

Increasing demand for emollients in emerging economies with a growing middle-class population
Challenges
Limited consumer awareness about the different types and benefits of emollients

Fluctuating prices of raw materials used in emollient production, affecting the overall cost of the product
Impact of Russia-Ukraine War:
The Ukrainian cosmetics industry has been severely impacted by Russia's invasion, leading to the suspension of production and closure of numerous businesses. Cities like Kharkiv and Dnipro in Ukraine are home to a multitude of domestic beauty and personal care product manufacturers, as well as renowned international companies such as L'Oréal, Henkel, and Oriflame. Prior to February 24th, large international companies controlled 70% of the Russian cosmetics market, with the European Union and the United States serving as the main suppliers. However, within a mere two months, by April 2022, the market had contracted by 14% due to the exodus of major corporations. Consequently, the availability of retail products decreased by 25%. Fearing scarcity, consumers responded by stockpiling goods, resulting in a 3% increase in cosmetics purchases during the first half of 2022. Nevertheless, the most significant indicator of the conflict's impact on the Russian cosmetics market was the drastic decline in imports, plummeting by 80%. This has particularly devastated the emollient market in the affected region and their export regions due to the ongoing war.
Impact of Recession:
The threat of a recession may cause some shoppers to reduce their spending on nonessential items, but this does not seem to apply to beauty essentials. L'Oréal recently announced impressive financial results, with a remarkable 18.3% increase in revenue to $10.2 billion in 2022. Additionally, their net income rose to $1.2 billion compared to the previous year, setting a new record for the 33-year-old company. The beauty industry in the United States also experienced significant growth, with high-end beauty brands witnessing a 15% year-over-year increase in revenue, surpassing $27 billion, as reported by Circana. This consistent or even increased demand for personal care products during an economic downturn is driving the need for emollients in the production of beauty items.
Market segmentation
By Type
Esters

Fatty Acids

Ethers

Fatty Alcohols

Silicones

Others
By Form
By Application
Skin Care

Oral Care

Hair Care

Deodorants

Others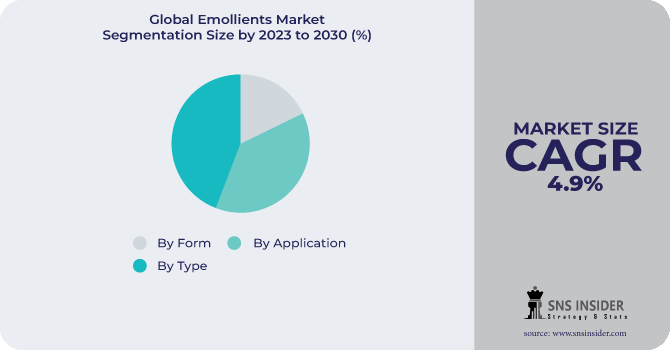 Get Customized Report as Per Your Business Requirement - Request For Customized Report
Regional Analysis
Asia Pacific dominated the emollients market with the highest revenue share of about 34.7% in 2022. The Asia Pacific boasts a population that accounts for nearly 60% of the global population, establishing it as the clear majority. Emollients play a crucial role as key ingredients in a wide range of personal care products, including shampoos, conditioners, moisturizers, lotions, and deodorants, among others. The region's increasing consumption of such products is anticipated to propel market growth. This surge in demand is primarily attributed to the rising popularity of cosmetics products. Millennials and young adults in the region are displaying a remarkable inclination toward personal care products, leading to a surge in demand. Recognizing this trend, numerous companies have been launching personal care products specifically targeting this demographic. For instance, in June 2022, Shiseido introduced Sidekick, a new skincare line tailored for Gen-Z men in the Asia Pacific region. This exemplifies the industry's response to the growing demand among young adults and millennials.
North America is expected to grow with a CAGR of about 5.1% in the emollients market during the forecast period. This growth is attributed to the increasing demand for personal care and cosmetic products in the United States. According to L'Oréal's report for 2021, the United States serves as a significant catalyst for the cosmetics industry's expansion. The emollient market in this region is expanding due to the rapid evolution of consumer lifestyles and the increasing emphasis on beauty and wellness. Moreover, the market growth in North America is further propelled by the ever-changing consumer habits and the growing awareness surrounding beauty and wellness. Additionally, the rising consumer expenditure on skincare cosmeceuticals and anti-aging products also contributes to the market's expansion in this region.
REGIONAL COVERAGE:
North America
Europe
Eastern Europe

Poland

Romania

Hungary

Turkey

Rest of Eastern Europe

Western Europe

Germany

France

UK

Italy

Spain

Netherlands

Switzerland

Austria

Rest of Western Europe
Asia Pacific
China

India

Japan

South Korea

Vietnam

Singapore

Australia

Rest of Asia Pacific
Middle East & Africa
Middle East

UAE

Egypt

Saudi Arabia

Qatar

Rest of Middle East

Africa

Nigeria

South Africa

Rest of Africa
Latin America
Brazil

Argentina

Colombia

Rest of Latin America
Key Players
The major key players are P&G, Johnson & Johnson, Eastman Chemical Company, Evonik Industries AG, BASF SE, The Lubrizol Corporation, Sasol, Hallstar, Croda International PLC, Clariant, Ashland Inc., Stepan Company, Oleon Health and Beauty, Solvay, Vantage Speciality Chemicals, and other key players are mentioned in the final report.
P&G-Company Financial Analysis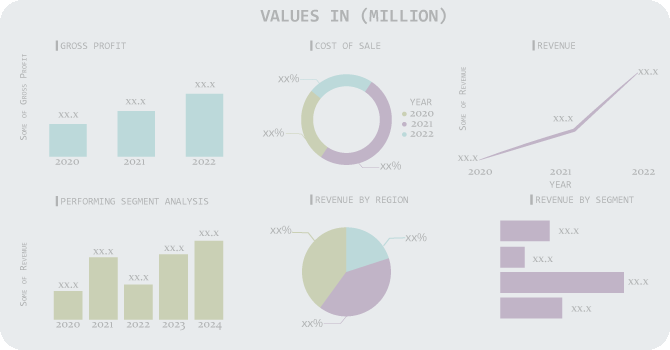 Recent Development:
In June 2023, Oleon is focusing on the development of ingredients through enzymatic esterification. One of their recent launches is Radia 7199ACT, a texture enhancer, and emollient, as well as the fatty ester Jolee 7749ACT, which is beneficial for both skin and hair.

In March 2023, Clariant responded to the growing interest and knowledge of skincare among consumers worldwide by introducing Plantasens Pro LM, a new natural emollient. This product provides a luxurious, rich, and nurturing sensation to the skin during and after application.

In September 2022, BASF announced the partnership with RiKarbon, focusing on the development of emollients derived from bio-waste. This collaboration builds upon the successful research and development efforts of RiKarbon Inc., aiming to create new environmentally friendly emollients for personal care products.

In June 2022, Evonik expanded its manufacturing capacity in Shanghai to produce TEGOSOFT® MM MB.

In Feb 2021, Sasol Chemicals was honored with the prestigious 2021 Henkel Beauty Care Sustainability Award for their Parafol line of high-purity oleo-chemical-based paraffin emollients. These emollients serve as an alternative to silicone oils in Henkel's Fa deodorant brand.

In Jan 2021, Vantage broadened its range of jojoba esters with the introduction of Liponate Jojoba 20. This jojoba-derived emollient is specifically designed for vegan formulations, offering a high level of traceability and natural origin.
Emollients Market Report Scope
Report Attributes
Details
Market Size in 2022
US$ 1.4 Bn
Market Size by 2030
US$ 2.05 Bn
CAGR
CAGR of 4.9% From 2023 to 2030
Base Year
2022
Forecast Period
2023-2030
Historical Data
2019-2021
Report Scope & Coverage
Market Size, Segments Analysis, Competitive Landscape, Regional Analysis, DROC & SWOT Analysis, Forecast Outlook
Key Segments
• By Type (Esters, Fatty Acids, Ethers, Fatty Alcohols, Silicones, and Others)
• By Form (Solid and Liquid)
• By Application (Skin Care, Oral Care, Hair Care, Deodorants, and Others)
Regional Analysis/Coverage
North America (US, Canada, Mexico), Europe (Eastern Europe [Poland, Romania, Hungary, Turkey, Rest of Eastern Europe] Western Europe] Germany, France, UK, Italy, Spain, Netherlands, Switzerland, Austria, Rest of Western Europe]), Asia Pacific (China, India, Japan, South Korea, Vietnam, Singapore, Australia, Rest of Asia Pacific), Middle East & Africa (Middle East [UAE, Egypt, Saudi Arabia, Qatar, Rest of Middle East], Africa [Nigeria, South Africa, Rest of Africa], Latin America (Brazil, Argentina, Colombia Rest of Latin America)
Company Profiles
P&G, Johnson & Johnson, Eastman Chemical Company, Evonik Industries AG, BASF SE, The Lubrizol Corporation, Sasol, Hallstar, Croda International PLC, Clariant, Ashland Inc., Stepan Company, Oleon Health and Beauty, Solvay, Vantage Speciality Chemicals
Key Drivers
• Growing awareness about the benefits of emollients in maintaining healthy skin
• Rising disposable income leading to higher spending on skincare products
• Increasing demand for emollients in the cosmetics and personal care industry
Market Restraints
• Stringent regulations and guidelines imposed by regulatory bodies on the use of certain emollients
• Potential side effects and allergies associated with the use of emollients