Report Scope & Overview:
The Encryption Software Market was worth USD 12.59 billion in 2022 and is predicted to be worth USD 38.99 billion by 2030, growing at a CAGR of 15.18% between 2023 and 2030.
Encryption software is program-based software that utilizes cryptographic techniques to safeguard digital information from unauthorized access. The encryption process initiates when data undergoes a series of mathematical operations, resulting in a modified version of the original data. These operations are known as algorithms, which are essentially a sequence of steps. The disparities between encrypted and unencrypted data are substantial. Unencrypted data refers to plain text, while encrypted data is referred to as ciphertext. The primary objective of encryption is to create ciphertext that cannot be easily converted back into plain text format. This ensures that sensitive information remains protected and inaccessible to unauthorized individuals. The market for encryption software is rapidly expanding due to its ability to prevent unauthorized access to data and generate indecipherable codes for enhanced data security. As the need for safeguarding sensitive information grows, the demand for encryption software continues to rise.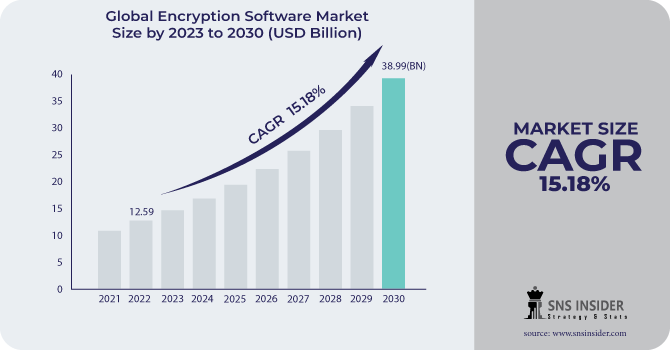 To get more information on Encryption Software Market - Request Free Sample Report
Market Dynamics
Drivers
The high usage of cloud and virtualization technologies drives market demand.

The increased adoption of end-point data security solutions in the telecommunications and information technology industries is increasing market demand.

Globally, digitalization and Internet penetration are increasing:
Small and large businesses alike are heavily investing in digital solutions to increase their distribution channels and boost efficiency while reforming the many procedures involved. The increasing internet penetration and digitization, as well as the increased usage of IoT across many industries, are likely to drive up demand for encryption software technologies.
Restrains
Given efficient trends and potential for organizations, several limitations are impeding the expansion of encryption software. The use of unlicensed and open-source platforms has grown in recent years, owing to their accessibility of download through the internet and other platforms. Despite the risks connected with pirated software, some firms use it for cost-cutting motives. This will very certainly lead to third-party and ransomware assaults on sensitive company data. Thus, continued usage of unlicensed encryption software is one of the primary limitations that might stymie worldwide market growth.
Opportunities
Data and security breaches have become more common in recent years. For example, the Chartered Professional Accountants of Canada (CPA) had a cyber-attack in 2020 that resulted in the theft of personal information for approximately 328,000 stakeholders and members. Increasing data breaches across industry verticals have generated an urgent demand for data protection policies and technology that allow organizations to retain and safeguard essential data. Encryption software is being used by businesses all over the world as a major defensive mechanism against data and security breaches.
Ransomware cannot break cryptographic security mechanisms, keeping systems and databases secure. To improve data security, encryption techniques such as encryption and steganography are utilized, which help to dissuade cyber threats from invading data. This is projected to fuel the expansion of the encryption software industry. Furthermore, the amount of data created by digital channels, cloud technologies, and the Internet of Things (IoT) has expanded, necessitating the need for data privacy solutions.
Challenges
Enterprises have a skilled labor shortage.

The biggest challenge that organizations face when employing encryption software solutions is the high expense of installing these solutions.
The Russia-Ukraine war
During times of conflict or heightened geopolitical tensions, individuals, organizations, and governments often seek to enhance their data security and protect their communications. This can lead to an increased demand for encryption software and related security solutions. As the conflict intensifies, there may be a shift towards stronger encryption standards and protocols to safeguard sensitive information. Governments and organizations may invest more in encryption technologies to protect their data from potential breaches or espionage attempts. Governments involved in the conflict may introduce new regulations or modify existing ones related to encryption and data security. This can have implications for encryption software providers, as they may need to comply with new requirements or adapt their products to meet the changing legal landscape. In certain scenarios, governments or organizations may prioritize the development of localized encryption solutions to reduce reliance on foreign software providers. This can lead to the growth of domestic encryption software markets in both Russia and Ukraine. During times of geopolitical tension, cyberattacks, and hacking attempts often escalate. Encryption software plays a crucial role in safeguarding sensitive information and preventing unauthorized access. As a result, the demand for advanced encryption technologies may rise to counter the increased cybersecurity threats.
Impact of Recessions
During a recession, there is often a rise in cybercrime and data breaches as criminals attempt to exploit vulnerabilities. This can lead to an increased demand for encryption software as organizations seek to protect their sensitive data and secure their communication channels. In times of economic downturn, businesses may implement cost-cutting measures, which can impact their spending on software solutions, including encryption software. Some organizations may prioritize essential expenses over security measures, resulting in reduced investments in encryption software. Recessionary periods can lead to intensified competition among encryption software providers. To win customers and maintain their market share, companies may reduce prices or offer discounts, which can impact profit margins. This can also make it challenging for smaller encryption software vendors to compete with larger, more established players. In some industries, such as finance, healthcare, and government, compliance with data protection regulations is mandatory. Economic downturns do not eliminate regulatory requirements, and organizations may continue to invest in encryption software to meet their compliance obligations. However, in sectors where compliance is less stringent, the demand for encryption software may decrease. Recessions can result in reduced research and development budgets as companies focus on cost containment. This may slow down the pace of innovation in the encryption software market, with fewer new features and advancements being introduced during the downturn.
Key Market Segmentation
By Component
By Deployment Model
By Enterprise Size
By Application
Disk Encryption

Database Encryption

Cloud Encryption

Folder Encryption

Others
By Industry Vertical
IT and Telecommunications

Banking, Finance, Security, and Insurance (BFSI)

Healthcare and Life Sciences

Manufacturing

Retail

Government

Energy and Utilities

Others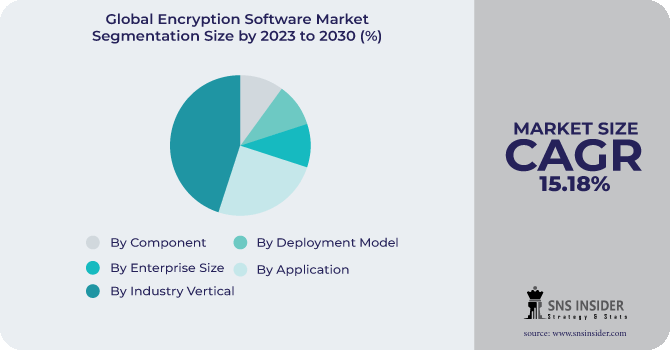 Need any customization research on Encryption Software Market - Enquiry Now
Regional Analysis
North America is predicted to have the largest share of the worldwide market. With the rising prevalence of the internet, the region's usage of encryption solutions is projected to rise. Furthermore, the expanding mobile wireless network has increased data protection risk, making encryption technology an important and necessary component of any organization in the region. According to the Interstate Technology & Regulatory Council (ITRC), the anticipated number of data breaches experienced by businesses in the United States has increased. Furthermore, the growing necessity to follow severe laws, along with the existence of key encryption software suppliers, is projected to drive regional market expansion.
During the projection period, Asia Pacific is predicted to have the largest market share growth. The Asia Pacific market is predicted to increase in the next years due to a lack of data storage technologies, which would force organizations to store their data on cloud servers. This increases the likelihood of data loss and theft while also increasing the demand for encryption technologies in the region. The increased use of BYOD, cloud computing, and IoT has fueled regional demand for encryption applications. Market development in countries such as China and India would be driven by the expansion of retail business combined with significant changes in the ICT industry in the future years.
REGIONAL COVERAGE:
North America
Europe
Eastern Europe

Poland

Romania

Hungary

Turkey

Rest of Eastern Europe

Western Europe

Germany

France

UK

Italy

Spain

Netherlands

Switzerland

Austria

Rest of Western Europe
Asia Pacific
China

India

Japan

South Korea

Vietnam

Singapore

Australia

Rest of Asia Pacific
Middle East & Africa
Middle East

UAE

Egypt

Saudi Arabia

Qatar

Rest of Middle East

Africa

Nigeria

South Africa

Rest of Africa
Latin America
Brazil

Argentina

Colombia

Rest of Latin America
Key Players:
The major players are Broadcom, Sophos, IBM, Thales, McAfee, Trend Micro, Microsoft, Dell, Micro Focus, PKWare, Cisco, Boxcryptor, Check Point, WinMagic, Cryptomathic, ESET, Bitdefender, Stormshield, HPE, Baffle, Fortanix, Enveil, Bitglass, Nord Security, PreVeil, and others.
Microsoft-Company Financial Analysis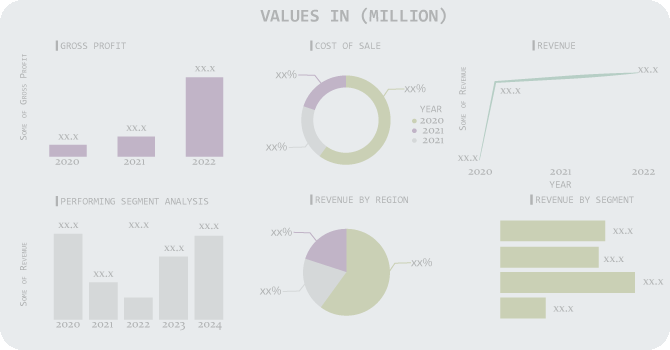 Recent Developments:
Thales released CipherTrust Intelligent Protection in November 2021, which provided an automated procedure for discovering, protecting, and controlling data through encryption and access restrictions.
Sophos Email Advanced Portal Encryption was made available to clients and partners as an add-on product to Sophos Email Advanced in March 2021. Portal Encryption allowed email senders to safely transmit encrypted communications to web portals.
IBM will introduce FHE in December 2020, allowing data to stay encrypted even when being processed or analyzed in the cloud or third-party settings.
Encryption Software Market Report Scope:
Report Attributes
Details
Market Size in 2022
US$ 12.59 Bn
Market Size by 2030
US$ 38.99 Bn
CAGR
CAGR of 15.18 % From 2023 to 2030
Base Year
2022
Forecast Period
2023-2030
Historical Data
2020-2021
Report Scope & Coverage
Market Size, Segments Analysis, Competitive Landscape, Regional Analysis, DROC & SWOT Analysis, Forecast Outlook
Key Segments
• By Component (Software, Services)
• By Deployment Model (On-Premises, Cloud)
• By Enterprise Size (Large Enterprises, Small and Medium Sized Enterprises (SMEs))
• By Application (Disk Encryption, Database Encryption, Cloud Encryption, Folder Encryption, Others)
• By Industry Vertical (IT and Telecommunications, Banking, Finance, Security, and Insurance (BFSI), Healthcare and Life Sciences, Manufacturing, Retail, Government, Energy and Utilities, Others)
Regional Analysis/Coverage
North America (US, Canada, Mexico), Europe (Eastern Europe [Poland, Romania, Hungary, Turkey, Rest of Eastern Europe] Western Europe] Germany, France, UK, Italy, Spain, Netherlands, Switzerland, Austria, Rest of Western Europe]). Asia Pacific (China, India, Japan, South Korea, Vietnam, Singapore, Australia, Rest of Asia Pacific), Middle East & Africa (Middle East [UAE, Egypt, Saudi Arabia, Qatar, Rest of Middle East], Africa [Nigeria, South Africa, Rest of Africa], Latin America (Brazil, Argentina, Colombia Rest of Latin America)
Company Profiles
Broadcom, Sophos, IBM, Thales, McAfee, Trend Micro, Microsoft, Dell, Micro Focus, PKWare, Cisco, Boxcryptor, Check Point, WinMagic, Cryptomathic, ESET, Bitdefender, Stormshield, HPE, Baffle, Fortanix, Enveil, Bitglass, Nord Security, PreVeil
Key Drivers
• The high usage of cloud and virtualization technologies drives market demand.
• The increased adoption of end-point data security solutions in the telecommunications and information technology industries is increasing market demand.
• Globally, digitalization and Internet penetration are increasing
Market Restraints
• Pirated and open-source encryption solutions are being used to hinder market growth