REPORT SCOPE & OVERVIEW:
The Fiber Optical Cable Market size was valued at USD 5 billion in 2022 and is expected to grow to USD 11.5226 billion by 2030 and grow at a CAGR of 11 % over the forecast period of 2023-2030.
A cable that carries data using fibers or plastic rather than metal is referred to as an optical fiber cable. This cable is made of a collection of glass threads that transmit modified signals using light rays. Additionally, it offers some advantages over other communication cable types, including high bandwidth, decreased sensitivity to interference, reduced thickness, less weight, and the capacity to transport data digitally, all of which are contributing to the market's revenue growth. Fibre optic connections are important for Local Area Networks (LAN). These cables are being used by telecommunications companies to replace telephone lines. Additionally, since fiber optics transmit messages by light, there are no means for the data to be retrieved, which is a huge worry for the communications industry.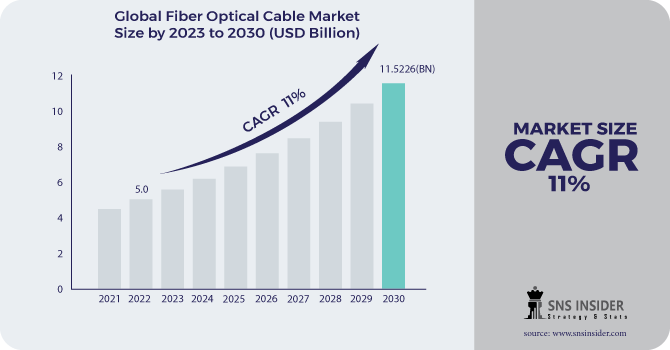 To get more information on Fiber Optical Cable Market - Request Free Sample Report
Another driver boosting market revenue growth is the rising demand for fiber optic cable, which is used in telecommunications services including internet, television, and telephones. For long-distance and high-performance data networking, fiber optics are used. For instance, Google Fibre and Verizon FIOS, the two companies' respective solutions, both use fiber optics to provide users with gigabit internet speeds.
MARKET DYNAMICS
KEY DRIVERS:
The number of internet users has been increasing exponentially over the world. Social media services, online entertainment, Voice over IP (VoIP), and mobile payments have all grown widespread thanks to the rise in internet usage. Consequently, traffic related to With the widespread use of tablets, laptops, smartphones, and other wireless devices, data services, video streaming, online gaming, and the internet have all experienced significant growth.
To get to its destination, wireless traffic uses a fiber optic wireline network. As a result, landline networks like front haul and back haul are largely responsible for the rise of mobile communications. The increased use of multimedia results in significant data production and repetition on a global scale. The installation of new fiber optic connections will rise due to the increase in data generated.
RESTRAIN:
One of the main inhibitors for fiber optics manufacturers is the growing usage of wireless communication solutions in place of cable ones. In wireless communications systems, a microwave radio spectrum is used to send data from one place to another. The dishes, antenna systems, and receivers all receive the data from a single central point. Radiofrequency (RF) and fiber space optics (FSO) are the two main technologies for wireless communication. Because they don't interfere with one another, RF and FSO technologies are less expensive to implement. In comparison to fiber optics technology, these technologies boost communication application efficiency. Furthermore, wireless communication systems are becoming more popular than fiber.
OPPORTUNITY:
The widespread adoption of 5G in developed and developing economies would present advantageous business possibilities for vendors of fiber optics. The deployment of optical fibers is crucial to the development of 5G infrastructure.
These optical fibers are capable of transmitting a significant amount of data quickly between two locations. Telecom service providers are placing a strong emphasis on installing more recent 5G base stations to acquire a competitive edge in the market as 5G services continue to be commercialized. As of March 2022, the telecom service providers in China had deployed around 1.425 million 5G base stations across the nation, according to the Ministry of Industry and Information Technology (MIIT) of China. These base stations are network-capable.
CHALLENGES:
expensive installation costs.

Installing fiber optic networks in rough terrain presents difficulties
Fiber optic cables are normally put into conduits beside the pipeline, trenchless solutions present substantial obstacles to installing the conduits.
Technical and administrative issues might be the cause of challenges in fiber use. With subsea fiber optic cable networks, many telecom corporations have telecommunications infrastructure throughout the world. the cable company Verizon By the end of 2021, the US had established a fiber optic network called Fibre Optic Service (FiOS), which had 480,99 sales locations. The corporation expects to reach 18.1 million homes and 8.1 million internet subscribers by the end of 2025 and has plans to install another 550,000 FiOS locations by 2022.
IMPACT ANALYSIS
IMPACT OF COVID-19
In the first half of 2020, the COVID-19 pandemic significantly affected the supply chain for raw materials and components. The pandemic also forced the forced closing of fiber optics manufacturing facilities, which to some part slowed the market's expansion. However, some market participants were able to run their manufacturing plants during COVID-19 with a limited capacity. For instance, Sterlite Technologies Limited (India) resumed production in April 2020. Operations during the epidemic at 65% of their full worldwide capability. The corporation started operating its factories again in China, India, and Italy.
IMPACT OF RUSSIAN UKRAINE WAR
The struggle for control of Ukraine's internet demonstrates how both sides see access to the internet as a vital weapon in a 21st-century conflict. A crucial part of the war effort has been the constant flow of images and video from Ukraine, which has given the entire world a front-row view of the invasion. Because of Russia's actions to block access to mobile and Internet networks, the occupied Ukrainians were left in an information vacuum, which Russia filled with its propaganda. Throughout the conflict, a large portion of the proof of the crimes committed by Russian troops in the captured territories has only recently come to light. Russia has made numerous efforts to regulate the flow of information. Ukrainian telecom operators' more than 4,000 base stations have been Since the start of the invasion, Russian troops have taken over or destroyed more than 60,000 kilometers of fiber-optic Internet links, according to Ukraine's Special Communications Service. Additionally, 18 television and radio transmission antennas were damaged by Russian soldiers.
IMPACT OF ONGOING RECESSION
The market's growth prospects are also anticipated to be accelerated by the rising preference in the telecommunications industry and data centers. The utilization of fiber optic cables allows for high-speed, long-distance communication. The demand for greater connectivity in the home and commercial sectors will provide the fiber optic cable market with a wide range of possible opportunities. the use of fiber optic cable to support the transmission of a significant amount of digital content, hence driving the rising demand for digital content. As a result, the market will probably be fueled by the growing use of fiber cable in the industry of digital content.
Recessions have a substantial influence on the fiber optic cable business and can spread to other areas of the economy. As businesses and individuals reduce their spending during economic downturns, the demand for fiber optic cable installations tends to decline. Due to the decreased profits and revenues experienced by fiber optic cable producers, there are more layoffs, budget cuts, and postponed expenditures in R&D. As more businesses look for low-cost solutions to boost operational efficiency or provide remote work options, there are prospects for growth during recessions. To be competitive in challenging times, fiber optic enterprises must immediately adapt by evaluating their present business models, looking out for new markets, and investing in cutting-edge technologies.
KEY MARKET SEGMENTS
By Fibre Type
By cable type
By development
Underground

Underwater

Aerial
By Application
Communication

Telecom

Premises

Utility

CATV

Military

Industrial

Others
Non-communication

Sensors

Fiber Optic Lighting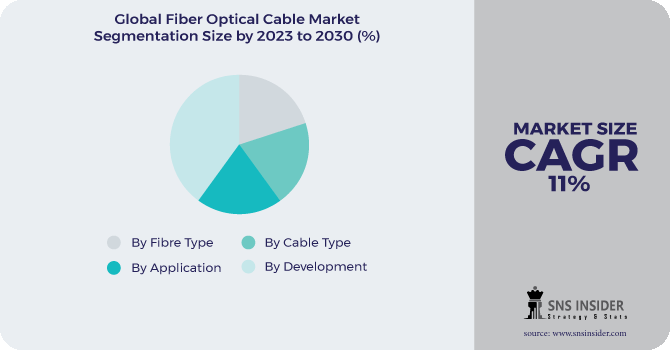 Need any customization research on Fiber Optical Cable Market - Enquiry Now
REGIONAL ANALYSIS
Fiber Optics Market Boom in North America, Fueling Demand and Growth Due to the rising need for high-speed internet and data transmission.
North America has one of the largest fiber optics markets in the world. With numerous telecommunications and technology businesses investing in fiber optic networks, the United States is the world's largest consumer of fiber optic technology. The region's economy is also progressing due to the growing usage of fiber optics in a variety of end-user sectors, including healthcare, defense, and other industries. The development of smart cities and the growing use of loT technology will increase demand for fiber optics in North America. The business is also expanding as a result of government programs to upgrade the telecommunications infrastructure and increased demand for data center computing.
REGIONAL COVERAGE:
North America
Europe
Germany

UK

France

Italy

Spain

The Netherlands

Rest of Europe
Asia-Pacific
Japan

South Korea

China

India

Australia

Rest of Asia-Pacific
The Middle East & Africa
Latin America
Brazil

Argentina

Rest of Latin American
KEY PLAYERS
The major players are Gupta Power Infrastructure Limited, Sterlite Technologies Limited, Birla Cable Ltd. (Mp Birla Group), Finolex Cables Limited, Kec International Ltd. (Rpg Enterprises), Apar Industries Ltd., Aksh Optifibre, Polycab India Limited, Vindhya Telelinks Ltd. (Mp Birla Group), Universal Cables Ltd. (Mp Birla Group) and other players listed in the final report.
RECENT DEVELOPMENT
Corning Incorporated (US) announced in May 2022 the addition of MiniXtend HD cables for 12 to 72 fibers and MiniXtend XD cables for 192 and 288 fibers to its MiniXtend cable range. High density, duct space efficiency, and a smaller carbon footprint are all features of the new MiniXtend HD and MiniXtend XD cables.

New ITU-T G.654.E terrestrial ultra-low-loss optical fibers and cables were introduced in November 2021 by Sumitomo Electric Industries, Ltd. (Japan) through its PureAdvance line. Ultra-low-loss optical fibers and cables, which are the new goods, are appropriate for broadband applications.

Prysmian Group (Italy) extended its collaboration agreement with Openreach for an additional three years in October 2021. To support Openreach's revised Full Fibre broadband construction plan, Prysmian Group will contribute innovation and expertise.
Fiber Optical Cable Market Report Scope:
Report Attributes
Details
Market Size in 2022
US$ 5 Bn
Market Size by 2030
US$ 11.5226 Bn
CAGR
CAGR of 11% From 2023 to 2030
Base Year
2022
Forecast Period
2023-2030
Historical Data
2020-2021
Report Scope & Coverage
Market Size, Segments Analysis, Competitive Landscape, Regional Analysis, DROC & SWOT Analysis, Forecast Outlook
Key Segments
• By Fibre Type (Glass, Plastic)
• By cable type (Single-mode, Multi-mode)
• By development (Underground, Underwater, Aerial)
• By Application (Communication, Non-Communication)
Regional Analysis/Coverage
North America (USA, Canada, Mexico), Europe
(Germany, UK, France, Italy, Spain, Netherlands,
Rest of Europe), Asia-Pacific (Japan, South Korea,
China, India, Australia, Rest of Asia-Pacific), The
Middle East & Africa (Israel, UAE, South Africa,
Rest of Middle East & Africa), Latin America (Brazil, Argentina, Rest of Latin America)
Company Profiles
Gupta Power Infrastructure Limited, Sterlite Technologies Limited, Birla Cable Ltd. (Mp Birla Group), Finolex Cables Limited, Kec International Ltd. (Rpg Enterprises), Apar Industries Ltd., Aksh Optifibre, Polycab India Limited, Vindhya Telelinks Ltd. (Mp Birla Group), Universal Cables Ltd. (Mp Birla Group)
Key Drivers
• Growing data traffic
• Increasing Internet usage
Market Opportunities
• The development of 5G infrastructure