Report Scope & Overview:
The Foot Ulcer Sensors Market size was valued at USD 156 billion in 2022. It is estimated to grow to USD 211.86 billion by 2030 and grow at a CAGR of 3.9% over the forecast period of 2023-2030.
In recent years, there has been a significant increase in the prevalence of diabetes worldwide, leading to a surge in the demand for innovative solutions to address foot ulcers. For instance, approximately 422 million individuals across the globe are affected by diabetes, with the majority residing in low- and middle-income nations. Shockingly, this chronic condition killed about 1.5 million people annually, making it a significant cause of mortality worldwide. Foot ulcers are a major concern for diabetic patients due to their potential to cause long-term disabilities and reduced quality of life. Early detection and timely intervention are crucial to prevent the progression of ulcers and subsequent complications. This has propelled the growth of the Foot Ulcer Sensors Market, with numerous companies investing in research and development to create advanced sensor technologies.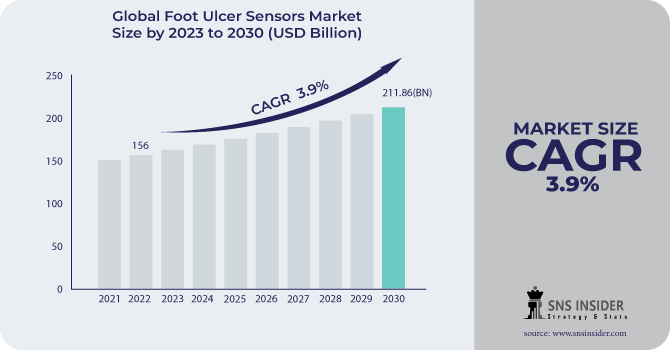 To get more information on Foot Ulcer Sensors Market - Request Free Sample Report
The Foot Ulcer Sensors Market is not only driven by the increasing diabetic population but also by the growing awareness among healthcare providers about the importance of early detection and prevention of foot ulcers. The implementation of these sensors has shown promising results in reducing the rate of amputations and improving patient outcomes. Furthermore, technological advancements in the field of sensor technology have led to the development of smart sensors that can analyze data and provide actionable insights. These sensors can detect patterns and trends, allowing healthcare professionals to make informed decisions and tailor treatment plans to individual patients.
Foot ulcer sensors play a pivotal role in this regard by providing real-time monitoring and alerting patients and healthcare professionals about any changes in foot temperature, pressure, or moisture levels. By enabling early intervention, these sensors can significantly reduce the risk of ulcer development and improve patient outcomes. The integration of foot ulcer sensors into diabetic foot care practices has the potential to revolutionize the management of foot ulcers. By providing real-time data, these sensors enable proactive monitoring and early detection of ulcer formation, allowing for prompt intervention. This can lead to a significant reduction in the number of amputations, hospitalizations, and healthcare costs associated with diabetic foot complications.
Market Dynamics
Drivers
With the global population aging rapidly, the demand for foot ulcer sensors is expected to rise. Elderly individuals are more susceptible to foot ulcers due to reduced mobility and circulation, necessitating the use of sensors for timely intervention.
The increasing incidence of diabetes worldwide is a major driver for the foot ulcer sensors market. Diabetic patients are prone to foot ulcers, making early detection and monitoring essential for effective treatment.
Restrain
High cost of foot ulcer sensors

Lack of interoperability and standardization in foot ulcer sensors
Different manufacturers often use proprietary technologies and data formats, making it difficult for healthcare providers to integrate and analyze data from multiple sensors. This lack of interoperability hinders the seamless exchange of information and limits the effectiveness of foot ulcer sensor systems.
Opportunities
Challenges
Many individuals are unaware of the potential risks associated with foot ulcers and the benefits of using sensors to monitor and prevent their occurrence. This lack of awareness leads to limited market demand and slows down the adoption of foot ulcer sensors.
Impact of Russia-Ukraine War:
Around 7.5% of the Ukrainian adult population has diabetes and non-communicable diseases. In Ukraine, thousands of people suffer from diabetic foot ulcers, putting them at a high risk of lower limb amputations due to limited access to healthcare services. It is crucial to strengthen primary and remote care, educate individuals on self-care, and provide adequate supplies for managing diabetic foot conditions. Ensuring proper diabetic foot care is not only essential for the health of the local population but also for the potential recovery of countries affected by the Russia-Ukraine war. In regions suffering from such crises, providing adequate diabetic foot care becomes even more critical. To address the needs of the diabetic population, there has been an increased utilization of foot ulcer sensors in Ukraine.
Impact of Recession:
Manufacturers of foot ulcer sensors have faced numerous challenges, including reduced consumer spending, decreased healthcare budgets, and a general reluctance to invest in non-essential medical devices. As a result, the demand for foot ulcer sensors has decreased, causing a decline in revenue for manufacturers. Furthermore, the recession has also affected the research and development (R&D) activities within the industry. Many manufacturers have had to cut back on R&D investments due to financial constraints, resulting in a slowdown in innovation and the introduction of new and improved foot ulcer sensor technologies. This lack of progress has hindered the market's potential for growth and limited the availability of advanced sensor solutions for healthcare providers.
Key Market Segmentation
By Product
In-sole Sensors

In-shoe Sensors
By Type
By Sales
By Application
Sports & Athletics

Others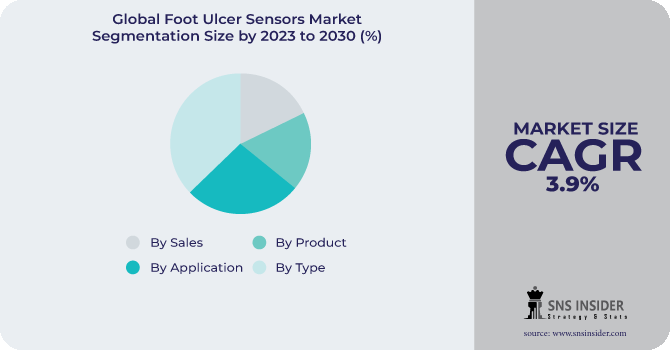 Need any customization research on Foot Ulcer SensorsMarket - Enquiry Now
Regional Analysis
North America dominated the Foot Ulcer Sensors market with a revenue share of about 36.4% in 2022. According to the US National Diabetes Statistics Report, "A total of 37.3 million people have diabetes (11.3% of the US population) with 28.7 million people diagnosed, including 28.5 million adults and 8.5 million people undiagnosed (23.0% of adults are undiagnosed). Diabetes, a prevalent condition in the region, often leads to foot ulcers, which can have severe consequences if left untreated. North America's proactive approach towards diabetes management has significantly contributed to its success in the Foot Ulcer Sensors market. Moreover, the region has advanced medical infrastructure, advanced technology, and a well-established network of healthcare providers. These factors have facilitated the widespread adoption of Foot Ulcer Sensors, leading to increased demand and subsequently driving revenue growth. Additionally, North America's robust research and development efforts have propelled the innovation and advancement of Foot Ulcer Sensors. The region's collaboration between academia, industry, and healthcare institutions has fostered the creation of advanced sensor technologies.
Asia Pacific is estimated to grow with the highest CAGR of about 5.2% during the forecast period owing to the rising prevalence of diabetes in countries such as India, Japan, and China. According to the World Health Organization (WHO), there are an estimated 77 million individuals in India aged 18 and above who suffer from type 2 diabetes, with an additional 25 million individuals being prediabetic. Moreover, over 50% of these individuals are unaware of their diabetic condition, which can lead to severe health complications if not detected and treated early. Furthermore, the market for foot ulcer sensors is expected to be driven by increasing investments in healthcare infrastructure and the adoption of advanced technologies.
REGIONAL COVERAGE:
North America
Europe
Eastern Europe

Poland

Romania

Hungary

Turkey

Rest of Eastern Europe

Western Europe

Germany

France

UK

Italy

Spain

Netherlands

Switzerland

Austria

Rest of Western Europe
Asia Pacific
China

India

Japan

South Korea

Vietnam

Singapore

Australia

Rest of Asia Pacific
Middle East & Africa
Middle East

UAE

Egypt

Saudi Arabia

Qatar

Rest of Middle East

Africa

Nigeria

South Africa

Rest of Africa
Latin America
Brazil

Argentina

Colombia

Rest of Latin America
Key Players:
The major key players are Sensor Products Inc., Digitsole, Moticon ReGo AG, PI Bioelectronics Co., Ltd., Voxelcare, Linepro Controls Pvt Ltd., and other key players mentioned in the final report.
Linepro Controls Pvt Ltd-Company Financial Analysis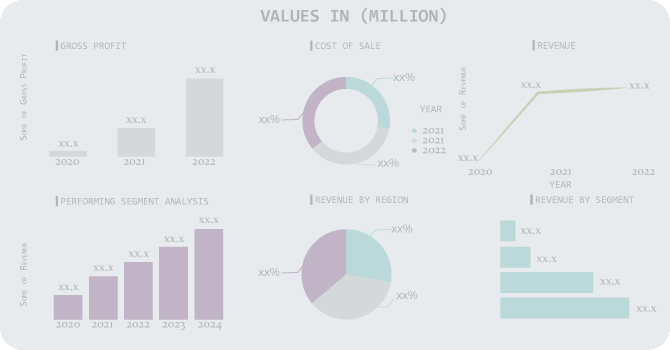 Foot Ulcer Sensors Market Report Scope:
Report Attributes
Details
Market Size in 2022
US$ 156 Bn
Market Size by 2030
US$ 211.86 Bn
CAGR
CAGR of 3.9% From 2023 to 2030
Base Year
2022
Forecast Period
2023-2030
Historical Data
2020-2021
Report Scope & Coverage
Market Size, Segments Analysis, Competitive Landscape, Regional Analysis, DROC & SWOT Analysis, Forecast Outlook
Key Segments
• By Product (In-sole Sensors and In-shoe Sensors)
• By Type (Pressure Sensors, Temperature Sensors, Humidity Sensors, and Others)
• By Sales (Online and Offline)
• By Application (Sports & Athletics, Diabetes Management, and Others)
Regional Analysis/Coverage
North America (US, Canada, Mexico), Europe (Eastern Europe [Poland, Romania, Hungary, Turkey, Rest of Eastern Europe] Western Europe] Germany, France, UK, Italy, Spain, Netherlands, Switzerland, Austria, Rest of Western Europe]). Asia Pacific (China, India, Japan, South Korea, Vietnam, Singapore, Australia, Rest of Asia Pacific), Middle East & Africa (Middle East [UAE, Egypt, Saudi Arabia, Qatar, Rest of Middle East], Africa [Nigeria, South Africa, Rest of Africa], Latin America (Brazil, Argentina, Colombia Rest of Latin America)
Company Profiles
Sensor Products Inc., Digitsole, Moticon ReGo AG, PI Bioelectronics Co., Ltd., Voxelcare, Linepro Controls Pvt Ltd.
Key Drivers
• Growing geriatric population
• Rising prevalence of diabetes
Market Restraints
• High cost of foot ulcer sensors
• Lack of interoperability and standardization in foot ulcer sensors