Report Scope & Overview:
The GaN Diamond Semiconductor Substrates Market size was valued at USD 2.18 billion in 2022 and is expected to grow to USD 13.41 billion by 2030 and grow at a CAGR Of 25.5 % over the forecast period of 2023-2030.
GaN on diamond wafers are designed to be used in very powerful GaN transistors used in commercial and military cellular base stations. Comparing GaN devices made on sapphire or silicon wafers to those made on diamond wafers, the potential for very effective heat extraction is higher. Due to the remarkable heat conductivity of diamond over the anticipated period. Due to its outstanding thermal conductivity, high power density, and frequencies reachable up to 100GHz, diamond is highly wanted by industry participants in the GaN on diamond semiconductor substrates market. Stakeholders are opening up new potential for numerous high-power applications, including 5G macrocells, radars, and high-power medical, scientific, and industrial systems, thanks to the benefits of GaN on diamond semiconductor substrates. Businesses are working harder to get into the high-power 5G wireless, ISM (Instrumentation, Scientific, and Medical), and defence industries. The goal of manufacturers is to be leaders in RF components with high power.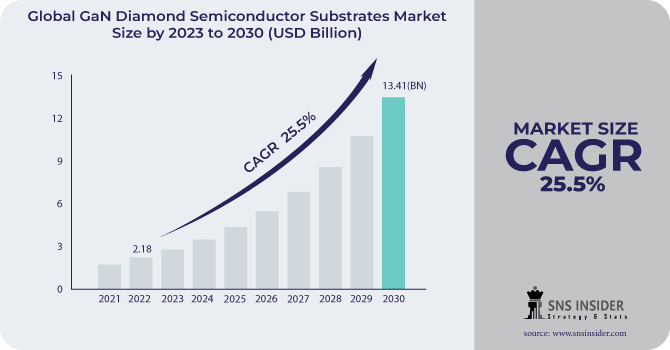 MARKET DYNAMICS
KEY DRIVERS:
The theoretical performance limit of silicon MOSFETs is being felt by the power electronics sector, which is eager to switch to a new element. It has been proven that the Gallium Nitride (GaN) substrate technology provides a broad bandgap, high electron mobility conductor that is able to fulfil the performance demands of emerging applications. Due to its better electrical properties, a high electron mobility transistor (HEMT) device based on GaN on a diamond semiconductor substrate might replace MOSFETs. In addition, when the device works at high radio frequency power levels, the transfer of HEMTs on GaN on diamond substrates provides a chance to enhance heat dissipation. The AlGaN nucleation and removal of the Si substrate are the main goals of GaN-on-diamond technology.
RESTRAIN:
Due to their exceptional thermal properties, high breakdown field, high saturation velocity, and other characteristics, GAN on diamond semiconductor substrate devices stand out in RF applications and have been crucial in the transmission of signals over long distances or at high power levels. The need for the production of communication satellite equipment is boosted by this characteristic. Consequently, it is anticipated that this feature would have a very favourable effect on the global market for GaN on diamonds.
OPPORTUNITY:
The gadget uses high radio frequency power levels, and heat dissipation occurs.

The demand of the communication industry
The communication industry is using more GaN on diamond-based semiconductor substrate components. During the projected period, the market is expected to grow due to the satellite industry. The growth is the result of an increase Radars, electronic warfare, and radio communications all require more bandwidth and performance. Radars use GaN on diamond-based ICs for effective navigation and real-time air traffic control. GaN can also provide greater operating frequencies for military jammers, terrestrial radios, and radar communication. Wideband GaN power transistor deployment by more defence forces is further boosting the market.
CHALLENGES:
GaN on diamond thin films were transferred from their initial growing substrate to a synthetic CVD diamond substrate, which shows the greatest known thermal conductivity at 1,600–2,000 W/mK, which is 4+ times greater than other materials. GaN on diamond thin films, the key components of satellite communications gear, and synthetic CVD diamond all work together to extract heat at previously unheard-of Kilowatt densities more effectively and efficiently than before. Additionally, the equipment for GaN-on-diamond-based satellites brings us a future of ubiquitous, inexpensive, and extremely high data rates.
IMPACT ANALYSIS
IMPACT OF RUSSIAN RUSSIAN-UKRAINE WAR
There is already a shortfall in the global semiconductor sector owing to supply chain snarls during the war between Russia and Ukraine may lead to more interruptions and have an impact on semiconductor supply chains. The car and electronics industries are among the most severely afflicted sectors of the global semiconductor chip shortage. Due to lockdowns and limitations during the COVID-19 epidemic, the scarcity initially became apparent. He said that the government is strongly committed to supporting the semiconductor industry as a whole and making sure that it supports India's fast-developing electronics manufacturing and innovation environment.
IMPACT OF ONGOING RECESSION
GaN diamond semiconductor substrates were still a developing technology as of my most recent information update in September 2021, with continuous research and development activities. Wide bandgap semiconductor material called GaN (gallium nitride) is renowned for its high breakdown voltage, high electron mobility, and thermal conductivity. On the other hand, diamond substrates have superior thermal characteristics and low leakage currents. The effect of a protracted recession on GaN diamond semiconductor substrates, or any other technology, will rely on a number of variables including market demand, industry priorities, and financing availability. Economic uncertainty is a common result of recessions, and this can result in less spending and investment in R&D. Companies may prioritise cost-cutting strategies and concentrate on preserving their core operations during a recession rather than investing in cutting-edge technologies. The money and resources available for the development of GaN diamond semiconductor substrates may be impacted by this.
KEY MARKET SEGMENTS
By Diamond Type
Single Crystal Diamond

Polycrystalline Diamond
By End-use Industry
By Application
Microwave & Millimeter Wave Circuits

Radar Sensing Equipment

Tactical Radios

Communications Satellite Equipment

Wireless Infrastructure

Others.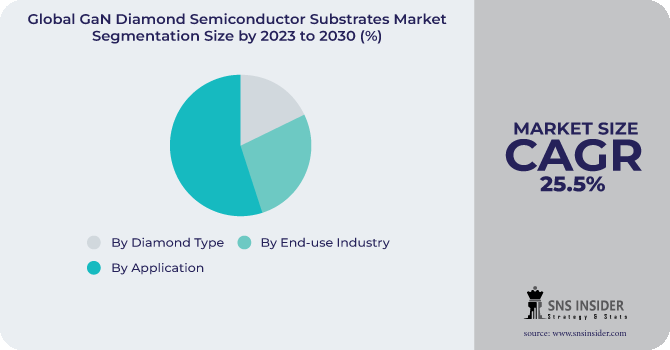 REGIONAL ANALYSIS
North America is anticipated to dominate the market for GaN on diamond semiconductor substrates during the prediction period. due to the expansion in the usage of GaN on diamond semiconductor substrates in high-power electronics applications and the increased demand for contemporary electronic wafers.
The Asia Pacific regional market is to grow at the quickest rate during the projected period Rapid technological improvements are expected to enhance demand for high-performance and efficient radio frequency components. Some of the biggest producers of consumer electronics in the area, including LED display devices, cellophanes, and gaming consoles, are nations like China and Japan. This is a significant driver of the regional market's expansion. The need for dependable communication tools has increased.
REGIONAL COVERAGE:
North America
Europe
Eastern Europe

Poland

Romania

Hungary

Turkey

Rest of Eastern Europe

Western Europe

Germany

France

UK

Italy

Spain

Netherlands

Switzerland

Austria

Rest of Western Europe
Asia Pacific
China

India

Japan

South Korea

Vietnam

Singapore

Australia

Rest of Asia Pacific
Middle East & Africa
Middle East

UAE

Egypt

Saudi Arabia

Qatar

Rest of Middle East

Africa

Nigeria

South Africa

Rest of Africa
Latin America
Brazil

Argentina

Colombia

Rest of Latin America
RECENT DEVELOPMENTS
The world's first method for developing a diamond coating with very effective heat dissipation on the surface of gallium nitride (GaN) high electron mobility transistors (GaN HEMTs) was created by Fujitsu Limited Fujitsu Laboratories Ltd. in December 2019. These HEMT transistors are mostly utilised in power amplifiers for devices like communications systems and weather radars.

In September 2019, Mitsubishi Electric Corporation joined forces with the National Institute of Advanced Industrial Science and Technology (AIST)'s Research Centre for Ubiquitous MEMS and Micro Engineering. This partnership created a directly bonded multi-cell gallium nitride-high electron mobility transistor (GaN-HEMT) with numerous parallel transistor cells to a high thermal conductivity single-crystal diamond heat-dissipating substrate.
KEY PLAYERS
The Major Players are Blue Wave Semiconductor, Advanced Diamond Technologies, Carat Systems, Comes Technologies Ltd., Crystallume, Diamond Microwave Devices Limited, Element Six, lla Technologies Pte. Ltd., Microwave Enterprises Ltd., Neocoat SA., Qorvo Inc., RFHIC Corporation and other players are listed in a final report.
GaN Diamond Semiconductor Substrates Market Report Scope:
Report Attributes
Details
Market Size in 2022
US$ 2.18 Bn
Market Size by 2030
US$ 13.41 Bn
CAGR
CAGR of 25.5 % From 2023 to 2030
Base Year
2022
Forecast Period
2023-2030
Historical Data
2020-2021
Report Scope & Coverage
Market Size, Segments Analysis, Competitive Landscape, Regional Analysis, DROC & SWOT Analysis, Forecast Outlook
Key Segments
• By Diamond Type (Single Crystal Diamond, Polycrystalline Diamond)
• By End-use Industry (Aerospace & Defence, IT & Telecommunication, Research & Development, Others (Automotive, Healthcare, etc.)
• By Application (RF Power Amplifier, Microwave & Millimetre Wave Circuits, Radar Sensing Equipment, Tactical Radios, Communications Satellite Equipment, Wireless Infrastructure, Others)
Regional Analysis/Coverage
North America (US, Canada, Mexico), Europe (Eastern Europe [Poland, Romania, Hungary, Turkey, Rest of Eastern Europe] Western Europe] Germany, France, UK, Italy, Spain, Netherlands, Switzerland, Austria, Rest of Western Europe]). Asia Pacific (China, India, Japan, South Korea, Vietnam, Singapore, Australia, Rest of Asia Pacific), Middle East & Africa (Middle East [UAE, Egypt, Saudi Arabia, Qatar, Rest of Middle East], Africa [Nigeria, South Africa, Rest of Africa], Latin America (Brazil, Argentina, Colombia Rest of Latin America)
Company Profiles
Blue Wave Semiconductor, Advanced Diamond Technologies, Carat Systems, Comes Technologies Ltd., Crystallume, Diamond Microwave Devices Limited, Element Six, lla Technologies Pte. Ltd., Microwave Enterprises Ltd., Neocoat SA., Qorvo Inc., RFHIC Corporation
Key Drivers
• Increasing Demand for GaN on Diamond Based High Electron Mobility Transistors
Market Restraints
• High saturation velocity