REPORT SCOPE & OVERVIEW
The Genome Editing Market size was estimated USD 6.4 billion in 2022 and is expected to reach USD 23.8 billion by 2030 at a CAGR of 17.9% during the forecast period of 2023-2030.
The strategies and procedures used to modify the genetic information of any living organism are referred to as genomic editing. The alteration of genes in numerous sites utilizing recombinant technology increases insertion precision and reduces cell toxicity. It is a set of technologies that enables scientists to modify an organism's DNA. These technologies allow for the addition, deletion, or modification of genetic information at particular sites within the genome.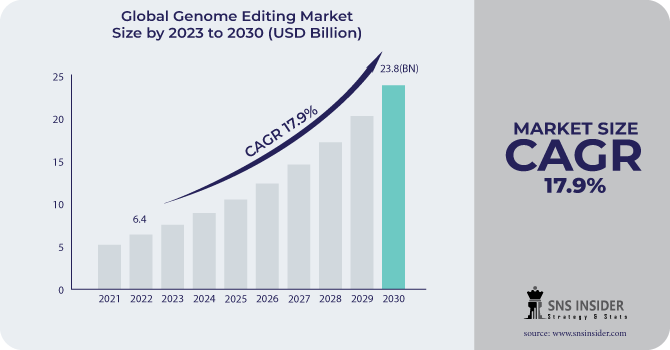 MARKET DYNAMICS
Future genomic engineering trends include its application in marine engineering for applications such as the development of nutraceuticals from algae. Other emerging use areas include forensic sciences and tailored medicine. While assessing fish populations, NGS can be used to identify fish larvae and eggs, as well as provide a detailed description of fish communities. Food quality and safety assessment is increasingly relying on genomics. Genome editing technologies are critical for drug development as well as the diagnosis and treatment of human genetic disorders. NGS, DNA analysis and profiling, and plant and animal genetic engineering all use genome editing. As a result of the expanding application areas of genomics, demand for genome editing technologies is likely to rise over the forecast period.
RESTRAIN
CRISPR technology's off-target consequences are a serious constraint in gene editing. While CRISPR-Cas9 can target certain genes with astonishing precision, it can also result in unintentional alterations at places other than the intended target. This off-target activity may pose risks and complications when using CRISPR technology. It is critical to ensure appropriate targeting in order to reduce the danger of unintended alterations and associated deleterious effects. CRISPR procedures are being refined, and efforts to improve specificity and limit off-target effects are being developed. High-fidelity Cas9 variations, enhanced guide RNA design, and bioinformatics techniques have all showed promise in reducing off-target activity.
OPPORTUNITY
The gene editing industry's increasing pipeline for gene therapy holds tremendous prospects for breakthroughs in treating genetic abnormalities and other diseases. Gene therapy is the introduction of therapeutic genes or gene editing tools into the cells of a patient in order to rectify genetic mutations, restore normal gene activity, or introduce therapeutic genes for targeted treatment. The increasing number of gene therapy candidates in the pipeline demonstrates the potential for significant discoveries in personalized medicine and the treatment of previously incurable diseases.
CHALLENGES
The price of gene editing equipment can be significant. CRISPR-Cas9 gene editing technologies, for example, necessitate the use of specialized laboratory equipment such as DNA sequencers, heat cyclers, electroporation devices, and fluorescence microscopes. These instruments can be very expensive, with prices ranging from thousands to millions of dollars. In addition to equipment costs, obtaining high-quality reagents such as nucleases, guide RNAs, and donor templates might add to overall expenditures.
IMPACT OF RUSSIAN UKRAINE WAR
Russia's sanctions have been carefully designed to exclude and exempt the medical industry. However, some of the world's largest pharmaceutical and medical device companies have either reduced or halted their activities in Russia. Companies such as Merck, Pfizer, and Bristol-Myers Squibb have decided to halt clinical trial recruiting due to disruptions in medical consumables and materials logistics. This might dramatically lengthen the time it takes to introduce new drugs in the country.
IMPACT OF ONGOING RECESSION
Pandemics and ongoing recessions, could have a negative impact on business. The current COVID-19 pandemic has evolved over time and has resulted in a variety of responses, including government-imposed quarantines, travel restrictions, and other public health safety measures, as well as reported negative impacts on healthcare resources, facilities, and providers in Massachusetts, across the United States, and in other countries. The United States government, as well as certain other countries, have implemented travel restrictions to and from the United States and other jurisdictions, which may cause delay or prevent from performing business in a timely and efficient manner.
KEY SEGMENTS
By Technology
Meganucleases

(CRISPR)/Cas9

TALENs/MegaTALs

ZFN

Others
In 2022, (CRISPR)/Cas9 segment is expected to held the highest market share of 43.1% during the forecast period. This technology is useful in gene therapy, drug development, and scientific study since it can correctly divide DNA strands and introduce new genetic information. Because of its simplicity, high efficiency, and precision, CRISPR/Cas9 is a popular option for genome editing, and it is appropriate for a wide range of applications. CRISPR clinical uses have gained widespread acceptance. This is evidenced by the expanding number of active clinical trials using gene-editing techniques to treat a variety of diseases such as AIDS, cancer, and hereditary problems. This technique is increasingly being used in agriculture and animal breeding applications, in addition to human health.
By Delivery Method
In 2022, the ex-vivo segment is expected to dominate the market growth of 3.5% during the forecast period. This can be linked to the benefits provided by this mode type, such as ease of control in DNA modification. With greater use of this delivery technology, the growing clinical trial pipeline that employs genome processing technologies has fueled the rise of the ex-vivo delivery industry. Almost 7,000 new human genetic illnesses have been discovered as a result of the success of the human genome project (HGP). While ex vivo gene editing-based gene treatments such as CAR-T have made great progress, Furthermore, most patients with genetic illnesses require in vivo treatments, which necessitate clinically accurate editing tools as well as safe and targeted delivery systems that can be scaled to aid the entire patient population, with this element adding to the segments' growth.
By Mode
In 2022, the contract segment is expected to dominate the market growth of 64.2% during the forecast period due to the high level of outsourcing efforts in the gene editing sector, which is driven by the cheaper costs and better operational flexibility provided by such activities as opposed to in-house development. The segment is likely to expand more as significant businesses in this domain increase their capabilities. For example, Crown Bioscience, Inc. cooperated with ERS Genomics Limited in December 2022 to get access to ERS's CRISPR/Cas9 patent portfolio and expand its market presence in the gene editing arena. Such activities are projected to increase outsourcing prospects in the genome editing arena, which will benefit market growth.
By Application
Genetic Engineering

Cell Line Engineering

Animal Genetic Engineering

Plant Genetic Engineering

Others

Clinical Applications

Diagnostics

Therapy Development
In 2022, the genetic engineering segment is expected to dominate the market growth of 68.9% during the forecast period. The fast increasing field of gene and stem cell therapy accounts for the lion's share. The use of CRISPR gene editing in human induced pluripotent stem cell (hiPSC)-related programs has significant implications in stem cell research for the treatment of a variety of disorders.
By End User
Biotechnology & Pharmaceutical Companies

Academic & Government Research Institutes

Contract Research Organizations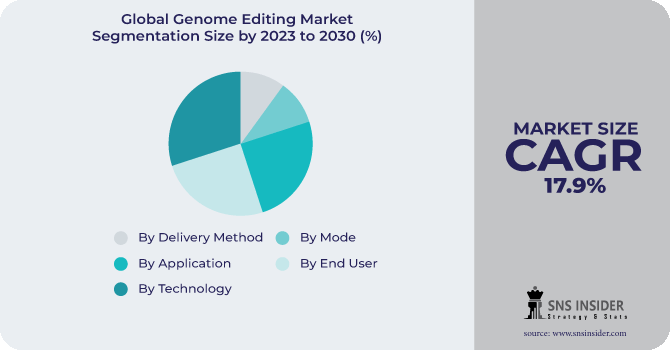 In 2022, the biotechnology & pharmaceutical companies segment is expected to dominate the market growth of 68.9% during the forecast period due to the presence of an increasing number of research efforts for novel treatment development is the most important factor influencing income generating. Furthermore, big pharmaceutical firms are cooperating with emerging firms to create breakthrough technologies. Revenue growth is being driven mostly by increased research and development efforts for novel therapies. Furthermore, a rise in strategic advancements by leading industry competitors is expected to drive market expansion. CRISPR Therapeutics AG and Capsida Biotherapeutics Inc., for example, announced a strategic collaboration in January 2022 to develop novel gene therapies using CRISPR/Cas9 technology to treat diverse diseases. Capsida will donate its adeno-associated virus (AAV) delivery technology, while CRISPR Therapeutics will contribute its genome editing knowledge.
REGIONAL ANALYSES
North America held a significant market share of over 48.2% in 2022 owing to increased spending in the research and development of gene editing technologies. The region is expected to retain its dominance during the projected time due to the presence of various biotechnology and pharmaceutical companies working on developing genome editing technologies.
Asia-Pacific is witness to expand fastest CAGR rate of 19.8% during the forecast period due to China is the Asia Pacific region's largest market for genome editing technology, owing to government programs fostering the growth of genomic research. Also, the region's genome editing industry is poised for expansion, thanks to the Chinese government's increased emphasis on precision medicine and the existence of significant businesses such as BGI and Hebei Senlang Biotechnology. Furthermore, rising R&D expenditure, an increase in the prevalence of genetic illnesses, and government initiatives to encourage genomic research are all expected to propel the global market for genome editing to significant development in the coming years.
REGIONAL COVERAGE
North America
Europe
Eastern Europe

Poland

Romania

Hungary

Turkey

Rest of Eastern Europe

Western Europe

Germany

France

UK

Italy

Spain

Netherlands

Switzerland

Austria

Rest of Western Europe
Asia Pacific
China

India

Japan

South Korea

Vietnam

Singapore

Australia

Rest of Asia Pacific
Middle East & Africa
Middle East

UAE

Egypt

Saudi Arabia

Qatar

Rest of Middle East

Africa

Nigeria

South Africa

Rest of Africa
Latin America
Brazil

Argentina

Colombia

Rest of Latin America
Key Players
The major key players Merck KGaA, Cibus, Recombinetics, Inc., Sangamo, Precision Biosciences, CRISPR Therapeutics, Intellia Therapeutics, Inc., Caribou Biosciences, Inc., AstraZeneca, Takara Bio USA, Horizon Discovery Group plc, Integrated DNA Technologies, Inc., Egenesis Inc., GenScript, New England Biolabs, OriGene Technologies, Inc., Lonza, Thermo Fisher Scientific, Inc., and Others.
Cibus-Company Financial Analysis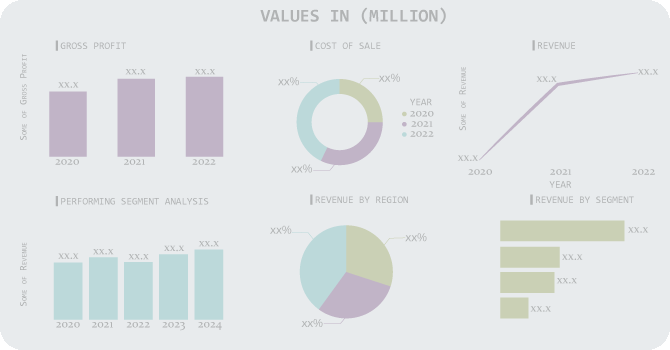 RECENT DEVELOPMENT
Thermo Fisher Scientific, in April 2022, Thermo Fisher Scientific has released a new Gibco CTS TrueCut Cas9 Protein, as high-quality support material and documents are vital as genome editing researchers progress from fundamental research to therapeutic settings.

GenScript, in February 2023, GenScript (China) announced the development of its Singapore plant to provide a premium gene synthesis service. This represents a significant increase of the company's sophisticated gene-synthesis capabilities and enables GenScript to achieve the service levels required for the development of innovative vaccines and treatments in life sciences.

Thermo Fisher Scientific (US), in November 2022, Thermo Fisher Scientific (US) announced the debut of the Gibco CTS AAV-MAX Helper-Free AAV Production System, an all-in-one solution appropriate for commercial and clinical applications involving AAV-based gene treatments.

Lonza (Switzerland), in June 2022, Lonza (Switzerland) and Adva signed a license deal that will allow Adva to create innovative solutions for the cell and gene therapies industry.
Genome Editing Market Report Scope:
Report Attributes
Details
Market Size in 2022
US$ 6.4 Billion
Market Size by 2030
US$ 23.8 Billion
CAGR
CAGR of 17.9 % From 2023 to 2030
Base Year
2022
Forecast Period
2023-2030
Historical Data
2019-2021
Report Scope & Coverage
Market Size, Segments Analysis, Competitive Landscape, Regional Analysis, DROC & SWOT Analysis, Forecast Outlook
Key Segments
• By Technology (Meganucleases, (CRISPR)/Cas9, TALENs/MegaTALs, ZFN, Others)
• By Delivery Method (Ex-vivo, In-vivo)
• By Mode (Contract, In-house)
• By Application (Genetic Engineering, Clinical Applications)
• By End User (Biotechnology & Pharmaceutical Companies, Academic & Government Research Institutes, Contract Research Organizations)
Regional Analysis/Coverage
North America (US, Canada, Mexico), Europe (Eastern Europe [Poland, Romania, Hungary, Turkey, Rest of Eastern Europe] Western Europe] Germany, France, UK, Italy, Spain, Netherlands, Switzerland, Austria, Rest of Western Europe]), Asia Pacific (China, India, Japan, South Korea, Vietnam, Singapore, Australia, Rest of Asia Pacific), Middle East & Africa (Middle East [UAE, Egypt, Saudi Arabia, Qatar, Rest of Middle East], Africa [Nigeria, South Africa, Rest of Africa], Latin America (Brazil, Argentina, Colombia Rest of Latin America)
Company Profiles
Merck KGaA, Cibus, Recombinetics, Inc., Sangamo, Precision Biosciences, CRISPR Therapeutics, Intellia Therapeutics, Inc., Caribou Biosciences, Inc., AstraZeneca, Takara Bio USA, Horizon Discovery Group plc, Integrated DNA Technologies, Inc., Egenesis Inc., GenScript, New England Biolabs, OriGene Technologies, Inc., Lonza, Thermo Fisher Scientific, Inc.
Key Drivers
• Increasing applications of genomics
Market Opportunity
• Gene therapy pipeline expansion