Report Scope & Overview:
The Global Chemical Market was valued at USD 2.9 trillion in 2022 and is projected to reach USD 4.66 trillion by 2030, growing at a compound annual growth rate (CAGR) of 6.1% during the forecast period from 2023 to 2030.
The global chemical industry is a complex and vital part of the global economy and supply chain network. There is a wide variety of products that are classified as chemical products, which can be categorized into the following segments: Pharmaceutical Chemicals, Agrochemicals, specialty Chemicals, Personal Care and Cosmetics, Industrial Gases, Polymers, Petrochemicals, and Food Additives.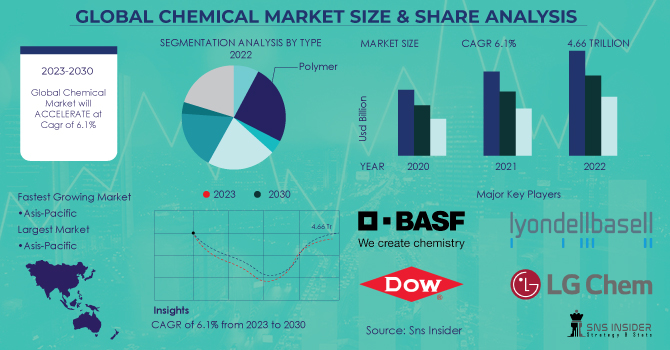 Get PDF Sample Report on Chemical Market - Request Sample Report
The global agrochemicals generated revenue of about USD 230 billion in 2022 and is projected to experience substantial growth. This growth is attributed to the rising global demand for fertilizers and crop protection products in the field of agriculture. Farmers are increasingly utilizing fertilizers to provide essential nutrients to their crops and boost their yield, thereby driving the demand for agrochemicals. The Polymer is one of the largest markets in the chemical industry with a market size of about USD 713.5 billion in 2022 and is expected to grow with a CAGR of about 5.5% during the forecast period.
The petrochemicals are expected to experience a Compound Annual Growth Rate (CAGR) of approximately 6.9% between 2023 and 2030. This growth is attributed to the rising demand for downstream products in key industries like construction, pharmaceuticals, and automotive. The increased demand for these products serves as a significant driving force behind the market's expansion. Petrochemicals play a crucial role in numerous industrial processes, making them an essential pillar of any industrial economy. Personal Care and Cosmetics is projected to experience significant growth, with the highest Compound Annual Growth Rate, and is expected to generate approximately USD 940 billion in revenue by 2030. This remarkable expansion is due to the growing awareness among consumers regarding their appearance, which has fueled the demand for personal care and cosmetic products. Moreover, the introduction of cosmetics infused with natural, non-toxic, and organic ingredients has played a pivotal role in driving market expansion.
Some of the leading chemical companies in the world in the chemical industry are BASF, Dow, LyondellBasell Industries, LG Chem, Exxon Mobil Corporation, and Mitsubishi Chemical Holdings.
Market Dynamics
Drivers
The chemical industry serves as a backbone for numerous industries, including automotive, construction, healthcare, and agriculture. As these sectors expand and evolve, the demand for chemicals surges in tandem. For example, the automotive industry relies heavily on chemicals for manufacturing lightweight materials, lubricants, and adhesives, while the healthcare sector requires chemicals for drug development and medical equipment production. This growing demand acts as a catalyst for the global chemical market, propelling its growth and profitability.
Environmental regulations and sustainability concerns

Globalization plays a pivotal role in shaping the chemical industry
With the world becoming increasingly interconnected, companies are now able to access new markets and establish international collaborations more easily. This globalization not only expands the customer base for chemical products but also facilitates the exchange of knowledge and expertise among industry players. As a result, the global chemical market experiences accelerated growth, driven by cross-border partnerships and collaborations.
Restrain
Governments across the world have implemented rigorous policies to ensure the safety and environmental sustainability of chemical products. While these regulations are undoubtedly crucial for safeguarding public health and the environment, they often pose challenges for chemical manufacturers and suppliers.
Chemical production heavily relies on various raw materials, such as petroleum, natural gas, and minerals. Fluctuations in the prices of these inputs can significantly impact the profitability of chemical manufacturers. Moreover, geopolitical tensions, supply chain disruptions, and natural disasters can further exacerbate price volatility.
Opportunities
Shift towards sustainable and eco-friendly practices

Advancements in technology are revolutionizing the chemical industry
The advent of automation, artificial intelligence, and big data analytics has transformed manufacturing processes, making them more efficient and cost-effective. This not only enhances productivity but also opens up new avenues for growth and innovation within the global chemical market.
Challenges
Changing consumer preferences and market trends

The global chemical market faces the challenge of intense competition
The industry is characterized by a multitude of players, ranging from large multinational corporations to small and medium-sized enterprises. This competitive landscape creates pressure on companies to differentiate themselves through innovation, quality, and cost-effectiveness. However, achieving and sustaining a competitive advantage in such a crowded market is no easy feat.
Impact of Russia-Ukraine War:
Due to the ongoing Russia-Ukraine war, natural gas and crude oil prices have surged in Europe. As a result, chemical producers have been compelled to raise their selling prices, putting them at a growing disadvantage compared to their counterparts in the US, Asia, and the Middle East. The war in Ukraine has not only driven up feedstock and energy costs for chemical producers but has also led to increasing fuel expenses, causing inflation and subsequently resulting in high freight rates. The chemical industry in Germany, which has been flourishing, heavily relies on gas for 30% of its output and 44% of its energy consumption. Moreover, approximately 17% of German chemical companies depend on Russian imports of raw materials crucial for chemical production and synthesis. However, in an effort to conserve energy for the winter, companies have been scaling back their production, further exacerbating the economic situation. The shortage of raw materials, intermediate products, and logistical challenges have plagued over 70% of chemical producers and 80% of manufacturing companies. Industries heavily reliant on petrochemicals, such as machinery, equipment, and electrical equipment, have reported significant logistical troubles and material shortages, affecting around 90% of Germany's petrochemical-intensive sectors. The pharmaceutical sector, which heavily relies on gas, has also experienced a substantial reduction in its production capacity.
The Russia-Ukraine war has had a direct impact on various industries, including the chemical intermediates markets worldwide. One of the indirect effects can be seen in the caustic soda markets, where the high cost of energy has led to a decrease in demand in certain regions. This has resulted in Romanian alumina producer, Alro, suspending production for the remainder of 2022 due to the soaring energy costs. As alumina production heavily relies on caustic soda, this halt in production may create an opportunity for other suppliers to step in. However, the reduction in business sectors does not stop at alumina. Polyurethane (PU) production has also experienced a greater slowdown than anticipated. Russia, being home to two major producers of glacial acrylic acid (GAA) and butyl acrylate (BA), namely state-run Gazprom and Sibur, have a combined capacity of approximately 106 ktpa of acrylic acid and 125 ktpa of butyl acrylate. Since their joint venture in 2019, they have actively marketed butyl acrylate in Europe, Turkey, the Middle East, and South America. However, due to ethical concerns, these brands are increasingly looking to reduce their reliance on Russian-origin products and actively seeking alternative materials. This trend is not limited to these brands alone, as traders and distributors are also following this trend.
Impact of Recession:
The chemical industry serves as a reliable leading indicator for the global economy, making it a crucial sector to monitor. It ranks as the third largest industry worldwide, following energy and agriculture. Notably, four prominent companies, namely Dow Chemical, BASF, ExxonMobil Chemicals, and Covestro, dominate this industry with their diverse business areas. BASF, a European-based company, holds the distinction of being the largest chemical company globally, boasting an extensive range of products. On the other hand, Dow Chemical takes the lead as the largest US-based company and the third largest worldwide. However, BASF experienced a stagnation in global chemical production during the first quarter of 2023. This decline is attributed to reduced sales volumes, resulting in a considerable decrease in earnings. ExxonMobil Chemicals also faced challenges in the first quarter of 2023. Compared to the same period in 2022, their earnings dropped by $1 billion, with weaker industry margins and lower sales reflecting the prevailing softer market conditions. Similarly, Covestro encountered persistently weak demand, primarily driven by reduced consumer spending. The adverse macroeconomic conditions had a significant impact on sales volumes in the Europe, Middle East, and Latin America regions. Consequently, group sales plummeted by 20% to €3,740 million, compared to €4,680 million, due to both lower volumes sold and a decline in selling prices. The chemical industry experienced a surge in employment in 2022, with over 17,500 new workers joining the sector. However, due to the economic downturn, projections indicate a decline of 3,100 employees in 2023, followed by an additional 1,100 in 2024.
Market segmentation
By Industrial Gases

Industrial Gases By Product (By Value)

Hydrogen

Oxygen

Nitrogen

Carbon Dioxide

Acetylene

Argon

Industrial Gases By Product (By Volume)

Hydrogen

Oxygen

Nitrogen

Carbon Dioxide

Acetylene

Argon
By Polymers

Polymers By Type (By Value)

Thermoplastics

Thermosets

Elastomers

Polymers By Type (By Volume)

Thermoplastics

Thermosets

Elastomers
By Petrochemicals

Petrochemicals By Product (By Value)

Ethylene

Propylene

Butadiene

Benzene

Xylene

Toluene

Methanol

Petrochemicals By Product (By Volume)

Ethylene

Propylene

Butadiene

Benzene

Xylene

Toluene

Methanol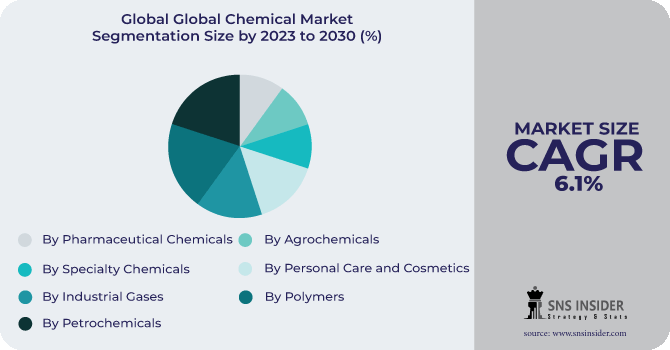 Get Customized Report as per Your Business Requirement - Request For Customized Report
Regional Analysis:
The Asia-Pacific region is projected to experience the most significant increase in regional chemical consumption during the forecast period. This region holds a substantial position in the global chemicals market, accounting for approximately 50% of the market share in 2022. However, it is China alone that has played a major role in driving the recent surge in Asia's exports and consumption of chemicals. In fact, Chinese chemical consumption in 2022 reached a staggering 1.9 trillion euros, surpassing the United States' chemical consumption by more than four times. Furthermore, the Asia-Pacific region has emerged as the dominant player in the specialty chemicals sector, capturing the highest revenue share of 49% in 2022. This growth can be attributed to various factors, including economic advancements, industrialization, and the expansion of key end-use industries. Notably, China and India have emerged as the primary contributors to this remarkable market growth. The Asia-Pacific region's rise in chemical consumption is not only significant but also holds immense potential for further development. With China leading the way, this region is poised to shape the future of the global chemicals market. As economic progress continues and major industries expand, the demand for specialty chemicals is expected to soar, presenting lucrative opportunities for businesses operating in this sector.
North America plays a significant role in the global chemical industry, with the United States leading the way among the countries in the region. The U.S. chemical industry not only contributes more than a quarter of the country's GDP but also supports the production of nearly all commercial and household goods, making it crucial for economic growth. Moreover, American chemical companies are recognized as key players in the global market, generating an impressive revenue of approximately 57 billion U.S. dollars in 2021. In fact, aside from Germany, the United States stands as the largest exporter of chemical goods worldwide.
Europe is a significant contributor to the global chemical industry, boasting one of the largest manufacturing sectors in the region. As an industry that enables progress, it plays a crucial role in providing innovative materials and technological solutions to enhance Europe's industrial competitiveness. However, the sector is currently experiencing rapid structural changes due to significant challenges, such as heightened competition from other countries and escalating costs. The EU chemicals industry represents approximately 7.5% of EU manufacturing in terms of turnover, making it a vital component of the overall manufacturing landscape. In fact, a staggering 56% of EU chemicals sold to downstream users are utilized by various industrial sectors, highlighting the industry's central position within the EU manufacturing industry.
Regional Coverage:
North America
Europe
Eastern Europe

Poland

Romania

Hungary

Turkey

Rest of Eastern Europe

Western Europe

Germany

France

UK

Italy

Spain

Netherlands

Switzerland

Austria

Rest of Western Europe
Asia Pacific
China

India

Japan

South Korea

Vietnam

Singapore

Australia

Rest of Asia Pacific
Middle East & Africa
Middle East

UAE

Egypt

Saudi Arabia

Qatar

Rest of Middle East

Africa

Nigeria

South Africa

Rest of Africa
Latin America
Brazil

Argentina

Colombia

Rest of Latin America
Key Players:
Key Players in Pharmaceutical Chemicals: The major key players are BASF, Lonza, Porton Fine Chemicals, Dishman, Abbott, Johnson Matthey, Lanxess, Jubilant Life Sciences, Vertellus Holdings, and Hikal.

Key Players in Agrochemicals: The major key players are Bayer AG, The DOW Chemical Company, ADAMA Ltd., BASF SE, Nufarm, Clariant AG, Solvay, Evonik Industries AG, FMC Corp., and UPL.

Key Players in Specialty Chemicals: The major key players are Clariant AG, Croda International Plc, Solvay, DuPont, Akzo Nobel N.V., Huntsman International LL, Lanxess, Evonik Industries AG, Arkema, and The Lubrizol Corporation.

Key Players in Personal Care and Cosmetics: The major key players are Procter & Gamble, Unilever, Shiseido, The Estée Lauder Companies Inc., MacAndrews & Forbes (Revlon), L'Oréal S.A., Avon Products Inc., Kao Corporation, Oriflame Cosmetics S.A., and Coty Inc.

Key Players in Industrial Gases: The major key players are Air Products Inc., Air Liquide, Taiyo Nippon Sanso Corp., Linde plc., Matheson Tri-Gas Inc., INOX-Air Products Inc., SOL Group, Messer, BASF, and Iwatani Corp.

Key Players in Polymers: The major key players are Eastman Chemical Company, Evonik Industries AG, Royal DSM, Dow Inc., BASF SE, Mitsui Chemicals Inc., Exxon Mobil Corporation, Clariant International Limited, Huntsman Corporation, and Covestro AG.

Key Players in Petrochemicals: The major key players are Reliance Industries Ltd., Chevron Corporation, LG Chem., LyondellBasell Industries Holdings B.V., Royal Dutch Shell PLC., China National Petroleum Corporation, Dow, SABIC, INEOS Group Ltd., and Mitsubishi Chemical Corporation.
DOW Chemical Company-Company Financial Analysis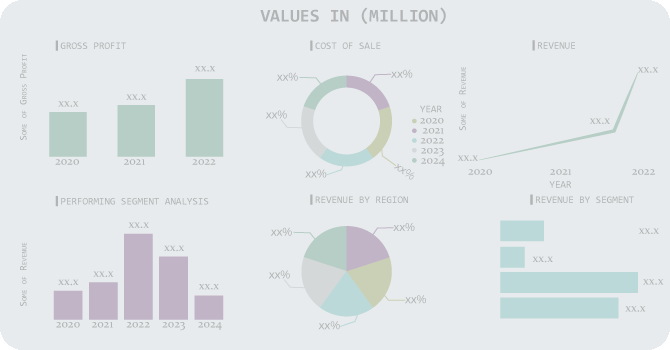 Recent Development:
In Sept 2022, BASF announced an innovation partnership with RiKarbon, focusing on the development of emollients derived from bio-waste. This collaboration aims to revolutionize the cosmetics industry by providing sustainable and eco-friendly alternatives.

In March 2023, Nufarm Americas Inc. made an exciting announcement regarding the EPA registration of Anuew™ EZ Plant Growth Regulator. This innovative liquid formulation of their proven PGR offers golf course superintendents greater flexibility and ease of use, while also providing the benefits of labor savings and improved turf quality.

In August 2022, Brenntag, the global leader in chemicals and ingredients distribution, announced an expanded distribution agreement with ISCA, a renowned manufacturer and distributor of specialty chemicals. This partnership was formed to focus on providing preservatives for the cosmetics industry in several European markets.

In March 2023, Clariant responded to the growing interest and knowledge of skincare among consumers worldwide by introducing Plantasens Pro LM, a new natural emollient. This product provides a luxurious, rich, and nurturing sensation to the skin during and after application.
Use Cases and Best Practices:
The liquid form of the IFFCO's Nano Urea makes it an effective substitute for regular urea. At least 1 bag of urea can be successfully replaced by the application of 1 bottle of nano-urea. In conjunction with ICAR-KVKs, Research Institutes, State Agriculture Universities, and innovative Indian farmers, the product has been tested on 94 crops across 11,000 locations during different crop seasons. It was discovered that nano-urea increased wheat, maize, and Indian mustard yields everywhere.
For Indian agriculture, nano urea liquid fertilizer is a game-changer because it covers some of the most significant issues that farmers are currently facing. One of these difficulties is the high price of fertilizer, which small farmers may find to be a considerable barrier to entry. Nano urea liquid fertilizer makes it cheaper for farmers to embrace contemporary farming practices and boost their production by lowering the amount of fertilizer required.
The environmental consequences of fertilizer use present another difficulty for Indian agriculture. Traditional urea fertilizers have a reputation for causing waterway pollution and greenhouse gas emissions. This issue is addressed by nano urea liquid fertilizer, which reduces the impact of agriculture on the environment by minimizing fertilizer runoff and volatilization.
Global Chemical Market Report Scope
Report Attributes
Details
Market Size in 2022
US$ 2.9 Trillion
Market Size by 2030
US$ 5.36 Trillion
CAGR
CAGR of 8% From 2023 to 2030
Base Year
2022
Forecast Period
2023-2030
Historical Data
2019-2021
Report Scope & Coverage
Market Size, Segments Analysis, Competitive Landscape, Regional Analysis, DROC & SWOT Analysis, Forecast Outlook
Key Segments
• By Pharmaceutical Chemicals
• By Agrochemicals
• By Specialty Chemicals
• By Personal Care and Cosmetics
• By Industrial Gases
• By Polymers
• By Petrochemicals
Regional Analysis/Coverage
North America (US, Canada, Mexico), Europe (Eastern Europe [Poland, Romania, Hungary, Turkey, Rest of Eastern Europe] Western Europe] Germany, France, UK, Italy, Spain, Netherlands, Switzerland, Austria, Rest of Western Europe]), Asia Pacific (China, India, Japan, South Korea, Vietnam, Singapore, Australia, Rest of Asia Pacific), Middle East & Africa (Middle East [UAE, Egypt, Saudi Arabia, Qatar, Rest of Middle East], Africa [Nigeria, South Africa, Rest of Africa], Latin America (Brazil, Argentina, Colombia Rest of Latin America)
Key Drivers
• Increasing demand for chemicals across diverse sectors
• Environmental regulations and sustainability concerns
• Globalization plays a pivotal role in shaping the chemical industry
Market Restraints
• Stringent government regulations
• Volatility of raw material prices