REPORT SCOPE & OVERVIEW
The Hadoop Big Data Analytics Market size was USD 16.5 billion in 2022 and is expected to Reach USD 44.4 billion by 2030 and grow at a CAGR of 13.2 % over the forecast period of 2023-2030
Hadoop big data analytics market is anticipated to grow quickly. Industry participants will progress toward innovation, growth, and productivity with the use of big data analytics. Hadoop is an open-source platform that enables massive data analytics and storage while utilizing straightforward programming techniques across distributed computer clusters. Big data is a vast collection of information that can be both organized and unstructured. Such information cannot be stored or processed by conventional systems due to its immense bulk. Additionally, it helps businesses comprehend the trend and facilitates corporate-level decision-making in real-time. This approach makes it possible to mine, analyse, and store data to achieve the main goal. It aids in updating business models and increasing profits for service providers. Due to the daily operations of the industries, the amount, diversity, and velocity of the information accumulate at a very fast rate. Organizations in this circumstance encounter numerous technical challenges when collecting, storing, analysing, and reporting data via connected and shared dashboards. High-quality data management systems and well-directed information flow are necessary for managing this data. Modern big data resolutions are required by businesses in order to collect, store, analyse, visualize, and predict the future using the data gleaned from vast amounts of information. The solutions segment dominated the Hadoop Big Data Analytics market in 2022 with a market share of 55%. This is due to the increasing demand for Hadoop-based solutions that can help businesses to process and analyze large amounts of data. Hadoop solutions are becoming more affordable and easier to use, which is making them more accessible to businesses of all sizes.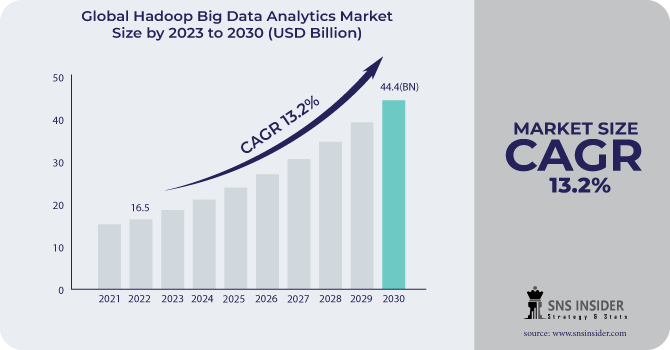 MARKET DYNAMICS
KEY DRIVERS
The increasing volume of data

The growing demand for real-time analytics
The amount of data that is being generated is growing exponentially, and businesses are looking for ways to process and analyse this data. Hadoop is a scalable and distributed platform that can be used to process large amounts of data.
RESTRAIN
Hadoop is a complex platform to learn and use. This can be a barrier for businesses that are not familiar with big data analytics.
OPPORTUNITY
Increasing Popularity of Predictive Analytics

The exponential growth of big data and analytics industries has fueled the rise of the Hadoop big data analytics market.
The rise of predictive analytics presents an opportunity for Hadoop big data analytics providers to offer integrated solutions that bridge the gap between data collection and insights. Predictive analytics can help organizations make data-driven decisions and improve business outcomes
CHALLENGES
The rise of alternative platforms

Big data analytics is complex and can be challenging to perform using traditional data analytics methods.
There are a number of alternative platforms to Hadoop, such as Spark and Hive. These platforms are becoming more popular, and they may pose a challenge to Hadoop in the future.
IMPACT OF RUSSIAN UKRAINE WAR
The Russian invasion of Ukraine has had a significant impact on the Hadoop Big Data Analytics market. The sanctions, supply chain disruptions, and security risks have made it more difficult for businesses to use Hadoop. This is likely to have a negative impact on the market. Financial services companies are using Hadoop to process large amounts of financial data. The war has made it more difficult for these companies to access the Hadoop solutions they need. Cloudera is a leading provider of Hadoop solutions. The company reported a 10% decline in revenue in the first quarter of 2023, which it attributed to the war in Ukraine. These companies have all been affected by the war in Ukraine in a number of ways. They have seen a decline in revenue, as businesses have become more cautious about investing in new technologies. They have also faced challenges in getting the hardware and software they need to deliver Hadoop solutions. And they have had to increase their security measures to protect their customers' data from cyberattacks.
IMPACT OF ONGOING RECESSION
The ongoing recession is expected to have a significant impact on the Hadoop Big Data Analytics market. but the recession could slow this growth by 2-3 percentage points. Small and medium-sized businesses (SMBs) are more likely to be affected by the recession than large enterprises. SMBs may not have the resources to invest in new technologies during a recession, which could impact the demand for Hadoop Big Data Analytics solutions. Cloudera is a leading provider of Hadoop Big Data Analytics solutions. The company is expected to see a decline in revenue of 15-20% during the recession. The companies that are able to adapt to the changing market conditions are likely to emerge stronger from the recession. These companies will need to focus on developing more affordable solutions, offering more flexible pricing options, and partnering with other companies to offer joint solutions.
KEY MARKET SEGMENTS
By Component
Hardware

Software

Services
By Deployment Model
By Enterprise Size
By End-User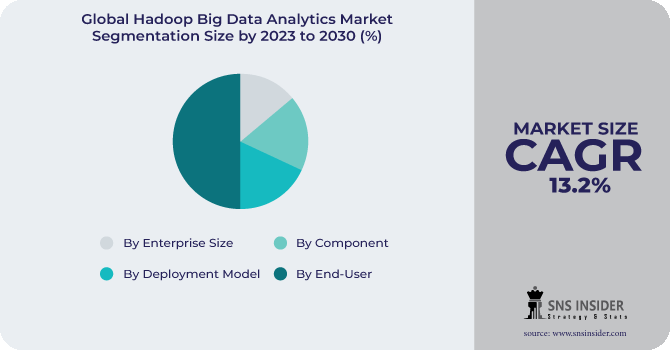 Region Coverage:
North America
Europe
Eastern Europe

Poland

Romania

Hungary

Turkey

Rest of Eastern Europe

Western Europe

Germany

France

UK

Italy

Spain

Netherlands

Switzerland

Austria

Rest of Western Europe
Asia Pacific
China

India

Japan

South Korea

Vietnam

Singapore

Australia

Rest of Asia Pacific
Middle East & Africa
Middle East

UAE

Egypt

Saudi Arabia

Qatar

Rest of the Middle East

Africa

Nigeria

South Africa

Rest of Africa
Latin America
Brazil

Argentina

Colombia

Rest of Latin America
REGIONAL ANALYSIS
North America dominates the Hadoop big data analytics market with a market share of 40% in 2023. Due to the North American region has been a significant hub for technology innovation, including Hadoop-based Big Data Analytics. Leading technology companies like Cloudera, Hortonworks, MapR, and IBM have been prominent players in the North American market. These companies provide Hadoop-based solutions and related services. Hadoop Big Data Analytics solutions have been widely adopted across various industries in North America, including finance, healthcare, retail, and more. These solutions help businesses manage and derive insights from large datasets. As data privacy concerns and regulations have gained prominence, companies in North America have focused on ensuring the security and compliance of their Big Data Analytics processes.
The Asia Pacific market is expected to grow at a CAGR of 27.41% from 2023 to 2032. The Asia Pacific region has shown increasing interest in Big Data Analytics, including Hadoop-based solutions, driven by digital transformation efforts and the proliferation of data. Countries like India, China, Australia, and Japan have been actively adopting Hadoop-based solutions to handle their growing data volumes and extract meaningful insights. While global technology companies are present in the Asia Pacific market, there are also local players offering Hadoop-based solutions tailored to the specific needs of the region. Several countries in the Asia Pacific region have embarked on data-intensive initiatives, such as smart cities and digital transformation projects, which drive the demand for advanced analytics capabilities.
KEY PLAYERS
The major key players in the Hadoop Big Data Analytics Market are Cloudera Inc., Hortonworks, Inc., Hadapt, Inc., Amazon Web Services LLC, Outerthought, MapR Technologies, Inc., Platform Computing, Karmasphere, Inc., Greenplum, Inc., Hstreaming LLC, Pentaho Corporation and Zettaset, Inc., and other players.
Amazon Web Services LLC-Company Financial Analysis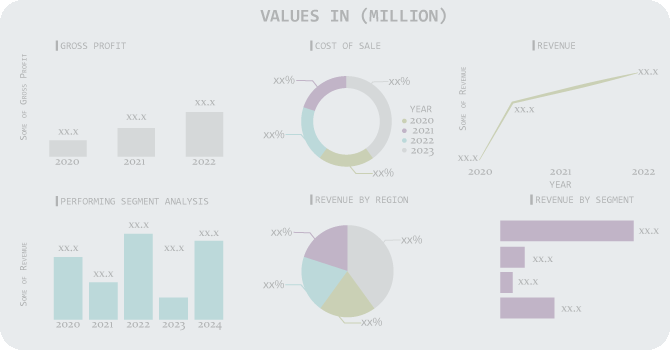 ​​​​​​​
RECENT DEVELOPMENTS
AWS:
In March 8, 2023, AWS announced the general availability of Amazon Managed Hadoop for EMR on Outposts, which allows customers to run Hadoop on their own on-premises hardware that is connected to AWS Outposts. This offering provides customers with the flexibility of running Hadoop on their own hardware while also taking advantage of the scalability and availability of AWS.
Outerthought:
In February 22, 2023, Outerthought announced the release of Outerthought Data Lake Platform 4.0, which includes a number of new features and enhancements for Hadoop users. These features include support for Apache Spark 3.2, improved performance for Hive queries, and a new user interface for managing Hadoop clusters.
Hadoop Big Data Analytics Market Report Scope:
Report Attributes
Details
Market Size in 2022
US$ 16.5 Bn
Market Size by 2030
US$ 44.4 Bn
CAGR
CAGR of 13.2 % From 2023 to 2030
Base Year
2022
Forecast Period
2023-2030
Historical Data
2020-2021
Report Scope & Coverage
Market Size, Segments Analysis, Competitive Landscape, Regional Analysis, DROC & SWOT Analysis, Forecast Outlook
Key Segments
• By Component (Hardware, Software, Services)
• By Deployment Model (On-premise, Cloud, Hybrid)
• By Enterprise Size (Large Enterprises, SMEs)
• By End User (Government, Manufacturing, Transportation and Logistics, Education, Retail, Hospitality, Healthcare, Others)
Regional Analysis/Coverage
North America (US, Canada, Mexico), Europe (Eastern Europe [Poland, Romania, Hungary, Turkey, Rest of Eastern Europe] Western Europe] Germany, France, UK, Italy, Spain, Netherlands, Switzerland, Austria, Rest of Western Europe]). Asia Pacific (China, India, Japan, South Korea, Vietnam, Singapore, Australia, Rest of Asia Pacific), Middle East & Africa (Middle East [UAE, Egypt, Saudi Arabia, Qatar, Rest of Middle East], Africa [Nigeria, South Africa, Rest of Africa], Latin America (Brazil, Argentina, Colombia Rest of Latin America)
Company Profiles
Cloudera Inc., Hortonworks, Inc., Hadapt, Inc., Amazon Web Services LLC, Outerthought, MapR Technologies, Inc., Platform Computing, Karmasphere, Inc., Greenplum, Inc., Hstreaming LLC, Pentaho Corporation and Zettaset, Inc.
Key Drivers
• The increasing volume of data
• The growing demand for real-time analytics
Market Restraints
• Competition and Market Saturation