Report Scope & Overview:
The High Purity Methane Gas Market size was valued at USD 7.54 billion in 2022 and is expected to grow to USD 11.39 billion by 2030 and grow at a CAGR of 5.3 % over the forecast period of 2023-2030.
The main hydrocarbon in natural gas, high purity methane gas is a combustible, colourless, doorless compressed gas. High purity methane gas can be utilized alone or as a component in gas mixtures for a variety of applications because it is a pure gas with minimal pollutants. The main applications for high pure methane gas include hydrogen fuel, heat detection, and chemical synthesis. Chemical synthesis is the process of carrying out one or more chemical reactions to change a reactant or starting material into a product or numerous products. Chemical synthesis is used to create methanol, synthetic ammonia, hydrogen, acetylene, carbon black, and carbon disulfide.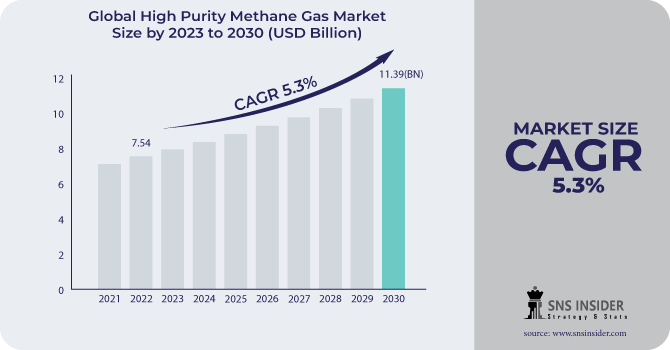 High-quality methane gas is used in this process. It is used in a variety of fields, including medicine, automobiles, defence, and electronics. which are distributed via bulk (liquid gas transportation), on-site, and cylinder (merchant). The high purity methane gas market research report is one of a number of new reports from. These statistics include high purity methane gas industry global market size, regional shares, competitors with a high purity methane gas market share, detailed high purity methane gas market segments, market trends and opportunities, and any additional information you may need to thrive in the high purity methane gas industry. This high purity methane gas market research report provides an in-depth analysis of the current and future state of the business, giving you a full view on everything you need.
MARKET DYNAMICS
KEY DRIVERS:
The high-purity methane gas is expanding for rising demand for electronic goods

Growing demand from the electronics sector

Increasing development of consumer electronics
Electronic parts including silicon wafers, integrated circuits (IC), semiconductors, and solar cell devices all utilize high purity gases. One of the main raw materials used to make graphene, which has exceptional qualities including minimal optical absorption, high electrical conductivity, high charge mobility, flexibility, and bendability, is high purity methane gas. One carbon atom thick graphene is made up of carbon atoms organized in a honeycomb pattern. These characteristics make graphene appropriate for
RESTRAIN:
OPPORTUNITY:
It is anticipated that increased high purity methane utilization in monocrystal and nanoparticle diamonds will present more growth opportunities. The generation of hydrogen from high purity methane for use as a clean fuel in the transportation sector has accelerated the industry's expansion. The chemical is made from natural gas, which is heated through procedures like partial oxidation and steam-methane reformation to produce hydrogen.
CHALLENGES:
The political and environmental factors

The exploitation of natural gas deposits in various areas

The environmental dangers of methanol fuel.
IMPACT ANALYSIS
IMPACT OF RUSSIAN UKRAINE WAR
The substantial methane leak into the atmosphere, the malicious damage Included in the totals are damages brought on by the Nord Stream and gas pipelines. The battle also significantly affects other pollution sources. Ukraine's economy is predicted to see a major decline, which will reduce emissions. On the other hand, as Ukrainians resume their lives in the locations where they are temporarily finding sanctuary, there will be an increase in emissions outside of Ukraine. Other industries will take up industrial output, such as the production of steel or fertilizers for export. More coal-fired power will be produced as a result of the Zaporizhzhia Nuclear Power Plant's outage, which affected 25% of the nation's electrical consumption. As can be seen from the information above, 50% of all emissions are attributed to the reconstruction of civil infrastructure. A quarter of all fires occur in both built-up and forested areas. The battle produces around 10% of the emissions. Interestingly, the Nord Stream 1 & 2 pipeline leaks discharged a huge volume of natural gas, which contains the powerful greenhouse gas methane, and resulted in a GHG emission that was more than the current estimates of emissions from warfare.
IMPACT OF ONGOING RECESSION
All economic sectors in the EU were impacted by the extraordinarily severe recession. The consumption of fossil fuels (coal, oil, and natural gas) decreased by 5.5%. The dramatic 12.7% reduction in coal use had the biggest impact on greenhouse gas emissions. The use of renewable energy (apart from biomass) also greatly grew at the same time, rising by 8.3%. The industrial processes that indicate decreased activity levels in the cement, chemical, and iron and steel industries experienced the highest relative emission reductions. Cheaper natural gas and greater use of renewable energy accompanied the decline in energy consumption associated with the economic downturn, which jointly reduced emissions. However, the residential sector's heating needs were boosted by the winter's generally colder temperatures.
KEY MARKET SEGMENTS
By Application
Chemical Synthesis

Heat Detection

R&D Laboratory

Transistors & Sensors

Power Electronic

Others
REGIONAL ANALYSIS
The high purity methane gas market in North America is predicted to expand the most during the projected period of 2021–2031. growing high purity methane gas use in nations like Canada, Mexico, and the United States will all guarantee significant development.
In 2022, the market for high purity methane gas was dominated by North America. The regions of Asia-Pacific, Western Europe, Eastern Europe, North America, South America, the Middle East, and Africa are all covered in the high purity methane gas study. In 2021, North America held the biggest market share for high purity methane gas. Factors like the fast-rising use of high purity methane gas in the chemical and electrical industries in nations like the US, Canada, and Mexico. High quality methane gas is in more demand in the North American region as a result of Mexico.
REGIONAL COVERAGE:
North America
Europe
Eastern Europe

Poland

Romania

Hungary

Turkey

Rest of Eastern Europe

Western Europe

Germany

France

UK

Italy

Spain

Netherlands

Switzerland

Austria

Rest of Western Europe
Asia Pacific
China

India

Japan

South Korea

Vietnam

Singapore

Australia

Rest of Asia Pacific
Middle East & Africa
Middle East

UAE

Egypt

Saudi Arabia

Qatar

Rest of Middle East

Africa

Nigeria

South Africa

Rest of Africa
Latin America
Brazil

Argentina

Colombia

Rest of Latin America
RECENT DEVELOPMENT
In order to supply ultra-high purity industrial gases for Samsung Electronics' most recent semiconductor facilities in Pyeongtaek, South Korea, Linde Plc and Samsung Electronics (South Korea) engaged into a long-term deal in October 2020. Currently, Linde is Samsung's primary industrial gas provider for its Pyeongtaek-based plants.

Three long-term contracts were signed by Air Liquide S.A. and BASF SE (Germany) in the Belgian Antwerp basin in February 2020. In a 15-year agreement, Air Liquide agreed to deliver additional oxygen to a new ethylene oxide factory that BASF will be constructing as well as renew its air gas supply to current installations. Air Liquide will also buy a portion of the methane fraction produced during the BASF production process and valorize it as a feedstock in its hydrogen production facilities, helping to a circular economy and lowering CO2 emissions on the Antwerp site by up to 15,000 tons annually.
KEY PLAYERS
Bhuruka Gases, Advanced Specialty Gases, Chengdu Taiyu Industrial Gases Co. Ltd., AGT International, Cryocarb, Electronic Fluorocarbons, LLC, Chemix Gases, Gas Innovation., Air Liquide, American Welding & Gas, Axcel Gases and other players are listed in a final report.
Advanced Specialty Gases-Company Financial Analysis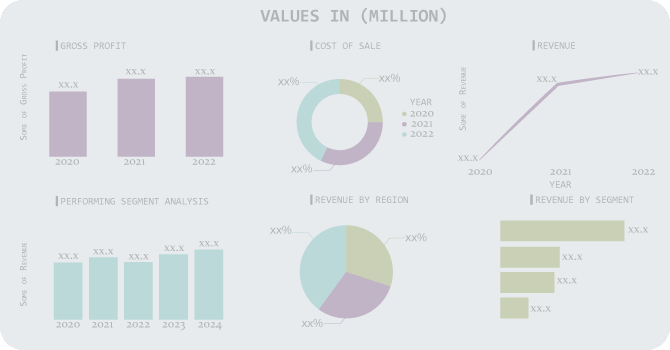 High Purity Methane Gas Market Report Scope:
Report Attributes
Details
Market Size in 2022
US$ 7.54 Bn
Market Size by 2030
US$ 11.39 Bn
CAGR
CAGR of 5.3 % From 2023 to 2030
Base Year
2022
Forecast Period
2023-2030
Historical Data
2020-2021
Report Scope & Coverage
Market Size, Segments Analysis, Competitive Landscape, Regional Analysis, DROC & SWOT Analysis, Forecast Outlook
Key Segments
• By Application (Chemical Synthesis, Heat Detection, R&D Laboratory, Transistors & Sensors, Power Electronic, Others)
Regional Analysis/Coverage
North America (US, Canada, Mexico), Europe (Eastern Europe [Poland, Romania, Hungary, Turkey, Rest of Eastern Europe] Western Europe] Germany, France, UK, Italy, Spain, Netherlands, Switzerland, Austria, Rest of Western Europe]). Asia Pacific (China, India, Japan, South Korea, Vietnam, Singapore, Australia, Rest of Asia Pacific), Middle East & Africa (Middle East [UAE, Egypt, Saudi Arabia, Qatar, Rest of Middle East], Africa [Nigeria, South Africa, Rest of Africa], Latin America (Brazil, Argentina, Colombia Rest of Latin America)
Company Profiles
Bhuruka Gases, Advanced Specialty Gases, Chengdu Taiyu Industrial Gases Co. Ltd., AGT International, Cryocarb, Electronic Fluorocarbons, LLC, Chemix Gases, Gas Innovation., Air Liquide, American Welding & Gas, Axcel Gases
Key Drivers
• The high-purity methane gas is expanding for rising demand for electronic goods
• Growing demand from the electronics sector
• Increasing development of consumer electronics
Market Restraints
· High cost of gas processing