Report Scope & Overview:
Industrial Air Filtration Market size was valued at USD 10.71 Bn in 2022 and is expected to reach USD 19.06 Bn by 2030, and grow at a CAGR of 7.47% over the forecast period 2023-2030.
The need to control industrial air quality across a scope of end-use businesses is a key element expected to drive market development over the figure time frame. Air filtration gives a viable method for controlling pollutants by diminishing their fixation to an adequate level, thusly further developing indoor air quality. Also, the rising need to diminish energy utilization across a few modern applications might hoist the interest for a successful industrial air filtration framework.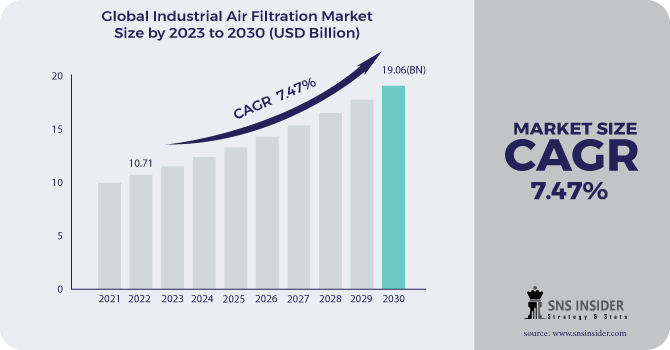 Developing worries in regards to ecological wellbeing combined with diminishing unrefined substance assets and regular storehouses are fundamentally expected to fuel industry development over the conjecture time frame. industrial filters are utilized in sifting or isolating industrial oils, gases, and ointments during activities. It can isolate fluid and strong matter and permit them to go through independent outlets without intruding on the activity. Filtration arrangements are presently utilized by producers in food and refreshments, water and wastewater, oil and gas, synthetic compounds, drugs, and biotechnology.
MARKET DYNAMICS:
KEY DRIVERS:
Environmental regulations and standards are becoming increasingly important over the world.

Global industrialization is accelerating.
RESTRAINTS:
High capital investment

Slower repurchase cycle
CHALLENGES:
Connected with limitations in terms of functionality

For industrial air filtration, technological inefficiencies might be a problem.
OPPORTUNITY:
Filtration product digitization is crucial growth potential.

Industry 4.0 is being more widely adopted.
IMPACT OF COVID-19:
The COVID-19 pandemic has featured the well-being and cleanliness of modern activities and pushed for changes in this impact. Makers are answering the well-being emergency by extending their ability and helping medical care laborers and state-run administrations in checking the spread of the infection. For example, Freudenberg Performance Materials is right now expanding its ability for nonwoven media for raising the quantities of facial coverings. The cover is being delivered utilizing regular organic product removes and has the ability to catch the infection.
Nanotechnology is being utilized by businesses for limiting the progression of the infection while allowing air to course unreservedly. Ventilation frameworks utilizing this innovation can confine the development of the COVID-19 infection and let activities proceed unabated. As to the University of Houston, nanotech coatings are basic during chilly climates and keep up with indoor air quality. These coatings are supposed to be introduced all through New York City and catch infection particles.
MARKET ESTIMATION:
ON THE BASIS OF PRODUCT:
On the basis of product type, the industrial air filtration market has been isolated into dust authorities, oil fog gatherers, HEPA channels, cartridge authorities and channels, baghouse channels, welding rage extractors, wet scrubbers, and dry scrubbers. Among these, the wet scrubber's portion held the biggest piece of the pie in 2019 and is additionally expected to observe a CAGR surpassing 7% over the conjecture period. Wet scrubbers have a predictable assortment of effectiveness, wind current, and static tension, by virtue of which it very well may be utilized in the scope of utilization where e steady wind stream is required. Be that as it may, there are not many elements hampering the development of wet scrubbers like high power utilization, consumer issues, and a high measure of waste age.
ON THE BASIS OF END-USE:
The industrial air filter in the creation vertical is of basic significance as they safeguard touchy and high-level assembling processes and decrease the gamble of microbiological as well as sub-atomic pollution. These purifiers principally track down the applications in concrete, food, horticulture, drug, metal handling, mash and paper, plastic, and power ventures. . The market is supposed to observe impressive development as modern air filtration frameworks help handle harmful, risky, and radioactive gas streams. Besides, power age plants need to obligatorily keep up with air and gas stream rates inside the ecological boundaries, prompting the expanded utilization of such decontamination hardware.
KEY MARKET SEGMENTS:
ON THE BASIS OF PRODUCT:
ON THE BASIS OF END-USE: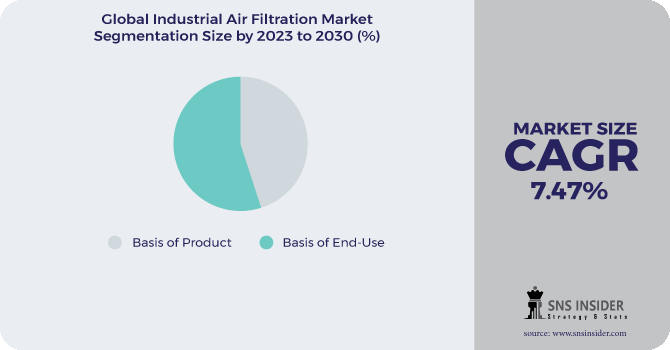 KEY PLAYERS:
The major key players are Ahlstrom-Munksjö, Air Filters, Inc., American Air Filter Company Inc. (Daikin Industries Ltd), Camfil, Donaldson Company, Inc., Filtration Group Freudenberg Filtration Technologies SE & Co. KG, Lydall, Inc., MANN+HUMMEL, Parker-Hannifin Corporation.
REGIONAL ANALYSIS:
Europe held the biggest piece of the pie and represented over 27.0% of the worldwide market for industrial air filtration that year. The food business in Europe is exceptionally broadened and is portrayed by the presence of a few limited scope organizations. It is normal to observe solid development over the course of the following couple of years, as most would consider being normal to drive the territorial market. Latin America held a humble offer in 2021, however, is supposed to record a sound development at a CAGR surpassing 7.5% over the course of the following seven years. This development is ascribed to the rising interest in the metal and food and drink ventures in the area.
The Asia Pacific market for industrial air filtration is supposed to show a CAGR of over 8% over the gauge period. Quick industrialization and expanding per capita pay are supposed to drive the local market. China is supposed to arise as an overall center for modern air filtration gear production attributable to its low work and foundation costs. In addition, the area is ventured to observe the passage of a few drug organizations to meet homegrown commodity and import requests, in this manner helping provincial development.
REGIONAL COVERAGE:
North America

Europe

Germany

UK

France

Italy

Spain

The Netherlands

Rest of Europe

Asia-Pacific

Japan

south Korea

China

India

Australia

Rest of Asia-Pacific

The Middle East & Africa

Latin America

Brazil

Argentina

Rest of Latin America
Industrial Air Filtration Market Report Scope:
Report Attributes
Details
Market Size in 2022
US$ 10.71 Billion
Market Size by 2030
US$ 19.06 Billion
CAGR
CAGR of 7.47% From 2023 to 2030
Base Year
2022
Forecast Period
2023-2030
Historical Data
2020-2021
Report Scope & Coverage
Market Size, Segments Analysis, Competitive Landscape, Regional Analysis, DROC & SWOT Analysis, Forecast Outlook
Key Segments
• by Module Type (Intelligent Power module, Power Integrated module)
• by Propulsion (Electric vehicles, ICE vehicles)
• by Vehicle Type (Passenger cars, Commercial vehicles)
Regional Analysis/Coverage
North America (USA, Canada, Mexico), Europe
(Germany, UK, France, Italy, Spain, Netherlands,
Rest of Europe), Asia-Pacific (Japan, South Korea,
China, India, Australia, Rest of Asia-Pacific), The
Middle East & Africa (Israel, UAE, South Africa,
Rest of Middle East & Africa), Latin America (Brazil, Argentina, Rest of Latin America)
Company Profiles
Ahlstrom-Munksjö, Air Filters, Inc., American Air Filter Company Inc. (Daikin Industries Ltd), Camfil, Donaldson Company, Inc., Filtration Group Freudenberg Filtration Technologies SE & Co. KG, Lydall, Inc., MANN+HUMMEL, Parker-Hannifin Corporation.
Key Drivers
•Environmental regulations and standards are becoming increasingly important over the world.
•Global industrialization is accelerating.
RESTRAINTS
•High capital investment
•Slower repurchase cycle