Report Scope & Overview:
The LED Chip Market size was valued at USD 25.8 billion in 2022. It is expected to grow to USD 62.52 billion by 2030 and grow at a CAGR of 11.7% over the forecast period of 2023-2030.
The market for LED chips has experienced a surge in demand due to their numerous advantages over traditional lighting solutions. LED chips are highly energy-efficient, consuming less power while providing brighter illumination. Additionally, they have a longer lifespan compared to conventional bulbs, reducing the need for frequent replacements. Furthermore, the LED chip market has been driven by the increasing adoption of LED technology in various sectors. The lighting industry, in particular, has witnessed a significant shift towards LED lighting solutions due to their superior performance and energy efficiency. LED chips are also extensively used in displays, such as televisions, smartphones, and digital signage, owing to their high brightness and color accuracy.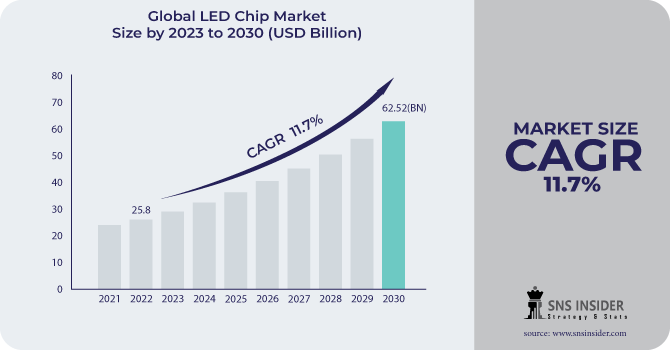 To get more information on LED Chip Market - Request Sample Report
An LED chip, also known as a light-emitting diode chip, is a crucial component in LED technology. It serves as the source of light in LED devices. The chip is typically made from a semiconductor material, such as gallium arsenide or gallium nitride, which emits light when an electric current passes through it. LED chips are designed to be highly efficient, converting a significant portion of the electrical energy into light. This efficiency makes LEDs a popular choice for various applications, including lighting fixtures, displays, and electronic devices. LED chips come in various sizes and shapes, depending on the intended application. They can be small and compact for use in mobile devices or large and powerful for lighting purposes. Additionally, LED chips can emit light in different colors, ranging from traditional white light to a wide spectrum of colors. In recent years, advancements in LED chip technology have led to improved efficiency, brightness, and color accuracy. These developments have expanded the range of applications for LED lighting, making it a viable alternative to traditional lighting solutions.
The automotive industry has also embraced LED chips for its lighting needs. LED headlights, taillights, and interior lighting have become standard features in modern vehicles, offering enhanced visibility, safety, and aesthetics. The automotive sector's growing focus on energy efficiency and sustainability has further propelled the demand for LED chips. Technological advancements, such as the development of micro-LEDs and miniaturized chips, are anticipated to drive further innovation and market expansion. Additionally, government initiatives promoting energy-efficient lighting solutions and increasing awareness of environmental concerns are likely to fuel the demand for LED chips.
Market Dynamics
Drivers
Increasing demand for energy-efficient lighting solutions

Declining prices of LED chips

Growing demand for the consumer electronics
The LED Chip market is experiencing significant growth primarily due to the increasing demand for consumer electronics. Despite the global coronavirus pandemic, the demand for consumer electronics remained relatively stable, even with people staying at home and the widespread adoption of work-from-home (WFH) arrangements throughout 2020 and most of 2021. However, as the lockdown measures have gradually eased, the demand for consumer electronics has surged. The resilience of the consumer electronics sector during the pandemic can be attributed to several factors. Firstly, with people spending more time at home, there has been a greater need for entertainment and connectivity devices such as televisions, smartphones, and laptops. Additionally, the shift to remote work and online learning has necessitated the purchase of electronic devices to facilitate these activities. The LED Chip market has emerged as a key player in meeting the growing requirements of consumer electronics. As the demand for consumer electronics continues to rise, the LED Chip market is expected to witness substantial growth.
Restrain
High initial investment required for setting up LED chip manufacturing facilities

Complex manufacturing process

Limited availability of rare earth materials used in LED chip production
Opportunities
Government initiatives promoting energy conservation and the phasing out of incandescent bulbs

Increasing utilization of LED Chips in the automotive sector
The automotive industry is witnessing a remarkable surge in the adoption of LED chips. One of the primary reasons for this increasing utilization is the superior performance and energy efficiency offered by LED chips. Compared to traditional lighting options, such as halogen or incandescent bulbs, LED chips consume significantly less power while providing brighter and more focused illumination. This not only enhances visibility for drivers but also contributes to fuel efficiency, a crucial factor in the automotive industry.
Challenges
Impact of Russia-Ukraine War:
The Russia-Ukraine war has witnessed heavy disruption in global supply chains, which were already strained due to the pandemic. The conflict has further exacerbated the challenges faced by manufacturers in securing essential raw materials for chip production. As a result, the LED chips market has been significantly impacted, leading to disruptions in the supply and availability of these crucial components.
Russia's control over 44% of global palladium supplies and Ukraine's production of 70% of the global neon supply have made these nations critical players in the semiconductor industry. Palladium is a vital component in chip manufacturing, while neon is essential for the production of LED chips. The ongoing war has disrupted the supply of these key raw materials, further exacerbating the chip shortage crisis. The LED chips market has been particularly hard-hit by the Russia-Ukraine conflict. With the disruption in the supply of palladium and neon, manufacturers are facing significant challenges in meeting the demand for LED chips. This shortage has led to increased prices, delayed production, and limited availability of LED chips in the market.
Impact of Recession:
As the demand for electronic devices and appliances decreases, the need for semiconductor components, such as LED chips, decreases as well. This decline in demand leads to a subsequent drop in prices, further exacerbating the financial strain on companies operating within this sector. Moreover, the semiconductor industry heavily relies on global trade, making it susceptible to the imposition of elevated tariffs and other restrictions by governments worldwide during recessions. Consequently, this can result in limited access to crucial components and markets, exacerbating the profit decline for affected companies.
The impact of a recession on the LED chips market is twofold. Firstly, the decrease in demand for electronic devices and appliances directly affects the demand for LED chips, leading to a decline in prices. This price reduction, coupled with the increased production costs, creates a challenging environment for companies operating within the semiconductor industry. Secondly, the imposition of tariffs and trade restrictions during a recession further compounds the difficulties faced by the LED chips market.
Market segmentation
By Product
Red LED Chips

Green LED Chips

Blue LED Chips

Yellow LED Chips

Infrared LED Chips

White LED Chips

Others
By Application
Signs and Signal

Backlighting

Automotive

Illumination

Others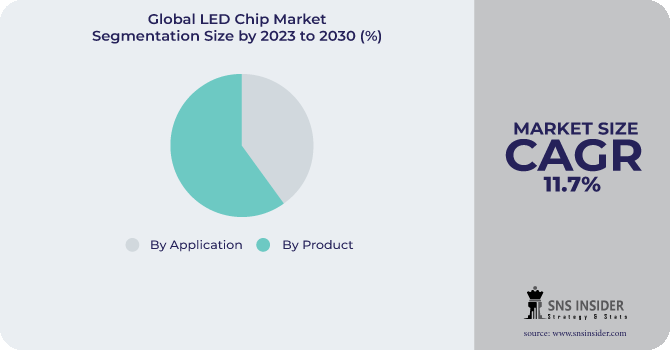 Need any customization research on LED Chip Market - Enquiry Now
Regional Analysis
North America has emerged as the dominant player in the LED chips market, with the United States being the major contributing country. The US LED chip market will grow by a CAGR of about 8.1% during the forecast period of 2023-2030.
The LED chips market in North America has experienced significant growth, primarily due to technological advancements and increasing demand for energy-efficient lighting solutions. One of the key factors contributing to the US's dominance in the LED chips market is its strong manufacturing base. The country boasts a well-established network of LED chip manufacturers, which ensures a steady supply of high-quality products. Additionally, the US has been at the forefront of innovation in LED chip technology, constantly pushing the boundaries of efficiency and performance.
Furthermore, the United States has witnessed a surge in demand for LED lighting solutions across various sectors, particularly in automotive and consumer electronics and the automotive industry is booming in this region. For instance, As of March 2023, a significant 73% of the U.S. population reported having access to their own personal vehicles, while an additional 22% had access to either a company or family car. The commercial and residential segments have also embraced LED lighting due to its long lifespan, energy efficiency, and cost-effectiveness. This growing demand has further fueled the production and adoption of LED chips in the country.
The Asia Pacific region is expected to grow with a significant CAGR during the forecast period of 2023-2030. In 2022 LED Chips market in the APAC region was valued at USD 11.26 billion. The Asia Pacific region has experienced a surge in demand for LED lighting solutions across various industries, including automotive, consumer electronics, and general lighting. This growing demand is primarily driven by the region's rapid urbanization, increasing disposable income, and a strong focus on energy efficiency. LED chips, being an integral component of LED lighting systems, are witnessing a substantial uptake in the Asia Pacific market.
REGIONAL COVERAGE:
North America
Europe
Eastern Europe

Poland

Romania

Hungary

Turkey

Rest of Eastern Europe

Western Europe

Germany

France

UK

Italy

Spain

Netherlands

Switzerland

Austria

Rest of Western Europe
Asia Pacific
China

India

Japan

South Korea

Vietnam

Singapore

Australia

Rest of Asia Pacific
Middle East & Africa
Middle East

UAE

Egypt

Saudi Arabia

Qatar

Rest of the Middle East

Africa

Nigeria

South Africa

Rest of Africa
Latin America
Brazil

Argentina

Colombia

Rest of Latin America
Key Players
The major key players are Bright LED Electronics Corporation, AVA Technologies, Inc., Bridgelux, Inc., Hitachi Cable, Ltd., Dowa Electronics Materials Co., Ltd., Optek Technology, Cree, Inc., Nichia Corporation, Epistar Corporation, Huga Optech, Inc., and other key players mentioned in the final report.
Hitachi Cable .Ltd-Company Financial Analysis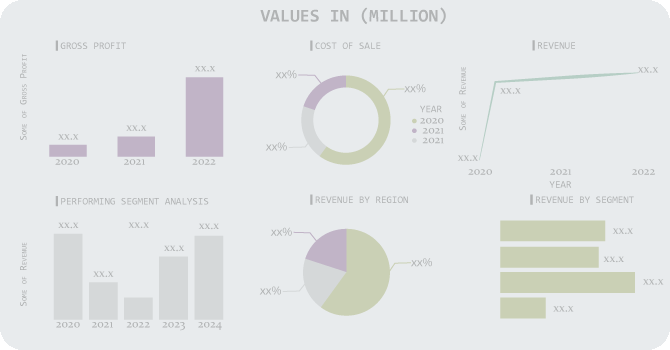 Recent Development:
In Oct 2020, Cree Inc. made a significant announcement regarding a business deal. The company revealed its decision to divest its LED business unit to Smart Global Holdings for a substantial amount exceeding $300 million.
LED Chip Market Report Scope:
Report Attributes
Details
Market Size in 2022
US$ 25.8 Bn
Market Size by 2030
US$ 62.52 Bn
CAGR
CAGR of 11.7 % From 2023 to 2030
Base Year
2022
Forecast Period
2023-2030
Historical Data
2020-2021
Report Scope & Coverage
Market Size, Segments Analysis, Competitive Landscape, Regional Analysis, DROC & SWOT Analysis, Forecast Outlook
Key Segments
• By Product (Red LED Chips, Green LED Chips, Blue LED Chips, Yellow LED Chips, Infrared LED Chips, White LED Chips, and Others)
• By Application (Signs and Signal, Backlighting, Automotive, Illumination, and Others)
Regional Analysis/Coverage
North America (US, Canada, Mexico), Europe (Eastern Europe [Poland, Romania, Hungary, Turkey, Rest of Eastern Europe] Western Europe] Germany, France, UK, Italy, Spain, Netherlands, Switzerland, Austria, Rest of Western Europe]). Asia Pacific (China, India, Japan, South Korea, Vietnam, Singapore, Australia, Rest of Asia Pacific), Middle East & Africa (Middle East [UAE, Egypt, Saudi Arabia, Qatar, Rest of Middle East], Africa [Nigeria, South Africa, Rest of Africa], Latin America (Brazil, Argentina, Colombia Rest of Latin America)
Company Profiles
Bright LED Electronics Corporation, AVA Technologies, Inc., Bridgelux, Inc., Hitachi Cable, Ltd., Dowa Electronics Materials Co., Ltd., Optek Technology, Cree, Inc., Nichia Corporation, Epistar Corporation, Huga Optech, Inc.
Key Drivers
• Increasing demand for energy-efficient lighting solutions
• Declining prices of LED chips
• Growing demand for the consumer electronics
Market Restraints
• High initial investment required for setting up LED chip manufacturing facilities
• Complex manufacturing process
• Limited availability of rare earth materials used in LED chip production