Report Scope & Overview:
The Loyalty Management Market size was valued at USD 9.31 billion in 2022 and is expected to grow to USD 31.59 billion by 2030 and grow at a CAGR of 16.5% over the forecast period of 2023-2030.
The loyalty management market encompasses activities that are successful and well-planned for choosing, managing, responding to, and regulating client purchasing behavior. This strategy is utilized to keep a consumer by rewarding regular purchases. Such devoted clients share their experiences with advocacy-driven, cloud-based, and mobile-delivered programs with their known connections. This allows for brand marketing and the organization to reach a new audience. It is beneficial to collect more data and insights in order to construct a more detailed client profile. Because of its influence on brand value and the efficacy of loyalty management programs to retain and attract new consumers, loyalty management has become an essential aspect of vendor strategy.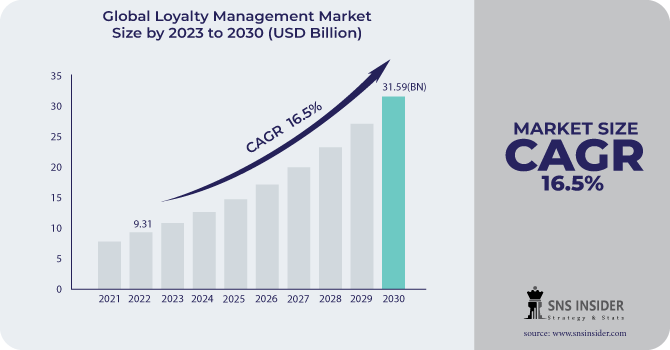 To get more information on Loyalty Management Market - Request Sample Report
Market Dynamics
Drivers
One of the key concerns of the loyalty management business is the growing need for personalized experiences and consumer rewards. As a result of this need, businesses are investing in loyalty management programs to separate themselves from the competition and retain customers. Furthermore, the rise of digital technologies such as mobile applications and social media makes it easier for firms to develop and maintain loyalty programs.
Restrains
Opportunities
There are several potentials for loyalty management systems to assist organizations of all sizes in improving customer retention and increasing client lifetime value. Aside from conventional businesses like retail and hotels, emergent industries like healthcare and transportation may profit from good loyalty management programs. Furthermore, the use of artificial intelligence and machine learning can allow organizations to better personalize loyalty programs and provide consumers with more relevant and targeted experiences.
Challenges
Impact Of covid-19
The COVID-19 pandemic had a positive impact on the industry in terms of software adoption. Almost all companies, including retail, hotels, transportation, and banking, were affected by nationwide lockdowns. End-user purchase habits altered dramatically throughout the epidemic.
According to a Ketchum poll, many American buyers modified their brand preferences during the crisis. According to the report, buyers have shifted to larger e-commerce competitors such as Amazon, Aldi, Walmart, and others for basic products. As a result, merchants began to use loyalty management systems.
The Impact of the Russia-Ukraine War
This market, which involves the use of loyalty programs to retain customers and increase sales, has been affected by the political and economic instability in the region.
the war has caused a decline in consumer confidence and spending in the affected regions. This has led to a decrease in the effectiveness of loyalty programs, as customers are less likely to participate in them or make purchases that would earn them rewards. As a result, companies in the loyalty management market have had to adjust their strategies to account for these changes in consumer behavior. Despite these challenges, there are also opportunities for growth in the loyalty management market in the aftermath of the conflict. As the region stabilizes and consumer confidence returns, companies that provide loyalty program services will be well-positioned to help businesses rebuild their customer base and increase sales. By adapting to changing market conditions and providing innovative solutions, these companies can continue to thrive in the face of adversity.
The Impact of Recession
As businesses struggle to stay afloat, many have had to cut back on their loyalty programs, resulting in a decline in customer engagement and retention.
However, some companies have recognized the importance of maintaining their loyalty programs during tough times. By offering incentives and rewards to their most loyal customers, they have been able to maintain customer loyalty and even attract new customers. Despite the challenges posed by the recession, the loyalty management market remains a crucial aspect of business strategy. As companies look to recover from the economic downturn, they will need to focus on building strong relationships with their customers. A well-designed loyalty program can help businesses achieve this goal by providing customers with a sense of value and appreciation.
Key Market Segmentation
The Loyalty Management Market is segmented into four types on the basis of by deployment, by Enterprise type, and by End-user.
By Deployment
By Offering
By Enterprise Type
By End Use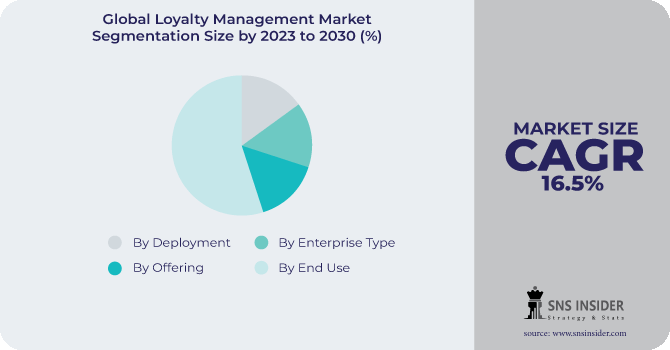 Need any customization resewarch on Loyalty Management Market - Enquiry Now
Regional Analysis
Because of the quick adoption of loyalty management software across the regional retail sector, North America has the greatest loyalty management market share. This is due to the fact that monetary incentives such as returns or refunds, free delivery, free products, and product discounts are preferred by North American buyers.
During the forecast period, Europe will have the second-largest market share. Several European countries have well-established loyalty programs. The area is more prone to customized loyalty programs. METRO and Capillary Technologies, for example, teamed in June 2022 to build a multi-country B2B loyalty program. Capillary's entry into the European market is aided by this collaboration with METRO.
Asia Pacific is expected to develop rapidly over the projected period, owing to the increased use of digital channels and a greater emphasis on customer experiences. To satisfy the current needs of clients, key firms in the region are offering personalized loyalty programs at reasonable prices. Companies employ platforms like WeChat, Alipay, WhatsApp, Paytm, and others to provide their loyalty programs.
REGIONAL COVERAGE:
North America
Europe
Germany

UK

France

Italy

Spain

The Netherlands

Rest of Europe
Asia-Pacific
Japan

South Korea

China

India

Australia

Rest of Asia-Pacific
The Middle East & Africa
Latin America
Brazil

Argentina

Rest of Latin America
Recent development
Sabre Corporation joined with Capillary Technologies in March 2023 to assist airlines and hoteliers with Capillary's loyalty management services. Through this partnership, the organizations were able to get significant insights through real-time analytics.
Antavo collaborated with BMW (U.K.) Ltd on Inside Edge, a B2B loyalty program, in March 2022. The relationship enabled corporate drivers to get benefits that helped them save money, and time, and enjoy the journey.
Key Players:
The major players in the market are Brierley+Partners, Capillary Technologies, Gift Management, Apex Loyalty, Epsilon, Oracle, Preferred Patron, SailPlay, Bond Brand Loyalty, Merkle, Capillary, Punchh, Comarch, ICF Next, Maritz Motivation, Kobie, Cheetah Digital, ProKarma, Annex Cloud, Sumup, Kangaroo, LoyaltyLion, Smile.io, Ebbo, Jakala, Yotpo, Zinrelo, Loopy Loyalty, Paystone, SessionM, and others in final report.
Loyalty Management Market Report Scope:
Report Attributes
Details
Market Size in 2022
US$ 9.31 Bn
Market Size by 2030
US$ 31.59 Bn
CAGR
CAGR of 16.5% From 2023 to 2030
Base Year
2022
Forecast Period
2023-2030
Historical Data
2020-2021
Report Scope & Coverage
Market Size, Segments Analysis, Competitive Landscape, Regional Analysis, DROC & SWOT Analysis, Forecast Outlook
Key Segments
• By Deployment (On-premise, Cloud)
• By Offering (Solutions, Services)
• By Enterprise Type (Large Enterprises, Small & Medium Enterprises (SMEs))
• By End Use (BFSI, IT and Telecommunications, Transportation, Retail, Hospitality, Manufacturing, Media & Entertainment, Others)
Regional Analysis/Coverage
North America (USA, Canada, Mexico), Europe
(Germany, UK, France, Italy, Spain, Netherlands,
Rest of Europe), Asia-Pacific (Japan, South Korea,
China, India, Australia, Rest of Asia-Pacific), The
Middle East & Africa (Israel, UAE, South Africa,
Rest of Middle East & Africa), Latin America (Brazil, Argentina, Rest of Latin America)
Company Profiles
Brierley+Partners, Capillary Technologies, Gift Management, Apex Loyalty, Epsilon, Oracle, Preferred Patron, SailPlay, Bond Brand Loyalty, Merkle, Capillary, Punchh, Comarch, ICF Next, Maritz Motivation, Kobie, Cheetah Digital, ProKarma, Annex Cloud, Sumup, Kangaroo, LoyaltyLion, Smile.io, Ebbo, Jakala, Yotpo, Zinrelo, Loopy Loyalty, Paystone, SessionM
Key Drivers
• The growing need for personalized rewards and experiences is a driving factor.
Market Opportunities
• New developing Industries and Machine Learning and AI Adoption