Report Scope & Overview:
Magnetic Resonance Imaging (MRI) Market was valued at USD 5.4 Bn in 2022 and is expected to reach USD 8.93 Bn by 2030 and grow at a CAGR of 6.5% during the forecasted period 2023-2030.
Strong magnetic fields and radio waves are used in the medical imaging procedure known as magnetic resonance imaging (MRI) to provide precise pictures of the inside organs and tissues of the body. It is a painless, non-invasive method that aids in the diagnosis and follow-up of a variety of medical disorders. High-resolution images of several bodily parts, including the brain, spine, joints, chest, abdomen, and pelvis, can be obtained using MRI. It is especially helpful for assessing internal organs, muscles, tendons, ligaments, and other soft tissues. MRIs can yield detailed pictures that can be used to identify anomalies such tumours, inflammation, damage, and structural alterations.
MRI is a flexible imaging technique that provides a variety of sequence variations to improve the visualisation of particular tissues or diseases. T1-weighted, T2-weighted, and fluid-attenuated inversion recovery (FLAIR) sequences are a few typical MRI techniques. The majority of people are seen to be safe for MRIs, however there are various restrictions and safety measures. Due to safety concerns, individuals who have certain metallic implants, such as pacemakers, cochlear implants, or metal pieces in their eyes, may not be good candidates for MRI. Additionally, because the MRI scanner is a small tube, people with claustrophobia might experience discomfort throughout the operation. Although MRI is a useful diagnostic tool, it is crucial to remember that in order to obtain an accurate diagnosis and choose the best course of therapy for a patient, MRI is typically used in conjunction with other imaging methods and clinical assessments.
Market Dynamics:
Driver
An array of medical disorders can be accurately diagnosed by MRI. It provides superior soft tissue contrast, making it possible to identify and classify anomalies in organs, joints, and other structures. An MRI can provide highly accurate identification of tumours, inflammation, injuries, and structural abnormalities.
Restrain
MRI scans can be more costly than other imaging techniques. The complicated technology used in MRI scanners and the requirement for trained staff to operate them are the main causes of the high cost. This may restrict certain patients' access to MRI, especially in areas with little healthcare resources or for those without sufficient insurance.
Opportunity
MRI is useful for tracking the development of disorders and assessing the efficacy of therapy. Medical practitioners can evaluate how tumours or other disorders have changed in size, features, and responsiveness over time with the aid of follow-up MRI scans. This knowledge aids in creating and adjusting treatment strategies as necessary. MRI provides a number of advanced imaging methods that contribute extra functional and physiological data. For instance, functional MRI (fMRI) detects variations in blood flow to determine the activity of the brain during particular tasks.
Challenge
MRI scans frequently take longer than conventional imaging methods to finish. Depending on the specific imaging sequences used and the body portion being examined, an MRI examination's length can change. Patients may find this prolonged scanning duration problematic, especially if they feel uneasy, anxious, or claustrophobic within the MRI machine.
Impact of Russia Ukraine War:
Hospitals and diagnostic institutions that hold MRI machines could be destroyed or damaged as a result of the conflict. Infrastructure damage may render current MRI systems unworkable, limiting the local population's access to this imaging technique. The battle may affect the flow of medical supplies, especially MRI machines and the parts that go into them. This may make it harder to fix or replace broken or old equipment, which could reduce the amount of MRI services offered in the impacted locations. A lack of funding and resources may result from the war and be directed away from the infrastructure and services of the healthcare industry. As a result, there might only be a small amount of money available for MRI equipment upkeep, improvement, or replacement.
Impact of Recession:
Budgets for healthcare may be cut during a recession as firms, governments, and individuals struggle with their finances. As a result, financing for healthcare facilities including the purchase and upkeep of MRI machines may be reduced. It can cause delays in modernising or replacing antiquated technology, which could affect the accessibility and effectiveness of MRI services. Recessions can lead to greater unemployment rates and family and individual financial instability. This might result in fewer people having health insurance and more people who are either underinsured or uninsured. Patients may therefore only have limited access to MRI scans because of budgetary constraints or inadequate insurance coverage. Recessionary periods may also have an effect on medical research and development initiatives, including improvements in MRI technology. Reduced financing and investment may hinder research and the development of new imaging techniques, which would limit access to cutting-edge MRI equipment.
Key Market Segmentation:
By Architecture outlook
Open System

Closed System
By Field Strength Outlook
Low Field Strength

Mid Field Strength

High Field Strength
By Application Outlook
Cardiac

Abdominal

Vascular

Brain and neurological

Other
By End Use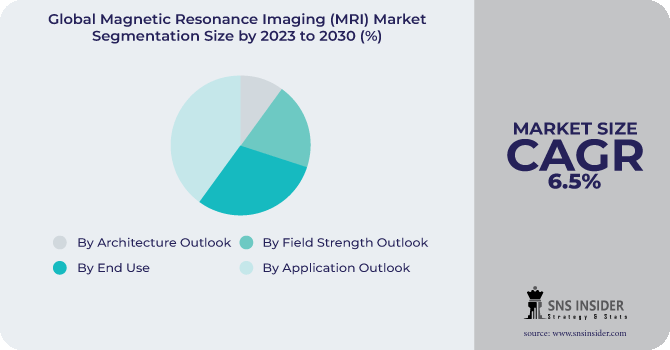 Key Players
The major key players are GE healthcare, Siemens AG, Toshiba Corporation, Aurora imaging Technologies, Esaote SPA, Sahrad Medical Systems, Fujifilm, Koninklijke Philips N.V. and others
Regional Analysis:
The MRI market is well-established in the North American region, which includes the United States and Canada. It is fuelled by things like a modern healthcare infrastructure, high healthcare spending, and robust research and development efforts. The market is characterised by a sizeable number of installed MRI machines in medical facilities, diagnostic centres, and academic institutions. With key contributors including Germany, the United Kingdom, and France, Europe also has a developed MRI market. The region boasts a strong acceptance rate for cutting-edge medical imaging technologies and a well-developed healthcare system. The rising incidence of chronic diseases, the emphasis on early diagnosis, and government programmes encouraging the development of the healthcare infrastructure all contribute to the need for MRI.
APAC is said to be the region with the highest CAGR growth rate. The major factors which contribute to this growth are the expansion of the market is being fuelled by elements including a sizable population base, rising healthcare costs, improved healthcare infrastructure, and greater awareness of early disease diagnosis. In both urban and rural areas, there is a rising need for high-quality medical imaging services.
Magnetic Resonance Imaging Market Report Scope:
Report Attributes
Details
Market Size in 2022
US$ 5.4 Bn
Market Size by 2030
US$ 8.93 Bn
CAGR
CAGR of 6.5 % From 2023 to 2030
Base Year
2022
Forecast Period
2023-2030
Historical Data
2020-2021
Report Scope & Coverage
Market Size, Segments Analysis, Competitive Landscape, Regional Analysis, DROC & SWOT Analysis, Forecast Outlook
Key Segments
• By Architecture outlook (Open System, Closed System)
• By Field Strength Outlook (Low Field Strength, Mid Field Strength, High Field Strength)
• By Application Outlook (Cardiac, Abdominal, Vascular, Brain and neurological, Other)
• By End Use (Hospitals, Imaging centres, Ambulatory surgical centres, Others)
Regional Analysis/Coverage
North America (USA, Canada, Mexico), Europe
(Germany, UK, France, Italy, Spain, Netherlands,
Rest of Europe), Asia-Pacific (Japan, South Korea,
China, India, Australia, Rest of Asia-Pacific), The
Middle East & Africa (Israel, UAE, South Africa,
Rest of Middle East & Africa), Latin America (Brazil, Argentina, Rest of Latin America)
Company Profiles
GE healthcare, Siemens AG, Toshiba Corporation, Aurora imaging Technologies, Esaote SPA, Sahrad Medical Systems, Fujifilm, Koninklijke Philips N.V. and others
Key Drivers
• The rise in the use of the MRI in healthcare industry for the diagnosis accuracy element.
Market Opportunities
• The rising technological advancement in the healthcare industry.