REPORT SCOPE & OVERVIEW
The Mass Spectrometry Market size was estimated USD 5,262 million in 2022 and is expected to reach USD 9,884.8 million by 2030 at a CAGR of 8.2% during the forecast period of 2023-2030.
Mass spectrometry is a powerful analytical method in the realm of biological sciences. This method use electrons to detect and quantify unknown chemicals and components in a sample. In mass spectrometry, charged electrons are utilized to convert the contents of a sample into positive ions after joining it. The ions' molecular masses are then used to divide them. These positive ions can be controlled by an external electric charge or magnetic field.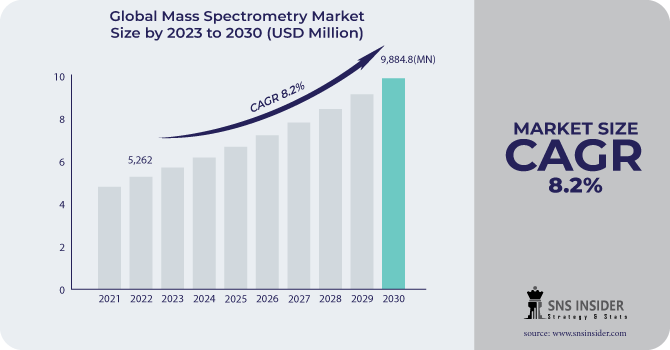 MARKET DYNAMICS
DRIVERS
Pharmaceutical companies R&D spending has expanded significantly over the last two decades. Investments in critical sectors such as biopharmaceuticals and personalized medicine stimulate research activity in the pharmaceutical and biotechnology industries. The pharmaceutical and biotechnology sectors account for 21.6% of total global R&D investment, according to the 2022 EU Industrial R&D Investment Scoreboard. Mass spectrometry is used extensively in the pharmaceutical business, from drug discovery to late-stage research and clinical trials. As a result, rising spending in the pharmaceutical and biotechnology industries is predicted to drive the mass spectrometry market forward.
RESTRAIN
Spectrometry instruments are often expensive since they are outfitted with innovative technologies and features. Furthermore, the cost of conforming the system to industry standards is prohibitively expensive. Furthermore, because academic research facilities have limited funds, such systems are difficult to get. However, technological advancements and growing demand have resulted in higher system pricing. Pharmaceutical businesses require a large number of such systems, which raises the capital cost dramatically. The cost of a spectrometer influences end users purchasing decisions. These are the primary factors restraining mass spectrometry system adoption among end users.
OPPORTUNITY
Developing countries such as China and India offer numerous opportunities for the mass spectrometry market to expand. Because of the Greenfield projects being established in various end-user sectors in these countries, China and India produce a large demand for single mass spectrometers and hybrid spectrometry instruments. These countries biopharmaceutical industries are healthy, and they are likely to contribute significantly to the growth of the spectrometry and chromatography markets. To capitalize on this opportunity, key industry players are constructing new facilities, R&D centers, and innovation centers, as well as collaborating with Asian market participants.
CHALLENGES
Skilled staff with relevant skills and knowledge are necessary for the efficient operation of spectrometry equipment. Errors such as misplacing a sample in GC-MS or LC-MS, as well as difficulties such as fingerprints or bubbles in the solution, can have an impact on the final result's quality. Furthermore, sample preparation (including aliquoting, dilution, and extraction) is an important step in isolating the analyte of interest in mass spectrometry. It reduces interferences that may have an impact on the precision of the outcome. Lack of information about the best technology to use also has an impact on results and may result in direct and indirect costs for end users. The existing shortage of experienced professionals for method development, validation, operation, and troubleshooting operations is projected to limit the growth of the mass spectrometry industry in the approaching years.
IMPACT OF ONGOING RECESSION
The detrimental consequences of the ongoing COVID-19 pandemic and an unpredictable recovery period have significantly impacted the Company's business and operations and may continue to do so; however, the type and amount of such damage is highly unknown. Over the previous two years, the global COVID-19 pandemic has caused a severe public health disaster. The COVID-19 epidemic has generated tremendous instability and continues to spread throughout the United States and abroad, disrupting and potentially disrupting the Company's business. The company operates in over 35 countries, including those affected by the COVID-19 pandemic. In response, most governments, including the United States, as well as private businesses, have undertaken a slew of measures aimed at containing and mitigating the consequences of COVID-19. Such measures have had and are likely to continue to have significant effects on the US and international economies of varying severity and duration, as well as a negative impact on the Company's operations.
KEY SEGMENTS
By Product
Instruments

Consumables & Services
In 2022, Instruments segment is expected to held the highest market share of 77.4% during the forecast period due to spectrometers have a wide range of uses in the biotechnology sector, and there is a growing understanding of the advantages of mass spectrometry workflows. These instruments can be utilized in clinical and preclinical drug discovery testing, as well as biomedical research in the pharmaceutical industry. For example, high-resolution hybrid mass spectrometry can be employed in the development of cancer cell treatments. In recent years, the approach has become more significant for proteomics-based research applications such as determining the molecular mass of peptides and peptide sequences. Advances in mass spectrometry applications are expected to drive the segment.
By Technology
Quadrupole Liquid Chromatography-Mass Spectrometry

Gas Chromatography-Mass Spectrometry (GC-MS)

Fourier Transform-Mass Spectrometry (FT-MS)

Time-of-Flight Mass Spectrometry (TOFMS)

Matrix-Assisted Laser Desorption/Ionization-Time-of-Flight Mass Spectrometry (MALDI-TOF)

Magnetic Sector Mass Spectrometry

Others
In 2022, quadrupole liquid chromatography-mass spectrometry segment is expected to held the highest market share of 37.1% during the forecast period owing to the benefits provided by the process, demand for this technology has increased dramatically in recent years. For example, triple quadrupole technology is an important analytical technique for clinical research analysis because it can detect tiny quantities of biomarkers in complicated matrices of biological fluids. In this arena, several important firms have created offers. Waters Corporation, a leading producer of this technology, for example, provides mass spectrometry products for the characterization of biomolecules for use in biotherapeutics, metabolomics, extracts, and leachable.
By Application
Proteomics

Metabolomics

Glycomics

Others
In 2022, the proteomics segment is expected to dominate the market growth of 46.7% during the forecast period due to proteomics research based on mass spectrometry is a comprehensive technique for quantitative profiling of proteins and analyzing protein-protein interactions. Advances in quantitative proteomics techniques and their general availability have broadened the possibilities for examining protein function, structure, transformation, and overall protein dynamics. Furthermore, advances in mass spectrometry technology are paving the way for single-cell analysis and clinical applications. The method is expected to gain traction in a variety of applications, including the detection of novel biomarkers, mapping molecular tissue, and enhancing illness diagnostics. Such advances are likely to propel the mass spectrometry market's growth potential.
By End User
Government & Academic Institutions

Pharmaceutical & Biotechnology Companies

Others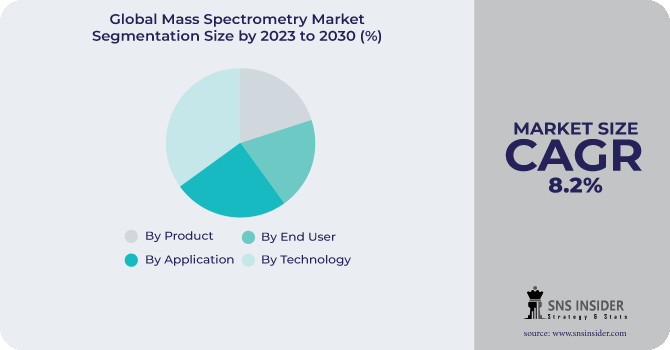 In 2022, pharmaceutical & biotechnology companies segment is expected to dominate the market growth of 44.0% during the forecast period owing to the increasing use of protein sequencing in the pharmaceutical industry for drug discovery and development processes. The increasing need for biomolecule analysis and medication component analysis is projected to boost segment expansion in the market. With increased investments in biopharmaceutical research and increased R&D opportunities in the proteomics domain, the segment is likely to grow rapidly in the future years.
REGIONAL ANALYSES
North America held a significant market share growing with a highest CAGR of 41.2% in 2022 due to the large level of research and development activities and the availability of a developed research and healthcare infrastructure. Similarly, the region's increased emphasis on disease control measures is driving demand for mass spectrometry. Furthermore, government financing in the region is substantial, which is projected to stimulate market expansion. For instance, the National Eye Institute, National Heart, Lung, and National Human Genome Research Institute all promote UniProt, a free portal for getting protein sequencing and functional information.
Asia-Pacific is witness to expand fastest CAGR rate during the forecast period due to the availability of a big population and rising focus on healthcare systems. Similarly, the growing interest in proteomics and genomics research, as well as an increase in academic activities for the development of protein-based treatments, have created considerable growth opportunities for the Asia Pacific market.
REGIONAL COVERAGE
North America
Europe
Eastern Europe

Poland

Romania

Hungary

Turkey

Rest of Eastern Europe

Western Europe

Germany

France

UK

Italy

Spain

Netherlands

Switzerland

Austria

Rest of Western Europe
Asia Pacific
China

India

Japan

South Korea

Vietnam

Singapore

Australia

Rest of Asia Pacific
Middle East & Africa
Middle East

UAE

Egypt

Saudi Arabia

Qatar

Rest of Middle East

Africa

Nigeria

South Africa

Rest of Africa
Latin America
Brazil

Argentina

Colombia

Rest of Latin America
Key Players
The major key players are Thermo Fisher Scientific, Inc., Agilent Technologies, Inc., Danaher Corporation, Waters Corporation, Bruker Corporation, Shimadzu Corporation, PerkinElmer, Inc., Rigaku Corporation, LECO Corporation, JEOL Ltd., SCIEX, and Others.
RECENT DEVELOPMENT
In January 2022, Thermo Fisher and Symphogen have expanded their collaboration with the goal of delivering processes for simpler characterisation and quality monitoring of complex therapeutic proteins utilizing the Thermo Scientific Q Exactive Plus Orbitrap LC-MS/MS system.
In February 2023, SCIEX announced a partnership with HighRes Biosolutions to deliver configurable automation solutions powered by Cellario software to the Echo MS system.
In February 2022, Waters Corporation bought Megadalton Solutions, Inc.'s Charge Detection Mass Spectrometry technical assets and intellectual property rights in order to widen its applicability in Cell and Gene Therapy.
In September 2022, Agilent Technologies collaborated with MOBILion Systems to implement Structures for Lossless lon Manipulation (SLIM) ion mobility separation technology on its Q-TOF mass spectrometers.
Mass Spectrometry Market Report Scope:
Report Attributes
Details
Market Size in 2022
US$ 5,262 Million
Market Size by 2030
US$ 9,884.8 Million
CAGR
CAGR of 8.2 % From 2023 to 2030
Base Year
2022
Forecast Period
2023-2030
Historical Data
2019-2021
Report Scope & Coverage
Market Size, Segments Analysis, Competitive Landscape, Regional Analysis, DROC & SWOT Analysis, Forecast Outlook
Key Segments
• By Product (Instruments, Consumables & Services)
• By Technology (Quadrupole Liquid Chromatography-Mass Spectrometry, Gas Chromatography-Mass Spectrometry, Fourier Transform-Mass Spectrometry, Time-of-Flight Mass Spectrometry, Matrix-Assisted Laser Desorption/Ionization-Time-of-Flight Mass Spectrometry, Magnetic Sector Mass Spectrometry, Others)
• By Application (Proteomics, Metabolomics, Glycomics, Others)
• By End User (Government & Academic Institutions, Pharmaceutical & Biotechnology Companies, Others)
Regional Analysis/Coverage
North America (US, Canada, Mexico), Europe (Eastern Europe [Poland, Romania, Hungary, Turkey, Rest of Eastern Europe] Western Europe] Germany, France, UK, Italy, Spain, Netherlands, Switzerland, Austria, Rest of Western Europe]), Asia Pacific (China, India, Japan, South Korea, Vietnam, Singapore, Australia, Rest of Asia Pacific), Middle East & Africa (Middle East [UAE, Egypt, Saudi Arabia, Qatar, Rest of Middle East], Africa [Nigeria, South Africa, Rest of Africa], Latin America (Brazil, Argentina, Colombia Rest of Latin America)
Company Profiles
Thermo Fisher Scientific, Inc., Agilent Technologies, Inc., Danaher Corporation, Waters Corporation, Bruker Corporation, Shimadzu Corporation, PerkinElmer, Inc., Rigaku Corporation, LECO Corporation, JEOL Ltd., SCIEX
Key Drivers
• Increasing research and development investments in the pharmaceutical and biotechnology industries
Market Challenges
• Dearth of qualified professionals