Report Scope & Overview :
Medical Imaging Market size was valued at USD 28.24 billion in 2022 and is expected to reach at USD 40.47 billion by 2030, and grow at a CAGR of 4.6% over the forecast period of 2023-2030.
Medical imaging refers to the methods and procedures used to produce images of the internal organs and bodily functioning for the aim of diagnosis and therapy. By allowing doctors to visualise and analyse a variety of ailments and diseases, it plays a key part in contemporary healthcare. Medical imaging techniques are minimally invasive or non-invasive, and they offer important information that aids in patient monitoring, accurate diagnosis, and therapy planning. Some of the technologies which is been used are Ionising radiation it is used in X-rays to create images of bones and some other tissues. They are frequently used to find tooth problems, lung conditions, and fractures.
Computed Tomography (CT) Cross-sectional images of the body are produced by CT scans by combining a number of X-ray images obtained at various angles. When diagnosing problems like tumours, vascular disorders, and traumas, they are especially helpful because they provide extensive information about the bones, organs, and soft tissues. Using a powerful magnetic field and radio waves, magnetic resonance imaging (MRI) creates precise images of the internal organs of the body. It frequently used to diagnose disorders affecting the brain, spine, joints, and organs like the heart and liver because it gives great soft tissue contrast. The medical imaging modalities utilised in healthcare are only a few examples. The choice of imaging technique relies on the particular medical question being addressed and the part of the body being studied. Each modality has its own advantages and disadvantages. Medical imaging has transformed diagnostics and made significant advancements in patient care and results.
Market Dynamics :
Driver:
Medical imaging has been significantly influenced by technological advancements. Image quality, resolution, speed, and accessibility have all improved as a result of the development of imaging instruments including X-ray machines, CT scanners, MRI scanners, and ultrasound machines. The introduction of new imaging modalities and methods like PET-CT and fMRI as a result of technological advancements has also increased the potential of medical imaging.
Restrain:
Technology for medical imaging can be expensive to purchase, run, and maintain. Access to cutting-edge imaging technology may be restricted by high expenses in some healthcare settings, especially in regions with limited resources or developing nations. Patients may experience financial hardship due to the expense of imaging treatments, particularly if they are not covered by insurance.
Opportunity:
Techniques for medical imaging are frequently employed in clinical trials and research to study diseases, test new therapies, and assess therapeutic outcomes. Imaging is essential for determining the effectiveness of treatments, tracking the development of diseases, and comprehending the underlying causes of illness. The creation of new imaging modalities and imaging biomarkers has been sparked by the need for enhanced imaging methods and technology in scientific study.
Challenge:
Due to geographic location, transportation constraints, or a lack of healthcare infrastructure, access to medical imaging services may be restricted. Due to this, some populations or geographical areas may have limited access to fast and accurate imaging services, resulting in inequities in healthcare access and outcomes.
Impact of Russia Ukraine war :
The infrastructure and supply chain needed to maintain and run sophisticated imaging modalities like MRI, CT, and PET-CT scanners may be affected by the conflict. Access to these cutting-edge imaging technologies may therefore be restricted, which could cause delays in diagnosis and treatment planning. Hospitals, clinics, and imaging centres can all sustain physical damage as a result of conflict. Access to medical imaging services may be restricted, and the availability of imaging resources and equipment may be impacted by the destruction or interruption of medical infrastructure.
Impact of Recession:
There might be a greater focus on cost-effectiveness in healthcare during a recession. In contrast to more expensive modalities like MRI or PET-CT, this may increase demand for imaging techniques that offer good value, like ultrasound or X-ray. This change in demand could have an impact on the use and accessibility of various imaging modalities. Increases in unemployment rates and declines in employer-sponsored health insurance coverage might result from economic downturns. As a result, people may find it difficult to get medical imaging services or be forced to shoulder more of the financial burden, which could result in a decrease in the use of imaging tests.
Market Segmentation:
By Product Type :
By Application
Obstetrics and Gynaecology health

Orthopaedics

Cardiovascular and thoracic

General Imaging

Breast health

Others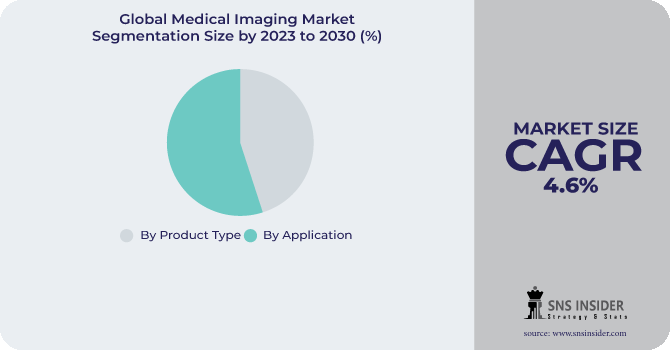 Key Players:
The major key players are GE healthcare, Siemens healthcare, Esaote, Cubresa Inc, Samsung Medison Co, Canon Medical Systems, Hologic, Mindray Medical International, PerkinElmer and others.
Regional Analysis:
North America will be the region which will have the highest growth rate for the medical imaging market because of when it comes to implementing and using cutting-edge medical imaging technologies, North America is at the forefront. Advanced interventional radiology methods, such as MRI, CT, and PET-CT scans, are widely available in the area. Modern imaging equipment and technologies are frequently available in tertiary care facilities and big urban centres.
Europe will be the region which will have the second highest growth rate because of the developed and well-established healthcare system in Europe, medical imaging is essential to the processes of diagnosis and treatment.
APAC will notice the highest CAGR growth rate because of the rise in the investment related to the healthcare investment.
Recent Development:
GE Healthcare : The company has announced its collaboration with DePuy synthesis in order to bring Advanced 3D precision Imaging Innovation to spine practise in U.S.
Siemens Healthcare : The new manufacturing expansion by the company in India with a new production line of Computed Tomography scanners which has been approved under the government of India's PLI scheme.
Canon Medical systems : The official announcement by the company regarding the strategic partnership with Sclmage.
Medical Imaging Market Report Scope:
Report Attributes
Details
Market Size in 2022
US$ 28.24 Bn
Market Size by 2030
US$ 40.47 Bn
CAGR
CAGR of 4.6% From 2023 to 2030
Base Year
2022
Forecast Period
2023-2030
Historical Data
2020-2021
Report Scope & Coverage
Market Size, Segments Analysis, Competitive Landscape, Regional Analysis, DROC & SWOT Analysis, Forecast Outlook
Key Segments
• By Product Type (CT Scanners, X Ray Imaging systems, MRI systems, Nuclear Imaging systems, Ultrasound Imaging systems, Others)
• By Application (Obstetrics and Gynaecology health, Orthopaedics, Cardiovascular and thoracic, General Imaging, Breast health, Others)
Regional Analysis/Coverage
North America (USA, Canada, Mexico), Europe
(Germany, UK, France, Italy, Spain, Netherlands,
Rest of Europe), Asia-Pacific (Japan, South Korea,
China, India, Australia, Rest of Asia-Pacific), The
Middle East & Africa (Israel, UAE, South Africa,
Rest of Middle East & Africa), Latin America (Brazil, Argentina, Rest of Latin America)
Company Profiles
GE healthcare, Siemens healthcare, Esaote, Cubresa Inc, Samsung Medison Co, Canon Medical Systems, Hologic, Mindray Medical International, PerkinElmer and others.
Key Drivers
• The rise in the technological advancement.
Market Opportunities
• The rising clinical trials in the healthcare industry.