Report Scope & Overview:
Military Lighting Market Size was valued at USD 0.614 billion in 2022, expected to reach USD 0.89 billion by 2030, and grow at a CAGR of 4.95% over the forecast period 2023-2030.
When not in operation, military lighting systems and equipment are used at bases and by personnel. They are essential military components. Portable illumination, torches, floodlights, and infrared and night vision technologies are all available from military lighting equipment and technology companies. Lighting can be either temporary or permanent, depending on the situation. Lighting is connected to the main supply in a permanent base, however on an exercise, lighting cannot always be achieved through the main energy supply, thus other means, such as solar powered lights or battery lights, must be implemented. Lighting for security, streets, vehicles, tanks, bunkers, patrolling and 24X7 monitoring, military residential uses, and a range of other applications are all required for military lighting installation.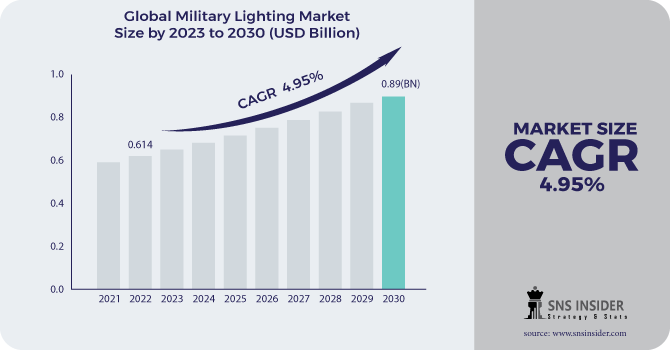 To get more information on Military Lighting Market - Request Sample Report
MARKET DYNAMICS:
KEY DRIVERS:
Efficient Replacement for Incandescent and Fluorescent Lighting

Soldier System Modernization and Combat Vehicle/Military Aircraft/Naval Ship Upgrade
RESTRAINTS:
Issues Related to LED lights Longer Lifespan

Existing Backlogs In defense
OPPORTUNITIES:
LED Lighting Compatibility with Military Operations

Demand for Intelligent Military Lighting Solutions is Growing
CHALLENGES:
THE IMPACT OF COVID-19
The COVID-19 epidemic has reduced military lighting market share, with manufacturing activities temporarily halted across major manufacturing hubs, leading in a substantial production slowdown. People are becoming increasingly isolated as a result of new limitations on public gatherings and travel. Due to supply chain disruptions, stock market volatility, and aeroplane groundings, businesses in the military lighting industry are also feeling the consequences of the COVID-19 epidemic. It has had a direct influence on the production and demand for military lights, generating supply chain and market disruption. As airports close due to lockdown limitations, the usage of military lights ceases, reducing the size of the military lighting market.
The military lighting industry has been divided into three categories based on the platform: ground, airborne, and marine. Due to rising demand for military aircraft and unmanned aerial vehicles (UAVs) in emerging markets, the airborne segment is expected to account for the lion's share of the market. Furthermore, many technical advancement efforts by industrialised countries, such as the United States, to include night-vision compatibility in military aircraft lighting systems are projected to fuel this market.
The LED sector is likely to lead the military lighting market in terms of technology. Growing understanding of the different advantages of LED lights over traditional incandescent and fluorescent lights is leading to a greater use of LED lights in military applications.
According to solution, the military lighting market's services category is expected to develop the fastest during the forecast period. Because the bulk of military applications are projected to be required to retrofit LED lights in their systems, the industry is expecting a considerable demand for retrofitting services. Furthermore, because LED lights have a lifespan of about 5 years, these lights will require ongoing maintenance.
Military bases require strict premise security, patrolling, and 24-hour observation. Military lighting has a direct impact on the security of the property, hence it is also considered vital in military situations. Military zones are akin to small cities in terms of lighting uses, with military lights not only limited to perimeter security but also within developed regions. Lighting for security, roadways, vehicles, tanks, bunkers, military housing, and a variety of other areas is required for military lighting installation. Military lighting systems are highly trustworthy, energy efficient, and long-lasting due to security considerations, offering sophisticated dim lighting.
Military lighting has always been important, but in recent years, governments all over the world have shifted their focus to providing more effective military lighting in their different governance. The military lighting market is predicted to rise significantly and achieve double-digit growth during the forecast period, owing to increased demand for improved lighting technologies for military applications.
MARKET SEGMENT:
by Application
by Technology
by Type
Halogen

LCD

LED

OLED

Others
by Solution
Hardware

Software

Services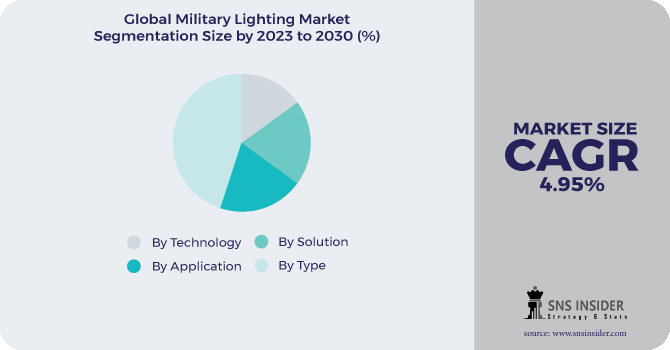 To Get Customized Report as per your Business Requirement - Request For Customized Report
REGIONAL ANALYSIS:
North America, Latin America, Western Europe, Eastern Europe, China, Japan, SEA, and other Asia Pacific countries, as well as the Middle East and Africa. Countries in North America, Europe, and Asia Pacific are likely to considerably utilise Military Lighting solutions during the projection period. During the forecast period, the North America region is likely to lead the Military Lighting market.
Rising military upgrades in LED applications such as retrofitting of LED lights in the marine segment and military airports, as well as the adoption of LED lights for airborne and other applications, are expected to drive the North America Military Lighting market, accounting for the majority of market share during the forecast period.
The Asia Pacific Military Lighting Market is also expected to grow significantly in the future years.
Advances in Asia Pacific aviation, ground, and marine platforms are driving to the adoption of improved aircraft Military Lighting systems as a result of the Military Lighting Market's modernisation.
The aforementioned factors are projected to drive the growth of the Asia Pacific Military Lighting Market. Furthermore, countries such as India, China, and Japan are likely to make advancements in defence technologies connected to land, sea, and air force in terms of Military Lighting.
REGIONAL COVERAGE:
North America

Europe

Germany

UK

France

Italy

Spain

The Netherlands

Rest of Europe

Asia-Pacific

Japan

south Korea

China

India

Australia

Rest of Asia-Pacific

The Middle East & Africa

Latin America

Brazil

Argentina

Rest of Latin America
KEY PLAYERS
The Key Players are Orion Energy Systems, Larson Electronics, Deco Lighting, Honeywell,Rockwell Collins, Lunar Lighting, Osram, United Technologies, Revolution Lighting Technologies, Laminators technologies & Other Players.
Orion Energy Systems-Company Financial Analysis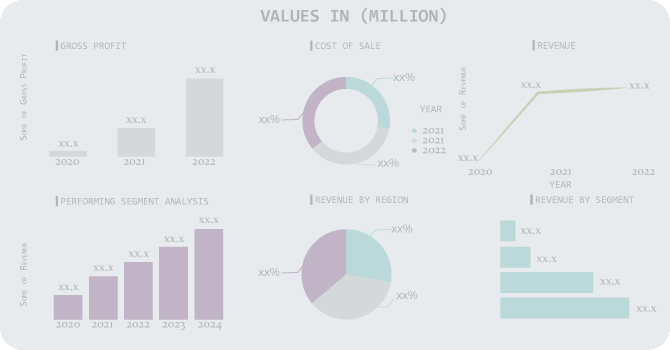 ​​​​​​​
Military Lighting Market Report Scope:

Report Attributes
Details
Market Size in 2022
US$ 0.61 Billion
Market Size by 2030
US$ 0.89 Billion
CAGR
CAGR of 4.95% From 2023 to 2030
Base Year
2022
Forecast Period
2023-2030
Historical Data
2020-2021
Report Scope & Coverage
Market Size, Segments Analysis, Competitive Landscape, Regional Analysis, DROC & SWOT Analysis, Forecast Outlook
Key Segments
• By Application (Ground, Airborne, and Marine)
• By Technology (LED and Non-LED)
• By Type (Halogen, LCD, LED, OLED, and Others)
• By Solution (Hardware, Software, and Services)
Regional Analysis/Coverage
North America (USA, Canada, Mexico), Europe
(Germany, UK, France, Italy, Spain, Netherlands,
Rest of Europe), Asia-Pacific (Japan, South Korea,
China, India, Australia, Rest of Asia-Pacific), The
Middle East & Africa (Israel, UAE, South Africa,
Rest of Middle East & Africa), Latin America (Brazil, Argentina, Rest of Latin America)
Company Profiles
Orion Energy Systems, Larson Electronics, Deco Lighting, Honeywell,Rockwell Collins, Lunar Lighting, Osram, United Technologies, Revolution Lighting Technologies, Laminators technologies.
DRIVERS
• Efficient Replacement for Incandescent and Fluorescent Lighting
• Soldier System Modernization and Combat Vehicle/Military Aircraft/Naval Ship Upgrade
RESTRAINTS
• Issues Related to LED lights Longer Lifespan
• Existing Backlogs In defense