Report Scope & Overview:
The Milking Robots Market size was valued at USD 2.23 billion in 2022. It is estimated to grow to USD 5.36 billion by 2030 and grow at a CAGR of 11.6% over the forecast period of 2023-2030.
The milking robot market has witnessed significant growth in recent years, driven by several factors. Firstly, the increasing global demand for dairy products has necessitated the adoption of advanced milking technologies to meet the rising production requirements. Additionally, the shortage of skilled labor in the agricultural sector has further fueled the demand for automated milking systems. Furthermore, the market is witnessing a surge in technological advancements, leading to the development of more sophisticated milking robots. These robots are equipped with artificial intelligence algorithms, enabling them to adapt to individual cow behavior and optimize the milking process accordingly. Additionally, the integration of cloud-based platforms and data analytics has opened up new avenues for farmers to analyze and utilize the vast amount of data generated by these systems.
Milking robots, also known as robotic milking systems, are sophisticated machines designed to automate the milking process. These robots are equipped with advanced sensors and technology that enable them to identify and attach to cows' udders, simulate the natural milking action, and collect milk. The entire process is carefully monitored and controlled by the robot, ensuring optimal milking efficiency and accuracy. Milking robots offer a significant boost in efficiency compared to traditional manual milking methods. With the ability to milk cows autonomously, these robots eliminate the need for human labor during milking sessions. This not only saves time but also allows farmers to allocate their workforce to other essential tasks, ultimately increasing overall productivity. The precise and consistent milking action of robots ensures a higher level of milk quality. By adhering to strict milking protocols, these machines minimize the risk of contamination and maintain hygienic conditions throughout the process. Moreover, milking robots can detect any abnormalities in milk composition, enabling early identification of potential health issues in cows. Milking robots prioritize the well-being of cows by providing them with a stress-free milking experience. Cows have the freedom to choose when they want to be milked, allowing them to follow their natural rhythm. The robots' gentle and non-invasive milking process ensures minimal discomfort for the animals, promoting their overall welfare and reducing the risk.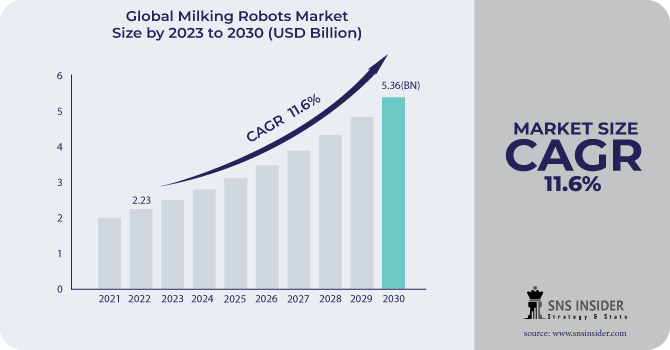 To get more information on Milking Robots Market - Request Free Sample Report
Market Dynamics
Drivers
The rising global demand for dairy products, such as milk, cheese, and yogurt, is a major driver for the milking robot market. These robots enable dairy farmers to meet the growing demand by increasing milk production and ensuring consistent quality.
Restrain
Opportunities
Challenges
Ensuring the well-being and adaptability of cows to milking robots is another challenge faced by the market. Some cows may initially resist or struggle to adapt to the automated milking process, affecting milk production and overall farm productivity. To overcome this challenge, farmers should gradually introduce cows to the milking robots, providing them with a comfortable and stress-free environment. Regular monitoring of cow behavior and health can help identify any issues and take appropriate measures.
Impact of Russia-Ukraine War:
The milking robots market, which was once flourishing in Ukraine, has faced numerous challenges due to the ongoing war. In 2022, the dairy sector in Ukraine suffered significant devastation, particularly in the eastern and southern regions. Consequently, milk production plummeted by 1.1 million tonnes to a record low of 7.78 million tonnes. The conflict has disrupted the entire supply chain, making it arduous for manufacturers to procure the necessary components and equipment. Consequently, production delays and increased costs have ensued, ultimately impacting the availability and affordability of milking robots. Moreover, the war has resulted in a decline in foreign investments and restricted access to international markets. Additionally, the imposition of trade restrictions and sanctions has further impeded the export potential of Ukrainian milking robot manufacturers.
Impact of Recession:
Reduced consumer spending power leads to a decline in demand for milking robots, as farmers prioritize essential expenses. Consequently, manufacturers may experience a decrease in sales and revenue, forcing them to reevaluate their production capacities and strategies. Furthermore, the recession often prompts manufacturers to face increased competition. As farmers become more cost-conscious, they may opt for cheaper alternatives or delay their investment in milking robots altogether. This intensifies the need for manufacturers to differentiate their products, enhance their value propositions, and offer competitive pricing to maintain market share. Recessionary periods influenced farmers' decision-making processes regarding milking robots. Financial constraints may deter farmers from investing in this technology, as they prioritize immediate financial stability over long-term benefits. Consequently, the adoption rate of milking robots may decline during economic downturns. While consumers may not be directly involved in the milking robots market, the recession can indirectly impact them. As farmers face financial constraints and potentially reduce their herds or milk production, consumers may experience an increase in milk prices.
Key Market Segmentation
By Robotic System Type
By Herd Size
Up to 100

Between 100-1,000

Above 1,000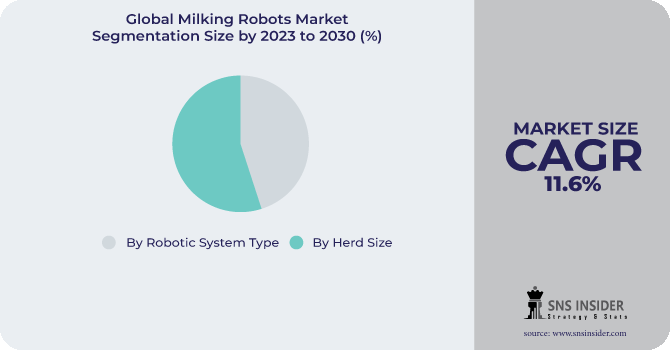 Need any customization research on Milking Robots Market - Enquiry Now
Regional Analysis
Europe generated the largest revenue share in the milking Robots market in 2022 due to the extensive adoption of automation in dairy farms across Western Europe. The implementation of milking robots has significantly enhanced efficiency, productivity, and overall profitability for farmers. These advanced robotic systems offer numerous benefits, such as increased milk yield, improved animal welfare, and reduced labor costs. As a result, dairy farmers in Europe have readily embraced this technology, leading to a substantial surge in revenue generation. Moreover, Europe's strong focus on technological advancements and innovation has played a pivotal role in the region's success in the milking robot market. Furthermore, Europe's stringent regulations and standards pertaining to animal welfare and milk quality have further incentivized the adoption of milking robots. These automated systems ensure a hygienic and controlled milking process, minimizing the risk of contamination and ensuring the production of high-quality milk. With consumers increasingly demanding ethically sourced and superior-quality dairy products, European farmers have recognized the importance of milking robots in meeting these standards, thereby driving the market's revenue share.
Asia Pacific is estimated to grow with the highest CAGR during the forecast period of 2023-2030. The increasing demand for dairy products, driven by a growing population and changing dietary preferences, has created a need for more efficient and automated milking processes. Milking robots offer a solution by streamlining the milking process, reducing labor costs, and improving overall productivity. Furthermore, the Asia Pacific region is witnessing a shift towards modernizing its agricultural practices. Traditional manual milking methods are being replaced by automated systems to meet the rising demand for dairy products. Milking robots not only enhance efficiency but also ensure better hygiene and animal welfare, which are increasingly important factors for consumers. Additionally, advancements in technology and the availability of cost-effective milking robot solutions have made them more accessible to farmers in the Asia Pacific region. The integration of artificial intelligence and data analytics in milking robots has further improved their performance, enabling farmers to monitor and manage their dairy operations more effectively.
REGIONAL COVERAGE:
North America
Europe
Eastern Europe

Poland

Romania

Hungary

Turkey

Rest of Eastern Europe

Western Europe

Germany

France

UK

Italy

Spain

Netherlands

Switzerland

Austria

Rest of Western Europe
Asia Pacific
China

India

Japan

South Korea

Vietnam

Singapore

Australia

Rest of Asia Pacific
Middle East & Africa
Middle East

UAE

Egypt

Saudi Arabia

Qatar

Rest of the Middle East

Africa

Nigeria

South Africa

Rest of Africa
Latin America
Brazil

Argentina

Colombia

Rest of Latin America
Key Players
The major key players are GEA Group AG, DeLaval, Inc., Fullwood Ltd., Lely, BouMatic, Fullwood Packo, DAIRYMASTER, Hokofarm Group B.V., Milkwell Milking Systems, System Happel, and other key players mentioned in the final report.
Recent Development:
In Feb 2023, DeLaval has planned to increase its production capacity of automatic milking machines by 50% in order to meet the growing customer demand.

In July 2021, DairyRobot R9500 and DairyProQ automatic milking systems are launched by GEA.
Milking Robots Market Report Scope:
Report Attributes
Details
Market Size in 2022
US$ 2.23 Bn
Market Size by 2030
US$ 5.36 Bn
CAGR
CAGR of 11.6% From 2023 to 2030
Base Year
2022
Forecast Period
2023-2030
Historical Data
2020-2021
Report Scope & Coverage
Market Size, Segments Analysis, Competitive Landscape, Regional Analysis, DROC & SWOT Analysis, Forecast Outlook
Key Segments
• By Robotic System Type (Single-Stall Unit, Multi-Stall Unit, and Automated Milking Rotary System)
• By Herd Size (Up to 100, Between 100-1,000, and Above 1,000)
Regional Analysis/Coverage
North America (US, Canada, Mexico), Europe (Eastern Europe [Poland, Romania, Hungary, Turkey, Rest of Eastern Europe] Western Europe] Germany, France, UK, Italy, Spain, Netherlands, Switzerland, Austria, Rest of Western Europe]). Asia Pacific (China, India, Japan, South Korea, Vietnam, Singapore, Australia, Rest of Asia Pacific), Middle East & Africa (Middle East [UAE, Egypt, Saudi Arabia, Qatar, Rest of Middle East], Africa [Nigeria, South Africa, Rest of Africa], Latin America (Brazil, Argentina, Colombia Rest of Latin America)
Company Profiles
GEA Group AG, DeLaval, Inc., Fullwood Ltd., Lely, BouMatic, Fullwood Packo, DAIRYMASTER, Hokofarm Group B.V., Milkwell Milking Systems, System Happel
Key Drivers
• Increasing Demand for Dairy Products
• Shortage of skilled labor
Market Restraints
• High initial cost of implementation of milking robots