Report Scope & Overview:
The Nanorobotics Market size was valued at USD 7.46 billion in 2022. It is estimated to grow to USD 17.56 billion by 2030 and grow at a CAGR of 11.3% over the forecast period of 2023-2030.
The field of nanorobotics has emerged as a promising area of research and development in recent years. Nanorobotics involves the design, fabrication, and control of nanoscale robots that can perform various tasks at the molecular level. These tiny machines have the potential to revolutionize numerous industries, including healthcare, manufacturing, and electronics. The nanorobotics market is witnessing significant growth due to advancements in nanotechnology and the increasing demand for miniaturized devices. The market is primarily driven by the healthcare sector due to massive use of surgical robots, where nanorobots are being developed for targeted drug delivery, cancer treatment, and minimally invasive surgeries. Additionally, the electronics industry is also adopting nanorobotics for applications such as nanoscale assembly and circuit repair. The market is further fueled by government initiatives and funding, which aim to promote research and development in this field.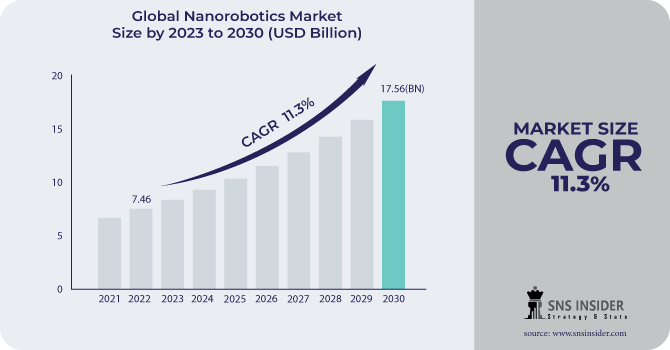 To Get More Information on Nanorobotics Market - Request Sample Report
According to the World Health Organization (WHO), non-communicable diseases (NCDs) are responsible for the deaths of 41 million individuals annually, accounting for approximately 74% of all global fatalities. Shockingly, each year, 17 million people die from a chronic disease before reaching the age of 70, with 86% of these premature deaths mostly occurring in low- and middle-income economies. The increasing prevalence of chronic diseases, coupled with the need for precise and personalized treatments, is driving the demand for nanorobots in the healthcare sector. Moreover, the rising adoption of nanorobotics in manufacturing processes, particularly in the semiconductor and automotive industries, is expected to contribute to market growth. Furthermore, advancements in artificial intelligence and machine learning are enabling the development of more sophisticated and autonomous nanorobots, further expanding the market potential.
Market Dynamics
Drivers
Increasing demand for miniaturization in various industries

Advancements in nanotechnology
Nanorobotics also finds applications beyond healthcare. Industries such as manufacturing, electronics, and environmental monitoring can benefit from the precision and versatility offered by nanorobots. These tiny machines can assist in assembling intricate electronic components, detecting and removing pollutants from the environment, and enhancing the efficiency of manufacturing processes. The continuous advancements in nanotechnology have also made nanorobotics more cost-effective and scalable. As researchers discover new materials and fabrication techniques, the production of nanorobots becomes more efficient, enabling their integration into various sectors of the economy.
Restrain
High cost associated with nanorobots

Limited control and manipulation of nanoscale objects

Intricate nature of nanorobots
Due to their miniature size, these robots encounter numerous complexities that hinder their widespread adoption and commercialization. The fabrication process of nanorobots demands advanced technologies and precise engineering techniques. The intricate nature of their design requires meticulous attention to detail, making their production both time-consuming and costly. This complexity often limits the scalability of nanorobot production, hindering their mass production and subsequent market availability.
Opportunities
Increasing investment in R&D activities to develop novel products

Increasing adoption of nanotechnology in the healthcare sector
Nanorobots, at a microscopic scale, can be designed to navigate through the human body, delivering drugs to specific target areas with precision. This targeted drug delivery system holds immense potential in the field of medicine. By directly targeting affected cells or tissues, nanorobots can enhance the effectiveness of treatment while minimizing the impact on healthy cells. Traditional drug delivery methods often result in side effects due to the medication affecting healthy cells along with the targeted ones. However, nanorobots can be programmed to solely focus on the affected areas, reducing the risk of adverse reactions. This targeted therapy approach not only improves patient outcomes but also enhances the overall efficiency of healthcare systems. Moreover, nanorobots can be engineered to perform various functions beyond drug delivery. They can be designed to detect and remove harmful substances, repair damaged tissues, or even assist in surgical procedures. This versatility makes nanorobots a promising tool in the advancement of healthcare technology.
Challenges
Ethical concerns surrounding the use of nanorobots in medicine and other applications

Limited scalability of nanorobots, as mass production and deployment remain complex and costly.
Impact of Russia-Ukraine War:
The ongoing conflict in Ukraine poses a significant threat to the already strained semiconductor supply chain and exacerbates the existing chip shortages. A recent survey revealed that prior to the conflict, 57% of semiconductor firms believed that the chip shortage would persist until 2023. However, the situation in Ukraine has added a new layer of complexity to this issue. One immediate concern is the disruption in the supply of crucial raw materials essential for semiconductor manufacturing, particularly neon, and palladium. Both Russia and Ukraine play vital roles as major producers of these key materials. Ukraine alone accounts for approximately 75 to 85% of the global supply of neon, while Russia contributes around 40-45% of the world's palladium supply. This has led to delays in production and increased costs, hindering the growth of the industry. Additionally, the war has created an atmosphere of uncertainty, deterring potential investors and stifling innovation in the field.
Impact of Recession:
The recession affected the Nanorobotics market, leading to a decline in investment and a slowdown in research and development activities. Many companies operating in this sector have faced financial constraints, resulting in reduced budgets for innovation and expansion. Consequently, the pace of technological advancements in Nanorobotics has been hindered, impeding the market's growth potential. The limited availability of funding has restricted the ability of companies to invest in research and development, hindering the creation of new and improved nanorobotic technologies. In addition, the reduced consumer spending power has impacted the demand for nanorobotic products, leading to a decline in sales and revenue for businesses operating in this market.
Market segmentation
By Type
By Application
Biomedical

Nanomedicine

Mechanical

Others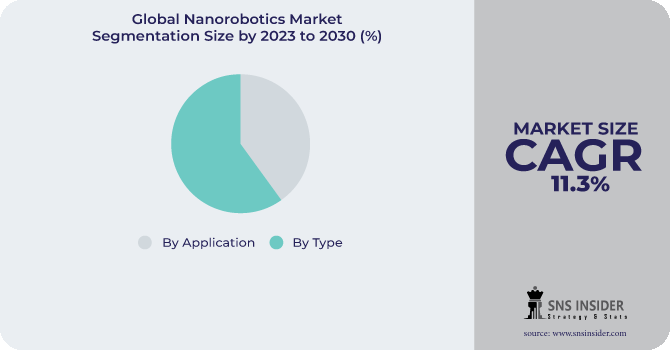 Need any customization research on Nanorobotics Market - Enquiry Now
Regional Analysis
Europe dominated the nanorobotics market and is estimated to grow with a significant CAGR during the forecast period of 2023-2030. This is mainly attributed to various factors. Firstly, the region boasts a robust research and development infrastructure, with world-class universities, research institutions, and laboratories dedicated to pushing the boundaries of nanotechnology. These institutions have fostered a culture of innovation and collaboration, attracting top talent from around the globe and facilitating groundbreaking discoveries. Another crucial aspect contributing to Europe's dominance is its strong industrial base. The region is home to numerous leading companies specializing in nanotechnology and robotics, which have harnessed their expertise to develop nanorobotic systems. These companies have not only focused on technological advancements but have also prioritized addressing market needs and customer requirements, ensuring the successful integration of nanorobotics into various sectors.
Asia Pacific is projected to grow with the highest CAGR during the forecast period of 2023-2030. This region encompasses countries such as China, Japan, India, Australia, and others, which are witnessing rapid advancements in technology and research. The region's large population provides a vast market for nanorobotic applications. Additionally, governments in countries like China and Japan are actively investing in research and development, fostering innovation and driving the adoption of nanorobotic technologies. Moreover, the Asia-Pacific region has witnessed significant growth in industries such as healthcare, electronics, and manufacturing. Nanorobotics offers immense potential in these sectors, enabling precise drug delivery, miniaturized electronics, and advanced manufacturing processes. As a result, industries in the region are increasingly adopting nanorobotic technologies to enhance their operations, further driving market growth.
REGIONAL COVERAGE:
North America
Europe
Eastern Europe

Poland

Romania

Hungary

Turkey

Rest of Eastern Europe

Western Europe

Germany

France

UK

Italy

Spain

Netherlands

Switzerland

Austria

Rest of Western Europe
Asia Pacific
China

India

Japan

South Korea

Vietnam

Singapore

Australia

Rest of Asia Pacific
Middle East & Africa
Middle East

UAE

Egypt

Saudi Arabia

Qatar

Rest of the Middle East

Africa

Nigeria

South Africa

Rest of Africa
Latin America
Brazil

Argentina

Colombia

Rest of Latin America
Key Players
The major key players are Imina Technologies SA, Thermo Fisher Scientific, Ginkgo Bioworks, Oxford Instruments, Bruker Corporation, Kleindiek Nanotechnik GmbH, JEOL Ltd, EV Group, Park Systems, WITec, and other key players mentioned in the final report.
Nanorobotics Market Report Scope:
Report Attributes
Details
Market Size in 2022
US$ 7.46 Bn
Market Size by 2030
US$ 17.56 Bn
CAGR
CAGR of 11.3 % From 2023 to 2030
Base Year
2022
Forecast Period
2023-2030
Historical Data
2020-2021
Report Scope & Coverage
Market Size, Segments Analysis, Competitive Landscape, Regional Analysis, DROC & SWOT Analysis, Forecast Outlook
Key Segments
• By Type (Nanomanipulators, Bacteria-Based Bio-Nanorobotics, Magnetically Guided Nanobots, and Others)
• By Application (Biomedical, Nanomedicine, Mechanical, Others)
Regional Analysis/Coverage
North America (US, Canada, Mexico), Europe (Eastern Europe [Poland, Romania, Hungary, Turkey, Rest of Eastern Europe] Western Europe] Germany, France, UK, Italy, Spain, Netherlands, Switzerland, Austria, Rest of Western Europe]). Asia Pacific (China, India, Japan, South Korea, Vietnam, Singapore, Australia, Rest of Asia Pacific), Middle East & Africa (Middle East [UAE, Egypt, Saudi Arabia, Qatar, Rest of Middle East], Africa [Nigeria, South Africa, Rest of Africa], Latin America (Brazil, Argentina, Colombia Rest of Latin America)
Company Profiles
Imina Technologies SA, Thermo Fisher Scientific, Ginkgo Bioworks, Oxford Instruments, Bruker Corporation, Kleindiek Nanotechnik GmbH, JEOL Ltd, EV Group, Park Systems, WITec
Key Drivers
• Increasing demand for miniaturization in various industries
• Advancements in nanotechnology
Market Restraints
• High cost associated with nanorobots
• Limited control and manipulation of nanoscale objects
• Intricate nature of nanorobots