Report Scope & Overview:
The VPX SBC Market size was valued at USD 190.5 million in 2022. It is estimated to hit USD 532.08 million by 2030 and grow at a CAGR of 13.7% over the forecast period of 2023-2030.
The VPX Single Board Computer (SBC) is a technology that offers enhanced performance and reliability. This advanced computing solution is designed to meet the demands of modern industries, providing a seamless and efficient experience. The VPX SBC boasts a robust architecture, ensuring optimal functionality and durability. With its high-speed processing capabilities, it enables faster data processing and analysis, empowering businesses to make informed decisions in real time. Additionally, its compact form factor allows for easy integration into existing systems, minimizing downtime and maximizing productivity.
This VPX SBC is equipped with a wide range of features, including advanced connectivity options and extensive I/O capabilities. It supports various communication protocols, facilitating seamless integration with other devices and systems. Moreover, its versatile design allows for customization, enabling businesses to tailor the SBC to their specific requirements. The VPX SBC is built to withstand harsh environments, making it ideal for applications in aerospace, defense, and industrial sectors. Its rugged construction ensures reliable operation even in extreme temperatures, vibrations, and shocks. This durability, coupled with its high-performance capabilities, makes it a reliable choice for mission-critical operations.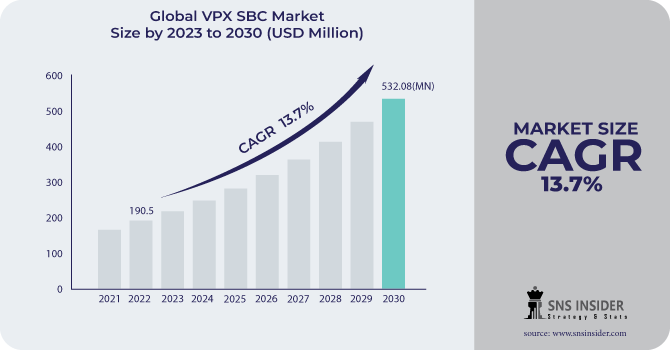 To get more information on VPX SBC Market - Request Sample Report
These VPX SBCs are designed to meet the demanding requirements of various applications, ranging from defense and aerospace to industrial and telecommunications. The VPX SBC market has witnessed significant growth in recent years, driven by the increasing need for high-performance computing solutions. These boards offer advanced processing power, robust connectivity options, and enhanced reliability, making them ideal for mission-critical operations. One of the key factors contributing to the success of the VPX SBC market is its adherence to industry standards. The VPX (VITA 46) standard ensures compatibility and interoperability among different vendors' products, fostering a competitive and diverse market. This standardization allows customers to choose from a wide range of VPX SBCs, tailored to their specific requirements, without worrying about compatibility issues.
Market Dynamics
Drivers
Rising demand for high-performance computing solutions in various industries

Versatility of VPX SBC

Growing adoption of the electronic warfare system
Electronic warfare systems are advanced technologies designed to detect, deceive, and protect against enemy electronic signals. As the demand for electronic warfare capabilities continues to rise, there is a corresponding need for high-performance computing platforms that can support these systems. This is where VPX SBCs come into play. The increasing adoption of electronic warfare systems across various defense sectors, including land, air, and sea, has led to a surge in the demand for VPX SBCs. These computing platforms are essential for processing and analyzing vast amounts of data collected by electronic warfare systems, enabling military personnel to make informed decisions in real time. Moreover, the continuous advancements in electronic warfare technologies, such as the development of more sophisticated radar and communication systems by potential adversaries, further drive the need for advanced computing solutions like VPX SBCs.
Restrain
Interoperability issues arising from the diverse range of VPX SBC architectures and standards

High cost associated with the development and deployment of VPX SBCs
The complex design and manufacturing processes, coupled with the need for specialized components, contribute to the elevated costs. This can limit market penetration, particularly in price-sensitive industries.
Opportunities
In recent years, there has been a remarkable surge in the demand for smaller and more compact electronic devices. This can be attributed to the ever-evolving consumer preferences, which prioritize portability and convenience. As a result, manufacturers are constantly striving to develop electronic devices that are not only powerful and efficient but also compact and lightweight. The miniaturization of electronic devices has paved the way for the adoption of VPX SBCs. These single-board computers offer a multitude of advantages, making them an ideal choice for various applications. By integrating multiple functionalities onto a single board, VPX SBCs enable the creation of smaller and more space-efficient electronic systems.
Furthermore, the miniaturization trend has led to advancements in semiconductor technology, allowing for the development of smaller and more powerful components. This has significantly contributed to the enhanced performance and capabilities of VPX SBCs.
Challenges
Impact of Russia-Ukraine War:
One of the immediate consequences of the war has been disruptions in the supply chain for VPX SBCs. Many manufacturers and suppliers are located in the affected regions, leading to delays in production and delivery. This has resulted in increased lead times and higher costs for customers, impacting the overall profitability of the market. The Russia-Ukraine war has highlighted the geopolitical risks associated with the VPX SBC market. With tensions escalating, there is a growing concern about the security of the supply chain and the potential for cyber-attacks on critical infrastructure.
The conflict has also caused a shift in demand for VPX SBCs. In 2022, the total global military expenditure experienced a significant rise of 3.8%, reaching an unprecedented high of $2250 billion. Notably, military spending in Europe witnessed its most substantial year-on-year increase in over three decades. The combined military expenditure of Central and Western European states amounted to $345 billion in 2022. The three leading contributors to global military spending in the same year were the United States, China, and Russia, collectively accounting for 57% of the world's total expenditure. As defense budgets increase in response to the war, there is a growing need for advanced military technologies. This has created opportunities for VPX SBC manufacturers to cater to the increased demand for ruggedized and high-performance computing solutions. However, it has also intensified competition in the market, as more players enter to capitalize on the rising demand.
Impact of Recession:
The recession has had a detrimental effect on the VPX SBC market, causing a decrease in demand for these advanced computing solutions. As businesses face financial constraints, they are forced to reassess their priorities and allocate resources more cautiously. Consequently, investments in VPX SBCs have been postponed or reduced, resulting in a decline in market demand. Furthermore, the recession has impacted the purchasing power of potential customers. With tighter budgets, organizations are more inclined to opt for cost-effective alternatives or delay their technology upgrades altogether. This shift in consumer behavior has further contributed to the decline in the VPX SBC market.
In addition to reduced demand, the recession has also affected the supply side of the VPX SBC market. Manufacturers and suppliers have faced challenges in sourcing raw materials, managing production costs, and maintaining profitability. These difficulties have led to supply chain disruptions and increased prices, making it even more challenging for businesses to invest in VPX SBCs.
Market segmentation
By Processor
NXP power architecture

Intel

ARM

Others
By Rack Unit
By Application
Electronic Warfare

Radars

Mission Computers

ISR

Others
By End-use
Defense

Aerospace

Commercial

Industrial

Others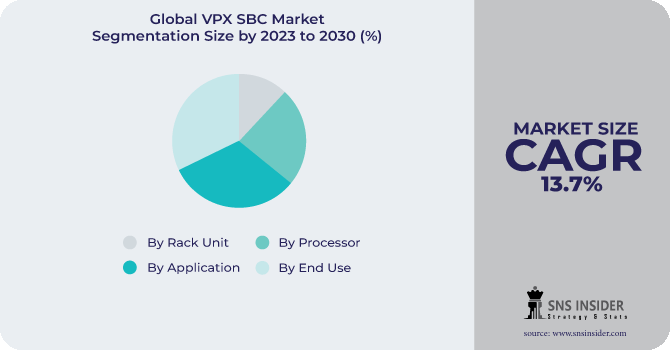 Need any customization research on VPX SBC Market - Enquiry Now
Regional Analysis
North America dominated VPX SBC Market and is estimated to grow with a significant CAGR during the forecast period of 2023-2030. One of the primary reasons for North America's dominance in this market is its robust technological infrastructure. The region boasts advanced research and development facilities, advanced manufacturing capabilities, and a highly skilled workforce. These factors have enabled North American companies to design and produce VPX SBCs that meet the demanding requirements of industries such as defense, aerospace, and telecommunications.
Furthermore, North America benefits from a strong network of industry collaborations and partnerships. The region's companies actively engage in collaborative projects with government agencies, research institutions, and other private enterprises. This collaborative approach fosters innovation, facilitates knowledge sharing, and accelerates the development of new technologies. Another crucial aspect contributing to North America's dominance is its focus on quality and reliability. The region's companies adhere to stringent quality control measures and rigorous testing procedures to ensure that their VPX SBCs meet the highest standards.
Moreover, the surge in defense expenditure within the United States has significantly contributed to the growing demand for VPX SBC. For instance, President Joe Biden signed the Fiscal 2023 National Defense Authorization Act into law, which allocated a staggering $816.7 billion to the Defense Department.
REGIONAL COVERAGE:
North America
Europe
Eastern Europe

Poland

Romania

Hungary

Turkey

Rest of Eastern Europe

Western Europe

Germany

France

UK

Italy

Spain

Netherlands

Switzerland

Austria

Rest of Western Europe
Asia Pacific
China

India

Japan

South Korea

Vietnam

Singapore

Australia

Rest of Asia Pacific
Middle East & Africa
Middle East

UAE

Egypt

Saudi Arabia

Qatar

Rest of Middle East

Africa

Nigeria

South Africa

Rest of Africa
Latin America
Brazil

Argentina

Colombia

Rest of Latin America
Key Players
The major key players are Abaco Systems, Extreme Engineering Solutions, Inc., Connect Tech Inc, Kontron, Aitech, ADLINK Technology Inc., Mistral Solutions Pvt. Ltd., Curtiss-Wright Organization, Mercury System, Inc., Concurrent Technologies Inc., and other key players mentioned in the final report.
Recent Development:
In April 2022, AMETEK Abaco Systems introduced the DEVPX3 development chassis, designed to adhere to both OpenVPX and SOSA™ standards. This chassis offers a versatile and cost-effective platform for developing, integrating, and testing applications based on open standards.

In Oct 2022, Concurrent Technologies launched Vulcan- a New VPX-based Development System.
VPX SBC Market report scope:
Report Attributes
Details
Market Size in 2022
US$ 190.5 Mn
Market Size by 2030
US$ 532.08 Mn
CAGR
CAGR of 13.7 % From 2023 to 2030
Base Year
2022
Forecast Period
2023-2030
Historical Data
2020-2021
Report Scope & Coverage
Market Size, Segments Analysis, Competitive Landscape, Regional Analysis, DROC & SWOT Analysis, Forecast Outlook
Key Segments
• By Processor (NXP power architecture, Intel, ARM, and others)
• By Rack Unit (3U and 6U)
• By Application (Electronic Warfare, Radars, Mission Computers, ISR, and Others)
• By End-use (Defense, Aerospace, Commercial, Industrial, and Others)
Regional Analysis/Coverage
North America (US, Canada, Mexico), Europe (Eastern Europe [Poland, Romania, Hungary, Turkey, Rest of Eastern Europe] Western Europe] Germany, France, UK, Italy, Spain, Netherlands, Switzerland, Austria, Rest of Western Europe]). Asia Pacific (China, India, Japan, South Korea, Vietnam, Singapore, Australia, Rest of Asia Pacific), Middle East & Africa (Middle East [UAE, Egypt, Saudi Arabia, Qatar, Rest of Middle East], Africa [Nigeria, South Africa, Rest of Africa], Latin America (Brazil, Argentina, Colombia Rest of Latin America)
Company Profiles
Abaco Systems, Extreme Engineering Solutions, Inc., Connect Tech Inc, Kontron, Aitech, ADLINK Technology Inc., Mistral Solutions Pvt. Ltd., Curtiss-Wright Organization, Mercury System, Inc., Concurrent Technologies Inc.
Key Drivers
• Rising demand for high-performance computing solutions in various industries
• Versatility of VPX SBC
• Growing adoption of the electronic warfare system
Market Restraints
• Interoperability issues arising from the diverse range of VPX SBC architectures and standards
• High cost associated with the development and deployment of VPX SBCs