REPORT SCOPE & OVERVIEW
The Network Probe Market size was USD 0.7 billion in 2022 and is expected to Reach USD 1.61 billion by 2030 and grow at a CAGR of 11 % over the forecast period of 2023-2030
A network probe is a protocol and monitors analyzer that offers users real-time information about the status of network traffic. It helps them find possible bottlenecks and problems in the computer network by providing information on the volume and kind of network traffic. Network probes can be used to collect performance metrics, such as bandwidth usage, latency, and packet loss. it can be used to plan network changes, such as adding new devices or changing routing configurations. it also can be used to plan network changes, such as adding new devices or changing routing configurations. The market is expanding as a result of the growing demand for network management among small firms and IT departments. By choosing an appropriate time interval, users of network monitoring tools can keep an eye on both current and historical network information. The ability to recognize warning indicators that might point to a device failure or network issue is an important feature of network probe solutions. This helps to detect the issue and save downtime, which fuels the market for network probes. A probe is a device or piece of software that converts packet-based network communication into analyzer-friendly information formats. The necessary information is gathered for signalling traffic after the packets have been inspected. Many different techniques are used to do this, depending on the traffic and application. Deep Packet Inspection (DPI) and machine learning are used to handle both user traffic and high-volume traffic, such as video content. The purpose of using a probe is to reduce the amount of data so that it can be processed. The purpose of using a probe is to reduce the amount of data so that it can be processed. The data reduction typically runs from a factor of 1000 to 10,000, depending on the specific method. There are two phases to a network probe-based assault. The malware will initially scan the network through ping or port scan. If it finds a device that is vulnerable, it will employ a malware attack to infect that specific device. Second, the host device becomes part of the infection chain once the virus has been installed since it not only enables hackers to access the network whenever they want but also searches the internet for more vulnerable computers. The malware's capacity to copy itself from computer to computer causes the infestation to propagate. The on-premises deployment segment is the largest segment, followed by the cloud-based deployment segment. Large enterprises are the largest end-user vertical, followed by SMEs. Large enterprises often have complex and extensive network infrastructure. They require robust network monitoring and management solutions to ensure smooth operations. As a result, the demand for network probes among large enterprises is expected to drive market growth globally.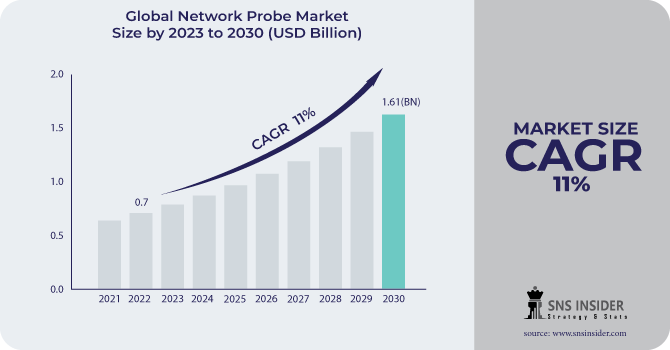 MARKET DYNAMICS
KEY DRIVERS
The rise in the number of network-connected devices worldwide is One of the key factors fueling the market's expansion.

The increasing complexity of networks is driver for the network probe market.

The adoption of cloud services is driving the demand for network probe
The data flow in connected devices is slowed down by problems or connection failures, which are monitored by network probes. Cisco estimates that the number of network devices will increase from 18.4 billion in 2018 to 29.3 billion by 2021. Furthermore, by 2023, 14.7 billion of the world's network-connected gadgets, or 50% of all devices, would support IoT applications.
RESTRAIN
High cost of network probes

Lack of awareness of network probes among small and medium businesses
The high cost of network probes can also be a restraint for some enterprises. The initial investment may be significant, which can deter some enterprises from adopting network probes. To address the issue of high cost, some companies are offering cost-effective alternatives such as open-source network probes and software-based probes. These alternatives can provide similar functionalities at a lower cost.
OPPORTUNITY
Organic and Inorganic Growth Strategies

The demand for network probes among small and medium-sized enterprises (SMEs) presents a growth opportunity for vendors
Vendors in the network probe market have implemented various growth strategies, such as new product launches and upgrades. These strategies help vendors expand their product offerings and cater to evolving customer needs, thereby creating growth opportunities.
CHALLENGES
Upgradation and Maintenance

The network probe market is highly competitive, with many vendors offering similar solutions. This can make it challenging for vendors to differentiate themselves and stand out in the market.
Upgradation and maintenance of network probes can also be a challenge for vendors. These solutions require regular updates and maintenance to ensure optimal performance, which can be time-consuming and costly.
IMPACT OF RUSSIAN UKRAINE WAR
The market for network probes has been affected by the Russian-Ukrainian conflict. The battle has caused supply chain disruptions, a rise in network probe prices, and an increase in demand for network security solutions. These elements might slow down the uptake of network probes in the near future. According to a recent report by Gartner, the war is expected to cause a 2% decrease in the growth of the network probe market in 2023. The battle has impacted our capacity to serve our customers in the area, according to Ixia, a provider of network testing solutions. The business has issued a warning that this can result in cost increases and extended lead times for product shipments. A different supplier of network performance monitoring tools, Riverbed Technology, has said that the market is uncertain as a result of the conflict. The business has cautioned that this could result in decreased demand for our products and services. The war has also created uncertainty in the market, leading to lower demand for network probes. The war has affected the network probe market in the following regions Eastern Europe, European Union, Eastern & Central Asia, United States. However, the market is still expected to grow in 2023, albeit at a slower pace than before the war.
IMPACT OF ONGOING RECESSION
The market for network probes is projected to be severely affected by the prolonged recession. Network probe demand is expected to decline, which will probably result in decreased sales and revenue for businesses in this industry. Network probes and other network testing tools are provided by Fluke Networks. The business stated in 2022 that year-over-year revenue had dropped by 5%. This can strain some businesses' finances and result in job losses. Network probes are one of the products that Riverbed Technology offers. Due to the recession, the corporation stated in 2022 that it would be laying off 10% of its workers. Companies in the network probe market may need to alter their product offerings in order to stay competitive. This can entail supplying items with reduced prices or ones that emphasize more important characteristics. Because they have several advantages over conventional on-premises solutions, cloud-based network probes are growing in popularity. As firms look for methods to conserve money, this trend is expected to continue during the recession. Some businesses in this industry, nevertheless, are well-positioned to weather the storm. These businesses are probably ones that specialize in key features or provide cloud-based solutions.
KEY MARKET SEGMENTS
By Component
By Deployment
By Organization Size
By End-Use Vertical
IT

Telecom Services

Government

BFSI

Others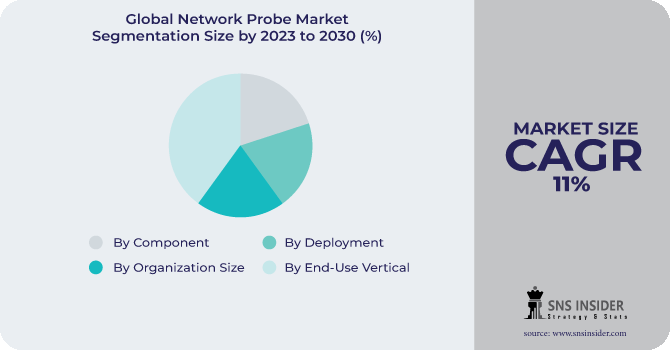 Region Coverage:
North America
Europe
Eastern Europe

Poland

Romania

Hungary

Turkey

Rest of Eastern Europe

Western Europe

Germany

France

UK

Italy

Spain

Netherlands

Switzerland

Austria

Rest of Western Europe
Asia Pacific
China

India

Japan

South Korea

Vietnam

Singapore

Australia

Rest of Asia Pacific
Middle East & Africa
Middle East

UAE

Egypt

Saudi Arabia

Qatar

Rest of Middle East

Africa

Nigeria

South Africa

Rest of Africa
Latin America
Brazil

Argentina

Colombia

Rest of Latin America
REGIONAL ANALYSIS
North America dominated the market and accounted with a 55% of the penetration rate. North America is a major hub for the technology industry. Many of the leading providers of network probes, such as Net Scout Systems, Riverbed Technology, and Fluke Networks, are headquartered in North America. North America, specifically the U.S. and Canada, remains a significant participant in the global network probe industry. The segment growth can be attributed to the presence of prominent market players such as IBM, Cisco, SolarWinds, and others in the region. The growing adoption of 5G technology and Increasing demand for high-speed, secure network connections, leading to an increased demand for advanced network probes in the region is also driving the market demand. Organizations are widely adopting network probes for streamlining their office operations, delivering information more efficiently, and executing internal processes more effectively.
The Asia Pacific region is the dominant market for network probes, accounting for a 35% share of the global market in 2022. and 45% of penetration Rate. Over the course of the projected period. China is the largest market for network probes in the Asia Pacific region, accounting for 20% of the market share in 2022. This is due to the large number of businesses and government agencies in China that are using network probes to monitor and troubleshoot their networks. Market expansion in the region is being driven by businesses like NTT DoCoMo and Softbank who are increasing their investments in 5G networks. Furthermore, a number of suppliers of network infrastructure, like Huawei and ZTE, are based in China. Malware and DDoS attacks, which are constantly on the rise, are also helping the market expand in the area.
KEY PLAYERS
The major key players in the Network Probe Market are SolarWinds, NETSCOUT, Broadcom, IBM, Cisco, Nokia, Catchpoint, Cubro, Kentik, NEC, and other players.
RECENT DEVELOPMENTS
Cubro:
In March 2023, Cubro announced a partnership with Silver Engine to provide actionable insights on how to improve mobile network performance and subscriber experience.
Kentik:
In February 2023, Kentik released a new version of its network probe software with a number of new features, including support for Kubernetes and improved performance metrics.
Network Probe Market Report Scope:
Report Attributes
Details
Market Size in 2022
US$ 0.7 Bn
Market Size by 2030
US$ 1.61 Bn
CAGR
CAGR of 11% From 2023 to 2030
Base Year
2022
Forecast Period
2023-2030
Historical Data
2020-2021
Report Scope & Coverage
Market Size, Segments Analysis, Competitive Landscape, Regional Analysis, DROC & SWOT Analysis, Forecast Outlook
Key Segments
• by Component (Solution, Service)
• by Deployment Model (On-Premises, Cloud-based)
• by Organization Size (Large Enterprises, Small and Medium Size Enterprises)
• by End Use Vertical (IT, Telecom Services, Government, BFSI, Others)
Regional Analysis/Coverage
North America (US, Canada, Mexico), Europe (Eastern Europe [Poland, Romania, Hungary, Turkey, Rest of Eastern Europe] Western Europe] Germany, France, UK, Italy, Spain, Netherlands, Switzerland, Austria, Rest of Western Europe]). Asia Pacific (China, India, Japan, South Korea, Vietnam, Singapore, Australia, Rest of Asia Pacific), Middle East & Africa (Middle East [UAE, Egypt, Saudi Arabia, Qatar, Rest of Middle East], Africa [Nigeria, South Africa, Rest of Africa], Latin America (Brazil, Argentina, Colombia Rest of Latin America)
Company Profiles
SolarWinds, NETSCOUT, Broadcom, IBM, Cisco, Nokia, Catchpoint, Cubro, Kentik, NEC
Key Drivers
• The rise in the number of network-connected devices worldwide is One of the key factors fueling the market's expansion.
• The increasing complexity of networks is driver for the network probe market.
• The adoption of cloud services is driving the demand for network probe
Market Restraints
• High cost of network probes
• Lack of awareness of network probes among small and medium businesses