REPORT SCOPE & OVERVIEW
The Oakmoss Extract Market size was USD 35.9 million in 2022 and is expected to Reach USD 55.5 million by 2030 and grow at a CAGR of 5.6% over the forecast period of 2023-2030.
The natural ingredient oakmoss extract is produced from the lichen Evernia prunastri. It is a lichen that develops slowly on trees in temperate woodlands. The perfume of oakmoss extract is deep and earthy, with notes of moss, wood, and leather. It is a common fragrance and cosmetics ingredient, and it is also used in various food and beverage goods.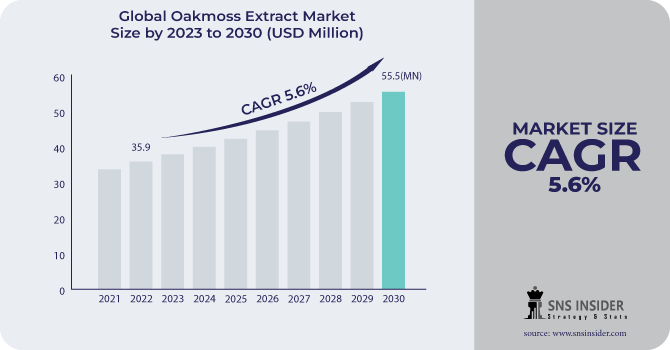 Based on form, the liquid form segment is the major segment. The two common liquids are Oakmoss Absolute and Oakmoss Essential Oils which are mostly used as a fixative in perfumery to prolong the scent of other fragrances. perfume and aromatherapy for its calming and relaxing properties. Furthermore, the increased use of essential oils in the personal care industry is driving revenue growth in the oakmoss extract market. As a result, the market is expected to be worth USD 64.2 million by 2030.
Based on the application, Oakmoss extract's main application is in the cosmetic and personal care industry, which is valued at USD 23.2 million in 2022. The growth rate is approximately 5% in the upcoming year.
MARKET DYNAMICS
KEY DRIVERS
Oakmoss extract is a natural component included in many aromatherapy products, including candles and essential oils. It's also found in a wide range of clean-label personal care goods like soaps, lotions, and creams. Aromatherapy is getting more popular as people seek ways to relax and de-stress. Because of its calming and relaxing characteristics, oakmoss extract is a common ingredient in aromatherapy products. Clean-label items are manufactured with simple, easily identifiable ingredients. Clean-label products are becoming increasingly popular among consumers who want to know what they are putting on and in their bodies. Oakmoss extract is a non-toxic substance that can be utilized in a range of goods, including aromatherapy blends, skincare products, and cleaning solutions.
RESTRAIN
When used in moderation, oakmoss extract is typically safe for most people. However, some potential side effects should be noted, particularly for those with sensitive skin or allergies. Some people may experience allergic reactions to oakmoss extract. An allergic reaction can cause hives, swelling, difficulty breathing, and anaphylaxis. Furthermore, oakmoss extract can interfere with certain drugs, including blood thinners and antidepressants. The negative consequences of oakmoss extract stifle market expansion.
OPPORTUNITY
Oakmoss extract is a flexible component that can be utilized to develop a wide range of distinct flavor characteristics in food and beverage products. Oakmoss extract can be used to give sauces, marinades, and rubs a deep, earthy flavor. It can also be used to enhance the flavor of delicacies like chocolate cakes and ice cream. Oakmoss extract is also used to flavor a range of beverages, including beer, wine, and cocktails. The increasing popularity of ethnic cuisines is also fueling demand for oakmoss extract. Oakmoss extract is being used in restaurants to generate new and unique recipes. Oakmoss extract is a common component in many Asian dishes, including Thai and Vietnamese. It's also utilized in various European dishes, such as French and Italian cuisine.
CHALLENGES
Oakmoss extract is an organic material obtained from the Evernia prunastri plant. The plant grows slowly and is only found in a few places around the world, including Europe and North America. Furthermore, gathering oakmoss is a time-consuming process. Economic variables such as currency fluctuations and changes in trade restrictions can also affect the price and availability of oakmoss extract. A change in trade restrictions could make importing oakmoss extract more expensive. This could result in price hikes for products containing oakmoss extract.
IMPACT ANALYSIS
IMPACT OF RUSSIA UKRAINE WAR
Russia accounts for approximately 16% of global oakmoss production. The war in Ukraine has disrupted the harvesting and processing of oakmoss in Russia, which has led to a decline in production. The global price of oakmoss extract has increased by approximately 20% since the start of the war in Ukraine. This is due to the decline in production and the increased demand for oakmoss extract from alternative sources. the cosmetics and personal care industry is likely to be more impacted than the food and beverage industry. The demand for oakmoss extract is expected to remain strong in the long term. However, the war in Ukraine is expected to dampen demand in the short term due to the high prices of oakmoss extract.
IMPACT OF ONGOING RECESSION
Oakmoss extract is an unusual ingredient, though, it is challenging to gather and prepare sustainably. Oakmoss is a lichen that grows slowly and is found on trees in temperate woodlands. It is manually picked, which requires a lot of work. Additionally, pollution and other environmental issues greatly affect oakmoss. As a result, it may be challenging to locate oakmoss from sustainable sources. A common element in perfumes, cosmetics, and other goods is oakmoss. Although oakmoss is a renewable resource, it might take a long time for it to grow back after being harvested. As consumers are likely to spend less on luxuries like cosmetics and personal care items during a recession, the demand for oakmoss extract is predicted to fall by 8%.
MARKET SEGMENTATION
By Nature
By Form
By Application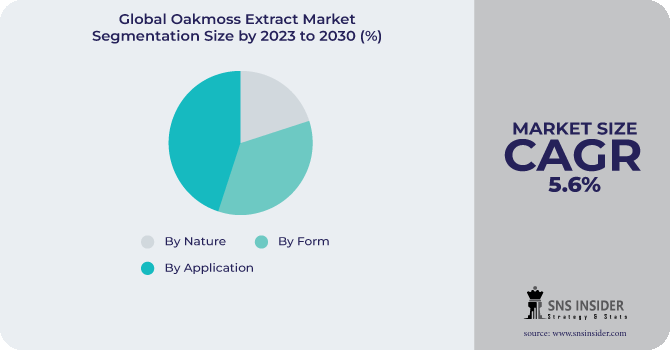 REGIONAL ANALYSIS
Europe is the most important market for oakmoss extract, accounting for more than 40% of the global market. Historically, the area has used oakmoss in cosmetics and personal care. The market for oakmoss extract is expanding as a result of Europe's rising demand for organic and environmentally friendly goods.
North America had a significant market for oakmoss extract in 2022. In the region, the personal care and cosmetics industries have a big need for oakmoss. The market for oakmoss extract is expanding as a result of the rising popularity of aromatherapy in North America. By the end of 2022, the U.S. is expected to use 186 MT of oakmoss extract, which represents a share of about 82.9% in these areas.
The Asia Pacific region is predicted to experience the greatest growth in the oakmoss extract market. Oakmoss is in high demand in the cosmetics and personal care industries in the region. The growing popularity of aromatherapy and clean-label products in the Asia Pacific region is also propelling the oakmoss extract market forward.
REGIONAL COVERAGE
North America
Europe
Eastern Europe

Poland

Romania

Hungary

Turkey

Rest of Eastern Europe
Western Europe

Germany

France

UK

Italy

Spain

Netherlands

Switzerland

Austria

Rest of Western Europe
Asia Pacific
China

India

Japan

South Korea

Vietnam

Singapore

Australia

Rest of Asia Pacific
Middle East & Africa
Middle East

UAE

Egypt

Saudi Arabia

Qatar

Rest of Middle East

Africa

Nigeria

South Africa

Rest of Africa
Latin America
Brazil

Argentina

Colombia

Rest of Latin America
KEY PLAYERS
Some major key players in the Oakmoss Extract Market are BMV Fragrances Private Limited, Eden Botanicals, Givaduan, Bristol Botanicals, Midwest Sea Salt Co., Sweet Essentials, Firmenich, Ventos, BERJE INC, Mountain Rose Herbs, Biolandes, Divine Essence, and other key players.
Eden Botanicals-Company Financial Analysis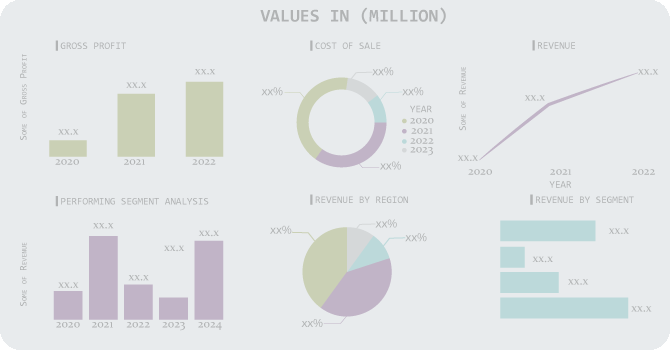 RECENT DEVELOPMENTS
In 2022, Firmenich opened a new regional state-of-the-art research and development center in Dubai's science park. The company's research and innovation capabilities are being bolstered by cutting-edge technology at the new creation and development center, which will service customers in over 60 countries across the Middle East and Africa region.
In 2022, Kate Moss is launching her own beauty and wellness brand, Cosmoss. The main ingredient in the line is oakmoss, which nourishes and hydrates the skin while also restoring smoothness, elasticity, and firmness.
Oakmoss Extract Market Report Scope:
Report Attributes
Details
Market Size in 2022
US$ 35.9 Million
Market Size by 2030
US$ 55.5 Million
CAGR
CAGR of 5.6 % From 2023 to 2030
Base Year
2022
Forecast Period
2023-2030
Historical Data
2019-2021
Report Scope & Coverage
Market Size, Segments Analysis, Competitive Landscape, Regional Analysis, DROC & SWOT Analysis, Forecast Outlook
Key Segments
• By Nature (Organic, Conventional)
• By Form (Powder, Liquid)
• By Application (Cosmetics and personal care, Aromatherapy, Food & Beverage, and others)
Regional Analysis/Coverage
North America (US, Canada, Mexico), Europe (Eastern Europe [Poland, Romania, Hungary, Turkey, Rest of Eastern Europe] Western Europe] Germany, France, UK, Italy, Spain, Netherlands, Switzerland, Austria, Rest of Western Europe]), Asia Pacific (China, India, Japan, South Korea, Vietnam, Singapore, Australia, Rest of Asia Pacific), Middle East & Africa (Middle East [UAE, Egypt, Saudi Arabia, Qatar, Rest of Middle East], Africa [Nigeria, South Africa, Rest of Africa], Latin America (Brazil, Argentina, Colombia Rest of Latin America)
Company Profiles
BMV Fragrances Private Limited, Eden Botanicals, Givaduan, Bristol Botanicals, Midwest Sea Salt Co., Sweet Essentials, Firmenich, Ventos, BERJE INC, Mountain Rose Herbs, Biolandes, Divine Essence
Key Drivers
• Rising demand for oakmoss extract in cosmetics and personal care products
Market Opportunity
• Expanding the use of oakmoss in the food and beverage industry