REPORT SCOPE & OVERVIEW
Pancreatic Cancer Treatment Market size was valued at USD 2.8 billion in 2022 and is estimated to reach at USD 9.05 billion in 2030 and grow at a compound annual growth rate approx. CAGR of 15.8% predicted for the forecast period of 2023-2030.
High death rates and a poor prognosis are characteristics of pancreatic cancer. Since the cancer has frequently progressed to other organs by the time it is discovered, effective treatment might be difficult. Smoking, obesity, age, family history, and several genetic disorders are among the risk factors for the illness. Numerous strategies are used in the pancreatic cancer therapy landscape to enhance patient outcomes and survival rates. Surgery, radiation therapy, chemotherapy, targeted therapy, immunotherapy, and palliative care are some major categories for these therapeutic options. The main course of treatment for pancreatic cancer in its early stages is surgery. The entire pancreas may be removed in some circumstances, along with the tumour and its surrounding tissues. However, surgery is frequently not an option because of the disease's late stage upon diagnosis or the existence of metastases. High-energy radiation is used in radiation treatment to kill cancer cells and reduce tumour size. It can be applied as a palliative treatment, as a neoadjuvant before to surgery, as an adjuvant following surgery, or both to reduce symptoms and enhance quality of life.
Chemotherapy is a type of systemic medicine that employs chemicals to eradicate cancer cells all over the body. It can be given before or after radiation therapy or surgery, and these therapies are frequently combined with it. Gemcitabine is frequently used in pancreatic cancer chemotherapy regimens, as well as additional medications such FOLFIRINOX (folinic acid, fluorouracil, irinotecan, and oxaliplatin). A relatively recent development in the treatment of pancreatic cancer is targeted therapy. It entails the administration of medications that precisely target the genetic or molecular changes found in cancer cells, preventing the development and spread of such cells. Erlotinib and nab-paclitaxel are two instances of targeted treatments used to treat pancreatic cancer.
MARKET DYNAMICS
DRIVERS
An important market driver is the rising incidence of pancreatic cancer in the world. The ageing of the population, changes in lifestyle, and environmental factors all play a role in the disease's rising occurrence. For individuals with pancreatic cancer, new developments in surgery, radiation therapy, chemotherapy, targeted therapy, and immunotherapy have increased their treatment choices. These developments have raised survival rates and enhanced treatment results. In the area of treating pancreatic cancer, research and development are given a lot of attention. Ongoing research aims to discover new therapeutic targets, create innovative medications, and investigate individualized therapy modalities. By elevating cutting-edge therapies, these initiatives advance the market.
RESTRAIN
The aggressiveness and propensity for metastasis of pancreatic cancer make it challenging to successfully treat. Successful treatment results are severely hampered by late-stage diagnosis and the lack of effective treatments for advanced illness. There are no trustworthy screening procedures accessible right now for the early diagnosis of pancreatic cancer. Because of this, a greater percentage of patients receive diagnoses at advanced stages, which restricts treatment options and lowers the likelihood of curative treatments. Surgery, chemotherapy, and radiation therapy are a few of the pancreatic cancer therapies that might have serious side effects that lower a patient's quality of life. Nausea, exhaustion, appetite loss, and gastrointestinal issues are possible side effects.
OPPORTUNITY
The development of molecular profiling and genetic testing opens up the possibility of treating pancreatic cancer with personalized medication. The ability to target treatment plans and enhance results depends on the ability to detect particular genetic changes or biomarkers in individuals. A significant possibility is provided by the development of immunotherapies, such as immune checkpoint inhibitors, for the treatment of certain subgroups of pancreatic cancer patients. Treatment effectiveness may be improved by more investigation and clinical trials examining immunotherapy combinations and patient selection criteria.
CHALLENGES
Treatment for pancreatic cancer, which may involve surgery, chemotherapy, targeted therapy, and immunotherapy, can be costly. Patients, healthcare systems, and reimbursement rules all face difficulties as a result of the high cost of these therapies. Options for people with advanced or metastatic pancreatic cancer are still limited despite improvements in therapy techniques. The market faces a significant difficulty in creating medicines that are successful for patients with late disease stages. It can be difficult and time-consuming to get regulatory clearance and payment for innovative medicines. The acceptance and accessibility of novel medicines can be impacted by regulatory restrictions, price negotiations, and reimbursement rules.
IMPACT OF RUSSIAN UKRAINE WAR
We constantly study the reports & news in light of the ongoing political and economic unpredictability caused by the Russia-Ukraine Conflict. Around the world, negative effects are anticipated, particularly in Eastern Europe, the European Union, Eastern & Central Asia, and the United States. This claim has significantly disrupted trade dynamics and had a negative impact on people's lives and means of subsistence. It is anticipated that the continued conflict and unpredictability in Eastern Europe would negatively affect Ukraine and have severe, long-lasting impacts on Russia. In light of the most recent information on the dispute and the responses from across the world, the paper explores the implications for demand-supply balances, pressure on pricing variations, influence on import/export and trade, and short-term advice to the United States market for pancreatic cancer therapeutics.
IMPACT OF ONGOING RECESSION
During the projection period of 2022-2030, the market's rise is anticipated to be aided by the growing geriatric population. The World Health Organisation (WHO) projects that by 2050, there will be approximately 2 billion geriatric people globally, up from an estimated 524 million in 2010. Geriatrics are more likely to need pancreatic cancer therapy because of their weakened immune systems, which is also predicted to accelerate market expansion and over the past two years, prices have increased significantly as a result of the high inflation rates in industrialised nations throughout the world. It is anticipated that the aggregate buying power would considerably affect emerging economies and is thought to be beneficial in many ways. The paper reveals how high inflation affects the long-term health of the global economy and offers information on the fiscal measures that may be taken to lessen its short-term effects on demand/supply, cash flow, and currency exchange. According to the United States Pancreatic Cancer Therapeutics Market research, there will be significant cost-push and demand-pull inflation in the next years.
KEY MARKET SEGMENTS
By Affected region
By Type
Chemotherapy

Targeted Therapy

Others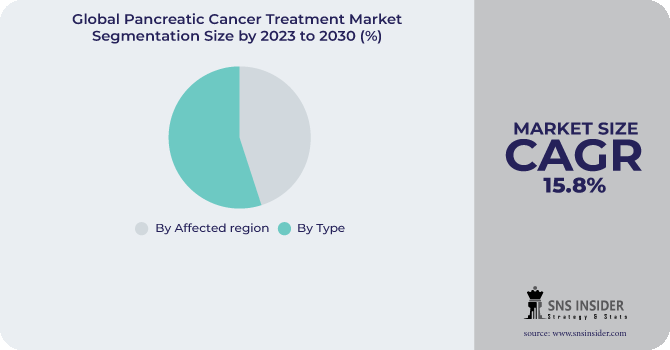 REGIONAL COVERAGE
North America
Europe
Germany

UK

France

Italy

Spain

The Netherlands

Rest of Europe
Asia-Pacific
Japan

South Korea

China

India

Australia

Rest of Asia-Pacific
The Middle East & Africa
Latin America
Brazil

Argentina

Rest of Latin American
REGIONAL ANALYSES
North America:
Pancreatic cancer dominated the global market in 2021. This is due to the fact that pancreatic cancer is more common in North American nations, with the USA having the highest worldwide cancer death rate. and as a result. With a large target population, North America had the highest revenue share in the pancreatic cancer treatment process. Additionally, there is a greater need for therapeutic alternatives due to the rising occurrence of pancreatic cancer.
Asia-Pacific:
The pancreatic cancer market is anticipated to grow the fastest in the Asia-Pacific region. As a result, it is anticipated that Asia Pacific would grow the quickest within the anticipated period. The Asia Pacific area will benefit from industry growth due to the presence of well-established clinics and critical care facilities as well as a sizable population suffering from pancreatic cancer. Additionally, since there are more incidences of pancreatic cancer in the Asia-Pacific region, diagnosis and treatment must follow the same guidelines as in Western countries.
RECENT DEVELOPMENT
Eli Lilly and Company;
Around 10 million children and adolescents with non-communicable illnesses will benefit from improved healthcare facilities according to a partnership announced by Eli Lilly & Company and UNICEF in February 2022.
Novartis AG:
Regarding pancreatic cancer, the FDA granted Novartis' monoclonal antibody NIS793 the Orphan Drug Designation (ODD) in July 2021.
Key Players
The key players are Eli Lilly and Company, Celgene Corporation, F. Hoffmann-La Roche AG, Amgen Inc., Novartis AG, PharmaCyte Biotech Inc., Clovis Oncology, Teva Pharmaceutical Industries Ltd., Merck & Co., Inc., and Pfizer, Inc. and others.
Pancreatic Cancer Treatment Market Report Scope:
Report Attributes
Details
Market Size in 2022
US$ 2.8 Bn
Market Size by 2030
US$ 9.05 Bn
CAGR
CAGR of 15.8% From 2023 to 2030
Base Year
2022
Forecast Period
2023-2030
Historical Data
2020-2021
Report Scope & Coverage
Market Size, Segments Analysis, Competitive Landscape, Regional Analysis, DROC & SWOT Analysis, Forecast Outlook
Key Segments
• By Affected region (Exocrine, Endocrine)
• By Type (Chemotherapy, Targeted Therapy, Others)
Regional Analysis/Coverage
North America (USA, Canada, Mexico), Europe
(Germany, UK, France, Italy, Spain, Netherlands,
Rest of Europe), Asia-Pacific (Japan, South Korea,
China, India, Australia, Rest of Asia-Pacific), The
Middle East & Africa (Israel, UAE, South Africa,
Rest of Middle East & Africa), Latin America (Brazil, Argentina, Rest of Latin America)
Company Profiles
Eli Lilly and Company, Celgene Corporation, F. Hoffmann-La Roche AG, Amgen Inc., Novartis AG, PharmaCyte Biotech Inc., Clovis Oncology, Teva Pharmaceutical Industries Ltd., Merck & Co., Inc., and Pfizer, Inc. and others.
Key Drivers
• Growing Pancreatic Cancer Incidence, Technological Advances in Treatment Options Research and Development Activities are Growing.
Market Opportunities
• Approaches to Personalized Medicine Immunotherapy Developments.