Report Scope & Overview:
The Parking Sensors Market size was valued at USD 3728.14 million in 2022. It is expected to hit USD 12426.16 million by 2030 and grow at a CAGR of 16.24% over the forecast period of 2023-2030.
The parking sensors market growing significantly owing to the increasing demand for advanced safety measures in vehicles. These sensors play a crucial role in assisting drivers while parking their vehicles, thereby reducing the risk of accidents and damages. The parking sensors market is experiencing robust growth, driven by the rising adoption of parking assistance systems in both commercial and passenger vehicles. With the increasing number of vehicles on the road, efficient parking solutions have become paramount. Parking sensors offer real-time assistance to drivers, alerting them to obstacles and providing guidance for safe parking.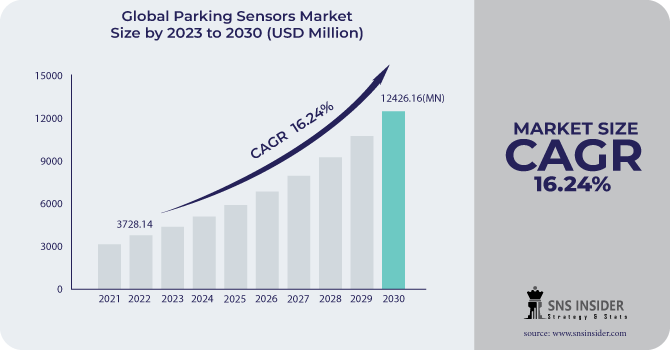 Get E-PDF Sample Report on Parking Sensors Market - Request Sample Report
Parking sensors are devices that assist drivers in maneuvering their vehicles into parking spaces. These sensors use ultrasonic technology to detect obstacles in the vehicle's path, such as walls, curbs, or other cars. Parking sensors help drivers avoid collisions and park their vehicles safely by providing audible or visual alerts. These sensors are typically mounted on the front and rear bumpers of the vehicle, ensuring comprehensive coverage. Once installed, they continuously emit ultrasonic waves, which bounce off nearby objects and return to the sensors. The sensors then calculate the distance between the vehicle and the detected obstacles, providing real-time feedback to the driver.
The benefits of parking sensors are numerous. Firstly, they enhance safety by alerting drivers to potential hazards that may be difficult to see through rearview mirrors or windows. This is particularly useful in crowded parking lots or tight spaces where visibility is limited. Additionally, parking sensors can prevent costly accidents and damage to vehicles, saving drivers from unnecessary expenses. Furthermore, parking sensors are user-friendly and require minimal driver intervention. Once activated, they automatically detect obstacles and provide alerts without the need for manual adjustments. This allows drivers to focus on their parking maneuvers, reducing stress and improving the overall driving experience.
The parking sensors market is expected to witness tremendous growth in the coming years. Factors such as increasing vehicle sales, stringent government regulations regarding vehicle safety, and the growing awareness of driver assistance systems are driving the market growth. Additionally, the integration of artificial intelligence and machine learning technologies in parking sensors is expected to revolutionize the market, providing more accurate and efficient parking assistance.
Several emerging trends are helping to grow this market. The development of wireless parking sensors, which eliminate the need for complex wiring installations, is gaining traction. Furthermore, the integration of parking sensors with advanced driver assistance systems, such as automatic parking and collision avoidance, is expected to drive market growth.
Market Dynamics:
Drivers
Rising number of vehicles on the road

Rapidly increasing urbanization

Growing concern for pedestrian safety
These sensors help prevent accidents by alerting drivers to the presence of pedestrians or obstacles in their vicinity, reducing the risk of collisions. Shockingly, road traffic injuries are the leading cause of death for children and young adults aged 5-29 years, as reported by the World Health Organization (WHO). Each year, approximately 1.3 million people lose their lives due to road traffic crashes, with more than half of these fatalities involving vulnerable road users such as pedestrians, cyclists, and motorcyclists. Astonishingly, low- and middle-income countries bear the brunt of this global issue, accounting for a staggering 93% of all road traffic fatalities, despite having only 60% of the world's vehicles.
Moreover, the economic impact of road traffic crashes cannot be overlooked, as they cost most countries a significant 3% of their gross domestic product. This alarming statistic serves as a driving force behind the growing market for parking sensors. By equipping vehicles with these advanced sensors, drivers can be better informed and more aware of their surroundings, ultimately enhancing road safety and reducing the likelihood of accidents.
Restrain
High cost associated with installing parking sensor systems

Complexity of integrating parking sensors into existing vehicles
Opportunities
With the increasing prevalence of self-driving cars, the demand for advanced parking assistance systems is set to rise, thereby creating a potential market for parking sensor manufacturers. Presently, there are over 30 million driverless cars worldwide, and this figure is projected to grow exponentially as companies like Tesla invest heavily in the development of such vehicles. Consequently, this factor presents a tremendous opportunity for the parking sensor market.
Challenges
With the growing urbanization and limited parking availability, parking spaces have become smaller and more challenging to navigate. This presents a hurdle for parking sensors, as they must adapt to these confined spaces and accurately detect obstacles in real time. Failure to do so may result in accidents or damage to vehicles, undermining the credibility and effectiveness of parking sensors.
Many drivers are still unaware of the benefits and functionalities of parking sensors. This lack of awareness hinders the market's growth potential, as potential customers may not perceive the value of investing in these devices. Additionally, some drivers may be skeptical about the reliability and accuracy of parking sensors, further impeding their adoption.
Impact of Russia-Ukraine War:
The invasion of Ukraine by Russia significantly impacted the automotive sector, leading to the departure or suspension of operations by numerous vehicle companies in the affected regions. Additionally, several car manufacturers have chosen to withdraw from Russia as a symbolic protest against the ongoing war. Consequently, the parking sensor industry has been adversely affected, with many automakers pausing their research and development efforts in order to mitigate losses.
Furthermore, the conflict has exacerbated the challenges faced by the already struggling semiconductor industry, as the persistent shortage of chips continues to pose new obstacles for the market. Russia accounts for 45% of the global supply of palladium, a crucial component used in numerous memory and sensor chips. A few months ago, several automotive companies made the decision to reduce production due to the ongoing global chip shortage. This has further hampered the market for parking sensors.
Impact of Recession:
Due to the ongoing recession, the semiconductor industry is particularly vulnerable. As demand decreases, prices drop and production costs rise. Moreover, the industry heavily relies on global trade, making it susceptible to increased tariffs and other trade restrictions imposed by governments worldwide. Consequently, access to crucial components and markets diminishes, further eroding profits for affected companies. Additionally, some countries may offer economic incentives to bolster their own semiconductor industries.
The decline in consumer spending has caused a sharp decline in demand for products like integrated circuits, sensors, and transistors. Furthermore, the manufacturing costs of these products have surged due to escalating energy expenses. Consequently, the industry finds itself in a challenging predicament, as companies struggle to maintain competitiveness while managing their budgets. This predicament has had a significant impact on the parking sensors market.
Market segmentation
By Technology
Ultrasonic Sensors

Infrared Sensors

Electromagnetic Sensors

Others
By Type
Front Parking

Reverse Parking

Others
By Component
Sensors

Displays

Control Modules

Others
By Sales Channel
By Application
Passenger Cars

Heavy Commercial Vehicles

Light Commercial Vehicles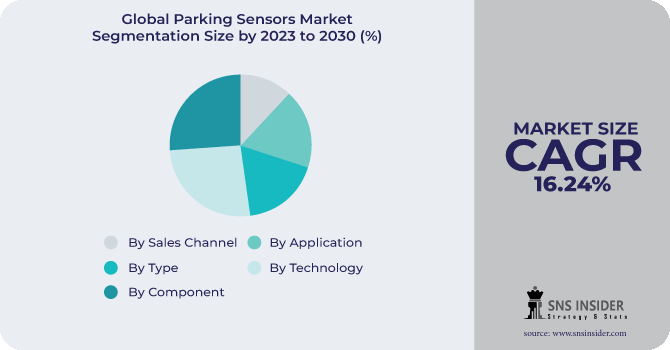 Get Customized Report as Per Your Business Requirement - Request For Customized Report
Regional Analysis
North America dominated the parking sensor market and is expected to grow with a significant CAGR during the forecast period of 2023-2030. This region has witnessed a surge in the adoption of parking sensors due to the growing awareness of the potential risks associated with driver error. As the number of road accidents continues to rise, there is a pressing need for effective solutions to mitigate potential damages.
The region boasts a robust automotive industry, with major players continuously investing in advanced technologies to enhance vehicle safety and convenience. Parking sensors, being an integral part of modern automotive safety systems, have gained significant traction in North America due to their ability to mitigate accidents and improve parking efficiency. Moreover, the increasing urbanization and population density in North American cities have led to a surge in demand for parking spaces. Limited parking availability has become a pressing issue, necessitating the adoption of parking sensor systems to optimize parking utilization and reduce congestion. This growing need for efficient parking solutions has further fueled the demand for parking sensors in the region. Furthermore, stringent government regulations mandating the inclusion of safety features in vehicles have played a pivotal role in driving market growth.
Asia Pacific is projected to grow with the highest CAGR in the parking sensor market during the forecast period. Rapid urbanization and population growth in countries like China and India have led to an increase in the number of vehicles on the road. As a result, the demand for parking spaces has surged, creating a need for efficient parking solutions. Furthermore, the rising disposable income and improving living standards in the Asia Pacific region have led to an increased preference for personal vehicles. This trend has further fueled the demand for parking sensors, as drivers seek assistance in navigating congested parking areas.
Moreover, governments in the region are increasingly focusing on implementing smart city initiatives, which include the integration of advanced technologies to enhance urban infrastructure. Parking sensors play a crucial role in these initiatives by optimizing parking space utilization and reducing traffic congestion. Additionally, the growing awareness about the importance of road safety has prompted individuals and organizations to invest in parking sensor systems.
REGIONAL COVERAGE:
North America
Europe
Eastern Europe

Poland

Romania

Hungary

Turkey

Rest of Eastern Europe

Western Europe

Germany

France

UK

Italy

Spain

Netherlands

Switzerland

Austria

Rest of Western Europe
Asia Pacific
China

India

Japan

South Korea

Vietnam

Singapore

Australia

Rest of Asia Pacific
Middle East & Africa
Middle East

UAE

Egypt

Saudi Arabia

Qatar

Rest of Middle East

Africa

Nigeria

South Africa

Rest of Africa
Latin America
Brazil

Argentina

Colombia

Rest of Latin America
Key Players
The major key players are Robert Bosch GmbH, STMicroelectronics, NXP Semiconductors, Aptiv, Denso Corporation, Texas Instruments Incorporated, Valeo, Autoliv, Gentex Corporation, Continental AG, Freescale Semiconductor, Murata Manufacturing Co., Ltd., Analog Devices, Inc., Ford Motor Company, Hyundai Motor India, American Honda Motor Co., Inc., and other key players mentioned in the final report.
Robert Bosch GmbH-Company Financial Analysis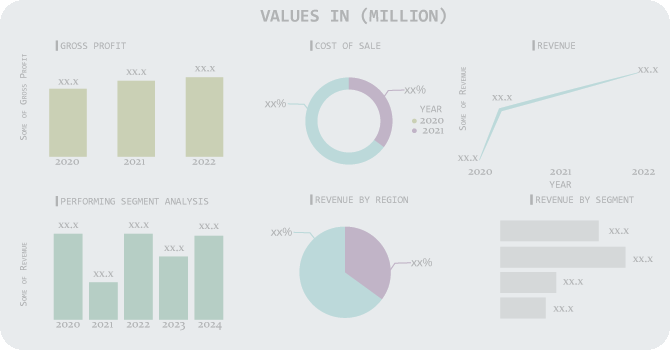 Recent Development:
In July 2023, STMicroelectronics unveiled their latest FlightSense™ multi-zone distance sensor, boasting a remarkable 90° field of view. This groundbreaking technology surpasses the industry standard, being 33% larger than its predecessor.

In Jan 2023, NXP introduced Advanced Automotive Radar One-Chip Family. This revolutionary product is specifically designed for the next generation of Advanced Driver Assistance Systems (ADAS) and Autonomous Driving Systems.

In Feb 2023, BMW and Valeo joined forces in a strategic collaboration. Their shared objective is to co-develop an extraordinary Level 4 automated parking experience, setting new benchmarks in automotive innovation.
Parking Sensors Market Report Scope:
Report Attributes
Details
Market Size in 2022
US$ 3728.14 Mn
Market Size by 2030
US$ 12426.16 Mn
CAGR
CAGR of 16.24 % From 2023 to 2030
Base Year
2022
Forecast Period
2023-2030
Historical Data
2020-2021
Report Scope & Coverage
Market Size, Segments Analysis, Competitive Landscape, Regional Analysis, DROC & SWOT Analysis, Forecast Outlook
Key Segments
• By Technology (Ultrasonic Sensors, Infrared Sensors, Electromagnetic Sensors, Others)
• By Type (Front Parking, Reverse Parking, Others)
• By Component (Sensors, Displays, Control Modules, Others)
• By Sales Channel (Aftermarket and OEM)
• By Application (Passenger Cars, Heavy Commercial Vehicles, and Light Commercial Vehicles)
Regional Analysis/Coverage
North America (US, Canada, Mexico), Europe (Eastern Europe [Poland, Romania, Hungary, Turkey, Rest of Eastern Europe] Western Europe] Germany, France, UK, Italy, Spain, Netherlands, Switzerland, Austria, Rest of Western Europe]). Asia Pacific (China, India, Japan, South Korea, Vietnam, Singapore, Australia, Rest of Asia Pacific), Middle East & Africa (Middle East [UAE, Egypt, Saudi Arabia, Qatar, Rest of Middle East], Africa [Nigeria, South Africa, Rest of Africa], Latin America (Brazil, Argentina, Colombia Rest of Latin America)
Company Profiles
Robert Bosch GmbH, STMicroelectronics, NXP Semiconductors, Aptiv, Denso Corporation, Texas Instruments Incorporated, Valeo, Autoliv, Gentex Corporation, Continental AG, Freescale Semiconductor, Murata Manufacturing Co., Ltd., Analog Devices, Inc., Ford Motor Company, Hyundai Motor India, American Honda Motor Co., Inc.
Key Drivers
• Rising number of vehicles on the road
• Rapidly increasing urbanization
• Growing concern for pedestrian safety
Market Restraints
• High cost associated with installing parking sensor systems
• Complexity of integrating parking sensors into existing vehicles