REPORT SCOPE & OVERVIEW:
The Passive Optical Network (PON) Market size was valued at USD 12.28 Billion in 2022 and is expected to grow to USD 36.53 Billion by 2030 and grow at a CAGR Of 14.6 % over the forecast period of 2023-2030.
The last-mile technology utilized by internet service providers and telecommunications firms is called a passive optical network (PON).end consumers with high-speed, low-latency internet access from providers. The product has also changed over time, moving from basic Ethernet (EPON) through gigabyte (GPON), and finally to the current Next-Gen PON. An optical line terminal (OLT), optical network terminal (ONT), and optical distribution network (ODN) are the three main parts of the PON system architecture. Additionally, greater fiber network coverage and increased internet accessibility have strengthened their use in mobile Xhaul and fiber to the X location (FTTX), which is propelling market expansion.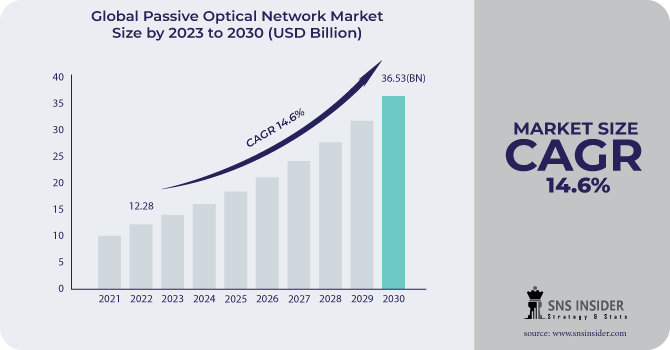 To get more information on Passive Optical Network (PON) Market - Request Sample Report
MARKET DYNAMICS
KEY DRIVERS:
Data can move more quickly thanks to ON network technology equipment thanks to PON equipment's multiplexing capability and symmetrical qualities that support either upstream or downstream speed. Additionally, requirements for broadband connectivity in leading home-connected goods and services, including 4K/8K TV, cloud gaming, interactive video, smart homes, and work from home. Users so benefit from a speedier return on investment because of the PON technology's ongoing development and the expanding use of FTTH services for high-speed internet. To increase network speed, efficiency, and ownership cost, companies in this industry are replacing or updating current telecommunications networks and technology equipment. Furthermore, internet service providers in the sector aim to increase service.
RESTRAIN:
Due to rigorous energy regulations and growing tariff costs, end users in the networking sector want equipment that uses less energy. At the same time, consumers tend to turn to new players because of incumbent firms' complex product offers and unclear bandwidth. Market competitors provide simple optical devices that satisfactorily address consumer expectations, enabling them to consistently increase their market share for passive optical networks. During the projected period, challenges are brought on by the competitors' wide range of product offerings and the entry of new players in the optical network equipment segment.
OPPORTUNITY:
Demand for passive optical networks is rising

The competitive upwards-looking network market
The market share of passive optical networks is driven by the creation of heavy data traffic as a result of increasing customer numbers. As a result of current requirements for large corporate activities, demand for passive optical networks is rising. The consumer electronics and automotive industries are driving changes in the sales of passive optical networks. As more IT workers engage in research and development, the demand for passive optical networks is rising. The search for metals that are both efficient and affordable is what's driving the growth of the passive optical network industry. affordable for long-distance signal collection and transmission of electrical and digital signals.
CHALLENGES:
Due to transmission speed deteriorating under heavy usage, data bandwidth that is not revealed to customers is a barrier to the growth of the passive optical network industry. Sales of passive optical networks are hampered by operator interface installation costs and operational challenges. The existence of substitute or alternative technologies like XGS- PON makes it difficult for passive optical networks to gain traction. The rising expense of using fiber optics is a barrier to the need for passive optical networks. The advent of the faster NG-PON2 technology has limited the growth of the passive optical network sector.
IMPACT OF COVID-19
Throughout the COVID-19 epidemic, the global market continued to expand steadily. Contrarily, several industry participants have noticed an increase in raw material prices as a result of supply issues with minerals like silicon and copper that PON equipment manufacturing and pricing were impacted globally. However, by the end of 2020, the market was booming as a result of rising internet usage and a need for PON equipment in the telecom industry. The deployment of PON equipment in the FTTx Deployment, which encompasses (FTTH Fibre to the Home, FITB Fibre to the Building, and FTTB Fibre to the Node), is being solidified at the same time by consumers' accelerated transition from copper-based data services to cutting-edge optical technology.
KEY MARKET SEGMENTS:
By Type
EPON

GPON

Others (Next-Gen PON)
By Component
Optical line terminal (OLT)

Optical Network terminal (ONT)

Optical Distribution Network (ODN)
By Application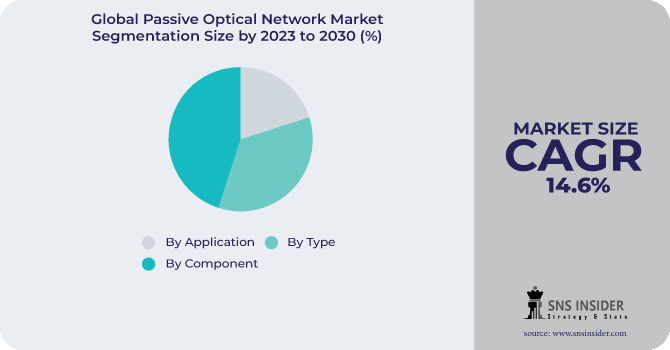 Need any customization research on Passive Optical Network (PON) Market - Enquiry Now
REGIONAL ANALYSIS
Asia Pacific will hold the highest proportion because of targeted government activities and policies aimed at advancing digital capabilities in nations like China, India, and Japan. The presence of the major player is anticipated to simultaneously secure a respectable growth rate due to the rising demand for ONT products and FTTX solutions in office buildings, homes, and data center facilities.
China is the most technologically sophisticated country in Asia, with a growing Internet-accessible population and a variety of modern industries including manufacturing, supply chains, information technology, and many more. The development of PON equipment has also been aided by the expanding telecom sector and the user acquisitions of internet service providers.
REGIONAL COVERAGE:
North America
Europe
Germany

UK

France

Italy

Spain

The Netherlands

Rest of Europe
Asia-Pacific
Japan

South Korea

China

India

Australia

Rest of Asia-Pacific
The Middle East & Africa
Latin America
Brazil

Argentina

Rest of Latin American
KEY PLAYERS:
The major players are ADTRAN, Inc. (U.S.), Calix, Inc. (U.S.), Clena Corporation (U.S.), CISCO SYSTEMS, INC. (U.S.), Huawei Investment & Holding Co., Ltd. (China), Infinera Corporation (U.S.), Nokia Corporation (Finland), Telefonaktiebolaget LM Ericsson (Sweden), TP-Link Corporation Limited. (China), ZTE Corporation (China) and other players are listed in the final report.
RECENT DEVELOPMENT:
Data services utilizing Gigabit Passive Optical Networking (GPON) were introduced in May 2021 by AirFiber, an internet service provider firm with headquarters in India.

To enhance their PON networks to increase data speeds and deliver new services without having to replace or modify their existing equipment, a US-based infrastructure supplier named CommScope launched a coexistence portfolio in August 2021. adding fiber to their current PON system

Nokia established the 25GS PON MSA Group in 2021 to bring together optical network operators and leading system and component manufacturers to promote and hasten the development and application of 25GS-PON technology.

In 2021, the US-based telecom behemoth Verizon Communications acquired TracFone Wireless, Inc. for an undisclosed sum. With this acquisition, Verizon expands its product line and offers a new customer base access to its top-tier wireless network as well as a wide choice of mobility products and services. a US personPrepaid, no-contract cell phones are available from an organisation called TracFone Wireless, Inc.
Passive Optical Network Market Report Scope:
Report Attributes
Details
Market Size in 2022
US$ 12.28 Bn
Market Size by 2030
US$ 36.53 Bn
CAGR
CAGR of 14.6 % From 2023 to 2030
Base Year
2022
Forecast Period
2023-2030
Historical Data
2020-2021
Report Scope & Coverage
Market Size, Segments Analysis, Competitive Landscape, Regional Analysis, DROC & SWOT Analysis, Forecast Outlook
Key Segments
• By Type (EPON, GPON, Others (Next-Gen PON)
• By Component (Optical line terminal (OLT), Optical Network terminal (ONT), Optical Distribution Network (ODN), By Application (FFTX, Mobile backhaul)
Regional Analysis/Coverage
North America (USA, Canada, Mexico), Europe
(Germany, UK, France, Italy, Spain, Netherlands,
Rest of Europe), Asia-Pacific (Japan, South Korea,
China, India, Australia, Rest of Asia-Pacific), The
Middle East & Africa (Israel, UAE, South Africa,
Rest of Middle East & Africa), Latin America (Brazil, Argentina, Rest of Latin America)
Company Profiles
ADTRAN, Inc. (U.S.), Calix, Inc. (U.S.), Clena Corporation (U.S.), CISCO SYSTEMS, INC. (U.S.), Huawei Investment & Holding Co., Ltd. (China), Infinera Corporation (U.S.), Nokia Corporation (Finland), Telefonaktiebolaget LM Ericsson (Sweden), TP-Link Corporation Limited. (China), ZTE Corporation
Key Drivers
• Demand for High ROI
• Increasing demand for Low Ownership Cost, Reliable Network.
Market Opportunities
• Demand for passive optical networks is rising
• The competitive upwards-looking network market