REPORT SCOPE & OVERVIEW
The Polyclonal Antibodies Market size was estimated USD 1.7 billion in 2022 and is expected to reach USD 2.5 billion by 2030 at a CAGR of 5.1% during the forecast period of 2023-2030.
Polyclonal antibodies (pAbs) are complex combinations of many antibodies produced by diverse B-cell clones in an animal. Because each antibody can interact with a different epitope on the antigen, these antibodies can form homogenous lattices with monomeric protein antigens. It is advantageous due to its multi-epitope binding capabilities.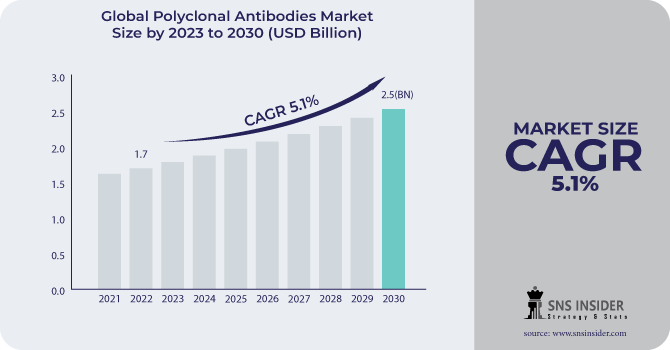 GigaGen Inc. submitted a peer-reviewed paper in the International Pathogens journal in July 2022. The article described the company's recombinant polyclonal product, GIGA-2050, which targets SARS-CoV-2, as well as the GMP manufacture and IND (Investigational New Drug)-enabling research of its new class of pharmaceuticals, recombinant polyclonal antibodies.
MARKET DYNAMICS
DRIVERS
Diseases are becoming more prevalent.
The global polyclonal antibody market is predicted to be driven by an increase in infectious disease incidence and cancer prevalence, particularly in developing economies.
Furthermore, market expansion is predicted to be fueled by the rising healthcare sector, a rise in neurobiology and stem cell research, and the availability of technologically sophisticated products. Furthermore, polyclonal antibodies are highly stable, resistant of pH and buffer variations, and hence cushion market expansion during the anticipated time. Growing demand for therapeutic antibodies is also expected to drive market expansion.
RESTRAIN
Polyclonal antibodies have the ability to attach to many epitopes on an antigen, resulting in non-specific binding and decreased test specificity. The market for polyclonal antibodies is hampered by a lack of specificity. Polyclonal antibodies are created by immunizing an animal with a specific antigen, resulting in a mix of antibodies that target distinct epitopes on the antigen. The antibodies generated may identify and bind to different antigens, making them valuable in research, diagnostics, and treatments.
Stringent rules and regulations
Government regulations are expected to hinder business growth, as are less standardized production validation processes.
OPPORTUNITY
Increasing demand for targeted therapies
The growing demand for tailored therapies has fueled the polyclonal antibody industry. Polyclonal antibodies have the benefit of being able to recognize several epitopes on a target antigen, allowing them to be employed in a variety of applications ranging from diagnosis to treatment. The growing demand for targeted therapies creates a substantial opportunity for the polyclonal antibody industry. Polyclonal antibodies are immunoglobulins that may attach to many epitopes on a target molecule, making them ideal for targeting complicated proteins and biological pathways. For example, because they specifically target specific cells or proteins, targeted treatments such as monoclonal antibodies have grown in popularity. Polyclonal antibodies, on the other hand, are a feasible alternative for many applications, particularly when several targets must be identified or the target must be cleared quickly.
Increasingly Popular Growing Methods
Furthermore, in order to maintain their positions in the extremely competitive market, the corporations adopt a range of strategies. Industry leaders in the worldwide polyclonal antibody market use a range of tactics, including collaborations, mergers and acquisitions, and collaboration, which will provide multiple growth prospects for the industry.
Increased Research and Development
CHALLENGES
The cost of research antibodies is extremely high. Low purity and concentration levels of certain polyclonal antibodies are expected to pose a challenge to the polyclonal antibodies market during the forecast period.
IMPACT ANALYSIS
IMPACT OF RUSSIAN UKRAINE WAR
The impact of Ukraine's war on its citizens' physical and mental health, its healthcare system, and the capacity of its medical personnel to provide care, particularly to patients with acute and chronic diseases, in such extreme circumstances following two already challenging pandemic years; and existing health inequalities, which will be exacerbated. While urgent medical supplies and medicines must be purchased and delivered to Ukraine through European and international mechanisms, the long-term effects of the war on its citizens, healthcare system and professionals, biomedical research, and education services should not be underestimated. Support will necessitate careful and consistent attention from all biomedical stakeholders and policymakers, as well as proper and targeted resources. Last but not least, given the potential damage to present and historical nuclear reactors, the possibility of radioactive material discharge and, as a result, a One Health disaster is of the utmost concern.
IMPACT OF ONGOING RECESSION
The severity of the Great Recession in the United States in order to quantify its impact on health and investigate the implications for the welfare repercussions of recessions. The recession reduced the annual age-adjusted death rate by 2.3 percent on average, with the benefits lasting at least ten years. The impacts are seen across demographic groups and causes of death, with the elderly accounting for around three-quarters of total mortality reduction. Incorporating estimates of recession-induced mortality drops into the usual analysis of the welfare cost of recession-induced consumption shifts reduces the indicated welfare cost of the Great Recession significantly, especially at older ages when it may have even been welfare-improving.
KEY SEGMENTS
By Product
Primary Antibodies
Secondary Antibodies
In 2022, Secondary antibodies segment is accounted the largest market share of over 56.3% during the forecast period. Secondary antibodies bind to primary antibodies generated against the target antigen and increase the signal via ELISA, Western blotting, and immunohistochemistry. Furthermore, secondary Abs are often created by immunizing host animals such as rabbits, goats, or mice with the primary antibody's immunoglobulin (Ig). As a result, polyclonal secondary Abs that identify several epitopes on primary Abs are produced, enhancing the sensitivity and specificity of the assay.
By Source
Rabbits
Goats
Sheep
Mouse
Others
In 2022, Rabbits segment is accounted the largest market share of over 50.8% during the forecast period, owing to the fast immunological response to tiny compounds, haptens, and post-translational changes. Furthermore, rabbit Abs have higher affinity and specificity than other mammals. Rabbit-sourced antibodies (Abs) are highly selective Abs capable of binding to a variety of proteins in the picomolar range. Abs derived from rabbits are highly specific and have an enhanced immunologic response, allowing for better disease detection during diagnosis. In February 2023, for example, Roche announced the release of two novel Abs (the Rabbit Monoclonal Primary Antibody and the ATRX Rabbit Polyclonal Antibody) that will be used to identify the mutant gene in patients with brain cancer.
By Application
Biomedical Research
Diagnostics
In 2022, Diagnostics segment is accounted the largest market share of over 59.9% during the forecast period, due to their capacity to recognize the epitopes of targeted molecules, pAbs are regarded as a suitable reagent in hemagglutination reactions and diagnostic assays. Furthermore, pAbs are less expensive to create than mAbs since they can be made by immunizing animals such as rabbits, goats, or mice with the target antigen, which would stimulate a polyclonal antibody response. Furthermore, because polyclonal antibodies can identify several epitopes on the targeted antigen, they are less prone to create false negatives in applications such as ELISA, Western Blot, and many others.
By End User
Pharmaceutical & Biotechnology Companies
Hospitals & Diagnostic Centers
Academic & Research Center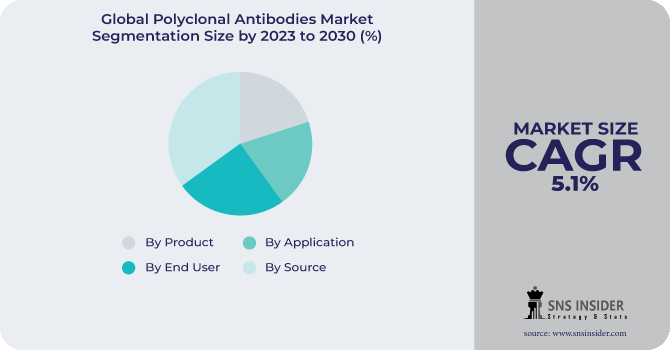 In 2022, Hospitals & Diagnostic Centers segment is accounted the largest market share of over 60.1% during the forecast period, due to the demand for hospitals and diagnostic centers is expected to rise during the projected period due to the increased frequency of chronic and infectious diseases, rising cancer cases, and rising demand for pAbs-based tests in diagnostic centers. Furthermore, increased investments in hospitals and diagnostic facilities are likely to drive segment expansion.
REGIONAL ANALYSES
North America held a significant market share of over 38.8% in 2022 owing to the presence of a significant number of biotechnology and pharmaceutical businesses, modern technology and infrastructure, a strong focus on innovation, a tight regulatory environment, and a well-developed healthcare system all contribute to this large market share.
Asia Pacific is witness to expand fastest market share of 9.8% during the forecast due to rising chronic illness incidence, increased desire for personalized treatment, increased R&D investments, and developments in healthcare infrastructure in countries such as India, China, and South Korea. As a result, the Asia Pacific region's pAbs market is predicted to expand rapidly during the forecast period.
REGIONAL COVERAGE
North America
Europe
Eastern Europe

Poland
Romania
Hungary
Turkey
Rest of Eastern Europe

Western Europe

Germany
France
UK
Italy
Spain
Netherlands
Switzerland
Austria
Rest of Western Europe
Asia Pacific
China
India
Japan
South Korea
Vietnam
Singapore
Australia
Rest of Asia Pacific
Middle East & Africa
Middle East

UAE
Egypt
Saudi Arabia
Qatar
Rest of Middle East

Africa

Nigeria
South Africa
Rest of Africa
Latin America
Brazil
Argentina
Colombia
Rest of Latin America
Key Players
The major key players are Thermo Fisher Scientific Inc., Merck KGaA, Abcam plc., ProteoGenix, Proteintech Group, Inc., Bio-Rad Laboratories Inc., BPS Bioscience, Inc., R&D Systems, Inc., Agilent Technologies, Inc., Atlas Antibodies, Cusabio Technology LLC, Rockland Immunochemicals, Inc., and Others.
Abcam plc-Company Financial Analysis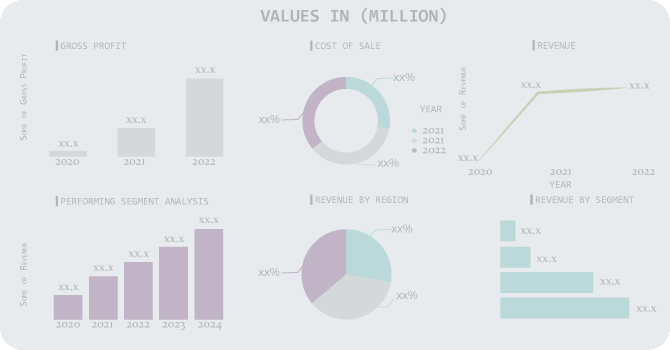 RECENT DEVELOPMENT
in February 2023, Thermo Fisher Scientific announced a contract manufacturing deal with Elektrofi, a biotechnology startup based in the United States, to strengthen production facilities for planned biologic-based therapy clinical trials.
In January 2023, XENOTHERA presented new evidence supporting the need for its glyco-humanized polyclonal antibody (GH-pAb) XAV-19 to be used to treat patients during the disease's initial viral phase.
In December 2022, Merck and Kelun-Biotech announced the development of seven exploratory preclinical antibody-drug conjugates (ADC) for cancer treatment as a result of an exclusive license and partnership agreement between the companies.
In December 2021, Atlas Antibodies has announced the availability of 1,200 new Triple-A Polyclonals, fully verified antibodies for cell and tissue investigation. These innovative solutions address study fields such as cancer, cell biology, immunology, metabolism, neuroscience, transcriptional regulation, and stem cells and developmental biology.
Polyclonal Antibodies Market Report Scope:

| | |
| --- | --- |
| Report Attributes | Details |
| Market Size in 2022 | US$ 1.7 billion |
| Market Size by 2030 | US$ 2.5 billion |
| CAGR | CAGR of 5.1% From 2023 to 2030 |
| Base Year | 2022 |
| Forecast Period | 2023-2030 |
| Historical Data | 2019-2021 |
| Report Scope & Coverage | Market Size, Segments Analysis, Competitive Landscape, Regional Analysis, DROC & SWOT Analysis, Forecast Outlook |
| Key Segments | Polyclonal Antibodies Market Size, Share and Segmentation, By Product (Primary Antibodies, Secondary Antibodies), By Source (Rabbits, Goats, Sheep, Mouse, Others), By Application (Biomedical Research, Diagnostics), By End User (Pharmaceutical & Biotechnology Companies, Hospitals & Diagnostic Centers, Academic & Research Center) |
| Regional Analysis/Coverage | North America (US, Canada, Mexico), Europe (Eastern Europe [Poland, Romania, Hungary, Turkey, Rest of Eastern Europe] Western Europe] Germany, France, UK, Italy, Spain, Netherlands, Switzerland, Austria, Rest of Western Europe]), Asia Pacific (China, India, Japan, South Korea, Vietnam, Singapore, Australia, Rest of Asia Pacific), Middle East & Africa (Middle East [UAE, Egypt, Saudi Arabia, Qatar, Rest of Middle East], Africa [Nigeria, South Africa, Rest of Africa], Latin America (Brazil, Argentina, Colombia Rest of Latin America) |
| Company Profiles | Thermo Fisher Scientific Inc., Merck KGaA, Abcam plc., ProteoGenix, Proteintech Group, Inc., Bio-Rad Laboratories Inc., BPS Bioscience, Inc., R&D Systems, Inc., Agilent Technologies, Inc., Atlas Antibodies, Cusabio Technology LLC, Rockland Immunochemicals, Inc. |
| Key Drivers | •Diseases are becoming more prevalent |
| Market Opportunities | •Increasing demand for targeted therapies • Increased Research and Development |