REPORT SCOPE & OVERVIEW
The Immunohistochemistry Market size was estimated USD 2.4 billion in 2022 and is expected to reach USD 3.7 billion by 2030 at a CAGR of 5.9% during the forecast period of 2023-2030.
Immunohistochemistry is a microscopy technique for identifying antigens and macromolecular cellular components. It necessitates visualizing the presence and distribution of the target protein in diverse cell types, biological cycles, and even subcellular localization inside complex tissues.
The aging population will promote market revenue growth. The world's senior population is predicted to reach 1.6 billion by 2050, according to the United Nations (UN). As people age, cancer, cardiovascular disease, and neurological diseases become more common, demanding precise diagnosis and individualized care. The widespread application of immunohistochemistry techniques in the research and diagnosis of numerous diseases raises the demand for immunohistochemistry reagents and kits.
MARKET DYNAMICS
DRIVERS
The growing trend of automation of diagnostic laboratory operations throughout major healthcare markets, digital pathology systems are increasingly being used by healthcare practitioners all over the world. Digital immunohistochemistry (IHC) combines traditional IHC staining with digital imaging and analysis tools, allowing stained tissue slides to be converted into electronic images that can be accessed, analyzed, and stored remotely, eliminating the need for physical slides and enabling efficient collaboration among pathologists and researchers. The benefits of digital pathology application in IHC are that it eliminates physical slide handling and storage, allows for remote collaboration among pathologists for case sharing and second opinions, enables objective and standardized quantitative analysis of staining, and allows for efficient archiving and integration of digital images with other data for comprehensive analysis and research.
RESTRAIN
Immunohistochemistry is a popular technique in pathology for identifying proteins or antigens in tissue samples. There are other advanced technologies available for diagnostic and research reasons, some of them are as follows, RNA sequencing: RNA sequencing, also known as transcriptome sequencing, is a method for evaluating gene expression that is different from immunohistochemistry (HC). It entails figuring out the sequence and quantity of RNA molecules in the cell. Researchers can get data known as the transcriptome by sequencing the RNA, which provides insights into the activity of all genes within the cell. RNA sequencing enables a thorough examination of gene expression profiles without the limitations associated with immunohistochemistry.
OPPORTUNITY
Companion diagnostics are tests or assays that help healthcare providers in making treatment decisions for patients based on the best response to therapy. The co-development of companion diagnostics with therapeutic goods has the potential to radically modify the drug development process and commercialize drug candidates by promptly and cost-effectively producing safer medications with better therapeutic efficacy. The market for companion diagnostics has a strong development potential due to an increase in demand for high-priced specialist therapies and safer medications. The increasing importance of companion diagnostics is also giving prospects for growth in the diagnostics segment, and in turn the immunohistochemistry market.
CHALLENGES
The present FDA approval process for tissue diagnostic equipment and consumables is time-consuming and complicated. This is a significant barrier for businesses when it comes to releasing new and creative products. Some tissue diagnostic products are classified as Class III (by the FDA) and require Premarket Approval (PMA) before they may be effectively sold. PMA is the most demanding marketing application, evaluating the safety and effectiveness of products.
IMPACT OF RUSSIAN UKRAINE WAR
In response to the ongoing conflict in Ukraine, Agilent Technologies, Inc. suspended sanctions-prohibited sales, halted product shipment to Russia with the exception of diagnostics and healthcare products, and limited our in-country service to those diagnostics and healthcare customers at the beginning of March. As a result, corporations discontinued substantial operations within Russia on May 23, 2022, and as a result, they recorded an inconsequential expense connected with the cessation of operations for the three months ended April 30, 2022. For the fiscal year ending October 31, 2022, sales from Russian clients comprised a negligible portion of our total revenue.
IMPACT OF ONGOING RECESSION
Despite navigating a challenging climate typified by supply chain and logistics pressures, high inflation, and a COVID-related closure in China in 2022, we were able to generate good results. In 2022, Agilent's net revenue of $6,848 million increased by 8% over the previous fiscal year. When compared to 2021, foreign currency changes had a 4% negative impact on sales growth in 2022. Net sales increased in all business categories, geographic regions, and the majority of key end markets. Revenue in the life sciences and applied markets business climbed by 9% in 2022. Foreign currency movements had a net negative impact on sales growth of 4% points in 2022. Diagnostics and genomics revenue increased by 7% in 2022.
KEY SEGMENTS
By Product
Antibodies

Primary Antibodies

Secondary Antibodies

Equipment

Reagents

Histological stains

Blocking Sera & Reagents

Chromogenic Substrates

Fixation Reagents

Organic Solvents

Proteolytic Enzymes

Diluents

Other Reagents

Kits
In 2022, Antibodies segment is expected to held the highest market share of 41.1% during the forecast period due to the antibodies are so important in illness detection and drug testing. In terms of utilization rate, monoclonal antibodies and antibody-related goods such as Fc-fusion, antibody fragments, and antibody-drug conjugates have become the dominant product class. The antibodies are used in a variety of applications, including pathology, neuropathology, and hematopathology.
By Application
Diagnostics

Cancer

Infectious Diseases

Cardiovascular Diseases

Autoimmune Diseases

Diabetes Mellitus

Research
In 2022, the Diagnostics segment is expected to dominate the market growth of 69.2% during the forecast period. Immunohistochemistry (IHC) tests are commonly used to diagnose a variety of chronic disorders, including cancer, cardiovascular disease, infectious disease, diabetes mellitus, autoimmune diseases, and nephrological diseases. Furthermore, the rising prevalence of chronic disorders is expected to fuel the diagnostics segment.
By End User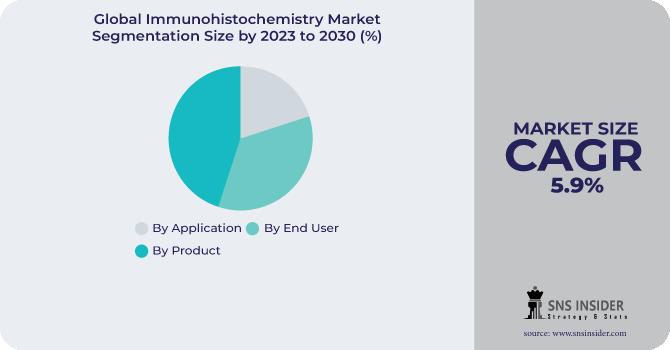 In 2022, Pharmaceutical and Biotechnology Companies segment is expected to dominate the market growth of 57.6% during the forecast period owing to the serum-free medium is one of the key drivers of bio production, it can have a significant impact on viability and cell proliferation, as well as increase protein quality and production. Furthermore, the biopharmaceutical industry is expanding rapidly, not only as a result of the introduction of new therapies, but also as a result of the development of biosimilars or generics.
REGIONAL ANALYSES
North America held a significant market share growing with a CAGR of 38.4% in 2022 due to the presence of key market participants, easy availability of IHC solutions, increasing use of technologically advanced IHC equipment, and introduction of newer IHC solutions. PathAI, a U.S.-based developer of AI-powered technology for pathological applications, for example, in June 2022, demonstrated a machine learning-based quality control tool built for HER2 testing in breast cancer at the American Society of Clinical Oncology virtual scientific program 2022.
Asia-Pacific is witness to expand fastest CAGR rate during the forecast period due to the expansion of the geographic footprint of the global players in the Asian markets. Furthermore, a large patient pool in countries such as India and China provides a large number of clinical subjects to carry out IHC R&D assays, resulting in revenue growth.
REGIONAL COVERAGE
North America
Europe
Eastern Europe

Poland

Romania

Hungary

Turkey

Rest of Eastern Europe

Western Europe

Germany

France

UK

Italy

Spain

Netherlands

Switzerland

Austria

Rest of Western Europe
Asia Pacific
China

India

Japan

South Korea

Vietnam

Singapore

Australia

Rest of Asia Pacific
Middle East & Africa
Middle East

UAE

Egypt

Saudi Arabia

Qatar

Rest of Middle East

Africa

Nigeria

South Africa

Rest of Africa
Latin America
Brazil

Argentina

Colombia

Rest of Latin America
Key Players
The major key players are Thermo Fisher Scientific Inc., F. Hoffmann-La Roche Ltd., Merck KGaA, Danaher Corporation, Perkinelmer, Inc., Bio-Rad Laboratories, Inc., Cell Signaling Technology, Inc., Bio SB, Agilent Technologies, Inc., Abcam plc., and Others.
RECENT DEVELOPMENT
Danaher Corporation (US), in April 2023, Danaher Corporation (US), through its subsidiary Leica Biosystems, has acquired FDA approval for the BOND MMR Antibody Panel for the diagnosis of colorectal cancer.
F. Hoffman-La Roche AG (Switzerland), in February 2023, F. Hoffman-La Roche AG (Switzerland) has introduced the IDH1 R132H (MRQ-67) Rabbit Monoclonal Antibody and the ATRX Rabbit Polyclonal Antibody for use in the BenchMark range of brain cancer detection instruments.
Agilent Technologies, Inc. (US), in January 2023, Agilent Technologies, Inc. (US) has entered into a collaboration agreement with Akoya Biosciences to develop chromogenic and immunofluorescent multiplex tests. These assays will be utilized to develop diagnostic immunohistochemistry solutions.
Immunohistochemistry Market Report Scope:
Report Attributes
Details
Market Size in 2022
US$ 2.4 Billion
Market Size by 2030
US$ 3.7 Billion
CAGR
CAGR of 5.9 % From 2023 to 2030
Base Year
2022
Forecast Period
2023-2030
Historical Data
2019-2021
Report Scope & Coverage
Market Size, Segments Analysis, Competitive Landscape, Regional Analysis, DROC & SWOT Analysis, Forecast Outlook
Key Segments
• By Product (Antibodies, Equipment, Reagents, Kits)
• By Application (Diagnostics, Research)
• By End User (Hospitals & Diagnostic Laboratories, Research Institutes, Others)
Regional Analysis/Coverage
North America (US, Canada, Mexico), Europe (Eastern Europe [Poland, Romania, Hungary, Turkey, Rest of Eastern Europe] Western Europe] Germany, France, UK, Italy, Spain, Netherlands, Switzerland, Austria, Rest of Western Europe]), Asia Pacific (China, India, Japan, South Korea, Vietnam, Singapore, Australia, Rest of Asia Pacific), Middle East & Africa (Middle East [UAE, Egypt, Saudi Arabia, Qatar, Rest of Middle East], Africa [Nigeria, South Africa, Rest of Africa], Latin America (Brazil, Argentina, Colombia Rest of Latin America)
Company Profiles
Thermo Fisher Scientific Inc., F. Hoffmann-La Roche Ltd., Merck KGaA, Danaher Corporation, Perkinelmer, Inc., Bio-Rad Laboratories, Inc., Cell Signaling Technology, Inc., Bio SB, Agilent Technologies, Inc., Abcam plc.
Key Drivers
• Adoption of digital pathology boosting market growth
Market Opportunity
• Increasing significance of companion diagnostics