Report Scope & Overview:
The Position Sensors Market size was valued at USD 5.6 billion in 2022. It is expected to hit USD 11.08 billion by 2030 and grow at a CAGR of 8.9% over the forecast period of 2023-2030.
The position sensors market refers to the industry that deals with the production and distribution of sensors used to detect and measure the position of objects. These sensors play a crucial role in various applications, including automotive, aerospace, industrial automation, and consumer electronics. Position sensors are designed to accurately determine the position of an object in relation to its surroundings. They provide valuable data that is used for control, monitoring, and feedback purposes. These sensors can measure linear or angular displacement, and they come in different types such as potentiometers, encoders, and magnetic sensors.
In recent years, the position sensors market has witnessed significant growth due to the increasing demand for automation and the need for precise position detection in various industries. The automotive sector, in particular, has been a major driver of this market, as position sensors are widely used in vehicle navigation systems, engine control units, and advanced driver assistance systems. Furthermore, the aerospace industry has also contributed to the growth of the position sensors market. These sensors are crucial in aircraft navigation systems, flight control systems, and landing gear position detection. The demand for position sensors in the aerospace sector is expected to increase further with the rise in air travel and the development of unmanned aerial vehicles.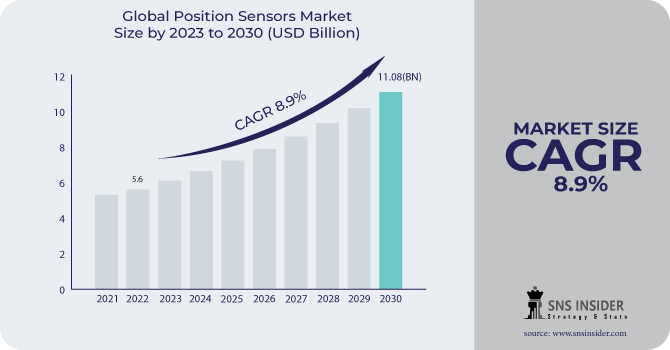 In the industrial automation sector, position sensors are used in robotics, machine tools, and assembly lines to ensure accurate positioning and movement control. These sensors enable precise control of robotic arms, conveyor belts, and other automated systems, leading to improved efficiency and productivity. The consumer electronics industry is another significant market for position sensors. These sensors are used in smartphones, gaming consoles, and virtual reality devices to enable motion detection and gesture recognition. With the growing popularity of virtual reality and augmented reality technologies, the demand for position sensors in the consumer electronics sector is expected to rise.
Market Dynamics:
Drivers
Proliferation of Internet of Things (IoT) devices

Growing adoption of automation across various industries
The rising adoption of automation in various industries has emerged as a driving factor for the market's expansion. In industries such as manufacturing, automotive, aerospace, and robotics, position sensors are utilized in a wide range of applications. For instance, in manufacturing plants, position sensors are used to monitor the movement of robotic arms, ensuring precise positioning and accurate assembly of components. In the automotive sector, these sensors are employed in advanced driver-assistance systems (ADAS) to enable features like lane-keeping assistance and adaptive cruise control. The benefits of automation, coupled with the increasing demand for advanced technologies, have fueled the growth of the position sensor market. As industries continue to embrace automation to stay competitive in the global market, the demand for position sensors is expected to witness a steady rise.
Restrain
High Cost associated with Advanced Sensors

Complex Installation and Integration
Opportunities
The healthcare industry is experiencing a growing reliance on position sensors for various critical applications, including patient monitoring, surgical robotics, and prosthetics. This expanding sector within healthcare presents substantial opportunities for the position sensors market to meet these specialized requirements. Position sensors have become an integral part of patient monitoring systems, enabling healthcare professionals to accurately track and assess patients' movements and positions. By providing real-time data on patient positioning, these sensors enhance the quality of care and contribute to improved patient outcomes.
In the realm of surgical robotics, position sensors play a crucial role in enabling precise and controlled movements of robotic arms and instruments. These sensors provide the necessary feedback to ensure accurate positioning during complex surgical procedures, reducing the risk of errors and enhancing surgical precision. Moreover, position sensors are revolutionizing the field of prosthetics by enabling advanced functionality and improved user experience. By accurately detecting the position and movement of prosthetic limbs, these sensors allow for more natural and intuitive control, empowering individuals with limb loss to regain mobility and independence.
Challenges
Fluctuations in currency exchange rates, trade policies, and political instability can disrupt supply chains, increase manufacturing costs, and affect market demand.
Customers now seek sensors that are not only accurate and reliable but also compact, energy-efficient, and compatible with various applications. Meeting these demands requires companies to invest in research and development to create sensors that align with the latest industry trends.
Impact of Russia-Ukraine War:
The position sensors market, which plays a crucial role in various industries such as automotive, aerospace, and manufacturing, has experienced both positive and negative effects due to the Russia-Ukraine war. The conflict has disrupted the supply chain of position sensors, leading to delays in production and delivery. Many position sensor manufacturers rely on components and raw materials sourced from the affected regions, causing a shortage in the market. This scarcity has resulted in increased prices and reduced availability, affecting businesses that depend on these sensors for their operations. To mitigate supply chain disruptions, many companies have shifted their manufacturing operations to alternative regions. This relocation has led to increased production costs and logistical challenges. Additionally, the quality and reliability of position sensors from these new manufacturing hubs may vary, impacting the overall market reputation.
The Russia-Ukraine war has created a surge in demand for position sensors due to the increased need for advanced monitoring and surveillance systems. As both countries strive to enhance their military capabilities, the demand for accurate and reliable position sensors has increased. The Russia-Ukraine war has also opened up new avenues for international collaboration and partnerships. As countries seek to support Ukraine in its defense efforts, there has been an increase in joint ventures and strategic alliances between domestic and foreign companies. This exchange of expertise and resources has further propelled the growth of the position sensor market, creating a mutually beneficial environment for all stakeholders involved.
Impact of Recession:
The recession leads to a decline in demand and sales of position sensors. As businesses faced financial constraints, they reduced their investments in new technologies, including position sensors. This reduction in demand has resulted in a decrease in market growth and profitability for manufacturers. The decrease in demand has forced them to reassess their production capacities and reduce their workforce. This has led to downsizing and layoffs, causing significant disruptions within the industry. Moreover, the recession has also affected the supply chain of position sensors. As manufacturers faced financial difficulties, they struggled to source raw materials and components, resulting in delays in production and delivery. This has further impacted the market, as customers have become dissatisfied with delayed orders and turned to alternative suppliers.
Market segmentation
By Technology
Photoelectric

Rotary

Linear

Proximity

Others
By Output
Analog Output

Digital Output
By Contact Type
Contact Type

Non-Contact Type
By Application
Robotics

Machine Tools

Material Handling

Test Equipment

Motion Systems

Others
By End-use Industry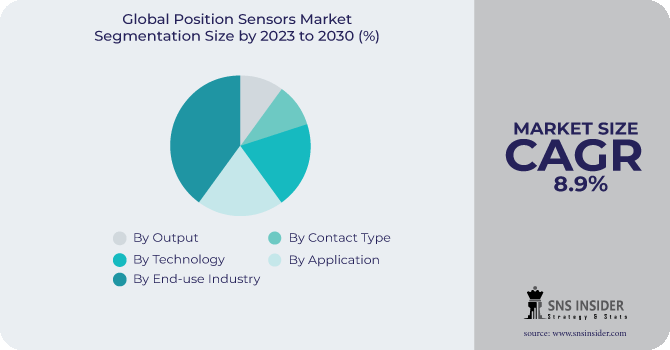 Regional Analysis
Europe dominated the position sensor market in 2022. The major reason behind this dominance is the use of position sensors in the military and aerospace industry due to the Russia-Ukraine war. Europe's emphasis on quality and precision has played a pivotal role in its market dominance. European position sensor manufacturers adhere to stringent quality standards and have established a reputation for delivering products of exceptional accuracy and durability. Another factor contributing to Europe's success is its well-established network of industry collaborations and partnerships. European companies actively engage in collaborations with research institutions, universities, and other industry players. This collaborative approach facilitates knowledge sharing, fosters innovation, and accelerates the development of cutting-edge position sensor technologies.
The position sensor market in the Asia Pacific region is anticipated to grow with the highest CAGR during the forecast period owing to the rapidly expanding industrial sector, which is driving the demand for position sensors across various industries such as automotive, manufacturing, and aerospace. Furthermore, the region's increasing population and rising disposable income levels are propelling the demand for consumer electronics, thereby augmenting the need for position sensors in these devices. Additionally, the growing adoption of automation and robotics in industries across the Asia Pacific region is further fueling the demand for position sensors, as these sensors play a crucial role in ensuring precise and accurate positioning of robotic systems.
Moreover, governments in countries like China, India, and Japan are actively promoting the development of smart cities and infrastructure projects, which require advanced position-sensing technologies. This, in turn, is expected to drive the demand for position sensors in the construction and infrastructure sectors.
REGIONAL COVERAGE:
North America
Europe
Eastern Europe

Poland

Romania

Hungary

Turkey

Rest of Eastern Europe

Western Europe

Germany

France

UK

Italy

Spain

Netherlands

Switzerland

Austria

Rest of Western Europe
Asia Pacific
China

India

Japan

South Korea

Vietnam

Singapore

Australia

Rest of Asia Pacific
Middle East & Africa
Middle East

UAE

Egypt

Saudi Arabia

Qatar

Rest of Middle East

Africa

Nigeria

South Africa

Rest of Africa
Latin America
Brazil

Argentina

Colombia

Rest of Latin America
Key Players
The major key players are ams AG, TE Connectivity, Honeywell International Inc., SICK AG, STMicroelectronics, Vishay Technologies Inc., Infineon Technologies AG, MTS Systems, Allegro Microsystem, Egis Technology, Apple Inc., Bourns, Touch Biometrix, Synaptics, Q Technology, and other key players mentioned in the final report.
Recent Development:
In Feb 2023, TE, a leader in connectors and sensors, collaborated with Preddio, a manufacturer of user-friendly remote monitoring solutions for condition-based maintenance and operational productivity gains. This partnership allows industrial and commercial facilities of all sizes to easily and affordably implement and enjoy the benefits of condition monitoring.

In July 2023, STMicroelectronics unveiled their latest innovation, the FlightSense™ multi-zone distance sensor, which boasts a camera-like field of view.

In April 2022, Vishay Intertechnology, Inc. introduced a miniature position sensor with a compact 12.7 mm outer diameter. This sensor surpasses its competitors in terms of accuracy and resolution, while also offering enhanced reliability and durability for the demanding operating environments of military and industrial applications.

In Nov 2022, Infineon Technologies AG expanded its sensor portfolio for automotive applications by introducing the new XENSIV™ TLE4971 family.

In June 2022, Allegro MicroSystems, Inc. made an exciting announcement at the Sensors Converge Conference in San Jose, CA. They introduced their latest innovations, the A33110 and A33115 magnetic position sensors.
Position Sensors Market Report Scope:
Report Attributes
Details
Market Size in 2022
US$ 5.6 Bn
Market Size by 2030
US$ 11.08 Bn
CAGR
CAGR of 8.9% From 2023 to 2030
Base Year
2022
Forecast Period
2023-2030
Historical Data
2020-2021
Report Scope & Coverage
Market Size, Segments Analysis, Competitive Landscape, Regional Analysis, DROC & SWOT Analysis, Forecast Outlook
Key Segments
• By Technology (Photoelectric, Rotary, Linear, Proximity, and Others)
• By Output (Analog Output and Digital Output)
• By Contact Type (Contact Type and Non-Contact Type)
• By Application (Robotics, Machine Tools, Material Handling, Test Equipment, Motion Systems, Others)
• By End-use Industry (Electronics & Semiconductors, Automotive, Military & Aerospace, Packaging, Healthcare, Manufacturing, Others)
Regional Analysis/Coverage
North America (US, Canada, Mexico), Europe (Eastern Europe [Poland, Romania, Hungary, Turkey, Rest of Eastern Europe] Western Europe] Germany, France, UK, Italy, Spain, Netherlands, Switzerland, Austria, Rest of Western Europe]). Asia Pacific (China, India, Japan, South Korea, Vietnam, Singapore, Australia, Rest of Asia Pacific), Middle East & Africa (Middle East [UAE, Egypt, Saudi Arabia, Qatar, Rest of Middle East], Africa [Nigeria, South Africa, Rest of Africa], Latin America (Brazil, Argentina, Colombia Rest of Latin America)
Company Profiles
ams AG, TE Connectivity, Honeywell International Inc., SICK AG, STMicroelectronics, Vishay Technologies Inc., Infineon Technologies AG, MTS Systems, Allegro Microsystem, Egis Technology, Apple Inc., Bourns, Touch Biometrix, Synaptics, Q Technology
Key Drivers
• Proliferation of Internet of Things (IoT) devices
• Growing adoption of automation across various industries
Market Restraints
• High Cost associated with Advanced Sensors
• Complex Installation and Integration