Report Scope & Overview:
The Smart Highways Market size was valued at USD 25.47 billion in 2022. It is estimated to hit USD 95.09 billion by 2030 and grow at a CAGR of 17.9% over the forecast period of 2023-2030.
The smart highways market refers to the growing adoption of advanced technologies in the transportation sector, specifically in the development of intelligent road systems. These systems aim to enhance road safety, reduce traffic congestion, and improve overall transportation efficiency. With the increasing urbanization and population growth, the demand for efficient transportation systems has become a pressing issue. Traditional highways are often plagued with problems such as accidents, traffic jams, and inadequate infrastructure. Smart highways offer a solution to these challenges by integrating cutting-edge technologies into the road infrastructure. One crucial element of smart highways lies in the utilization of sensors and intelligent transportation systems. These sensors are embedded in the road surface and can collect real-time data on traffic flow, weather conditions, and road surface conditions. This data is then analyzed and used to optimize traffic management, provide accurate travel information to drivers, and enable proactive maintenance of the road infrastructure. Furthermore, smart highways incorporate advanced communication systems that enable vehicles to communicate with each other and with the road infrastructure. This allows for the implementation of cooperative systems, such as adaptive traffic signals and dynamic speed limits, which can significantly reduce traffic congestion and improve traffic flow.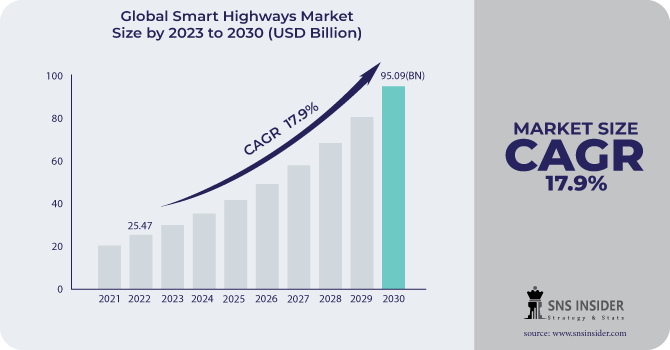 To get more information on Smart Highways Market - Request Sample Report
In addition to improving road safety and reducing congestion, smart highways also have the potential to enhance sustainability in transportation. By optimizing traffic flow and reducing idle time, smart highways can help reduce fuel consumption and greenhouse gas emissions. Furthermore, the integration of renewable energy sources, such as solar panels, into the road infrastructure can generate clean energy to power intelligent systems. The smart highways market is witnessing significant growth due to the increasing investments in infrastructure development and the rising demand for efficient transportation systems. Governments and transportation authorities around the world are recognizing the potential of smart highways to address the challenges of urbanization and improve the quality of life for citizens.
Furthermore, smart highways incorporate renewable energy sources to power their infrastructure. Solar panels are often installed along the roadways, harnessing the sun's energy to generate electricity. This renewable energy can be used to power the lighting systems, sensors, and other intelligent components of the smart highway. By reducing reliance on traditional energy sources, smart highways contribute to a greener and more sustainable transportation system.
Market Dynamics
Drivers
Continuously rising investments in infrastructure development

Rising demand for safer roads

Increasing need for efficient transportation systems
Smart highways offer advanced features such as real-time traffic monitoring, intelligent traffic management, and automated toll collection, which enhance the overall efficiency of transportation networks.
Restrain
Opportunities
By integrating advanced technologies such as sensors, cameras, and intelligent traffic management systems, smart highways can significantly reduce accidents and improve overall traffic flow. This not only benefits individual drivers but also contributes to the greater goal of creating safer and more efficient transportation networks.
Smart highways enable the integration of electric vehicle charging infrastructure, smart parking systems, and renewable energy sources, thus supporting the transition toward greener transportation.
Challenges
As these systems rely on the collection and analysis of vast amounts of data, it is crucial to establish robust cybersecurity measures to protect against potential threats. Additionally, privacy concerns must be addressed to ensure that personal information is handled responsibly and in compliance with relevant regulations.
Impact of Russia-Ukraine War:
The conflict has caused extensive damage to the infrastructure in Ukraine, including its highways. This destruction has hindered the implementation and expansion of smart highways, as the focus has shifted toward rebuilding and repairing the basic road network. For instance, Since Russia's invasion of Ukraine, approximately 30% of the country's transportation infrastructure has suffered varying degrees of damage, ranging from complete destruction to minor impairments. The estimated cost of this devastation amounts to $101.90 billion. This includes the destruction or impairment of seven airports, 144,000 kilometers of roads, 1,242 bridges, and nearly 6,300 kilometers of railways.
The war has led to economic instability in both Russia and Ukraine. This has resulted in reduced investments in technological advancements, including smart highways. Companies and investors are hesitant to allocate resources to such projects amidst the uncertain geopolitical climate. The ongoing conflict has created a sense of political uncertainty in the region. This uncertainty has made it challenging for governments and regulatory bodies to prioritize and allocate funds toward the development of smart highways. Political instability often leads to delays in decision-making processes, further impeding progress in this sector.
Impact of Recession:
During a recession, the Smart Highways Market faces several challenges that hinder its growth and development. Firstly, due to reduced consumer spending, there is a decline in the demand for smart highway technologies. Consumers tend to prioritize essential needs over investments in advanced transportation systems, leading to a decrease in market demand. Moreover, businesses also face financial constraints during a recession, which affects their ability to invest in smart highway infrastructure. With limited resources, companies may postpone or cancel projects related to the development and implementation of smart highways. This further slows down the market growth and innovation in the industry. Furthermore, the Smart Highways Market heavily relies on government funding and support. During a recession, governments often face budget cuts and reduced spending on non-essential projects. As a result, funding for smart highway initiatives may be significantly reduced, impacting the market's expansion and progress.
Key Market segmentation
By Displays
Variable Message Signs

Others
By Technology
Intelligent Transportation Management System

Communication System

Intelligent Management System

Monitoring System

Others
By Service
By Deployments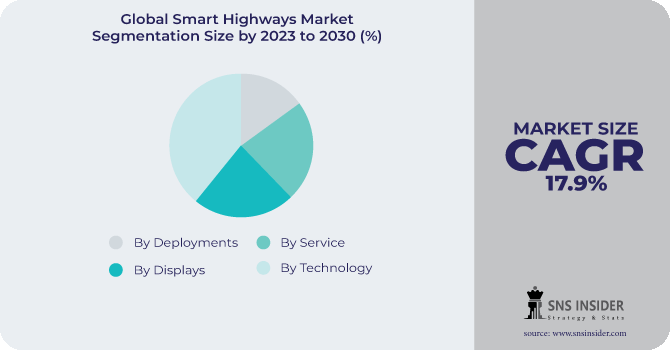 Need any customization research on Smart Highways Market - Enquiry Now
Regional Analysis
North America dominated the Smart Highways Market with the highest revenue share in 2022. One of the key factors driving North America's dominance in the smart highways market is its robust infrastructure. The region boasts a well-developed road network, which serves as a solid foundation for the implementation of smart highway technologies. Additionally, North America has made substantial investments in research and development, fostering innovation and the adoption of cutting-edge solutions. Furthermore, the presence of major players in the technology and automotive sectors has contributed to North America's leadership in this market. The region is home to renowned companies that specialize in smart transportation solutions, including intelligent traffic management systems, connected vehicles, and autonomous driving technologies. These companies have leveraged their expertise and resources to develop and deploy smart highway solutions, giving North America a competitive edge. Moreover, North America's focus on sustainability and environmental consciousness has played a significant role in its dominance. Smart highways offer numerous benefits, such as reduced congestion, improved traffic flow, and lower carbon emissions. These advantages align with North America's commitment to sustainable development and have garnered support from both the public and private sectors.
The Asia-Pacific region is estimated to grow with the highest CAGR of about 18.6% during the forecast period of 2023-2030.
The Asia-Pacific region has witnessed a surge in population and urbanization, leading to an exponential increase in the number of vehicles on the roads. In 2022, an estimated 39.5 million passenger cars were sold in the Asia-Pacific region, including the Middle East, with over 25.6 million sold in China alone. This represents a significant increase compared to the approximately 36.57 million passenger cars sold in the region in 2021. This rapid growth has resulted in numerous challenges, including traffic congestion, accidents, and environmental concerns. To address these issues, governments and transportation authorities in the Asia-Pacific region have recognized the potential of Smart Highways. They have been actively investing in the development and implementation of intelligent transportation systems, such as smart traffic management systems, electronic toll collection, and vehicle-to-infrastructure communication. Furthermore, the region's strong focus on technological advancements and digitalization has created a conducive environment for the growth of the Smart Highways Market. The availability of skilled labor, robust infrastructure, and supportive government policies have attracted both domestic and international players to invest in this sector.
Moreover, the increasing adoption of connected and autonomous vehicles in the Asia-Pacific region has further fueled the demand for Smart Highways. These vehicles rely on advanced technologies, such as sensors, artificial intelligence, and data analytics, to navigate efficiently and safely. Smart Highways provide the necessary infrastructure and communication systems to facilitate the seamless integration of these vehicles into the existing transportation network. Additionally, the Asia-Pacific region boasts a strong manufacturing base for smart transportation technologies. Several prominent companies in this sector, including Huawei, Samsung, and NEC Corporation, have established their presence in the region, contributing to the growth of the Smart Highways Market.
REGIONAL COVERAGE:
North America
Europe
Eastern Europe

Poland

Romania

Hungary

Turkey

Rest of Eastern Europe

Western Europe

Germany

France

UK

Italy

Spain

Netherlands

Switzerland

Austria

Rest of Western Europe
Asia Pacific
China

India

Japan

South Korea

Vietnam

Singapore

Australia

Rest of Asia Pacific
Middle East & Africa
Middle East

UAE

Egypt

Saudi Arabia

Qatar

Rest of Middle East

Africa

Nigeria

South Africa

Rest of Africa
Latin America
Brazil

Argentina

Colombia

Rest of Latin America
Key Players
The major key players are Cisco Systems Inc., Huawei Technologies Co. Ltd., Alcatel-Lucent S.A., Kapsch AG, TrafficCom, IBM, Indra Sistemas S.A., Schneider Electric, Siemens, Xerox Corporation, LG CNS Corporation, and other key players mentioned in the final report.
Huawei Technologies Co. Ltd-Company Financial Analysis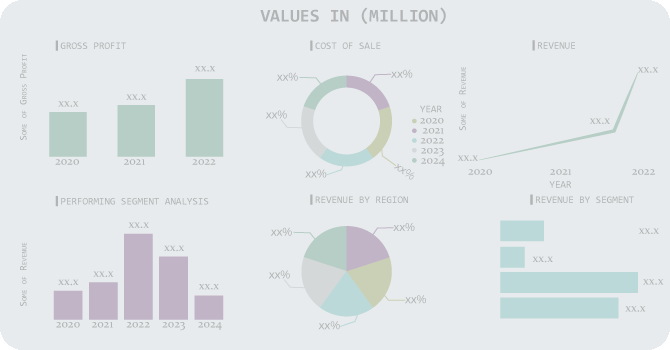 Recent Development:
Smart Highways Market Report Scope:
Report Attributes
Details
Market Size in 2022
US$ 25.47 Bn
Market Size by 2030
US$ 95.09 Bn
CAGR
CAGR of 17.8 % From 2023 to 2030
Base Year
2022
Forecast Period
2023-2030
Historical Data
2020-2021
Report Scope & Coverage
Market Size, Segments Analysis, Competitive Landscape, Regional Analysis, DROC & SWOT Analysis, Forecast Outlook
Key Segments
• By Displays (Variable Message Signs, Digital Signage, and Others)
• By Technology (Intelligent Transportation Management System, Communication System, Intelligent Management System, Monitoring System, and Others)
• By Service (Managed Service, Consultancy Service, and Maintenance and Operation Service)
• By Deployments (On-Cloud and On-Premises)
Regional Analysis/Coverage
North America (US, Canada, Mexico), Europe (Eastern Europe [Poland, Romania, Hungary, Turkey, Rest of Eastern Europe] Western Europe] Germany, France, UK, Italy, Spain, Netherlands, Switzerland, Austria, Rest of Western Europe]). Asia Pacific (China, India, Japan, South Korea, Vietnam, Singapore, Australia, Rest of Asia Pacific), Middle East & Africa (Middle East [UAE, Egypt, Saudi Arabia, Qatar, Rest of Middle East], Africa [Nigeria, South Africa, Rest of Africa], Latin America (Brazil, Argentina, Colombia Rest of Latin America)
Company Profiles
Cisco Systems Inc., Huawei Technologies Co. Ltd., Alcatel-Lucent S.A., Kapsch AG, TrafficCom, IBM, Indra Sistemas S.A., Schneider Electric, Siemens, Xerox Corporation, LG CNS Corporation
Key Drivers
• Continuously rising investments in infrastructure development
• Rising demand for safer roads
• Increasing need for efficient transportation systems
Market Restraints
• High initial investment required for implementing smart highway infrastructure