Report Scope & Overview :
Spirometer Market size is valued at USD 1 Bn in 2022 and is expected to reach USD 2.16 Bn by 2030, and grow at a CAGR of 10.15% over the forecast period of 2023-2030.
A spirometer is a medical tool used to assess respiratory health and measure lung function. It is frequently used to evaluate lung function, airflow, and the overall effectiveness of the respiratory system in clinics, hospitals, and research settings. A diagnostic procedure called spirometry gives accurate measures of lung contents and airflow. Spirometry is primarily used to detect and track lung disorders such chronic obstructive pulmonary disease (COPD), asthma, and other lung conditions. Additionally, it is used to gauge how well therapy regimens are working and chart the evolution of respiratory disorders over time. A person does a spirometry test by breathing into a spirometer, which records several respiratory function characteristics. Spirometry's most significant measurements are Forced Vital Capacity (FVC): The most air that can be forcibly exhaled by a person obeying a deep breath. The amount of air forcedly expelled in the first second of the forced vital capacity test is known as the forced expiratory volume in one second (FEV1). The proportion of the FVC exhaled in the first second is known as the FEV1/FVC ratio. These metrics assist medical experts in evaluating lung function and identifying any airflow obstructions or limitations. The patient's peak expiratory flow rate (PEFR), which measures the greatest airflow attained during forced exhalation, is one example of the additional information that spirometry can offer.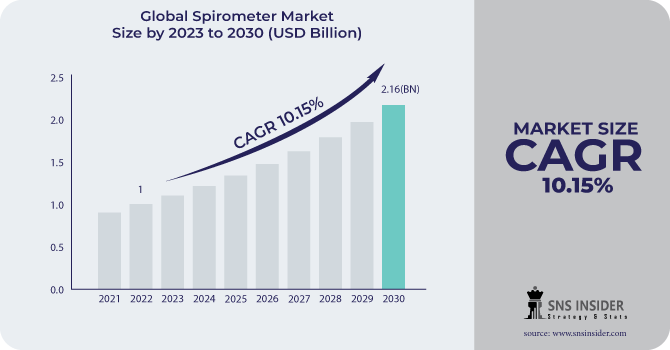 Market Dynamics :
Driver
The spirometer driver software or device normally offers an interface for directing the user through the spirometry testing procedure, collecting, and processing the data from the patient's breathing manoeuvres, and producing pertinent measurements and graphical representations.
Restrain
Spirometry is a non-invasive treatment in which the patient voluntarily engages in a series of breathing manoeuvres designed to assess various aspects of lung function. Take a deep breath in and aggressively exhale into the spirometer as part of these techniques. In order to get reliable findings, the patient is typically urged to put out their best effort and cooperation during the manoeuvres.
Opportunity
Monitoring and Diagnosis: Spirometry gives medical practitioners the chance to precisely identify and keep track of respiratory disorders. Spirometry assists in detecting anomalies in airflow and determining the severity of respiratory disorders like asthma, COPD, and pulmonary fibrosis by measuring lung function parameters like forced vital capacity (FVC) and forced expiratory volume in 1 second (FEV1). The course of the disease and lung function can be continuously monitored with routine spirometry testing.
Challenge
Spirometry results may be impacted by specific patient characteristics. Age, body position, effort, and test comprehension are a few variables that can affect measurements. Some people, especially those with severe respiratory diseases or physical restrictions, may find it difficult to fully perform the necessary breathing manoeuvres. To get accurate and insightful results from spirometry testing, these factors must be considered and properly addressed.
Impact of Russia Ukraine War
Supply chains could be hampered by the conflict, making it difficult to distribute and import medical equipment like spirometers. The acquisition and delivery of spirometry equipment and associated supplies may be hampered by trade disruptions, transportation issues, and infrastructure damage. The war may result in economic instability, which may influence the money and resources available to the healthcare system. Investments in healthcare infrastructure, such as spirometry equipment and training for healthcare personnel, may be curtailed as a result of financial restrictions.
Impact of Recession :
During a recession, healthcare expenditures frequently are cut as governments and organisations try to save money. This may result in spirometer purchases and maintenance having a limited budget. As a result, healthcare organisations might need to set spending priorities and devote fewer funds to getting new spirometry equipment or upgrading their current inventory. Delayed Upgrades and Replacement: Healthcare providers may postpone the acquisition of new spirometers or put off replacing existing versions during difficult economic times. This could result in an outdated inventory of spirometry equipment, which might affect the precision and dependability of measurements. Older technology could be deficient in modern capabilities and enhancements available in newer devices.
Market Segmentation
By Product
By Technology
Volume Measurement

Flow Measurement

Peak Flow Measurement
By Application
Asthma

COPD

Cystic Fibrosis

Pulmonary Fibrosis

Others
By End use
Hospitals and Clinics

Home Healthcare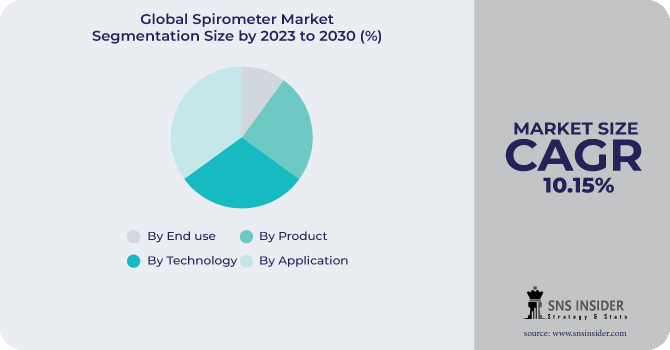 Regional Analysis :
North America is the region with the highest share because of the rising technological advancement and the rising investment in the developed countries regarding the same. Spirometry is frequently employed in therapeutic settings in North America. Spirometry is a tool used by healthcare professionals to diagnose and track respiratory disorders like asthma, COPD, and pulmonary fibrosis. These professionals include primary care doctors, pulmonologists, and respiratory therapists. Spirometry is regarded as a common diagnostic tool for assessing lung function and directing therapeutic choices.
European nations abide by the rules and criteria established by groups like the European Lung Foundation (ELF) and the European Respiratory Society (ERS). These recommendations cover spirometry testing procedures, quality control, equipment calibration, and spirometry result interpretation. Spirometry measurements are standardised and trustworthy when certain rules are followed.
Key Players
Schiller, Smiths Medical, Vyaire Medical, SDI Diagnostics, nSpire Health, Fukuda Sangyo, Sibelmed, Vitalograph, Geratherm Respiratory, Koninklijke Philips, Welch Allyn.
Vyaire Medical​​​​​​​-Company Financial Analysis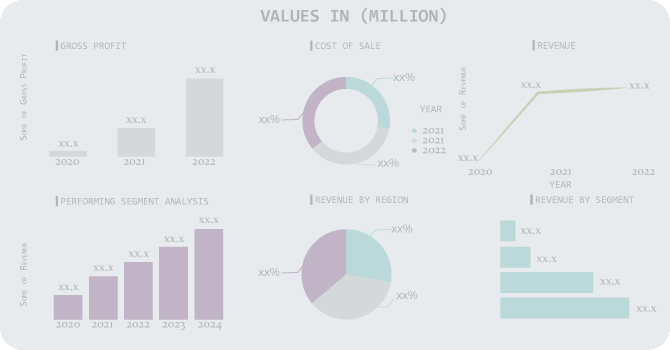 ​​​​​​​
Spirometer Market Report Scope:
Report Attributes
Details
Market Size in 2022
US$ 1 Bn
Market Size by 2030
US$ 2.16 Bn
CAGR
CAGR of 10.15 % From 2023 to 2030
Base Year
2022
Forecast Period
2023-2030
Historical Data
2020-2021
Report Scope & Coverage
Market Size, Segments Analysis, Competitive Landscape, Regional Analysis, DROC & SWOT Analysis, Forecast Outlook
Key Segments
• By Product (Devices, Software, Consumables & Accessories)
• By Technology (Volume Measurement, Flow Measurement, Peak Flow Measurement)
• By Application (Asthma, COPD, Cystic Fibrosis, Pulmonary Fibrosis, Others)
• By End Use (Hospitals and Clinics, Home Healthcare)
Regional Analysis/Coverage
North America (USA, Canada, Mexico), Europe
(Germany, UK, France, Italy, Spain, Netherlands,
Rest of Europe), Asia-Pacific (Japan, South Korea,
China, India, Australia, Rest of Asia-Pacific), The
Middle East & Africa (Israel, UAE, South Africa,
Rest of Middle East & Africa), Latin America (Brazil, Argentina, Rest of Latin America)
Company Profiles
Schiller, Smiths Medical, Vyaire Medical, SDI Diagnostics, nSpire Health, Fukuda Sangyo, Sibelmed, Vitalograph, Geratherm Respiratory, Koninklijke Philips, Welch Allyn.
Key Drivers
• The spirometer driver software or device normally offers an interface for directing the user through the spirometry testing procedure, collecting, and processing the data from the patient's breathing manoeuvres, and producing pertinent measurements and graphical representations.
Market Opportunities
• Monitoring and Diagnosis