Report Scope & Overview:
Tokenization Market is anticipated to develop at a CAGR of 25.1% from 2023 to 2030, from an estimated value of USD 2.31 billion in 2022 to USD 13.85 billion in 2030.
The growing need to ensure a seamless customer experience and maintain high levels of fraud prevention is a significant driver of market revenue growth. Financial frauds are on the rise worldwide, making it crucial for businesses to prioritize these areas. According to a study conducted among more than 5,000 individuals in 98 countries, 46.3% of respondents reported experiencing some form of fraud within a 24-month period. On average, organizations faced six incidents, resulting in a staggering cost of USD 42 billion. These incidents encompassed various types of fraud, including customer fraud, cybercrime, asset theft, and bribery & corruption. Surprisingly, only 54% of respondents stated that their organizations investigated their worst occurrence, and just over a third disclosed it to their boards. This highlights the need for businesses to take a proactive approach to addressing fraud incidents. To safeguard their data and that of their customers, merchants must employ advanced and cutting-edge fraud protection techniques.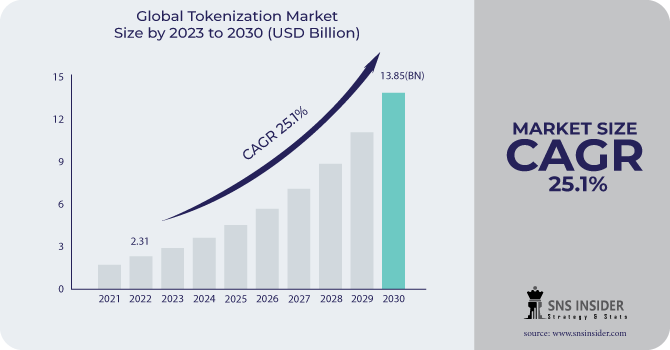 Market Dynamics
Drivers
The surge in both simple and complex digital payments has significantly propelled the growth of the industry.

Reducing the possibility of data breaches through tokenization
Criminals target companies that accept credit and debit cards because the data contained in payments contains a wealth of intelligence. Businesses can effectively mitigate the detrimental financial consequences of data theft by implementing tokenization. This innovative technique ensures that there is no valuable personal data available for malicious individuals to exploit, even in the unfortunate event of a breach. By eliminating the physical storage of credit card details within point-of-sale (POS) terminals and internal systems, credit card tokenization significantly bolsters the security of online businesses' data throughout the entire process, from data capture to storage.
Restrains
Opportunities
Cloud-based tokenization involves the exchange of sensitive data for a non-sensitive placeholder known as a token. The original sensitive data is securely stored outside of the organization's internal systems. This method is not only more affordable and easier to integrate compared to traditional on-premises tokenization, but it also reduces the risk and compliance scope for organizations by removing sensitive data from their data environments.
Challenges
Impact of the Russia-Ukraine
Governments tend to increase their scrutiny of financial markets during times of crisis. Depending on how the Russia-Ukraine conflict unfolds, governments may enact new regulations or restrictions on tokenization and cryptocurrency trading. This could impact the market's ease of use and accessibility. In times of geopolitical uncertainty, some investors turn to cryptocurrencies like Bitcoin as a "safe-haven" asset, similar to gold. If the conflict escalates or if there's a loss of confidence in traditional financial systems, cryptocurrencies might see increased demand. Geopolitical conflicts can lead to heightened cybersecurity risks. Hacking attempts and cyberattacks against cryptocurrency exchanges and tokenization platforms may increase. Security becomes a top concern for both users and service providers. If the conflict affects regions that are home to significant blockchain and cryptocurrency mining operations, there could be disruptions in the supply chain for mining hardware. This might impact the overall network security and the availability of new tokens. Geopolitical conflicts can have far-reaching economic consequences. These can affect overall market sentiment and investment behavior, potentially impacting the tokenization market.
Impact of Recession
In times of economic uncertainty, investors often seek alternative assets that are less correlated with traditional markets like stocks and bonds. Tokenized assets, such as real estate or art, can become more appealing as they offer diversification. This could lead to increased demand for tokenized assets and drive growth in the tokenization market. During a recession, individuals and businesses may face liquidity challenges. Tokenization can provide a way to unlock the value of illiquid assets, like real estate, by dividing them into smaller, more easily tradable tokens. This liquidity enhancement could see increased adoption. On the flip side, if the recession is severe, it could lead to reduced investment in new projects and ventures, including those involving tokenization. Startups and companies looking to tokenize assets may struggle to secure funding, slowing down the growth of the tokenization market. Governments may enact new regulations or amend existing ones in response to economic crises. These regulations could impact the tokenization market by either providing a supportive framework or adding compliance costs and barriers to entry.
Key Market Segmentation
By Component
By Deployment
By Application Area
Payment Security

User Authentication

Compliance Management

Others
By Services
Professional Services

Managed Services
By Technology
By Industry Vertical
BFSI

Healthcare

IT

Government

Retail And E-Commerce

Energy & Utilities

Other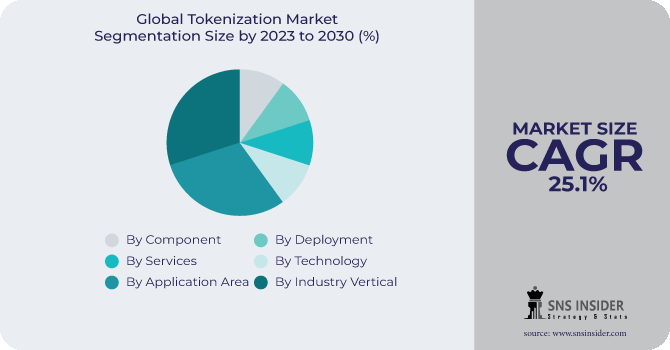 The BFSI sub-segment is projected to have the largest market size in the forecast period. Within the verticals, the Banking, Financial Services, and Insurance (BFSI) sub-segment holds the highest share. This particular vertical is a prime target for cybercriminals due to its involvement with financial transactions. Consequently, the BFSI sector is constantly seeking advanced payment security products and services to safeguard its employees, customers, assets, offices, branches, and operations. As a result, these vertical plays a significant role in driving the growth of the tokenization market.
The on-premises deployment segment dominated the market, accounting for over 61.0% of the total revenue. This segment is highly favored because it allows the entire tokenization process to be carried out on the device itself, without any data being transmitted elsewhere. It is particularly popular in portable devices such as mobile phones. On the other hand, the cloud deployment segment is projected to experience the highest compound annual growth rate (CAGR) of 26.58% during the forecast period. In this deployment segment, the tokenization process necessitates a live connection with the cloud, where token verification is often performed. The surge in cloud-based payments and the handling of sensitive data are driving the growth of this segment. It is important to note that tokenization in this deployment segment requires an active internet connection to establish a link with the cloud.
Regional Analysis
The North American region accounted for the largest revenue share, surpassing 36.0% in 2021. This region has experienced the highest rate of adoption of digital technologies, making it a thriving market. It is worth noting that a significant number of Americans rely on online payment methods for their transactions. Additionally, market trends in North America, such as the emergence of buy now pay later options for cryptocurrencies, have greatly influenced the regional market's growth.
Future growth for the APAC tokenization market is predicted to be significant. One of the world's regions with the quickest growth rates is Asia Pacific. Due to the quick uptake of tokenization technologies, it is anticipated to be the market with the fastest growth. The tokenization business is dominated by China and Japan, two of the region's most technologically proficient nations. Asia Pacific economies are experiencing rapid growth in greater payment innovation, particularly in eCommerce, as a result of rising technology advancements, increasing internet and smartphone usage, and the expanding presence of many firms. For online purchases both within and outside of their own countries, consumers throughout the region employ a variety of payment options. As a result, Asia Pacific businesses are dealing with an increase in demand for secure payment options.
REGIONAL COVERAGE:
Europe
Eastern Europe

Poland

Romania

Hungary

Turkey

Rest of Eastern Europe

Western Europe

Germany

France

UK

Italy

Spain

Netherlands

Switzerland

Austria

Rest of Western Europe
Asia Pacific
China

India

Japan

South Korea

Vietnam

Singapore

Australia

Rest of Asia Pacific
Middle East & Africa
Middle East

UAE

Egypt

Saudi Arabia

Qatar

Rest of Middle East

Africa

Nigeria

South Africa

Rest of Africa
Latin America
Brazil

Argentina

Colombia
Rest of Latin America
Recent development
American Express and Goldman Sachs will work together in October 2021 to offer cloud-based payment solutions to major business clients. American Express would use the Transaction Banking (TxB) technology from Goldman Sachs to offer a variety of payment methods, making B2B transactions for big businesses simpler and more effective.
Leading cryptocurrency intelligence firm CipherTrace was purchased by Mastercard in September 2021. Businesses would have more transparency to assist them spot dangers thanks to CipherTrace's digital assets integrated with Mastercard's cybersecurity solutions.
Voltage SecureData was integrated with Amazon Macie in June 2021 thanks to a partnership between Micro Focus and Amazon Web Services (AWS). Through this integration, AWS customers received automatic risk mitigation, reducing their exposure to breaches and facilitating compliance with data protection laws.
Key Players:
The major players are MasterCard, Inc., CardConnect, Micro Focus International plc, Visa, Inc., TokenEx, American Express Company, Fiserv, Inc., Thales Group, HelpSystems, Lookout, FIS, Futurex, and others in the final report.
Tokenization Market Report Scope
Report Attributes
Details
Market Size in 2022
US$ 2.31 Bn
Market Size by 2030
US$ 13.85 Bn
CAGR
CAGR of 25.1 % From 2023 to 2030
Base Year
2022
Forecast Period
2023-2030
Historical Data
2019-2021
Report Scope & Coverage
Market Size, Segments Analysis, Competitive Landscape, Regional Analysis, DROC & SWOT Analysis, Forecast Outlook
Key Segments
• By Component (Solution, Services)
• By Deployment (Cloud, On-premises)
• By Application Area (Payment Security, User Authentication, Compliance Management, Others)
• By Services (Professional Services, Managed Services)
• By Technology (Application Programming Interface-based, Gateway-based)
• By Industry Vertical (BFSI, Healthcare, IT, Government, Retail and E-Commerce, Energy & Utilities, Other)
Regional Analysis/Coverage
North America (US, Canada, Mexico), Europe (Eastern Europe [Poland, Romania, Hungary, Turkey, Rest of Eastern Europe] Western Europe] Germany, France, UK, Italy, Spain, Netherlands, Switzerland, Austria, Rest of Western Europe]), Asia Pacific (China, India, Japan, South Korea, Vietnam, Singapore, Australia, Rest of Asia Pacific), Middle East & Africa (Middle East [UAE, Egypt, Saudi Arabia, Qatar, Rest of Middle East], Africa [Nigeria, South Africa, Rest of Africa], Latin America (Brazil, Argentina, Colombia Rest of Latin America)
Company Profiles
MasterCard, Inc., CardConnect, Micro Focus International plc, Visa, Inc., TokenEx, American Express Company, Fiserv, Inc., Thales Group, HelpSystems, Lookout, FIS, Futurex
Key Drivers
• The surge in both simple and complex digital payments has significantly propelled the growth of the industry.
• Reducing the possibility of data breaches through tokenization
Market Restraints
• Increasing complexity of tokenization and fraud prevention implementation