Report Scope & Overview:
The Track and Trace Solutions Market Size was valued at USD 3.51 billion in 2022, and is expected to reach USD 14.21 billion by 2030, and grow at a CAGR of 19.1% over the forecast period 2023-2030.
Track and trace solutions deal with the use and distribution of a variety of products, making it easy to find something of interest to current and past locations. Radio frequency identification (RFID) and barcodes are used to track and track solutions to track delivery. Manufacturers of track and track solutions have developed hardware, software, and consulting systems to respond to increased productivity. Companies use a variety of solutions depending on the industries that are the end users. Radio-frequency identification (RFID) and barcodes are two main technologies used to track delivery. Production resources, product lines, case and bulk tracking, shipping, and shipping are all controlled using these software solutions. The companies that make the software spend money on research and development to improve their products. There are many providers, small and large, who offer a variety of tracking and tracking solutions, resulting in heated debate. Track and-trace solutions can help you find weak links in your supply chain, verify individual items and components, track conditions to help prevent product damage, diversion, or damage, and even control your carbon footprint.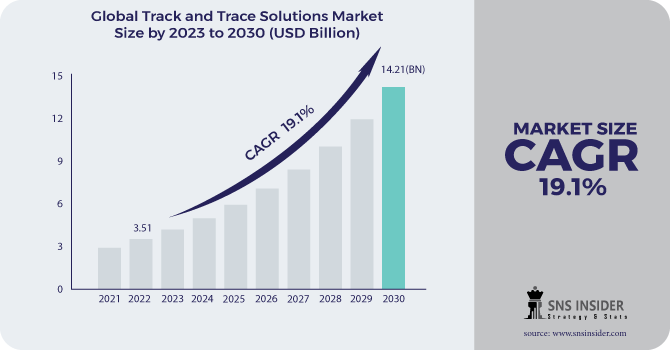 To get more information on Track and Trace Solutions Market - Request Sample Report
MARKET DYNAMICS
DRIVERS
For serialisation to be implemented, strict norms and standards must be followed.

The importance of brand protection is becoming more prominent among manufacturers.

The frequency of product recalls due to packaging is on the rise.

The generic and over-the-counter drug marketplaces are experiencing rapid expansion.

The medical device sector is growing at a rapid pace.
RESTRAINTS
Setup expenditures are enormous.

The performance of serialization and integration has a high cost and a long-time line of use.
OPPORTUNITIES
Innovations in technology

Products can be verified remotely.

The food tracing market is expanding.

Offshore drug production is becoming increasingly popular.
CHALLENGES
Serialization and aggregation have no uniform criteria.

Anti-counterfeiting technology exists.
IMPACT OF COVID-19
The impact of COVID-19 has highlighted the importance of tracking and stopping the health care business in order to effectively employ people, inventory, and assets. The global trade in counterfeit goods has become increasingly dangerous due to the explosion of COVID-19. According to the World Health Organization (WHO), COVID-19 counterfeit medicines are proliferating in developing lands, accompanied by an increase in COVID-19 counterfeit counterfeit medicines.
By Product type
The track and trace solutions market is divided into software, hardware components, and private platforms. Increasing awareness of safe packaging, the growing number of counterfeit medicines and their associated products, and the growing awareness of product protection are all contributing to the growing market. In addition, compliance helps to increase market share.
During the proposed period, the field of private stadiums is expected to grow at a rapid pace. Strict government regulations on the use of serialization codes and UDI codes in the pharmaceutical and pharmaceutical industry, increasing pressure on pharmaceutical companies to acquire the series, and the growing demand for private platforms to reduce network usage all contribute to market growth.
By Application
Serialization solutions, integration solutions, and tracking, tracking, and reporting solutions enable the market for track and tracking solutions. The category of serialization solutions has dominated most of the applications market. The growth of this category is encouraged by the strict rules for the use of serialization solutions in applications and applications.
Due to the growing number of regulations for medical equipment and pharmaceutical products such as DSCSA, UDI, and Medical Device Reporting (MDR), the tracking, tracking, and reporting component is predicted to grow at a faster rate throughout the speculative period.
By Technology Type
Linear barcodes, 2D barcodes, and radiofrequency identification are the three main types of track and trace solutions (RFID). The rising use of 2D barcodes in the packaging industry accounts for a major proportion of the 2D barcodes technology segment. They can store more data and have fewer image size changes than linear barcodes.
Due to increased demand for RFID systems in automated pharmaceutical distribution and medical devices, as well as lower labour costs and enhanced visibility and planning, the RFID segment is predicted over the predicted period, to expand at the quickest pace.
By End User
Pharmaceutical and biopharmaceutical companies, medical equipment companies, the cosmetics industry, and other end users are the four categories that make up the market. Due to the increasing number of counterfeit medicines, part of the pharmaceutical and biopharmaceutical firms dominated the global market for trace and trace solutions.
KEY MARKET SEGMENTATION:
By Product type
Software

Hardware Components

Standalone Platforms
By Application
By Technology type
By End User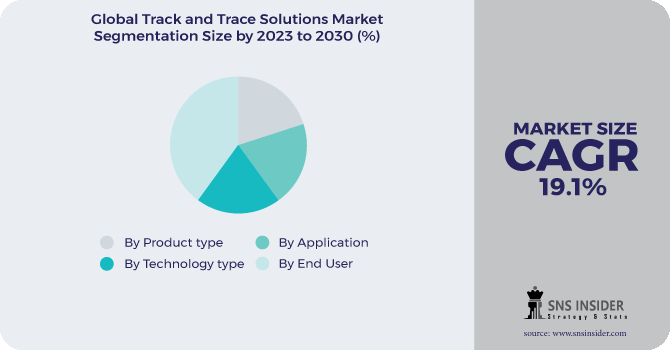 Need any customization research on Track and Trace Solutions Market - Enquiry Now
REGIONAL ANALYSIS
Due to the availability of highly controlled serialization and aggregation requirements, as well as advanced healthcare infrastructure, North America accounted for the biggest revenue share. The FDA advises pharmaceutical companies and other healthcare businesses to use automatic identification technology such as barcoding and RFID. Furthermore, the market is likely to be driven by the United States' highly established healthcare infrastructure and adoption of this technology.
In terms of revenue, Europe surpassed Asia as the second-largest regional market for track and trace systems, and this trend is projected to continue. The existence of established economies in the region, like Germany, Turkey, the United Kingdom, France, and Italy, is responsible for this. To combat medicine counterfeiting and theft, the European Union intends to gradually integrate track and trace technologies throughout the healthcare supply chain. Manufacturers who do not follow drug serialisation standards will be barred from marketing their products in Europe, as per the Falsified Medicines Directive.
REGIONAL COVERAGE:
North America

Europe

Germany

UK

France

Italy

Spain

The Netherlands

Rest of Europe

Asia-Pacific

Japan

south Korea

China

India

Australia

Rest of Asia-Pacific

The Middle East & Africa

Latin America

Brazil

Argentina

Rest of Latin America
KEY PLAYERS:
Some of the major key players are as follows: Axway, ACG Worldwide, Optel Vision, Siemens AG, Antares Vision S.r.l, Mettler-Toledo International, Inc., TraceLink, Inc., Adents, Markem Imaje, Korber AG and Other Players
Anatomic Pathology Track and Trace Solutions Market Report Scope:
Report Attributes
Details
Market Size in 2022
US$ 3.51 Billion
Market Size by 2030
US$ 14.21 Billion
CAGR
CAGR of 10.8% From 2023 to 2030
Base Year
2022
Forecast Period
2023-2030
Historical Data
2020-2021
Report Scope & Coverage
Market Size, Segments Analysis, Competitive Landscape, Regional Analysis, DROC & SWOT Analysis, Forecast Outlook
Key Segments
• By Product (Software, Hardware (Printers and Labeling Systems, Barcode Scanners and RFID Readers, Mobile Computing Systems), Consumables (Barcode Labels and RFID Tags, Slides, Specimen Containers, Tissue Cassettes, and Blocks, Transport Bags)
• By Technology (Barcode, RFID)
• By Application (Slides Tracking, Tissue Cassettes & Blocks Tracking, Specimen Tracking)
• By End User (Hospital Laboratories, Independent and Reference Laboratories)
Regional Analysis/Coverage
North America (USA, Canada, Mexico), Europe
(Germany, UK, France, Italy, Spain, Netherlands,
Rest of Europe), Asia-Pacific (Japan, South Korea,
China, India, Australia, Rest of Asia-Pacific), The
Middle East & Africa (Israel, UAE, South Africa,
Rest of Middle East & Africa), Latin America (Brazil, Argentina, Rest of Latin America)
Company Profiles

Axway, ACG Worldwide, Optel Vision, Siemens AG, Antares Vision S.r.l, Mettler-Toledo International, Inc., TraceLink, Inc., Adents, Markem Imaje, Korber AG.

DRIVERS
• More Diagnostic Tests Are Being Run in Anatomic Pathology Laboratories
• A Growing number of Legal Cases Concerning Cancer Misdiagnosis
• Anatomic Pathology Laboratories Are Consolidating More and More
RESTRAINTS
• Implementing Track and Trace Solutions in Anatomic Pathology Laboratories Comes at a High Cost