REPORT SCOPE & OVERVIEW
Transplantation Market was estimated at USD 15.2 billion in 2022 and is poised to reach at 31.18 billion in 2030 anticipated to expand at a compound annual growth rate approx. CAGR of 9.4% for the forecast period of 2023-2030.
One of the main drivers of market expansion is the rising need for innovative tissue transplantation products and organ transplantation for the treatment of organ failure. Common causes of organ failure include severe trauma, blood loss, poisoning, drug addiction, leukaemia, sepsis, and other acute disorders. Globally, there is a strong need for tissue and organ transplantation, particularly for the kidney, heart, liver, and lungs. Organ failure can be brought on by a variety of factors, including poor eating habits, alcohol intake, inactivity, and drug usage. Thus, a boost in transplanting product demand is anticipated shortly. After a transplant operation, patients are given potent immunosuppressive medications, which makes them more susceptible to infectious infections since their immune is compromised. This can be attributable to the drop-in transplantation rates that has occurred in several nations as a result of the COVID-19 issue. The acute decline in market income in 2020 has also been attributed to the paucity of resources during the pandemic, including primary protective equipment, intensive care units, and blood supplies. An increase in the prevalence of acute illnesses, which in turn leads to an increase in the number of organ failures, can be blamed for the global rise in the demand for organs for transplant. For instance, the most frequent causes of end-stage renal illness, for which kidney transplantation or dialysis are the only curative choices, are diabetes and high blood pressure. The U.S. Department of Health & Human Services reports that in 2019, there were around 122,913 people in the country who were in need of organ transplants. As a result, there is a huge need for cutting-edge transplantation goods to address organ failure. In order to address these problems, the Health Resources and Services Administration (HRSA) of the United States government adopted an effort for modernising the organ procurement and transplantation networks. This concept focuses on the publication of fresh information on organ donors and transplants.
MARKET DYNAMICS
DRIVERS
Rising incidence of chronic illnesses & technological progress

Ageing population expanding.
The need for organ transplantation is being driven by the increasing prevalence of chronic illnesses such end-stage renal disease, liver cirrhosis, and heart failure. The need for organ transplants has increased as a result of improvements in surgical methods, organ preservation techniques, and immunosuppressive medication. Organ transplantation is more frequently needed as a result of the ageing population's increased susceptibility to organ failure. The quantity of organs accessible for transplant has increased because to better public education and awareness efforts on organ donation and transplantation.
RESTRAIN
There is a severe scarcity of organs available for transplant since the demand for organs considerably outweighs the supply. Establishing a strong transplantation infrastructure, including transplant centres, skilled medical professionals, and organ storage facilities, may be difficult for developing nations. Surgery, post-operative care, immunosuppressive drugs, and long-term follow-up may all add up during transplant treatments. For many people, affordability can be a major barrier.
OPPORTUNITY
Research breakthroughs in regenerative medicine and stem cell therapy have the potential to provide substitute treatments that might lessen the need for organ transplantation. Researchers are investigating the potential for developing bioengineered organs utilizing tissue engineering and 3D printing methods, which might solve the problem of an organ scarcity.
Governments throughout the world are putting regulations into place to encourage organ donation, simplify transplant procedures, and improve infrastructure, opening up prospects for market expansion.
CHALLENGES
Organ refusal, Legal and ethical concerns.

Problems following a transplant.
The possibility of organ rejection remains a substantial problem in transplantation, necessitating continued study and development, despite improvements in immunosuppressive medications. Organ transplantation includes intricate ethical issues, such as consent, allocation of organs, and the illicit organ trafficking, all of which provide problems for the market.
It's important to carefully monitor and treat patients who are undergoing transplantation since they may have problems including infections, organ malfunction, and immunosuppressive drug side effects.
IMPACT OF RUSSIAN UKRAINE WAR
The number of organs available for transplant may decline as a result of the conflict and its aftermath. Population shifts, rising death rates, and difficulties with organ transportation and procurement can all contribute to a scarcity of organs, worsening an already-existing issue with transplantation. Resources for healthcare, including as medical staff, equipment, and supplies, have been strained by the war. This may cause transplant procedures to take longer than expected, make it harder to provide post-transplant care, and restrict availability to essential immunosuppressive drugs. International exchanges and partnerships in the field of transplantation may be hampered by the ongoing war and geopolitical concerns. Travel restrictions, interrupted supply chains, and safety worries can make it difficult to share information, skills, and resources that are essential for progress in transplantation.
IMPACT OF ONGOING RECESSION
Funding for research and development projects, especially those involving transplantation, is frequently cut during recessions. This may affect the development of novel transplantation procedures, technologies, and immunosuppressive medications as well as the advancement of research studies, clinical trials, and other initiatives. The quantity of organ donations may be impacted by economic downturns. When people and families are struggling financially, it may be harder for them to consent to organ donation, which would reduce the number of organs that are available for transplant. Healthcare systems may experience financial difficulty during recessions since they may have to set aside funds to assist both the overall economic recovery and acute medical needs. As a result, transplantation programmes may get less financing, and the financial burden on healthcare providers and patients may grow.
KEY MARKET SEGMENTS
By Product
Tissue Products

Immunosuppressive Drugs

Preservation Solution
By Application
By End-Use
Hospitals

Transplant Centers

Others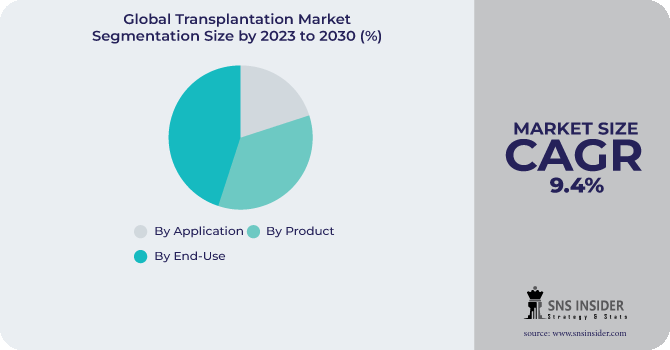 REGIONAL COVERAGE:
North America
Europe
Germany

UK

France

Italy

Spain

The Netherlands

Rest of Europe
Asia-Pacific
Japan

South Korea

China

India

Australia

Rest of Asia-Pacific
The Middle East & Africa
Latin America
Brazil

Argentina

Rest of Latin American
REGIONAL ANALYSES
North America
With a market share of 39.0% in 2022, North America led the transplantation market, and it is anticipated that it will continue to do so during the research period. The expansion of the market is being supported by highly developed healthcare facilities and the local presence of many major biotechnology and medical device businesses, including Stryker, Arthrex, Inc., Zimmer Biomet, Medtronic, and Novartis AG. In the past ten years, there has been a growing disparity between the availability and demand of organs, such as kidneys, livers, and hearts, for transplantation. However, governments and non-governmental organisations (NGOs) from different nations are taking steps to motivate individuals to donate organs and save lives. The contribution procedure is now clearer and simpler thanks to new regulations and standards. The Hospital Organ Donor Campaign was begun by the Human Resource & Services Administration in April 2020. As a result, there were more organ donations than the previous year.
Asia Pacific
Due to expanding stem cell research to create in-vitro tissue and organs as well as improving healthcare infrastructure in Asian nations like India, Thailand, the Philippines, and Indonesia, the Asia Pacific market is anticipated to grow at the greatest pace over the forecast period.
RECENT DEVELOPMENT
Immucor, Inc:
November 2022, Werfen and TPG reached a deal for Werfen to purchase Immucor, Inc., a multinational business with a broad portfolio of transfusion diagnostics products. By incorporating the specialised diagnostics solution of Immucor, Inc., this will assist the business in expanding its product line.
Bio-Rad Laboratories:
A collaboration between Bio-Rad Laboratories, Inc. and F. Hoffmann-La Roche Ltd. was established in March 2021 to provide the full range of InteliQ products and Unity QC data management systems. As a result, Bio-Rad Laboratories, Inc.'s product variation was used by F. Hoffmann-La Roche Ltd. to improve its position in the diagnostics market.
Key Players
The major key players are Abbvie, Inc, Arthrex, Inc, Zimmer Biomet, Medtronic, Novartis AG, Strykers, 21st Century Medicine, BiolifeSolutions, Inc, Teva Pharmaceuticals, Veloxis Pharmaceutical and others.
Transplantation Market Report Scope:
Report Attributes
Details
Market Size in 2022
US$ 15.2 Bn
Market Size by 2030
US$ 31.18 Bn
CAGR
CAGR of 9.4 % From 2023 to 2030
Base Year
2022
Forecast Period
2023-2030
Historical Data
2020-2021
Report Scope & Coverage
Market Size, Segments Analysis, Competitive Landscape, Regional Analysis, DROC & SWOT Analysis, Forecast Outlook
Key Segments
• By Product (Tissue Products, Immunosuppressive Drugs, Preservation Solution)
• By Application (Organ Transplantation, Tissue Transplantation)
• By End-Use (Hospitals, Transplant Centers, Others)
Regional Analysis/Coverage
North America (USA, Canada, Mexico), Europe
(Germany, UK, France, Italy, Spain, Netherlands,
Rest of Europe), Asia-Pacific (Japan, South Korea,
China, India, Australia, Rest of Asia-Pacific), The
Middle East & Africa (Israel, UAE, South Africa,
Rest of Middle East & Africa), Latin America (Brazil, Argentina, Rest of Latin America)
Company Profiles
Abbvie, Inc, Arthrex, Inc, Zimmer Biomet, Medtronic, Novartis AG, Strykers, 21st Century Medicine, BiolifeSolutions, Inc, Teva Pharmaceuticals, Veloxis Pharmaceutical and others
Key Drivers
• Rising incidence of chronic illnesses & technological progress
• Ageing population expanding.
Market Opportunities
• Regenerative medicine with stem cells & organ bioengineering in growing number of government projects