Report Scope & Overview:
The Ultra-High Molecular Weight Polyethylene (UHMWPE) Market size was valued at USD 2178 million in 2022. It is estimated to reach USD 5,749.22 million by 2030, with a compound annual growth rate (CAGR) of 12.9% during the forecast period from 2023 to 2030.
Ultra-High Molecular Weight Polyethylene (UHMWPE) is a type of thermoplastic polymer with an extremely high molecular weight. UHMWPE is widely used in various industries due to its unique properties and versatility. One of the key advantages of UHMWPE is its remarkable strength-to-weight ratio. Despite being lightweight, it exhibits exceptional strength, making it an ideal choice for applications that require high-performance materials. Additionally, UHMWPE possesses excellent impact resistance, making it suitable for use in environments where heavy loads or abrasive conditions are present. Another notable characteristic of UHMWPE is its low coefficient of friction. This property allows for reduced frictional forces, resulting in improved efficiency and energy savings. Moreover, UHMWPE has a self-lubricating nature, which further enhances its ability to withstand friction and wear. UHMWPE's resistance to chemicals and moisture is another reason for its widespread use. It is highly resistant to a wide range of chemicals, acids, and solvents, making it suitable for applications in corrosive environments. Additionally, UHMWPE is hydrophobic, meaning it repels water, which prevents moisture absorption and ensures dimensional stability. Its high dielectric strength and low electrical conductivity make it suitable for insulating components and protecting against electrical hazards.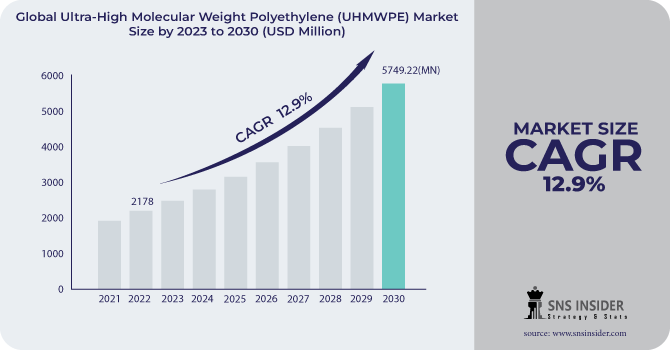 UHMWPE finds extensive applications in industries such as healthcare, automotive, aerospace, and defense. In the healthcare sector, UHMWPE is widely used in orthopedic implants, prosthetics, and medical devices due to its biocompatibility and low friction properties. The automotive industry utilizes UHMWPE for manufacturing components like gears, bearings, and fuel tanks, benefiting from its self-lubricating nature and resistance to chemicals. Moreover, the aerospace and defense sectors rely on UHMWPE for its lightweight yet robust characteristics, making it ideal for applications such as armor plating and ballistic protection. The UHMWPE market is primarily driven by the increasing demand for lightweight materials with superior mechanical properties. Additionally, the rising adoption of UHMWPE in medical and healthcare applications has further propelled market expansion. Furthermore, the growing emphasis on sustainable and eco-friendly materials has led to a surge in the demand for UHMWPE, as it is recyclable and exhibits a low carbon footprint. The high production costs associated with UHMWPE, coupled with the availability of alternative materials, pose potential obstacles to market growth. Additionally, stringent regulations and standards governing the use of UHMWPE in certain industries may hinder its widespread adoption.
Market Dynamics
Drivers
Increasing demand from the healthcare sector

Extensive usage in various industrial sectors
Extensive utilization across diverse industrial sectors serves as the primary driving force behind the growth of the Ultra-High Molecular Weight Polyethylene (UHMWPE) Market. UHMWPE finds widespread application in numerous industrial sectors, including automotive, aerospace, healthcare, and electronics, among others. This versatile material possesses exceptional properties, such as high strength, low friction, and excellent chemical resistance. These characteristics make UHMWPE an ideal choice for various applications, ranging from automotive components and medical implants to protective gear and electrical insulation. In the automotive industry, UHMWPE is utilized in the manufacturing of bumpers, fuel tanks, and underbody shields, as it offers superior impact resistance and durability. Similarly, in the aerospace sector, UHMWPE is employed in the production of aircraft components, such as wingtips and interior panels, due to its lightweight nature and resistance to wear and tear. The extensive usage of UHMWPE across these industrial sectors not only drives the growth of the market but also contributes to advancements in technology and innovation. As industries continue to seek materials that offer superior performance and durability, the demand for UHMWPE is expected to rise steadily.
Restrain
High production costs associated with Ultra-High Molecular Weight Polyethylene

Increasing environmental concerns
Opportunities
UHMWPE's exceptional strength-to-weight ratio and resistance to abrasion have caught the attention of the sports and recreation industry. From snowboarding and skiing equipment to body armor and protective gear, UHMWPE offers enhanced performance and safety. As the demand for high-performance sports equipment continues to rise, the UHMWPE market is poised for significant expansion.
Challenges
Impact of Russia-Ukraine War:
The conflict has resulted in the disruption of key supply routes, affecting the transportation of raw materials required for UHMWPE production. Ukraine, being a major producer of natural gas and crude oil, plays a crucial role in the supply chain. The war has led to uncertainties in the availability and pricing of these resources, directly impacting the UHMWPE market. The instability caused by the war has led to significant price fluctuations in the UHMWPE market. The increased costs of transportation, coupled with supply chain disruptions, have resulted in higher prices for UHMWPE products. This price volatility poses challenges for manufacturers and end-users alike, as they struggle to adapt to the changing market conditions. The Russia-Ukraine war has also led to a shift in market dynamics within the UHMWPE industry. With the disruption of traditional supply routes, manufacturers are exploring alternative sources for raw materials. This shift has opened up opportunities for other countries to emerge as potential suppliers, thereby diversifying the market and reducing dependence on a single region.
Impact of Recession:
The global recession has had a profound effect on the UHMWPE market, leading to a decline in demand and growth. The economic downturn has resulted in reduced consumer spending, decreased industrial production, and disrupted supply chains. These factors have directly affected the UHMWPE market, causing a decrease in sales and revenue for manufacturers and suppliers. The recession has particularly impacted industries that heavily rely on UHMWPE, such as automotive, healthcare, and manufacturing. The automotive sector, for instance, has experienced a significant decline in vehicle sales, leading to reduced demand for UHMWPE-based components. Similarly, the healthcare industry has faced budget cuts, affecting the procurement of medical devices made from UHMWPE. Furthermore, the manufacturing sector has witnessed a decrease in production, resulting in lower demand.
Market segmentation
By Form
Sheets

Rods

Films

Tapes

Fibers

Others
By Application
By End-use Industry
Healthcare & Medical

Mechanical Equipment

Aerospace & Defense

Shipping

Others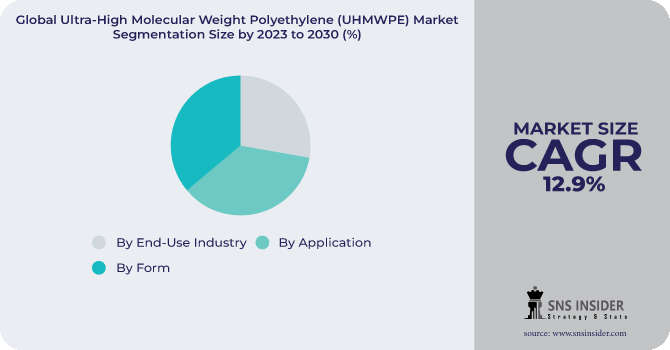 Regional Analysis
North America dominated the Ultra-High Molecular Weight Polyethylene (UHMWPE) Market in 2022 with a revenue share of about 42.3%. North America's dominance in the UHMWPE Market is attributed to the region's robust manufacturing infrastructure, enabling the production of high-quality UHMWPE products. Additionally, North America has a well-established research and development sector, constantly pushing the boundaries of UHMWPE technology and innovation. Furthermore, the region benefits from a strong network of distribution channels, facilitating the efficient supply of UHMWPE products to various end-users. This streamlined supply chain ensures that North American manufacturers can meet the growing demand for UHMWPE both domestically and internationally. Moreover, North America's commitment to stringent quality standards and regulatory compliance has bolstered its reputation as a reliable supplier of UHMWPE. This has instilled confidence in customers, leading to increased adoption of UHMWPE products across diverse industries. Another crucial aspect contributing to North America's dominance is its focus on sustainability. The region has made significant strides in promoting eco-friendly manufacturing practices and reducing carbon emissions. This commitment to environmental responsibility has resonated with customers who prioritize sustainable materials, further driving the demand for UHMWPE products.
REGIONAL COVERAGE:
North America
Europe
Eastern Europe

Poland

Romania

Hungary

Turkey

Rest of Eastern Europe

Western Europe

Germany

France

UK

Italy

Spain

Netherlands

Switzerland

Austria

Rest of Western Europe
Asia Pacific
China

India

Japan

South Korea

Vietnam

Singapore

Australia

Rest of Asia Pacific
Middle East & Africa
Middle East

UAE

Egypt

Saudi Arabia

Qatar

Rest of Middle East

Africa

Nigeria

South Africa

Rest of Africa
Latin America
Brazil

Argentina

Colombia

Rest of Latin America
Key Players
The major key players are Celanese Corporation, China Petrochemical Corporation, Koninklijke DSM N.V., LyondellBasell Industries Holdings B.V., Crown Plastics, Inc., Mitsubishi Chemical Advanced Materials Group, LianLe Chemical Corporation, Braskem, Honeywall International, Inc., Mitsui Chemicals, Inc., TSE Industries, Inc., and other key players mentioned in the final report.
Ultra-High Molecular Weight Polyethylene (UHMWPE) Market Report Scope:
Report Attributes
Details
Market Size in 2022
US$ 2178 Mn
Market Size by 2030
US$ 5,749.22 Mn
CAGR
CAGR of 12.9 % From 2023 to 2030
Base Year
2022
Forecast Period
2023-2030
Historical Data
2020-2021
Report Scope & Coverage
Market Size, Segments Analysis, Competitive Landscape, Regional Analysis, DROC & SWOT Analysis, Forecast Outlook
Key Segments
• By Form (Sheets, Rods, Films, Tapes, Fibers, and Others)
• By Application (Medical Grade & Prosthetics, Filtration, Batteries, Additives, Membranes, and Others)
• By End-use Industry (Healthcare & Medical, Mechanical Equipment, Aerospace & Defense, and Shipping, Others)
Regional Analysis/Coverage
North America (US, Canada, Mexico), Europe (Eastern Europe [Poland, Romania, Hungary, Turkey, Rest of Eastern Europe] Western Europe] Germany, France, UK, Italy, Spain, Netherlands, Switzerland, Austria, Rest of Western Europe]). Asia Pacific (China, India, Japan, South Korea, Vietnam, Singapore, Australia, Rest of Asia Pacific), Middle East & Africa (Middle East [UAE, Egypt, Saudi Arabia, Qatar, Rest of Middle East], Africa [Nigeria, South Africa, Rest of Africa], Latin America (Brazil, Argentina, Colombia Rest of Latin America)
Company Profiles
Celanese Corporation, China Petrochemical Corporation, Koninklijke DSM N.V., LyondellBasell Industries Holdings B.V., Crown Plastics, Inc., Mitsubishi Chemical Advanced Materials Group, LianLe Chemical Corporation, Braskem, Honeywall International, Inc., Mitsui Chemicals, Inc., TSE Industries, Inc.
Key Drivers
• Increasing demand from the healthcare sector
• Extensive usage in various industrial sectors
Market Restraints
• High production costs associated with Ultra-High Molecular Weight Polyethylene
• Increasing environmental concerns