Report Scope & Overview:
The Vanillic Acid Market size was valued at USD 20.8 billion in 2022 and is expected to grow to USD 24.95 billion by 2030 and grow at a CAGR of 2.3% over the forecast period of 2023-2030.
The vanillic acid market has experienced a surge in demand due to the growing consumer preference for natural and organic products. With an increasing awareness of the harmful effects of synthetic additives, consumers are seeking healthier alternatives, and vanillic acid fits the bill perfectly. Vanillic acid, also known as 4-hydroxy-3-methoxybenzoic acid, is a naturally occurring compound found in various plants and fruits. Its natural origin and pleasant aroma make it an ideal choice for food and beverage manufacturers looking to enhance the flavor of their products.
The segment with a purity level of 98% held the largest revenue share of about 55.6% in the Vanillic Acid Market in 2022. This segment's dominance is attributed to its versatility. Vanillic Acid finds applications in diverse sectors such as food and beverages, pharmaceuticals, cosmetics, and fragrances. Its ability to enhance flavors, act as an antioxidant, and exhibit antimicrobial properties has made it a sought-after ingredient in these industries. The 98% purity segment has capitalized on this demand by consistently providing a reliable and pure product that meets the specific needs of each sector.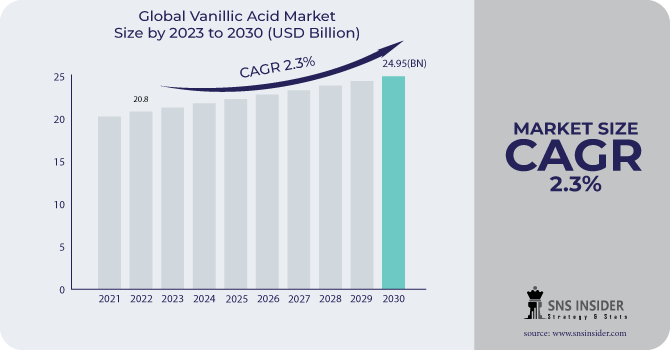 The Flavors and Fragrances segment dominated the Vanillic Acid Market with a revenue share of about 52.4% in 2022. In the realm of flavors, vanillic acid plays a crucial role in enhancing the taste and aroma of numerous food and beverage products. Similarly, within the fragrance industry, vanillic acid has become a key component in the formulation of perfumes, colognes, and other scented products. The dominance of the flavors and fragrance segment in the Vanillic Acid Market is due to the widespread demand for sensory experiences in our daily lives. As consumers increasingly seek products that tantalize their taste buds and captivate their olfactory senses, the importance of vanillic acid in delivering these experiences cannot be overstated.
With a projected increase in demand across various industries drives the growth of this market. The rising popularity of natural and organic products, coupled with the growing consumer awareness of the health benefits associated with vanillic acid, will drive market growth. Furthermore, advancements in extraction techniques and sustainable sourcing methods will contribute to the expansion of the market, making vanillic acid a sought-after ingredient in a wide range of applications.
Market Dynamics
Drivers
Growing trend in the food and beverage industry towards using natural and organic ingredients

Rising awareness among consumers regarding the harmful effects of synthetic additives

Increasing adoption of vanillic acid in the pharmaceutical industry
Vanillic acid has witnessed a significant surge in demand within the pharmaceutical industry due to its numerous beneficial properties and versatile applications. Vanillic acid exhibits potent antioxidant and antimicrobial characteristics, making it a valuable ingredient in the formulation of various pharmaceutical products. Additionally, its ability to inhibit the growth of harmful bacteria and fungi further enhances its appeal in the medical field. Moreover, vanillic acid has demonstrated promising results in the treatment of various health conditions. It has been found to possess anti-inflammatory properties, which can aid in the management of inflammatory diseases. Furthermore, its potential as an anticancer agent has garnered considerable attention from researchers and medical professionals alike.
Restrain
Limited availability of raw materials required for the production of vanillic acid

Complex and time-consuming extraction process of vanillic acid
Opportunities
Growing demand for vanillic acid in the cosmetic industry

Rising popularity of plant-based alternatives in the fragrance industry
Challenges
High cost associated with the production and extraction of vanillic acid

Presence of substitutes in the market
One of the primary obstacles faced by the Vanillic Acid Market is the existence of alternative products that can be used as substitutes like synthetic vanillin. These substitutes offer similar functionalities and properties, making them attractive options for consumers. As a result, the demand for vanillic acid may decrease, impacting the market's growth and profitability.
Impact of Russia-Ukraine War:
The Russia-Ukraine war has disrupted the production of vanillic acid, primarily due to the geographical proximity of the conflict zone to major production areas. As a result, many manufacturing facilities have been forced to halt or reduce their operations, leading to a decrease in the overall supply of vanillic acid. This scarcity has subsequently affected the availability and pricing of the product in the market. The conflict has also caused significant disruptions in the vanillic acid supply chain. The transportation of raw materials and finished products has become increasingly challenging due to the instability in the region. The Russia-Ukraine war has not only impacted the supply side but has also influenced the demand for vanillic acid. The uncertainty surrounding the conflict has created a sense of instability among consumers, leading to a decrease in their purchasing power. As a result, the demand for vanillic acid has experienced a decline, particularly in regions directly affected by the conflict. This shift in demand patterns has forced market players to reassess their strategies and explore alternative markets to sustain their business.
Impact of Recession:
During a recession, consumer spending is decreasing. This reduction in spending directly affects the demand for products containing Vanillic Acid. As a result, manufacturers and suppliers in the Vanillic Acid Market face a decrease in sales and revenue. Furthermore, the Vanillic Acid Market heavily relies on the food and beverage industry, which experiences a significant downturn during economic downturns. Consumers tend to cut back on non-essential items, leading to a decrease in the consumption of products that incorporate Vanillic Acid. This decline in demand poses a considerable challenge for businesses operating in this market.
Market segmentation
By Purity
Purity 99%

Purity 98%

Others
By Application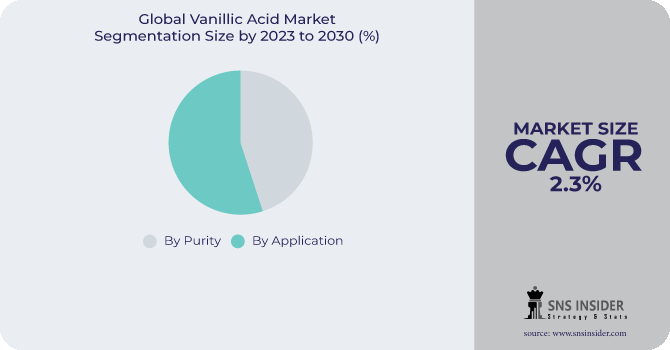 Regional Analysis
The Asia Pacific dominated the Vanillic Acid Market with the highest revenue share of about 34.3% in 2022 owing to the favorable geographical conditions of this region that facilitate the cultivation of raw materials required for vanillic acid production. The region's tropical climate and fertile soil provide an ideal environment for the growth of vanillin-rich plants, such as vanilla orchids. This abundance of raw materials ensures a steady supply of vanillic acid, giving the region a competitive edge in the market. Moreover, the Asia Pacific region has witnessed a surge in consumer demand for natural and organic products, including vanillic acid. As consumers become more health-conscious and environmentally aware, they are increasingly seeking products that are free from synthetic additives and chemicals. Vanillic acid, with its natural origin and versatile applications in various industries, has gained popularity among consumers in the region. Additionally, the Asia Pacific region has witnessed rapid economic growth and urbanization, leading to an increase in disposable income and changing lifestyles. This has resulted in a higher demand for products that enhance the overall sensory experience, such as food, beverages, and personal care items. Vanillic acid, with its characteristic aroma and flavor-enhancing properties, has become a sought-after ingredient in these sectors, further driving its market dominance in the region.
Europe is projected to experience consistent growth in the Vanillic Acid Market throughout the forecast period. The United Kingdom in Europe is expected to grow with the highest CAGR of about 2.4% during the forecast period of 2023-2030. This growth is attributed to the increasing demand for vanillic acid in various industries such as food and beverages, pharmaceuticals, and cosmetics. Europe's robust research and development activities, coupled with advancements in technology, have led to the development of innovative production methods for vanillic acid. This has not only improved the efficiency of manufacturing processes but has also resulted in cost reduction, making vanillic acid more accessible to a wider consumer base. Moreover, the region's stringent regulations regarding food safety and quality have further propelled the demand for vanillic acid. As consumers become increasingly conscious of the ingredients used in their food and beverages, manufacturers are compelled to incorporate natural and safe additives, such as vanillic acid, into their products.
REGIONAL COVERAGE:
North America
Europe
Eastern Europe

Poland

Romania

Hungary

Turkey

Rest of Eastern Europe

Western Europe

Germany

France

UK

Italy

Spain

Netherlands

Switzerland

Austria

Rest of Western Europe
Asia Pacific
China

India

Japan

South Korea

Vietnam

Singapore

Australia

Rest of Asia Pacific
Middle East & Africa
Middle East

UAE

Egypt

Saudi Arabia

Qatar

Rest of the Middle East

Africa

Nigeria

South Africa

Rest of Africa
Latin America
Brazil

Argentina

Colombia

Rest of Latin America
Key Players
The major key players are Quzhou Mingfeng Chemical, Solvay, Donglian Nankai FlavorDlflavor, The Good Scents Company, Parchem Fine & Specialty Chemicals, Otto Chemie Pvt. Ltd., Lanxess, and other key players mentioned in the final report.
Recent Development:
In Sep 2022, Solvay, a renowned global leader in natural ingredients, announced the expansion of its flagship product, Rhovanil® Natural CW. This expansion introduces three exciting new natural flavor ingredients: Rhovanil® Natural Delica, Alta, and Sublima.
Vanillic acid Market Report Scope
Report Attributes
Details
Market Size in 2022
US$ 20.8 Bn
Market Size by 2030
US$ 24.95 Bn
CAGR
CAGR of 2.3% From 2023 to 2030
Base Year
2022
Forecast Period
2023-2030
Historical Data
2019-2021
Report Scope & Coverage
Market Size, Segments Analysis, Competitive Landscape, Regional Analysis, DROC & SWOT Analysis, Forecast Outlook
Key Segments
• By Purity (Purity 99%, Purity 98%, and Others)
• By Application (Flavors and Fragrances, Pharmaceutical Intermediates, and Others)
Regional Analysis/Coverage
North America (US, Canada, Mexico), Europe (Eastern Europe [Poland, Romania, Hungary, Turkey, Rest of Eastern Europe] Western Europe] Germany, France, UK, Italy, Spain, Netherlands, Switzerland, Austria, Rest of Western Europe]), Asia Pacific (China, India, Japan, South Korea, Vietnam, Singapore, Australia, Rest of Asia Pacific), Middle East & Africa (Middle East [UAE, Egypt, Saudi Arabia, Qatar, Rest of Middle East], Africa [Nigeria, South Africa, Rest of Africa], Latin America (Brazil, Argentina, Colombia Rest of Latin America)
Company Profiles
Quzhou Mingfeng Chemical, Solvay, Donglian Nankai FlavorDlflavor, The Good Scents Company, Parchem Fine & Specialty Chemicals, Otto Chemie Pvt. Ltd., Lanxess
Key Drivers
• Growing trend in the food and beverage industry towards using natural and organic ingredients
• Rising awareness among consumers regarding the harmful effects of synthetic additives
• Increasing adoption of vanillic acid in the pharmaceutical industry
Market Restraints
• Limited availability of raw materials required for the production of vanillic acid
• Complex and time-consuming extraction process of vanillic acid