Report Scope & Overview:
The Bioenergy Market size was valued at USD 115.22 billion in 2022 and is expected to grow to USD 208.57 billion by 2030 and grow at a CAGR of 7.7 % over the forecast period of 2023-2030.
One of the many different resources that can be used to assist consumers meet their energy needs is bioenergy. energy produced with biobased materials Bioenergy is produced from renewable resources like biomass, biofuel, biogas, and other bio-organic waste. This type of renewable energy, commonly referred to as biomass, is produced from recently living organic materials and can be utilized to generate heat, electricity, transportation fuels, and other forms of energy products.
Biomass Power Generation will help to meeting future energy demands sustainably. It presently provides the majority of renewable energy to the global energy mix, and there is still a ton of space for expansion in the production of fuels for heat, electricity, and transportation. It is possible to considerably improve the use of bioenergy by exploiting the enormous number of unwanted residues and garbage.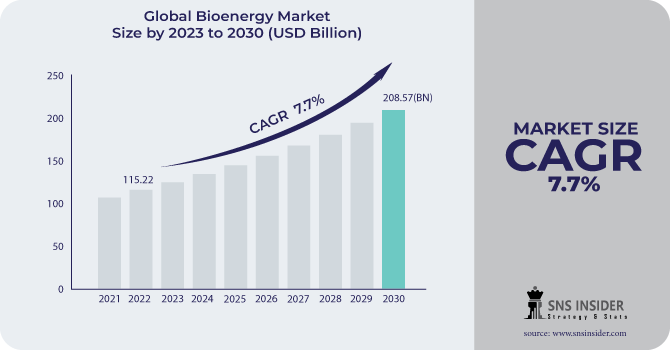 Get More Information on Bioenergy Market - Request Sample Report
Some bioenergy sources, such the black liquor created during the production of paper, are byproducts of industrial operations that would have occurred anyway. In contrast to other energy sources, bioenergy is typically made from specifically cultivated plants or trees, which necessitates a large amount of land. Consequently, it is anticipated that there would be a rise in knowledge of sustainable energy sources to increase the demand for bioenergy during the upcoming years.
Because it may be used in a variety of settings and sectors—from solid bioenergy and biogases used for power and heat in homes and businesses to liquid biofuels used in cars, ships, and airplanes bioenergy is favourable. Additionally, it usually makes use of infrastructure that has already been constructed, for instance, biomethane can utilize end-user technologies and previously-built natural gas pipes.
MARKET DYNAMICS
KEY DRIVERS:
When compared to traditional energy, bioenergy is highly sought after since its resources offer superior biodegradability, a smaller carbon footprint, greater energy dependability, fewer landfills, and improved air quality., it can lessen reliance on fossil fuels and energy costs. These are the main variables that are anticipated to influence the market for bioenergy's growth rate.
RESTRAIN:
OPPORTUNITY:
Numerous Favorable Government Policies

Increasingly positive government programs and policies

Increasing investment in the bioenergy sector
Numerous prospects for market growth are also provided by the industry participants' increasing initiatives and investments. For instance, a number of efforts in the bioenergy sector have been initiated by the US Department of Energy and NREL (National Renewable Energy Laboratory). The Department of Energy (DOE) has declared that funding for 33 projects totaling more than USD 97 million will support R&D operations.
CHALLENGES:
Due to its high initial investment requirements, the bioenergy market's development pace has halted. There are numerous more logistical difficulties related to the bioenergy. The rapid expansion of the electric car industry and the high initial cost of installing a bioenergy plant are limiting the market's growth.
IMPACT ANALYSIS
IMPACT OF ONGOING RECESSION
The effects of the ensuing actions also had an effect on the economy. The globe is currently experiencing the worst recession since the Great Depression, with projections calling for a worldwide economic growth of -4.9% in 2021, down from 2.9%2020. In the USA alone, more than 40 million Americans have applied for jobless benefits due to the global economic slowdown.
The largest source of renewable energy on the planet is bioenergy. More than 2/3 of all energy supply from renewable sources came from biofuels and garbage, which had a proportion of 9.5% of all energy sources globally. Bioenergy is a flexible energy source with many different feedstocks, production methods, and applications. Forestry accounts for more than 85% of the biomass used for energy, providing leftovers from harvesting and processing.
MARKET SEGMENTATION
KEY MARKET SEGMENTS
By product type
Solid Biomass

Liquid Biofuel

Biogas

Others
By feedstock
Agricultural Waste

Wood Waste

Solid Waste

Others
By application
Power Generation

Heat Generation

Transportation

Others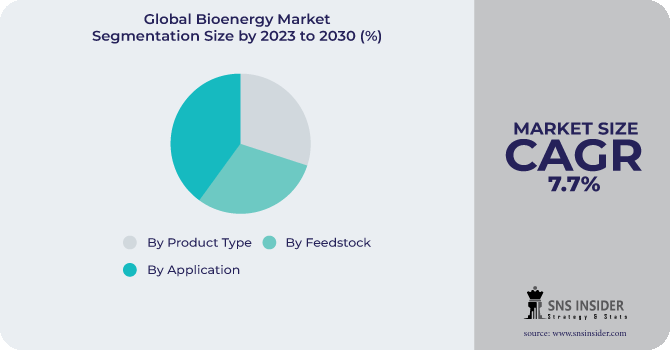 Get Customized Report as per your Business Requirement - Request For Customized Report
REGIONAL ANALYSIS
Due to favourable government laws and rising biofuel consumption in this region, North America currently holds a lion's share of the global market for bioenergy in terms of revenue and market share.
Asia-Pacific is the fastest-growing area and is expected to have profitable growth from 2023 to 2030 as a result of its massive population and increased energy consumption.
Over the past few years, North America has played a vital role in the development of liquid biofuels. In this area, almost 45% of liquid biofuel is produced. The three main producers of bioenergy in North America are the United States, Canada, and Mexico. It generated roughly 60 billion Liters of ethanol, or 16 billion gallons. Also, more than 2000 facilities in the United States create biogas.
The second largest region in the world market is the Middle East and Africa. Around 45% of the world's potential energy from all renewable sources is located in this region. These sources have the capacity to produce more than three times the global demand for electricity has plenty.
REGIONAL COVERAGE:
North America
Europe
Eastern Europe

Poland

Romania

Hungary

Turkey

Rest of Eastern Europe

Western Europe

Germany

France

UK

Italy

Spain

Netherlands

Switzerland

Austria

Rest of Western Europe
Asia Pacific
China

India

Japan

South Korea

Vietnam

Singapore

Australia

Rest of Asia Pacific
Middle East & Africa
Middle East

UAE

Egypt

Saudi Arabia

Qatar

Rest of Middle East

Africa

Nigeria

South Africa

Rest of Africa
Latin America
Brazil

Argentina

Colombia

Rest of Latin America
RECENT DEVELOPMENT
In July 2021, EnviTec Biogas AG and Liquind 24/7 GmbH inked a contract for the transportation and distribution of EnviTec Biogas AG's bio-LNG generated at Gustrow to heavy-duty customers at Liquind 24/7 GmbH's truck fueling stations in Germany.

After only a 12-month building period, EnviTec Biogas AG began operating its biogas facility in China in 2021. Maize stover silage, turkey litter, and other materials would be used as input for the 1,570 Nm dung from dairy cattle.

EnviTec Biogas AG and Liquind 24/7 GmbH have a contract in place for June 2021. This agreement seeks to supply heavy-duty clients at its truck fuelling stations with bio-LNG generated by EnviTec Biogas AG at Gustrow in Germany.
KEY PLAYERS
ADM (U.S.), POET (U.S.), Ameresco, Inc. (U.S.), Enerkem (Canada), MW Energie AG (Germany), Enviva (U.S.), EnviTec Biogas AG (Germany), Green Plains Inc. (U.S.), Pacific BioEnergy Corp (Canada), Lignetics (U.S.), Drax Group (U.S.), Enexor Energy (U.S.) and other players are listed in a final report.
Bioenergy market report scope:
Report Attributes
Details
Market Size in 2022
US$ 115.22 Bn
Market Size by 2030
US$ 208.57 Bn
CAGR
CAGR of 7.7 % From 2023 to 2030
Base Year
2022
Forecast Period
2023-2030
Historical Data
2020-2021
Report Scope & Coverage
Market Size, Segments Analysis, Competitive Landscape, Regional Analysis, DROC & SWOT Analysis, Forecast Outlook
Key Segments
• By product type (Solid Biomass, Liquid Biofuel, Biogas, Others)
• By feedstock (Agricultural Waste, Wood Waste, Solid Waste, Others)
• By application (Power Generation, Heat Generation, Transportation, Others)
Regional Analysis/Coverage
North America (US, Canada, Mexico), Europe (Eastern Europe [Poland, Romania, Hungary, Turkey, Rest of Eastern Europe] Western Europe] Germany, France, UK, Italy, Spain, Netherlands, Switzerland, Austria, Rest of Western Europe]). Asia Pacific (China, India, Japan, South Korea, Vietnam, Singapore, Australia, Rest of Asia Pacific), Middle East & Africa (Middle East [UAE, Egypt, Saudi Arabia, Qatar, Rest of Middle East], Africa [Nigeria, South Africa, Rest of Africa], Latin America (Brazil, Argentina, Colombia Rest of Latin America)
Company Profiles
ADM (U.S.), POET (U.S.), Ameresco, Inc. (U.S.), Enerkem (Canada), MW Energie AG (Germany), Enviva (U.S.), EnviTec Biogas AG (Germany), Green Plains Inc. (U.S.), Pacific BioEnergy Corp (Canada), Lignetics (U.S.), Drax Group (U.S.), Enexor Energy (U.S.)
Key Drivers
• Increasing solid waste demand
• Significant bioenergy demand
Market Restraints
• High Cost