Report Scope & Overview:
The Zinc Oxide Market size was valued at USD 5.3 billion in 2022. It is estimated to hit USD 8.07 billion by 2030 and grow at a CAGR of 5.4% over the forecast period of 2023-2030.
One of the key drivers of the zinc oxide market is the increasing demand for sunscreens and skincare products. With growing awareness about the harmful effects of UV radiation, consumers are increasingly turning to products that offer effective sun protection. Zinc oxide, with its ability to reflect and scatter UV rays, has become a popular choice among manufacturers and consumers alike. Additionally, the rising prevalence of skin diseases and disorders has further fueled the demand for zinc oxide-based pharmaceutical products. The rubber industry is another major consumer of zinc oxide. This compound is widely used as a vulcanizing agent in the production of rubber goods. It enhances the mechanical properties of rubber, improving its durability and resistance to heat, organic chemicals, and abrasion. The increasing demand for automobiles and the subsequent growth of the automotive industry has significantly contributed to the demand for zinc oxide in the rubber sector. Furthermore, the ceramics industry has also witnessed a surge in the use of zinc oxide. This compound is added to ceramic glazes to enhance their brightness and opacity.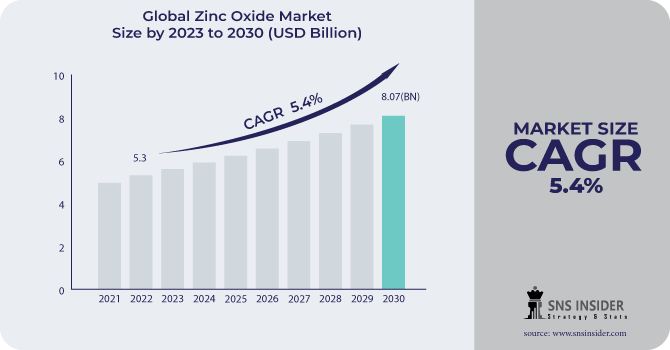 Get E-PDF Sample Report on Zinc Oxide Market - Request Sample Report
The indirect (French) process dominated the zinc oxide market with the highest revenue share of about 78.5% in 2022. This is due to its properties, as it is widely recognized as the fastest and most efficient method of production. The quality of ZnO manufactured depends on the type of zinc utilized in the process. For instance, the production of gold seals or pharmaceutical-grade ZnO requires the use of special high-grade zinc with a concentration of 99.99%, while ordinary zinc with a concentration of 99.95% is sufficient for producing zinc for the rubber industry. It is worth noting that the maximum yield of ZnO obtained from 1 ton of special high-grade zinc is 1.2 tons.
Market Dynamics
Drivers
Rising demand for rubber products, especially in the automotive industry

Growing awareness regarding the benefits of zinc oxide in personal care products
Zinc oxide possesses exceptional properties that make it highly desirable for use in various products such as sunscreens, cosmetics, and skincare items. Zinc oxide acts as a physical barrier against harmful ultraviolet (UV) rays emitted by the sun. This UV protection attribute has made zinc oxide a crucial ingredient in sunscreens, ensuring the prevention of sunburns, premature aging, and even skin cancer. Moreover, zinc oxide exhibits excellent soothing and healing properties, making it an ideal component in skincare products. Furthermore, zinc oxide is non-comedogenic, meaning it does not clog pores. The growing awareness of these remarkable benefits has led to an increased demand for zinc oxide in personal care products.
Restrain
Fluctuating prices of raw materials, particularly zinc metal

Stringent regulations regarding the use of zinc oxide in certain applications, such as in food and pharmaceuticals
Zinc oxide, a versatile compound with numerous applications, faces limitations due to strict regulations imposed on its usage in specific sectors, particularly the food and pharmaceutical industries. In the food industry, concerns regarding its potential health risks, lead to the implementation of stringent regulations. These regulations aim to control the amount of zinc oxide used in food products, ensuring that it remains within safe limits and does not pose any harm to consumers. Similarly, in the pharmaceutical industry, zinc oxide is utilized in various medications and topical creams due to its antimicrobial and anti-inflammatory properties. However, the regulatory authorities have imposed strict guidelines to ensure the safety and efficacy of these products.
Opportunities
Challenges
Impact of Russia-Ukraine War:
The Russia-Ukraine war has disrupted the supply chain of zinc oxide, leading to a decrease in production and availability. The destruction of infrastructure, limited access to raw materials, and the displacement of skilled labor have all contributed to a decline in production capacity. Consequently, the reduced supply has created a shortage in the market, impacting both domestic and international consumers. European manufacturers, heavily reliant on Russian supplies, have faced significant supply difficulties due to the war in Ukraine. This has further exacerbated the shortage of zinc oxide in the market. The price of zinc oxide experienced a surge in July, followed by a sharp decline in August, and a rise again in September. The fluctuation in market price was primarily driven by the volatility of feedstock prices, which in turn affected the overall cost of zinc oxide production during the quarter. The Russia-Ukraine war affected the European economy heavily, leading to a decline in regional economic activities. Notably, the demand for zinc oxide from the domestic automotive sector has remained persistently low. Additionally, sectors such as construction and textiles have also experienced a significant decrease in demand for zinc oxide.
Impact of Recession:
The European economy has been facing significant challenges which have had a detrimental impact on regional economic activities. Recent data indicates that the demand for Zinc Oxide from the domestic automotive sector has remained persistently low, and this trend has also been observed in other sectors such as construction and textiles. Moreover, the labor crisis across Europe has emerged as a major concern, directly affecting the downstream rubber industry. Buyers in the market have been hesitant to place large orders, as they are seeking a clearer understanding of whether the prices of Zinc Oxide have reached their lowest point. This uncertainty has been fueled by the bearish trend witnessed in the Asian market during the second quarter of 2023. The subdued demand from the downstream automobile industry has primarily influenced this trend. Notably, the price of Zinc Oxide in the Indian market experienced consecutive declines of approximately 25% and 11% over the last two months of the quarter.
Market segmentation
By Grade
Standard

United States Pharmacopeia (USP)

Treated

Food and Chemical Codex (FCC)

Others
By Process
Direct (American) Process

Indirect (French) Process

Wet Chemical Process

Others
By Form
By Application
Rubber

Chemical

Ceramics

Cosmetics and Personal Care

Automotive

Construction

Agriculture

Pharmaceuticals

Electronics & Semiconductors

Others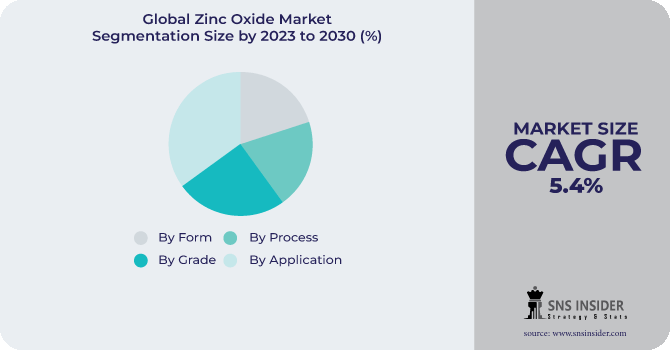 Get Customized Report as Per Your Business Requirement - Request For Customized Report
Regional Analysis
Asia Pacific dominated the Zinc Oxide Market with the highest revenue share of about 51.2% in 2022. In India, China, Japan, and South Korea, the automobile industry is witnessing substantial growth, fueled by increasing consumer demand and technological advancements. Zinc oxide is widely used in the production of tires, rubber components, and industrial coatings, making it an essential ingredient in the automotive sector. The construction industry in these countries is also booming, driven by urbanization, infrastructure development, and government initiatives. Zinc oxide finds extensive application in paints, coatings, and ceramics, contributing to the growth of the construction sector. Furthermore, the personal care and cosmetics industries are experiencing a surge in demand for products that offer protection against harmful UV rays.
Additionally, the expanding pharmaceutical industry is expected to drive the demand for ZnO due to its various beneficial properties, including anti-inflammatory, antiseptic, drying, and ultraviolet protection capabilities. According to the India Brand Equity Foundation, the pharmaceuticals industry in India currently fulfills more than 51% of the global demand for different vaccines, making it the third-largest pharmaceuticals industry worldwide. Furthermore, the Indian Economic Survey reveals that the domestic pharmaceuticals market in India reached a value of USD 43 billion in 2021, and this figure is projected to reach USD 67 billion by the end of 2024.
North America is expected to grow with a CAGR of about 5.6% in the Zinc Oxide Market during the forecast period. The presence of a vast manufacturing industry, including various sectors such as automotive, construction, and electronics drives the demand for zinc oxide in this region. Zinc oxide finds extensive application in these industries, primarily due to its exceptional properties, including UV protection, anti-corrosion capabilities, and conductivity. As a result, the demand for zinc oxide in North America has witnessed a significant surge, propelling the
REGIONAL COVERAGE:
North America
Europe
Eastern Europe

Poland

Romania

Hungary

Turkey

Rest of Eastern Europe

Western Europe

Germany

France

UK

Italy

Spain

Netherlands

Switzerland

Austria

Rest of Western Europe
Asia Pacific
China

India

Japan

South Korea

Vietnam

Singapore

Australia

Rest of Asia Pacific
Middle East & Africa
Middle East

UAE

Egypt

Saudi Arabia

Qatar

Rest of Middle East

Africa

Nigeria

South Africa

Rest of Africa
Latin America
Brazil

Argentina

Colombia

Rest of Latin America
Key Players
The major key players are LANXESS, Zochem, EverZinc, U.S. Zinc, Neo Zinc Oxide, Tata Chemicals Ltd., Upper India, Pan-Continental Chemical Co. Ltd., Zinc Oxide Australia, Rubamin, Ace Chemie Zynk Energy Limited, Akrochem Corporation, Weifang Longda Zinc Industry Co. Ltd., AG CHEMI GROUP, Yongchang zinc industry Co., Ltd., and other key players mentioned in the final report.
Zochem-Company Financial Analysis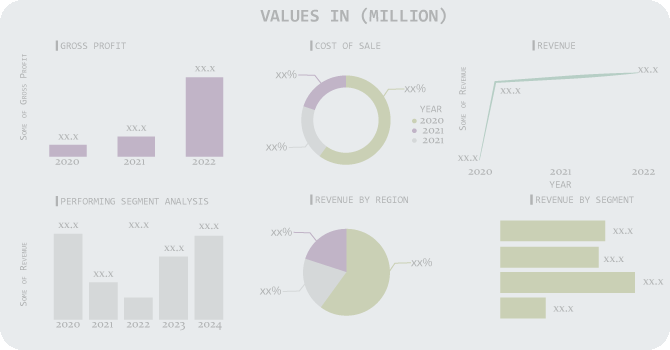 Recent Development:
In the Second quarter of 2023, Zochem, a prominent player in the French process zinc oxide (ZnO) production industry, has revealed their plans to expand production capacity at their facility in Dickson, TN.

In July 2022, Tata Chemicals successfully developed nano zinc oxide (nZnO), an innovation that boasts enhanced anti-fungal, anti-microbial, and UV-blocking properties. This remarkable advancement has significant implications for various sectors, including industrial and cosmetic applications such as cosmetics, paints/coatings, adhesives, plastics, and personal care products.
Zinc Oxide Market Report Scope
Report Attributes
Details
Market Size in 2022
US$ 5.3 Bn
Market Size by 2030
US$ 8.07 Bn
CAGR
CAGR of 5.4 % From 2023 to 2030
Base Year
2022
Forecast Period
2023-2030
Historical Data
2019-2021
Report Scope & Coverage
Market Size, Segments Analysis, Competitive Landscape, Regional Analysis, DROC & SWOT Analysis, Forecast Outlook
Key Segments
• By Grade (Standard, United States Pharmacopeia (USP), Treated, Food and Chemical Codex (FCC), and Others)
• By Process (Direct (American) Process, Indirect (French) Process, Wet Chemical Process, and Others)
• By Form (Powder, Liquid, and Pellets)
• By Application (Rubber, Chemical, Paints & Coatings, Ceramics, Cosmetics and Personal Care, Automotive, Construction, Agriculture, Pharmaceuticals, Electronics & Semiconductors, and Others)
Regional Analysis/Coverage
North America (US, Canada, Mexico), Europe (Eastern Europe [Poland, Romania, Hungary, Turkey, Rest of Eastern Europe] Western Europe] Germany, France, UK, Italy, Spain, Netherlands, Switzerland, Austria, Rest of Western Europe]), Asia Pacific (China, India, Japan, South Korea, Vietnam, Singapore, Australia, Rest of Asia Pacific), Middle East & Africa (Middle East [UAE, Egypt, Saudi Arabia, Qatar, Rest of Middle East], Africa [Nigeria, South Africa, Rest of Africa], Latin America (Brazil, Argentina, Colombia Rest of Latin America)
Company Profiles
LANXESS, Zochem, EverZinc, U.S. Zinc, Neo Zinc Oxide, Tata Chemicals Ltd., Upper India, Pan-Continental Chemical Co. Ltd., Zinc Oxide Australia, Rubamin, Ace Chemie Zynk Energy Limited, Akrochem Corporation, Weifang Longda Zinc Industry Co. Ltd., AG CHEMI GROUP, Yongchang zinc industry Co., Ltd.
Key Drivers
• Rising demand for rubber products, especially in the automotive industry
• Growing awareness regarding the benefits of zinc oxide in personal care products
Market Restraints
• Fluctuating prices of raw materials, particularly zinc metal
• Stringent regulations regarding the use of zinc oxide in certain applications, such as in food and pharmaceuticals