Report Scope & Overview:
Organic Chemicals Market Size was valued at USD 11.88 billion in 2022, and expected to reach USD 21.04 billion by 2030, and grow at a CAGR of 7.4 % over the forecast period 2023-2030.
Chemical substances known as organic chemicals contain carbon in their molecular structure. These compounds also contain hydrogen, oxygen, nitrogen, sulphur, and chlorine as additional components. Natural and artificial organic compounds are both possible. The majority of organic substances are naturally occurring since they are carbon-based, which means that either plants or animals may make them. Others, on the other hand, must be created through a chemical reaction because they are organic-synthetic substances.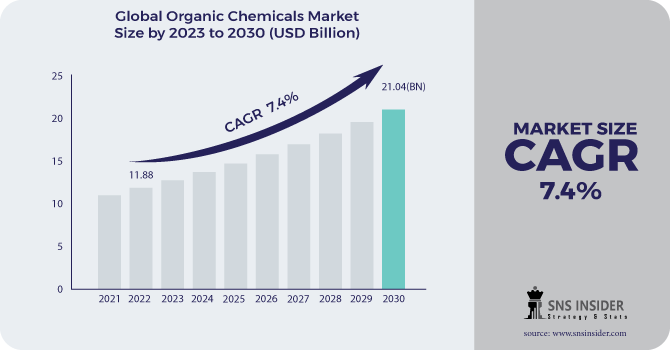 Get More Information on Organic Chemicals Market - Request Sample Report
Market Dynamics:
Drivers:
Restraints:
Opportunity:
Challenge:
Impact of COVID-19:
The global market for organic compounds has been greatly impacted by the COVID-19 pandemic epidemic.
Governments of many countries imposed nationwide curfews to combat the disease, which caused a number of issues for the manufacturing sector, including a lack of labour and delays in the supply of raw materials as a result of supply chain disruptions. These issues had a significant impact on the supply of organic chemicals and prevented desired supply projections from being met.
Consumers' disposable income has decreased as a result of the pandemic-related downturn in the economy. As a result, there was a decline in the demand for a number of goods, including packaged foods, cosmetics, and other personal care items, which in turn affected the market's need for organic chemicals.
By Type: A chemical is referred to as aliphatic if it has carbon and hydrogen in straight or branched chains, trains, or non-aromatic rings. Alkane and alkene, including butane, propane, pentane, hexane, pentene, and methane, are included in the aliphatic section. The majority of aliphatics, however, are combustible and are frequently utilised as different forms of fuels (propane, pentane). Instead of discrete alternating double and single bonds, aromatic compounds are composed of conjugated planar ring systems with delocalized pi-electron clouds. Carboxylic acids, acid anhydrides, acyl halides, acid amides, and esters are examples of carbonyls. Aldehydes, alcohols, amides, ketones, nitriles, hydrazine, and others are among the others.
By Application: Food and Beverages: As a result of the rising demand for fortified food and beverages, this industry category accounted for the largest market. Agrochemicals: Organic chemicals have long been employed in the manufacture of agrochemicals, and the market for them is anticipated to increase strongly over the coming years. Pharmaceuticals: Due to rising global demand for anti-biotic and anti-viral medications, the pharmaceuticals category is anticipated to expand at the quickest rate during the projection period. Personal Care & Cosmetics: Over the forecast period, this segment is anticipated to experience moderate growth. Organic compounds, primarily synthetic chemicals, are employed extensively in plastics and polymers. Paints and coatings, textiles, dyes and pigments, solvents, paper & pulp, metal, perfumes, and other items are included in the Others sector.
Market Segment:
By Source
By Product Types
Acetic acid

Ethyl alcohol

Methanol

Formaldehyde

Aldehydes

Citric acid

Ketones

Aliphatic

Polymers

Amides

Others
By End Use Industries
Pharmaceuticals

Pesticides

Agrochemicals

Plastics and polymers

Cosmetics

Food & Beverages

Others
Get Customized Report as per your Business Requirement - Request For Customized Report
Regional Analysis:
Asia-Pacific now has the biggest market share and is predicted to expand the fastest. This is mostly because of the enormous domestic production, China's ambitious expansion aspirations, and the region's profusion of huge producers. The demand for organic chemicals in the region is also anticipated to expand due to more knowledge of the health advantages of organic chemicals and more relaxed government regulations in the area. North America held the second-largest market share in the global market as a result of the extensive production base of organic chemical manufacturers, high demand for animal feeds, and the existence of cutting-edge manufacturing technologies. North America is visited by Europe. Europe's expansion in the international market has remained stagnant as a result of stringent government regulation.
On the other hand, the Middle East and Africa are anticipated to have profitable growth because of a consistent supply of raw resources. Because of the rise in urbanisation and the existence of major organic chemical producers in Brazil, the Latin America market is likely to give considerable growth prospects.
REGIONAL COVERAGE:
North America

Europe

Germany

UK

France

Italy

Spain

The Netherlands

Rest of Europe

Asia-Pacific

Japan

south Korea

China

India

Australia

Rest of Asia-Pacific

The Middle East & Africa

Latin America

Brazil

Argentina

Rest of Latin America
Key Players:
Ineos, Reliance Industries, BASF SE, Koninklijke DSM N.V., Cargill, Eastman Chemical Company, AkzoNobel, Royal Dutch Shell, PPG Industries, Sinopec, ExxonMobil, The Dow Company and LyondellBasell Industries, and players.
Reliance Industries-Company Financial Analysis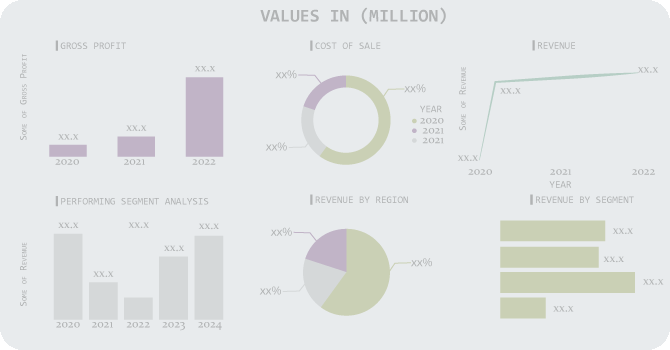 Organic Chemicals Market Report Scope:
Report Attributes
Details
Market Size in 2022
US$ 11.88 Billion
Market Size by 2030
US$ 21.04 Billion
CAGR
CAGR of 7.8% From 2023 to 2030
Base Year
2022
Forecast Period
2023-2030
Historical Data
2020-2021
Report Scope & Coverage
Market Size, Segments Analysis, Competitive Landscape, Regional Analysis, DROC & SWOT Analysis, Forecast Outlook
Key Segments
• By Source (Natural, Synthetic)
• By Product Types (Acetic acid, Ethyl alcohol, Methanol, Formaldehyde, Aldehydes, Citric acid, Ketones, Aliphatic, Polymers, Amides, Others)
• By End Use Industries (Pharmaceuticals, Pesticides, Agrochemicals, Plastics and polymers, Cosmetics, Food & Beverages, Others)
Regional Analysis/Coverage
North America (USA, Canada, Mexico), Europe
(Germany, UK, France, Italy, Spain, Netherlands,
Rest of Europe), Asia-Pacific (Japan, South Korea,
China, India, Australia, Rest of Asia-Pacific), The
Middle East & Africa (Israel, UAE, South Africa,
Rest of Middle East & Africa), Latin America (Brazil, Argentina, Rest of Latin America)
Company Profiles
Ineos, Reliance Industries, BASF SE, Koninklijke DSM N.V., Cargill, Eastman Chemical Company, AkzoNobel, Royal Dutch Shell, PPG Industries, Sinopec, ExxonMobil, The Dow Company and LyondellBasell Industries, and players.
DRIVERS
• Organic Chemicals are in high demand for use in food and beverage applications.
Restraints
• Fluctuating raw material prices and supply