REPORT SCOPE & OVERVIEW
The 3D Cell Culture Market size was estimated USD 1.2 billion in 2022 and is expected to reach USD 3.5 billion by 2030 at a CAGR of 14.5% during the forecast period of 2023-2030.
By constructing an artificial environment and allowing biological cells to form, develop, or interact with their surroundings in all three dimensions, 3D cell culture is an in-vitro approach. By responding to their three-dimensional surrounds, 3D cell culture differentiates and migrates from normal cells. The cell's improved functionality contributes in the organization and development of tissues. This method is commonly utilized in research labs, academic institutions, pharmaceutical, and biotechnology corporations.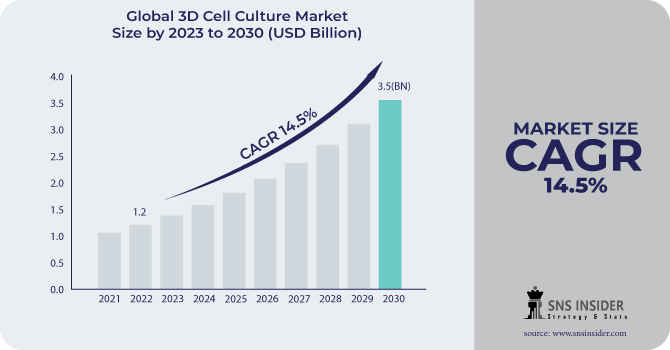 MARKET DYNAMICS
DRIVERS
In medical and scientific research, animal studies are frequently employed to explore complicated biological Technologyes that cannot be studied using a straightforward two-dimensional (2D) cell culture. The ethical and scientific drawbacks of using just animal models for drug testing and toxicity screening, however, have become an increasing source of worry. Additionally, research professionals and pharmaceutical firms are embracing alternatives to animal testing including 3D cell culture. In order to evaluate therapeutic efficacy and toxicity, 3D cell culture models offer a more human-relevant and predictive platform, minimizing the need on animal models. These models provide a more accurate depiction of human organs and tissues, enabling researchers to examine potential toxicities and the effects of medications in a setting that is more physiologically appropriate.
RESTRAIN
The price of implementing 3D cell culture technologies might differ based on a number of variables, including the system's complexity, the volume of production, and the application's particular needs. For the creation of 3D cell models, the 3D cell culture laboratory is equipped with a variety of tools and supplies, including CO2 incubators, bioreactors, microfluidic devices, and specialist imaging equipment. Depending on the complexity and functionality needed, the price of these instruments can range from a few thousand dollars to several hundred thousand dollars. For example, a basic CO2 incubator can cost around USD 2,000, whereas the price of a bioreactor can range from USD 10,000 to USD 100,000. The cell source and required upkeep affect the cost of cell culture. Depending on their qualities and usage restrictions, cell lines obtained from commercial repositories can cost anywhere from a few hundred dollars to more than a thousand dollars per vial. The total cost of 3D cell culture models also takes into account the expense of sustaining cell cultures, which includes medium changes, passages, and cryopreservation.
OPPORTUNITY
The advantages of 3D cell culture based on microfluidics have led to an increase in use on a global scale. This technology is being used by academics and pharmaceutical firms to create more precise and trustworthy drug screening and toxicity testing models. Multiple cell types can be combined using microfluidic devices to produce intricate cellular microenvironments that closely resemble in vivo circumstances. Better understanding of disease causes and treatment responses result from the study of cell-cell interactions, cell migration, and tissue development.
CHALLENGES
The use of 3D cell culture products in research has expanded. However, one of the main issues anticipated to impede market growth is the lack of consistency in 3D cell culture products. The market expansion may be hampered by a number of concerns, including difficulties with standardization, cell culture variability, problems with quality control, scale-up, and manufacturing. Scalable manufacturing techniques are required because of the rising demand for 3D cell culture items. But moving from small-scale manufacturing in research labs to large-scale manufacturing can bring new factors that could affect the uniformity of the finished product.
IMPACT OF RUSSIAN UKRAINE WAR
While it may be tempting to concentrate only on Ukraine, we must also take into account the Russian pharmaceutical industry. It was previously a preferred nation to grow into if you were a pharmaceutical business looking to conduct clinical trials and register drug items or medical devices. In addition to having operational concerns, Russia's situation differs from Ukraine's in that they must deal with a damaged worldwide reputation. How long the recovery will take is impossible to predict. Additionally, even though outright sanctions on pharmaceuticals are off the international agenda for the foreseeable future, they will have a significant negative impact on Russia's access to healthcare and pharmaceuticals. The Russian Pharmaceutical Manufacturers Association issued a warning that European suppliers have already started to hinder the transportation of pharmaceutical raw materials to Russian facilities, making the acquisition of ensuing supply contracts all but impossible.
KEY SEGMENTS
By Technology
Scaffold Based

Hydrogels

Polymeric Scaffolds

Micropatterned Surface Microplates

Nanofiber Based Scaffolds

Scaffold Free

Bioreactors

Microfluidics

Bioprinting
In 2022, scaffold based segment is expected to held the highest market share of 48.9% in during the forecast period due to increased use of scaffold-based cultures in tissue engineering and regenerative medicine applications, improvements in scaffold materials and production methods, and rising research funding and collaboration. When hydrogels are used as a scaffold in cell-based studies, biochemical and mechanical indicators can be incorporated as a reflection of the natural extracellular matrix. Additionally, it is anticipated that recent product releases, ongoing research, and technical breakthroughs would support industry expansion. in July 2022, Dolomite Bio introduced brand-new hydrogel-focused reagent kits for high-throughput cell encapsulation in hydrogel scaffolds. The development of scaffold-based technologies is being continuously researched, which is another element promoting market expansion.
By Application
Cancer Research

Stem Cell Research & Tissue Engineering

Drug Development & Toxicity Testing

Others
In 2022, stem cell research & tissue engineering segment is expected to dominate the market share of 33.8% during the forecast period the rising demand for biopharmaceuticals as a result of successful therapies like cell and gene therapy and the uptick in innovation that led to more approvals. Based on the current trial success rates and the product pipeline, it is anticipated that by 2025, the U.S. FDA will be approving 10 to 20 cell and gene therapy medicines annually. The use of 3D cell cultures has also been accelerated by technological developments, favorable governmental regulations, and greater financing for stem cell research. For example, the National Institute of Health provided Purdue University's research team with US$2.5 million in funding for stem cell research in February 2023.
By End User
Biotechnology and Pharmaceutical Companies

Academic & Research Institutes

Hospitals

Others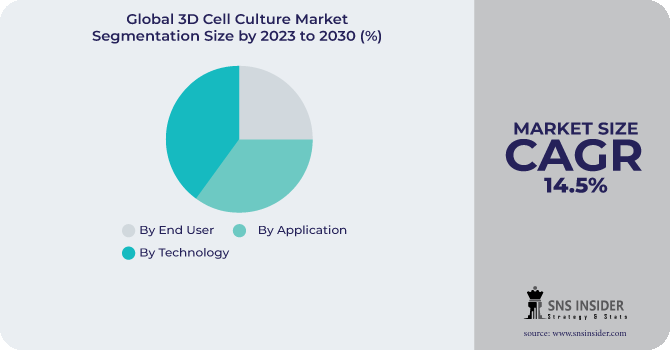 In 2022, the biotechnology and pharmaceutical companies segment is expected to dominate the market growth of 46.4% during the forecast period due the ongoing development and commercial success of biopharmaceuticals, as well as to the use of the major pharmaceutical companies portfolios. In comparison to two-dimensional cellular media, 3D cell culture has advantages such as optimal oxygen and nutrient gradient generation and realistic cellular interactions. These elements make it easier to use this technology for drug discovery and development, which fueling the demand.
REGIONAL COVERAGE
North America
Europe
Eastern Europe

Poland

Romania

Hungary

Turkey

Rest of Eastern Europe

Western Europe

Germany

France

UK

Italy

Spain

Netherlands

Switzerland

Austria

Rest of Western Europe
Asia Pacific
China

India

Japan

South Korea

Vietnam

Singapore

Australia

Rest of Asia Pacific
Middle East & Africa
Middle East

UAE

Egypt

Saudi Arabia

Qatar

Rest of Middle East

Africa

Nigeria

South Africa

Rest of Africa
Latin America
Brazil

Argentina

Colombia

Rest of Latin America
REGIONAL ANALYSES
North America held a significant market share growing with a CAGR of 45.6% in 2022. The existence of developed economies, significant players, and their numerous strategic efforts, together with the presence of advanced healthcare infrastructure, all contribute to the market's overall growth. Additionally, a favorable regulatory environment, government funding for the creation of three-dimensional culture models, and a sizable number of research institutions and colleges looking into various stem-cell-based methods are anticipated to assist the regional industry. For instance, the Harvard Stem Cell Institute is utilizing stem cells' potential to transform medicine for the benefit of patients.
Asia-Pacific is witness to expand fastest CAGR rate of 12.8% during the forecast period due to the high prevalence of chronic diseases, the flourishing biotechnology industry, cheap operating costs, and increased investments by local businesses. The regional market is also being supported by growing biobanks, a demand for cellular medicines, and promising research opportunities.
Key Players
The major key players are Thermo Fisher Scientific, Inc., Merck KGaA, PromoCell GmbH, Lonza, Corning Incorporated, Avantor, Inc., Tecan Trading AG, REPROCELL Inc., CN Bio Innovations Ltd, Lena Biosciences, and Others.
Merck KGaA-Company Financial Analysis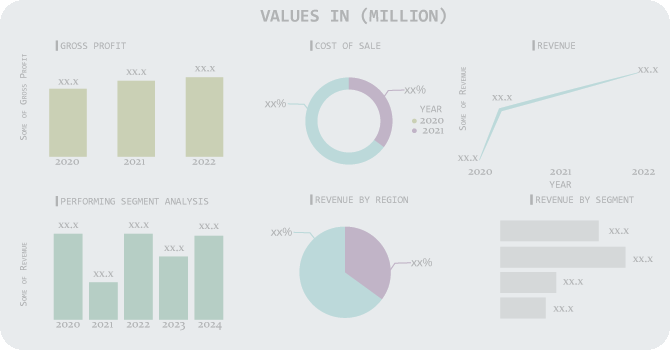 RECENT DEVELOPMENT
REPROCELL Inc., in July 2023, Vernal Biosciences and REPROCELL Inc. have partnered to supply mRNA services at scale for clinical and research purposes in Japan. This approach fits with REPROCELL's goal to market cutting-edge preclinical & clinical research solutions.
Lonza, in June 2023, Lonza entered into a strategic business collaboration with Vertex Pharmaceuticals Incorporated, with an aim to support the production of Vertex's range of fully differentiated insulin-producing, investigational stem cell-derived islet cell therapies for individuals with Type 1 diabetes and to speed up the clinical trials.
Corning Incorporated, In October 2022, Corning Incorporated launched the Elplasia 12K flask featuring a unique microcavity geometry that enables easy spheroid formation, culture, treatment, assessment, and harvest, with approximately 12,000 spheroids of uniform size and shape per flask, generating 125 times more yield than conventional 96-well spheroid plates.
3D Cell Culture Market Report Scope:
Report Attributes
Details
Market Size in 2022
US$ 1.2 Billion
Market Size by 2030
US$ 3.5 Billion
CAGR
CAGR of 14.5 % From 2023 to 2030
Base Year
2022
Forecast Period
2023-2030
Historical Data
2019-2021
Report Scope & Coverage
Market Size, Segments Analysis, Competitive Landscape, Regional Analysis, DROC & SWOT Analysis, Forecast Outlook
Key Segments
• By Technology (Scaffold Based, Scaffold Free, Bioreactors, Microfluidics, Bioprinting)
• By Application (Cancer Research, Stem Cell Research & Tissue Engineering, Drug Development & Toxicity Testing, Others)
• By End User (Biotechnology and Pharmaceutical Companies, Academic & Research Institutes, Hospitals, Others)
Regional Analysis/Coverage
North America (US, Canada, Mexico), Europe (Eastern Europe [Poland, Romania, Hungary, Turkey, Rest of Eastern Europe] Western Europe] Germany, France, UK, Italy, Spain, Netherlands, Switzerland, Austria, Rest of Western Europe]), Asia Pacific (China, India, Japan, South Korea, Vietnam, Singapore, Australia, Rest of Asia Pacific), Middle East & Africa (Middle East [UAE, Egypt, Saudi Arabia, Qatar, Rest of Middle East], Africa [Nigeria, South Africa, Rest of Africa], Latin America (Brazil, Argentina, Colombia Rest of Latin America)
Company Profiles
Thermo Fisher Scientific, Inc., Merck KGaA, PromoCell GmbH, Lonza, Corning Incorporated, Avantor, Inc., Tecan Trading AG, REPROCELL Inc., CN Bio Innovations Ltd, Lena Biosciences
Key Drivers
• High focus on developing alternatives to animal testing
Market Opportunity
• Emergence of microfluidics-based 3D cell culture