Report Scope & Overview:
The Fermentation Chemicals Market size was valued at USD 70.5 billion in 2022. It is expected to grow to USD 116.68 billion by 2030 and grow at a CAGR of 6.5% over the forecast period of 2023-2030.
The Fermentation Chemicals Market is driven by factors such as increasing demand for pharmaceutical products, growing awareness of the benefits of fermented food and beverages, and the rising need for sustainable industrial practices. However, the market also faces challenges, including stringent regulations, high production costs, and the need for continuous research and development.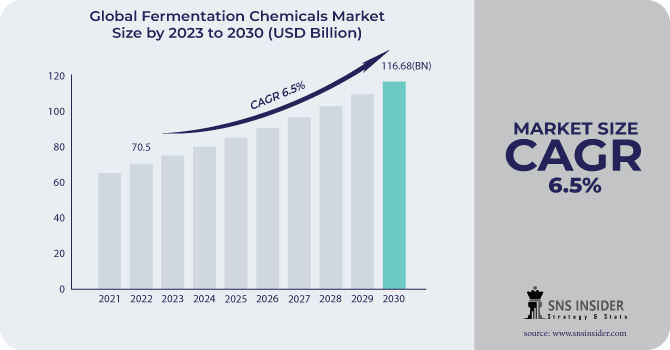 Get E-PDF Sample Report on Fermentation Chemicals Market - Request Sample Report
In the pharmaceutical sector, fermentation chemicals are utilized in the production of antibiotics, vaccines, and other medicinal products. The food and beverage industry also heavily relies on fermentation chemicals. They are used in the production of alcoholic beverages, such as beer and wine, as well as in the manufacturing of dairy products, bread, and pickles. Fermentation chemicals enhance the flavor, texture, and shelf life of these products, meeting the demands of consumers and ensuring their satisfaction. Furthermore, fermentation chemicals find extensive applications in industrial processes. They are used in the production of biofuels, bioplastics, and various chemicals used in the manufacturing sector. These chemicals offer a sustainable and eco-friendly alternative to traditional chemical production methods, contributing to the global efforts towards a greener future.
The industrial application segment dominated the fermentation chemical market with the highest revenue share of about 43.2% in 2022. The industrial sector's demand for fermentation chemicals has been steadily increasing due to the growing global population and the subsequent rise in consumer needs. Furthermore, advancements in technology have played a pivotal role in bolstering the industrial application segment's dominance. Innovations in fermentation techniques, such as solid-state fermentation and submerged fermentation, have enhanced productivity and efficiency, enabling industries to meet the escalating demand for their products.
Market Dynamics
Drivers
Increasing demand for biofuels

Rising awareness about the benefits of fermentation-based products
Fermentation, the biological process involves the breakdown of complex compounds by microorganisms, resulting in the production of various chemicals and substances. These fermentation-based products have found applications in diverse industries such as food and beverages, pharmaceuticals, and biofuels. One of the key reasons for the rising awareness about fermentation-based products is their potential to enhance food preservation and nutritional value. Fermented foods, such as yogurt, cheese, and sauerkraut, not only have an extended shelf life but also offer improved digestibility and increased nutrient content. This has led to a growing demand for such products among health-conscious consumers.
Furthermore, fermentation plays a crucial role in the production of pharmaceuticals and biopharmaceuticals. The process enables the synthesis of essential drugs, vaccines, and therapeutic proteins. These fermentation-derived pharmaceuticals have proven to be effective in treating various diseases and medical conditions, contributing to the overall growth of the pharmaceutical industry. Additionally, the utilization of fermentation in the production of biofuels has gained significant traction in recent years. Biofuels, such as ethanol and biodiesel, offer a sustainable alternative to fossil fuels, reducing greenhouse gas emissions and promoting environmental conservation. As a result, governments and industries worldwide are increasingly investing in fermentation-based biofuel production, driving the demand for fermentation chemicals.
Restrain
Volatility of raw material prices

Limited availability of raw materials
Opportunities
Increasing demand for specialty chemicals plays a crucial role in propelling the fermentation chemical market forward. Specialty chemicals are essential for enhancing product quality, improving manufacturing processes, and ensuring the overall efficiency of operations. As a result, the demand for specialty chemicals has been steadily growing, leading to a corresponding surge in the fermentation chemical market. Secondly, the development of novel fermentation techniques has also contributed significantly to the market's expansion. Fermentation is a process that involves the conversion of organic substances into useful products through the action of microorganisms. Traditionally, fermentation has been utilized in industries such as brewing and winemaking. However, recent advancements in biotechnology and genetic engineering have revolutionized fermentation techniques, enabling the production of a wide range of valuable chemicals and compounds. These innovative techniques have opened up new avenues for the application of fermentation in various industries, thereby driving the growth of the fermentation chemical market.
Challenges
Impact of Russia-Ukraine War:
The Russia-Ukraine war has disrupted the supply chains of fermentation chemicals, leading to a shortage in the market. Both countries play a crucial role in the production and distribution of these chemicals, and the conflict has resulted in logistical challenges, delays, and increased costs. As a result, manufacturers and suppliers are struggling to meet the demand, causing potential setbacks for businesses relying on fermentation chemicals. The instability caused by the war has led to price volatility in the fermentation chemicals market. Fluctuations in currency exchange rates, trade restrictions, and increased transportation costs have all contributed to the unpredictability of prices. This poses a challenge for businesses that rely on stable pricing to plan their budgets and maintain profitability.
Impact of Recession:
The recession has presented several challenges for the fermentation chemicals market. Firstly, companies have experienced a decrease in profitability due to reduced sales volumes. This has forced them to reevaluate their pricing strategies and explore cost-cutting measures to maintain competitiveness. Additionally, the uncertainty surrounding the economy has made it difficult for businesses to plan for the future, hindering investment in research and development.
Market segmentation
By Product
Alcohols

Amino Acids

Organic Acids

Others
By Application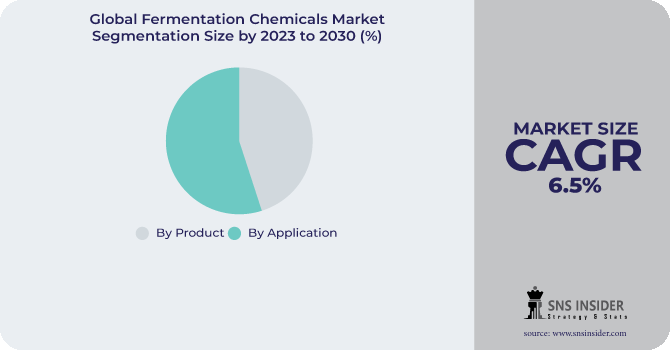 Get Customized Report as Per Your Business Requirement - Request For Customized Report
Regional Analysis
North America dominated the fermentation chemical market with the highest revenue share of about 37% in 2022. This dominance is due to the increasing consumption of chemicals across various industries, including pharmaceuticals, industrial, and food & beverages. Moreover, the thriving pharmaceutical sector in countries like the United States, Mexico, and Canada is expected to further fuel the demand for fermentation chemicals in North America. Furthermore, the region's strong presence of major cosmetic manufacturing companies is anticipated to drive the demand for fermentation chemicals. These companies rely heavily on fermentation chemicals to enhance the quality and effectiveness of their products. As a result, the demand for fermentation chemicals is projected to witness significant growth in North America.
Asia Pacific is expected to grow with the highest CAGR of about 6.9% in the fermentation chemical market during the forecast period of 2023-2030. The expected growth in this region is attributed to the increasing purchasing power parity, high-income levels, and expanding populations in countries such as China and India. These factors have led to a surge in demand for fermentation chemicals. Moreover, the forecast period anticipates a significant rise in demand for fermentation chemicals across various industries, driven by the growing number of food and beverage start-ups, particularly in India.
REGIONAL COVERAGE:
North America
Europe
Eastern Europe

Poland

Romania

Hungary

Turkey

Rest of Eastern Europe

Western Europe

Germany

France

UK

Italy

Spain

Netherlands

Switzerland

Austria

Rest of Western Europe
Asia Pacific
China

India

Japan

South Korea

Vietnam

Singapore

Australia

Rest of Asia Pacific
Middle East & Africa
Middle East

UAE

Egypt

Saudi Arabia

Qatar

Rest of the Middle East

Africa

Nigeria

South Africa

Rest of Africa
Latin America
Brazil

Argentina

Colombia

Rest of Latin America
Key Players
The major key players are AB Enzymes, BASF SE, DuPont Danisco, Dow, Evonik Industries AG, Chr. Hansen Holding A/S, Amano Enzymes USA Co. Ltd., Cargill, Inc., ADM, Novozymes, Ajinomoto Co., Inc., and other key players mentioned in the final report.
AB Enzymes-Company Financial Analysis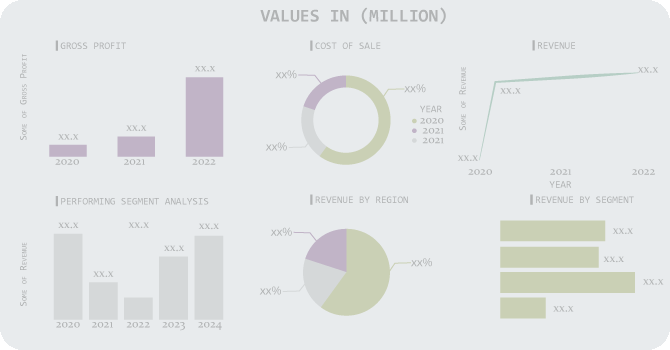 Recent Development:
In July 2022, Novozymes introduced Innova® Apex and Innova® Turbo to their Innova platform. These new additions are specifically designed to optimize fermentation times, allowing ethanol producers to achieve their production targets and business goals more effectively.

In Jan 2022, BASF expanded the production capacity of their enzyme plant in Ludwigshafen, Germany. This expansion has resulted in a significant increase in the number of feasible fermentations runs that can be conducted annually.

In Oct 2021, ADM, a global leader in nutrition and agricultural origination and processing, announced a major equity investment in Acies Bio. Acies Bio is a biotechnology company based in Slovenia that specializes in R&D and manufacturing services for synthetic biology and precision fermentation technologies. This investment will support the development and scaling of these technologies for applications in food, agriculture, and industry.

In August 2020, Chr. Hansen Holding A/S unveiled its 2025 Strategy, which focuses on becoming a differentiated bioscience company. The company aims to prioritize its microbial and fermentation technology platforms, with Food Cultures and enzymes, as well as Health and nutrition, at the core of its new strategy.

In March 2020, Evonik announced the development of an advanced collagen platform produced through fermentation-based processes. This innovative platform is free from any animal- or human-derived materials, making it a sustainable and ethical solution.
Fermentation Chemicals Market Report Scope:
Report Attributes
Details
Market Size in 2022
US$ 70.5 Bn
Market Size by 2030
US$ 116.68 Bn
CAGR
CAGR of 6.5% From 2023 to 2030
Base Year
2022
Forecast Period
2023-2030
Historical Data
2019-2021
Report Scope & Coverage
Market Size, Segments Analysis, Competitive Landscape, Regional Analysis, DROC & SWOT Analysis, Forecast Outlook
Key Segments
By Product (Alcohols, Amino Acids, Enzymes, Organic Acids, and Other)
By Application (Industrial Application, Cosmetic & Toiletry, Plastics & Fibers, Food & Beverages, Nutritional & Pharmaceutical, and Others)
Regional Analysis/Coverage
North America (US, Canada, Mexico), Europe (Eastern Europe [Poland, Romania, Hungary, Turkey, Rest of Eastern Europe] Western Europe] Germany, France, UK, Italy, Spain, Netherlands, Switzerland, Austria, Rest of Western Europe]), Asia Pacific (China, India, Japan, South Korea, Vietnam, Singapore, Australia, Rest of Asia Pacific), Middle East & Africa (Middle East [UAE, Egypt, Saudi Arabia, Qatar, Rest of Middle East], Africa [Nigeria, South Africa, Rest of Africa], Latin America (Brazil, Argentina, Colombia Rest of Latin America)
Company Profiles
AB Enzymes, BASF SE, DuPont Danisco, Dow, Evonik Industries AG, Chr. Hansen Holding A/S, Amano Enzymes USA Co. Ltd., Cargill, Inc., ADM, Novozymes, Ajinomoto Co., Inc.
Key Drivers
Increasing demand for biofuels
Rising awareness about the benefits of fermentation-based products
Market Restraints
Volatility of raw material prices
Limited availability of raw materials